Can you imagine a simultaneous twelve-guest dinner in Barcelona and New York, where everything has been printed, from the crockery and silverware to the courses on the menu? Can you imagine enjoying a melody produced by a violin that is actually a 3D-printed replica of a Stradivarius? As incredible as it may seem, this is already a reality.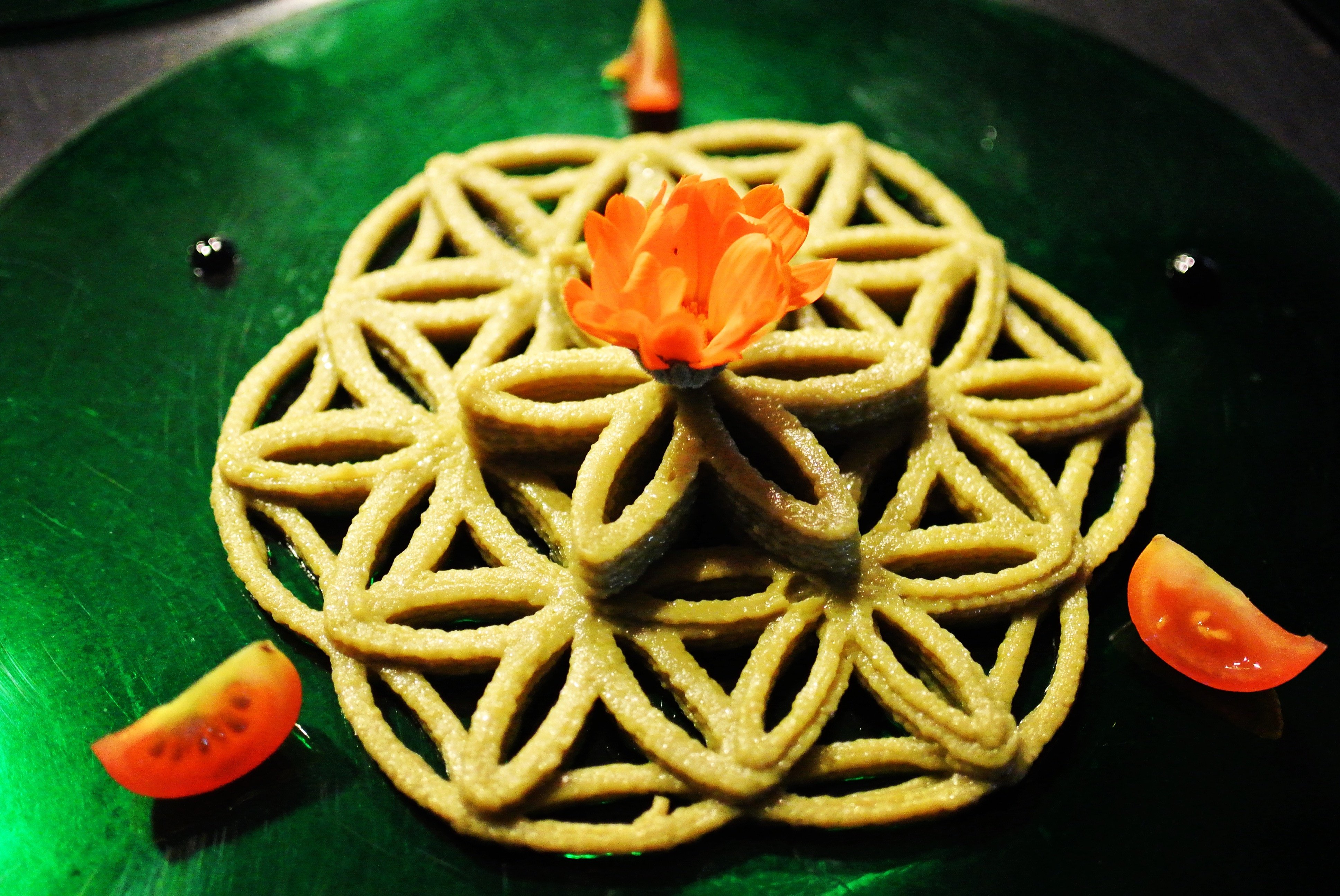 For a while now we haven't stopped hearing that 3D printing is one of the most revolutionary inventions of the 21st century. And the truth is that, having seen all the things three-dimensional printing can do, it is not unreasonable to say that it is the greatest invention of the last few decades.
Medicine, fashion, art, food and architecture are some of the fields that have been captivated by its potential. Just an example: who would have imagined 20 years ago that by using this technology you would be able to produce a prosthetic hand for less than 100 dollars? Well, this is now a thing. Take Daniel Omat, for example. This 12-year old boy from Sudan lost both arms in the war. Thanks to 3D printing, he has been able to regain mobility via the Not Impossible project. Though this prosthesis only has a few basic movements, the upside is that it can be mechanically operated. So the prosthesis does not require surgery or depend on batteries or a motor in order to work, which helps reduce the price and maintenance costs.
But this is just the beginning. In fact, there are those who talk about 3D printing as the third industrial revolution. But why? To begin with, we must look at what 3D printing is. This technique consists of creating a physical object from a file that is digitally modelled on a computer. It uses specific software for 3D modelling, the most common being Blender, Photoshop, ZBrush, Maya, Rhino and 3D Max, among others. Once you have designed what you want to create, the next thing to do is print the piece by selecting the printer and the material. Traditionally, this sort of technology has been associated with printing in plastic. However, there is currently a wide range of materials available that will depend on the use you are going to give the 3D object. There are materials ranging from thermoplastic or metallic powders to ceramics, and even food-based raw materials such as chocolate or broccoli. There are no limits any more.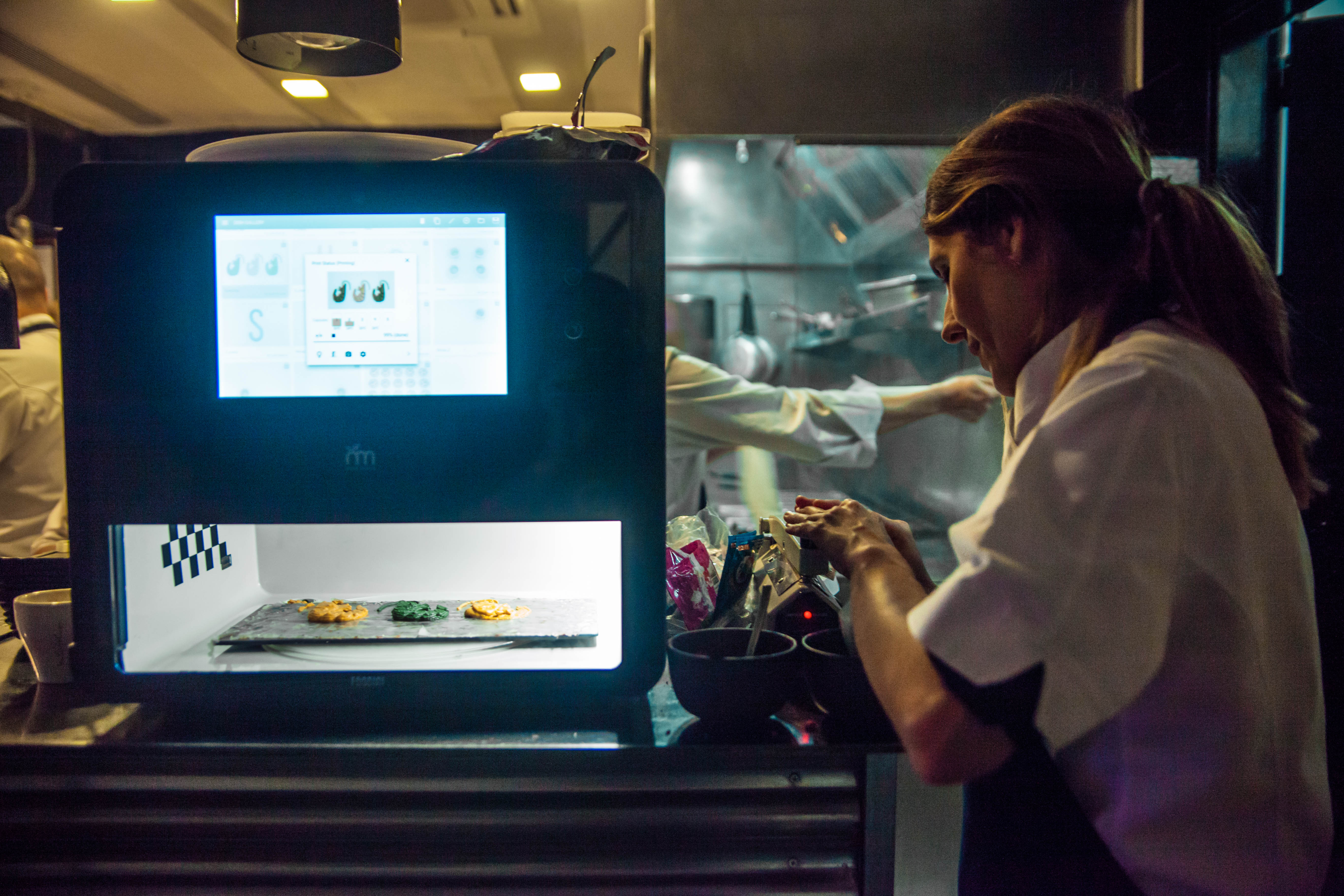 When it comes to cuisine, 3D printing allows for infinite options. Here, one of the most celebrated initiatives is Food Ink, the first printed-food restaurant set up in London. It is a unique gourmet experience in which all of the food, utensils and furniture are produced using 3D printing in an immersive and futuristic space. Food Ink offers a series of conceptual pop up dinners in which good food is combined with art, philosophy and the technologies of tomorrow.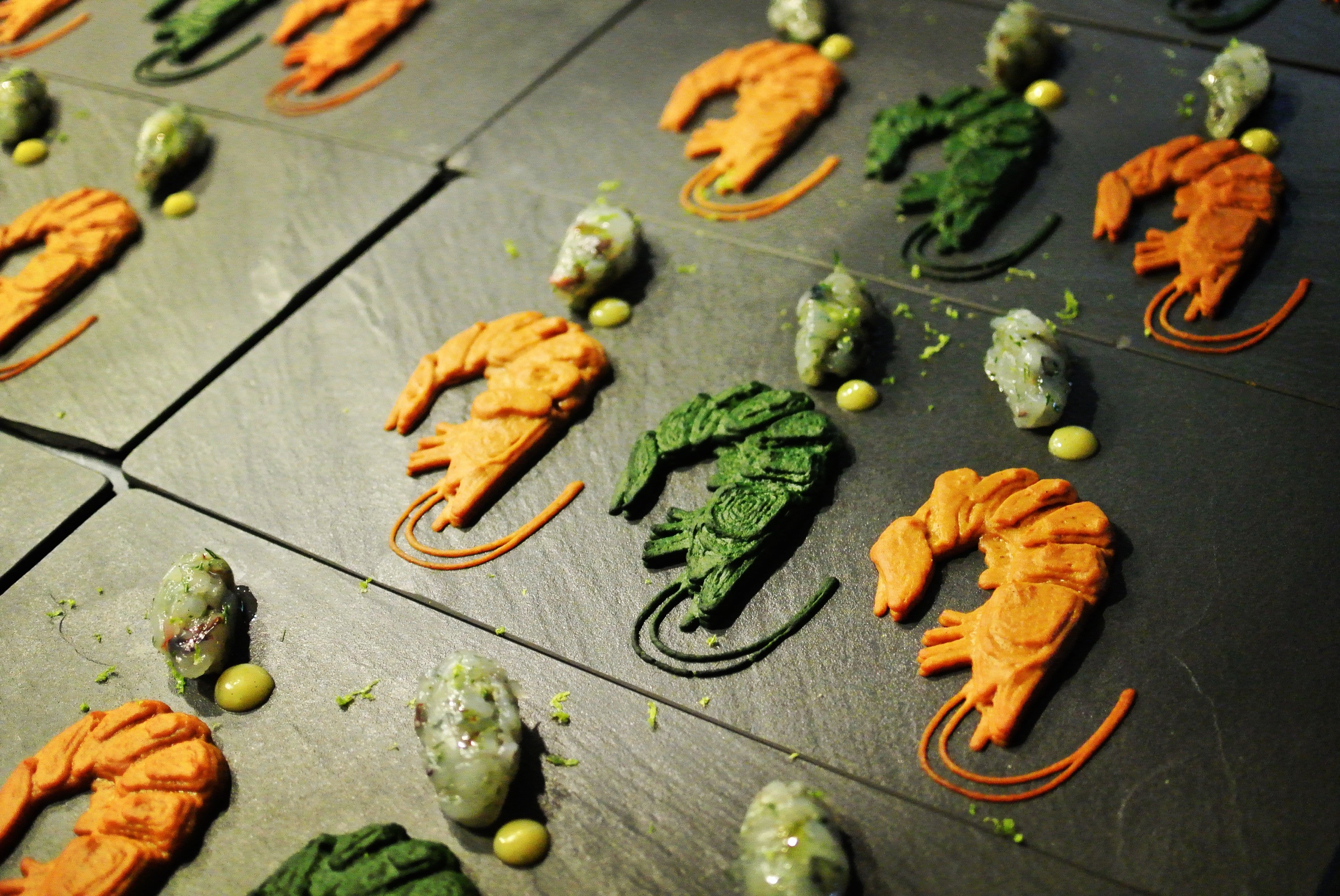 Along these lines is Spanish chef Paco Morales, who boasts a Michelin star and is known as the 'technological chef'. For Morales, 3D printing opens up countless possibilities for food presentation, and it can break the monotony by making dishes more attractive. The chef is involved in the Digital Gastronomy  project, which offered a dinner for twelve guests simultaneously in Barcelona and New York, in which everything was printed, from the crockery and cutlery to the courses on the menu, in 2014.
Although this may seem like a product of a chef's creative madness, these ideas are beginning to find their way into the home.  Much like with the microwave or the Thermomix, there is already a generation of new appliances that combine digital technology and 3D, food, art and design, such as the ByFlow and Foodini brands, from the Netherlands and Spain, respectively.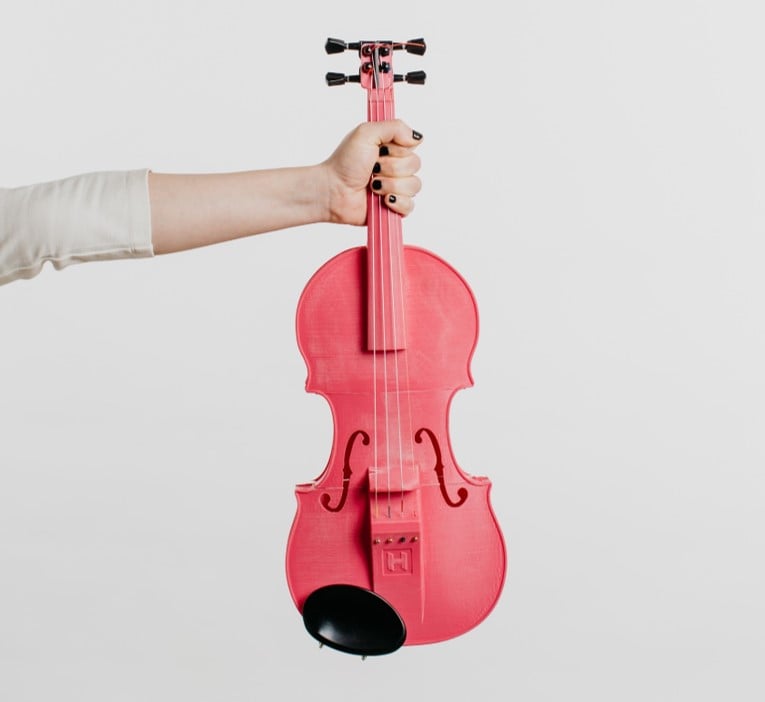 And let's not forget the art world. Here we find a wide range of initiatives. From offering a concert with a replica of a Stradivarius that you can print yourself at home under a Creative Commons license for just 70 dollars, as is the case of the Hovalin brand, to reproducing Banksy's works in 3D and full colour.
One of the most interesting initiatives has been offered by the Dutch artist Michiel Van der Kley, creator of Project Egg, which is regarded as the first work of collaborative 3D art. This spectacular sculptural installation consists of over 4,500 unique pieces printed by people from different countries such as the United States, Portugal and Australia.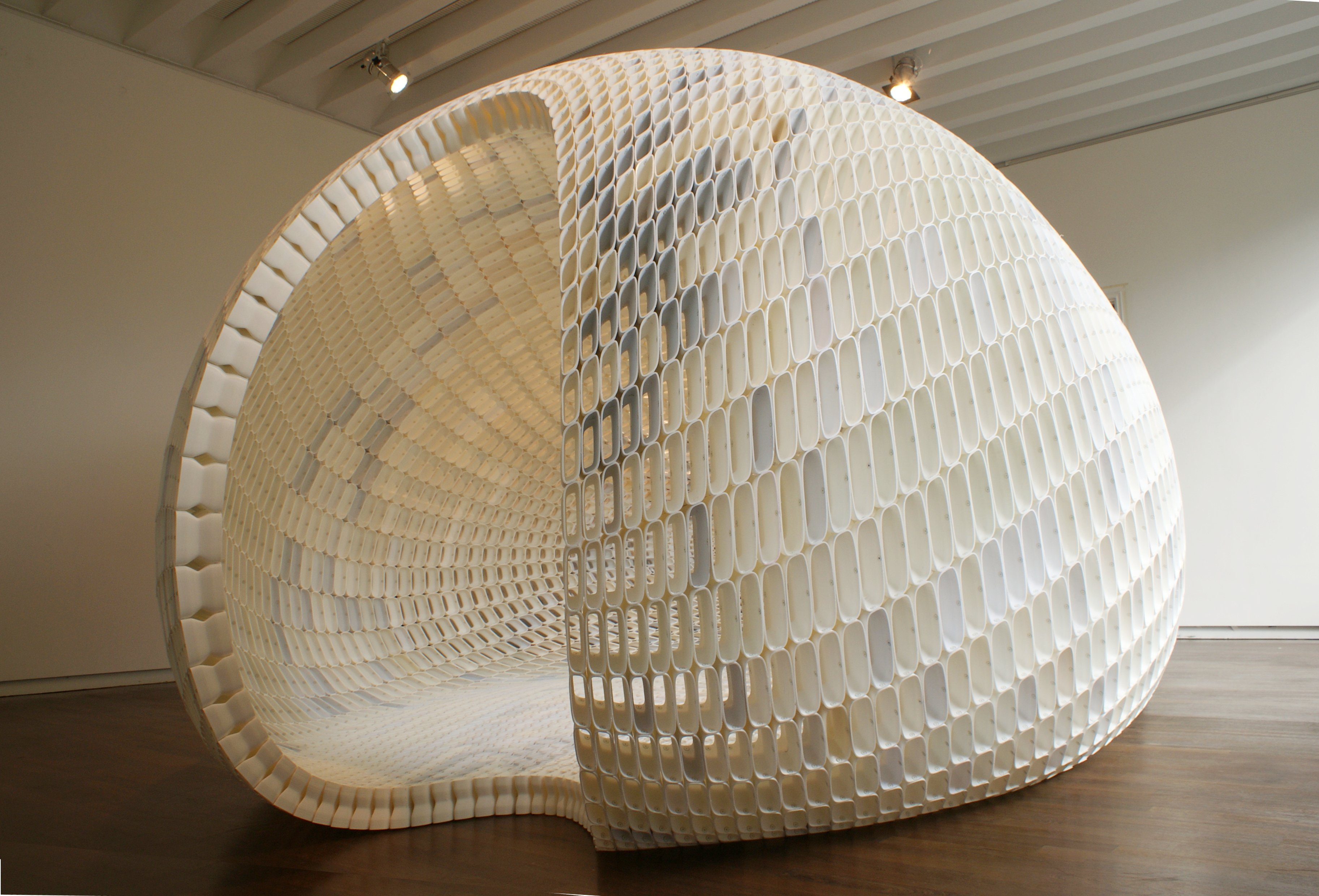 Everything we have seen in this text is just a small sample of the transformative power of 3D printing. The most remarkable thing about these examples is that the 3D revolution is available not only for industry but also for the public, enabling them to create anything they want, favouring the growth of the maker movement and the decentralization of production. A printing revolution in which there is still much to discover.