December is the same every year – you run back and forth, frantically searching for the perfect gift, and only find it at the last minute, on Christmas Eve, half an hour before the shops close. And in the pre-Christmas rush, you forget something that we consider much more important than gifts (although you could put that down to professional bias): Christmas cards.
In this article we offer some advice on how to send season's greetings that are a little out of the ordinary, as well as explaining how to make Christmas cards online, using a tool that allows you to achieve professional results with minimal effort: Canva.
Special Christmas greetings
Picture the scene: you're just about to pay for that gift you finally found, when you spot lots of ready-made Christmas cards by the till. Don't be tempted to reach for one! We've got some innovative, unique and fun ideas for you to help you create Christmas cards that are a little out of the ordinary.
For WhatsApp addicts
Lots of people send Christmas greetings on WhatsApp: it certainly doesn't count as an original idea. But here's the clever part: why not turn a WhatsApp conversation into a genuine Christmas card, made with paper and ink? Here's how to do it: log in to the application on your computer, open a chat with the person to whom you want to send the card, and take a screenshot of the conversation. Then, using a photo editing program (Paint will also work fine), delete the text inside the speech bubbles in the screenshot, and replace it with a fake conversation in which you send festive greetings or exchange a few one-liners about presents. Once you've added your text to the image, all you have to do is print it and deliver it. With this card, your digital greetings will become 'traditional' once more, and you're also sure to raise a smile when the recipient gets their card.

For bookworms… and DIY enthusiasts!
Take an old, very thin paperback book (no more than 50 pages), and draw a diagonal line on the cover from the top left-hand corner to the bottom right-hand corner with a pencil. Cut the cover along the diagonal line, followed by the pages, a few at a time, and the back cover, to leave a triangular book. Now paint the cover (both front and back) with dark green poster paint. If you open the book and look at it from the back, you now have the shape of a Christmas tree which you can decorate with beads or balls of coloured paper. But here's the best part: you can then compose a Christmas message by circling words found amongst the pages of the book. Make sure they are highlighted clearly, so the recipient can find them easily and assemble the message in a sort of treasure hunt!

Send video greetings to far-flung places
You don't have to be an expert film-maker to create a respectable-looking video, thanks to tools like Rocketium: all you have to do is upload the material for the video, insert titles, captions and a voiceover, personalise the design (choosing from various options) and add audio. It's quick and easy, and the basic version is free, so you can play around with it to your heart's content. Much better than an audio message or a phone call, don't you think?
For those who love humour, send a GIF!
GIFMaker.me is an extremely straightforward free tool for creating fun GIFs, with no need to register. How does it work? Simply upload the images, choose the order and the speed at which you want them to appear, upload a soundtrack (a Christmas carol, perhaps?) and you've got a Christmas GIF ready to send as a greeting to your friends. An instant and fun alternative to a Christmas card.
Online Christmas card ideas
Do you want to create a more traditional card, but worry that paper and scissors aren't your forte? Then try Canva, a graphic design tool within everyone's reach, which doesn't require advanced computer or design skills to use it, and which includes a Christmas card function. Let's log in and see how it works.
Once you've opened Canva and registered (a very quick process that won't waste too much of your time) a blank artboard appears, with hundreds of Christmas card layouts to browse through on the left-hand side. There are lots of different types: cards based on graphics or photographs, and in a range of different styles, from ultra-traditional to witty designs.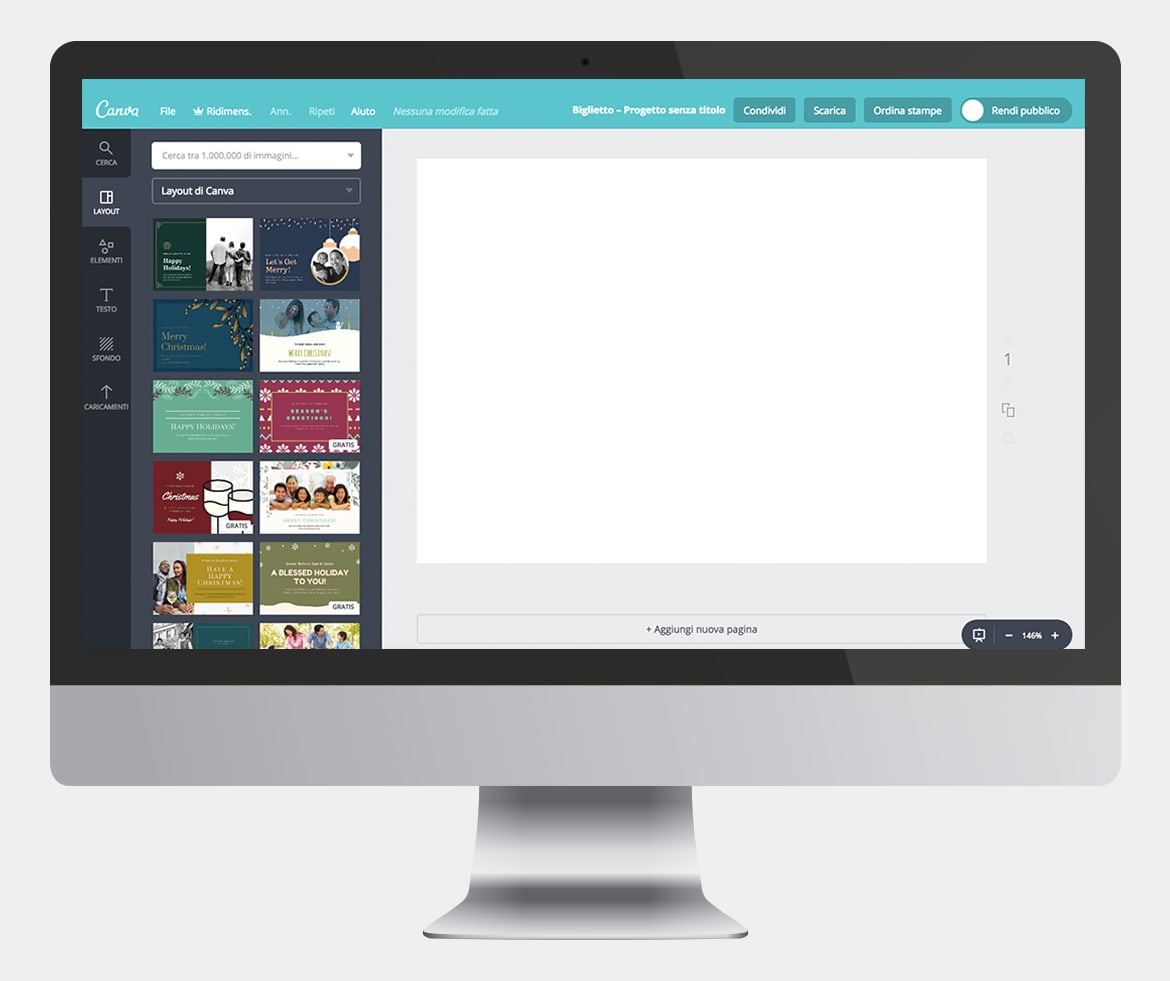 If you're creating a Christmas card on behalf of your whole family, you could use layouts like these, substituting the photos with your own family portraits.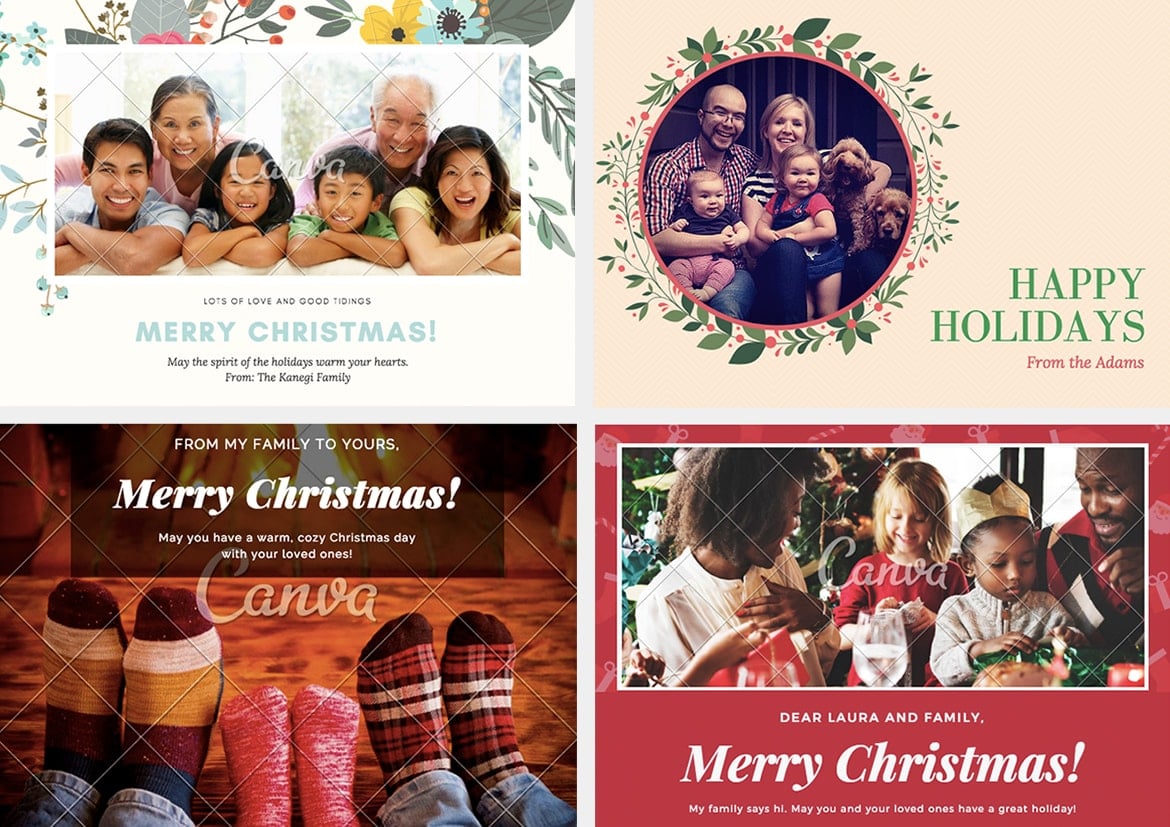 As well as more traditional cards, which in reality only make up a small proportion of those available, the gallery has countless layouts that are fun and tongue-in-cheek but also affectionate. Here are some examples.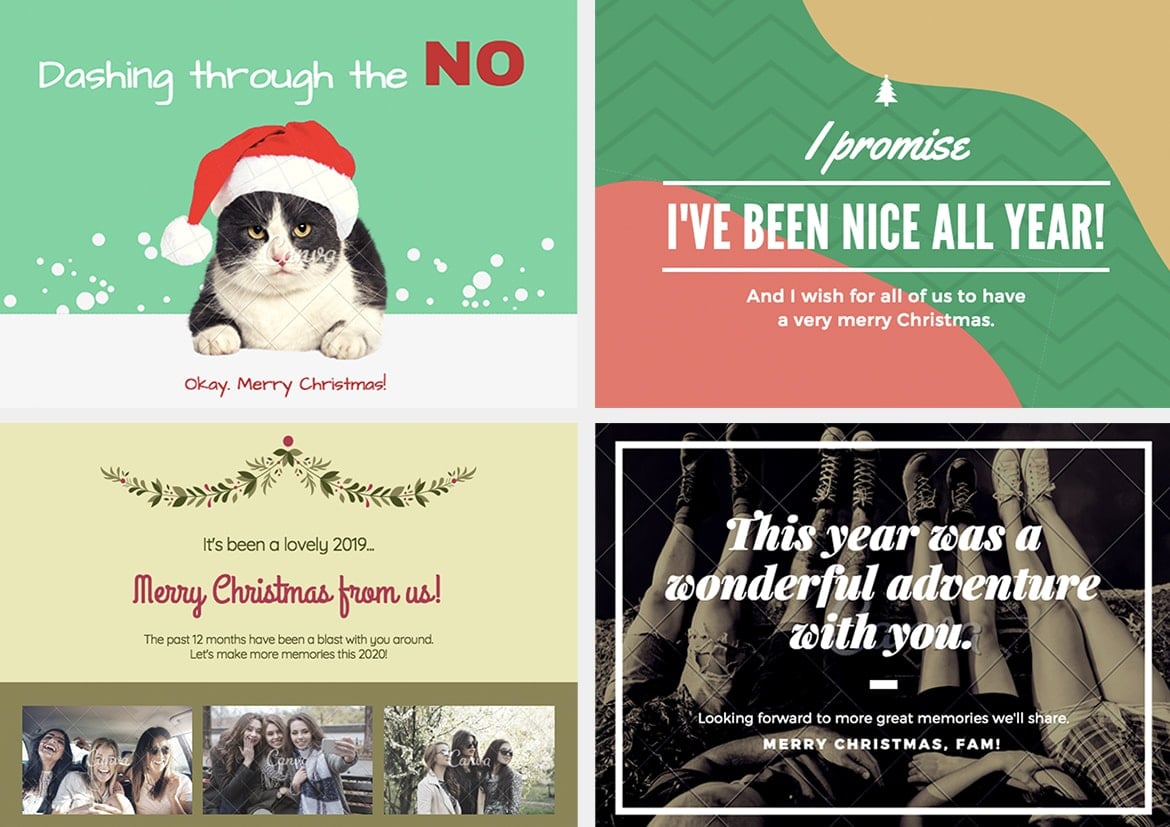 If the Christmas card is for a child, you could go for a more creative design, like one of these.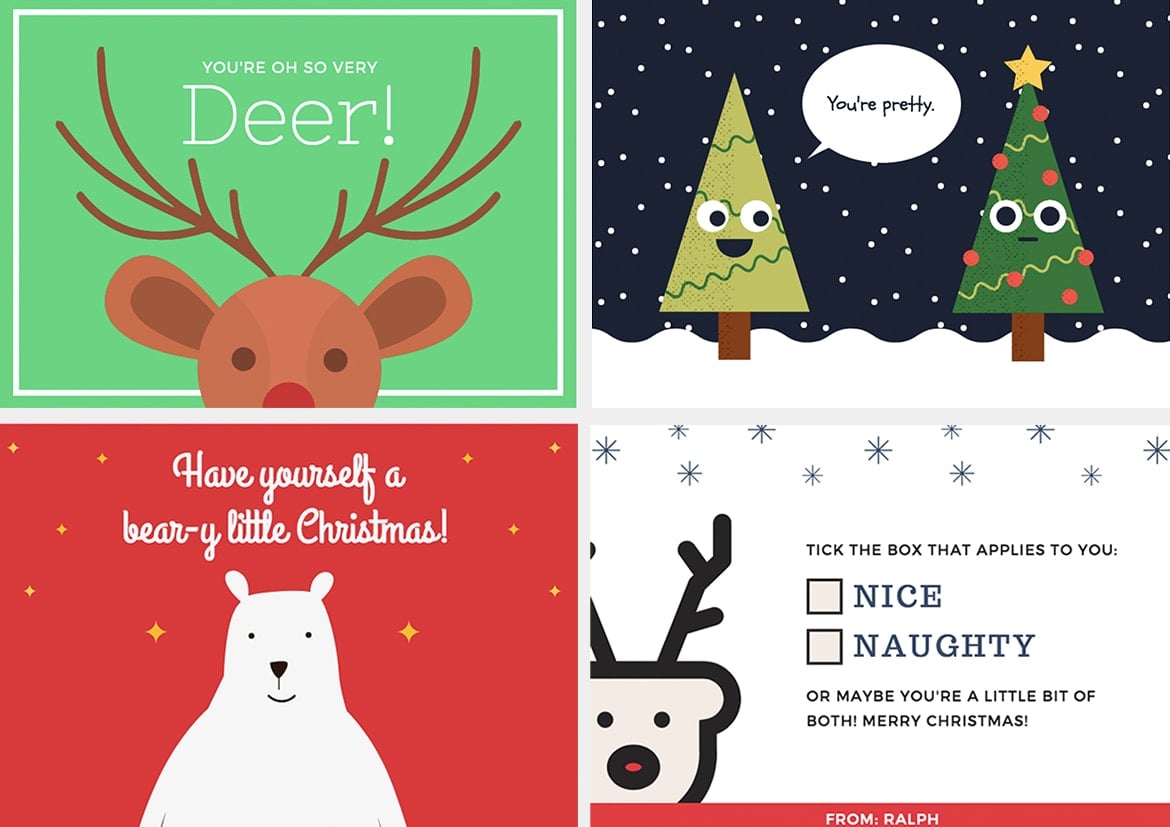 Obviously, the templates we've shown you can be customised however you like. Inside the Canva panel, on the left, you will find all the tools you need to add graphics and change the text (both titles and captions) or background image. For example, we chose the card with Christmas trees on it, given that it was being sent to a little girl, selected her favourite colour for the background (yes, you guessed it – pink) then added her name to the text box.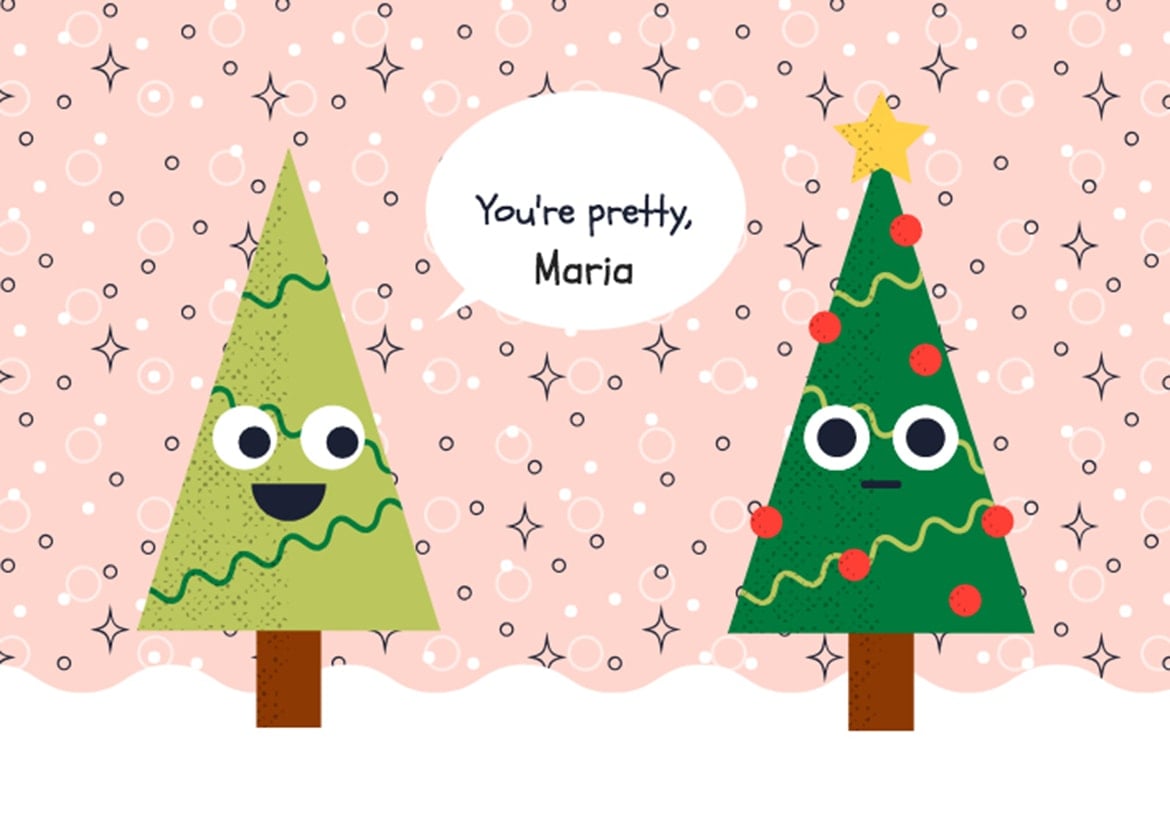 What's your favourite way of sending festive greetings? We've chosen to do it with this article – a very happy Christmas to all our readers!