If you were asked to name an absurd book, the most absurd book that springs to mind, what would you go for? We would choose Codex Seraphinianus, an encyclopaedia written in an invented alphabet that describes and catalogues an imaginary world, as systematically as a medieval inventory.
Every time we flick through its pages, the world comes to life in our minds. The wonderful thing about Codex Seraphinianus is that every reader is asked to imagine and assign meaning to this fictional universe and fill in the blanks. Today we'd like to look at the history of the work, and how its creator Luigi Serafini came up with the idea.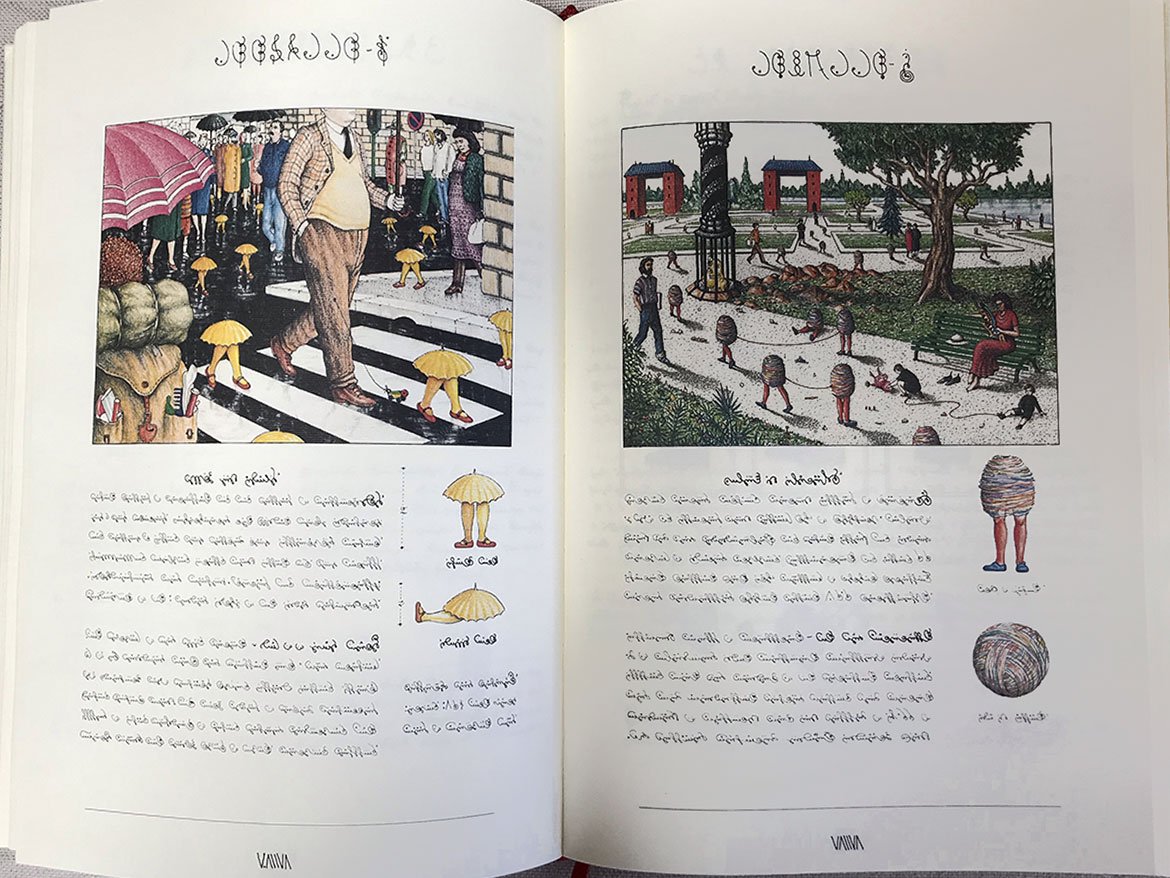 What is Codex Seraphinianus?
Codex Seraphinianus is a book by Luigi Serafini, an Italian architect and designer born in Rome in 1949. Serafini began work on his book in 1976, and worked on it for a good two and half years. In 1981, the book was published by the Franco Maria Ricci publishing house, which described it as follows: "The Codex belongs to the same, rich vein of undertakings and illusions as Pliny's Naturalis Historia, De Rerum Natura by Lucretius and Diderot and D'Alembert's Encyclopédie."
The first print run was quickly followed by others, and soon the Codex became a genuine cult object: some people attempted to decipher its language and read a meaning into it, while others simply appreciated it as the most impressive work of the imagination ever produced. Its admirers include Roland Barthes, Italo Calvino, Federico Fellini and Tim Burton.
The Codex, which is modelled on a genuine encyclopaedia, is divided into various themed sections, each richly illustrated and accompanied by text.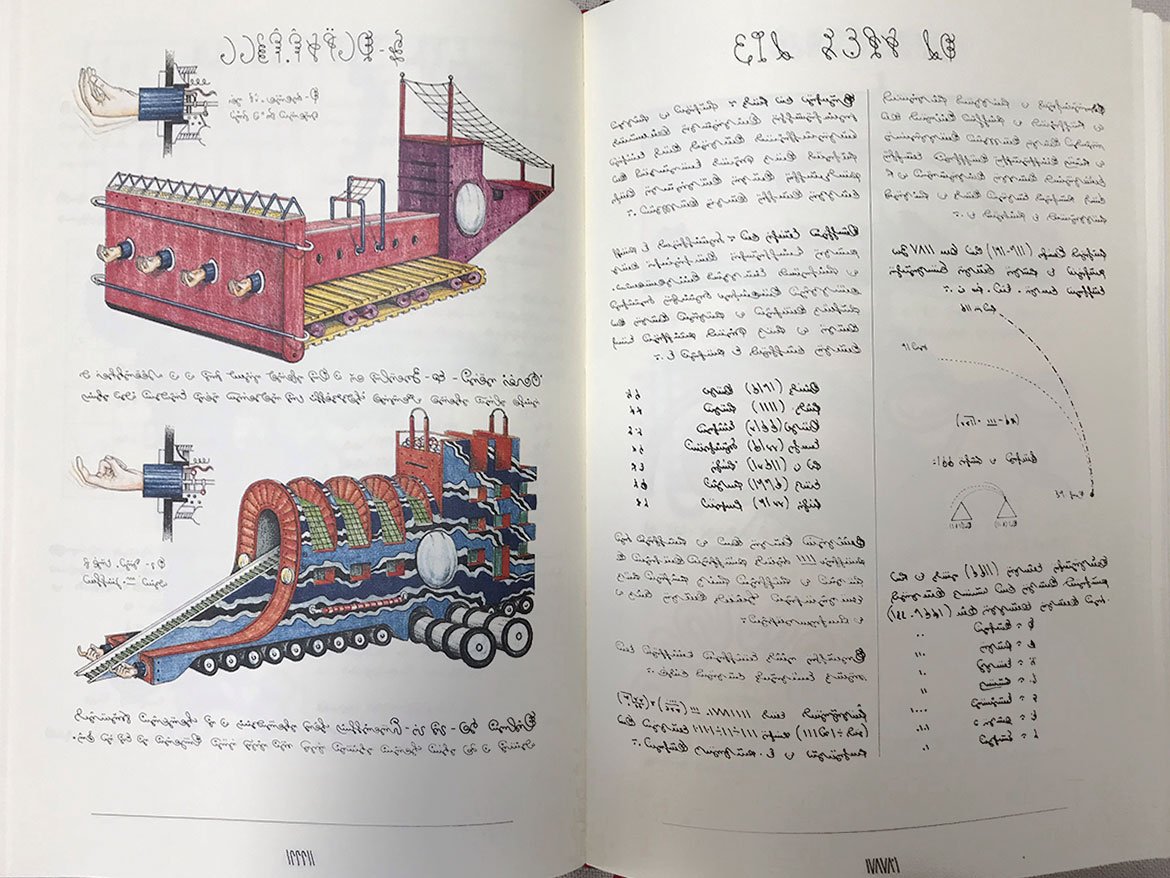 The work travelled the world. One good thing about an invented language is that there are no issues with translation; anyone can interpret it however they wish. It has been incredibly successful, selling over 70,000 copies between 1981 and the present day; a particularly impressive feat when you consider the decidedly unaffordable retail price: around £80 for the cheap version, or £240 for the deluxe one.
In China, the Codex flies off the shelves; it is so popular that counterfeit versions are sold for £15 each. The work has also aroused great interest in the USA – incidentally, we recommend this brief interview with Luigi Serafini from 13 December 2015 by the journalists from Great Big Story (a video network funded by CNN).
Now let's examine the history of Codex Seraphinianus, and try to work out how this fantasy world arose in the mind of its creator.
From idea to implementation
It was an unknown day in September 1976. Luigi Serafini was 27 years old, and, sat in his scriptorium on Via Sant'Andrea delle Fratte in Rome, he began to scribble down illustrations using coloured pencils. "They were hybrid human bodies, with protheses shaped like pliers, bicycle wheels and fountain pens, as if I were at a naked cyborg school in a Space Academy of Fine Arts". This quote appears in Decodex, a booklet describing the work's origins that accompanies the Rizzoli edition of Codex Seraphinianus.
At the time, Luigi Serafini had a no plan in mind, and didn't know what he was creating; he was simply giving shape to the 'visions' that inhabited his mind."If it wasn't the cat, perhaps it was some civilisation from another galaxy that sent me those visions, a bit like in Spielberg's film 'Close Encounters of the Third Kind'. They showed me, and I drew".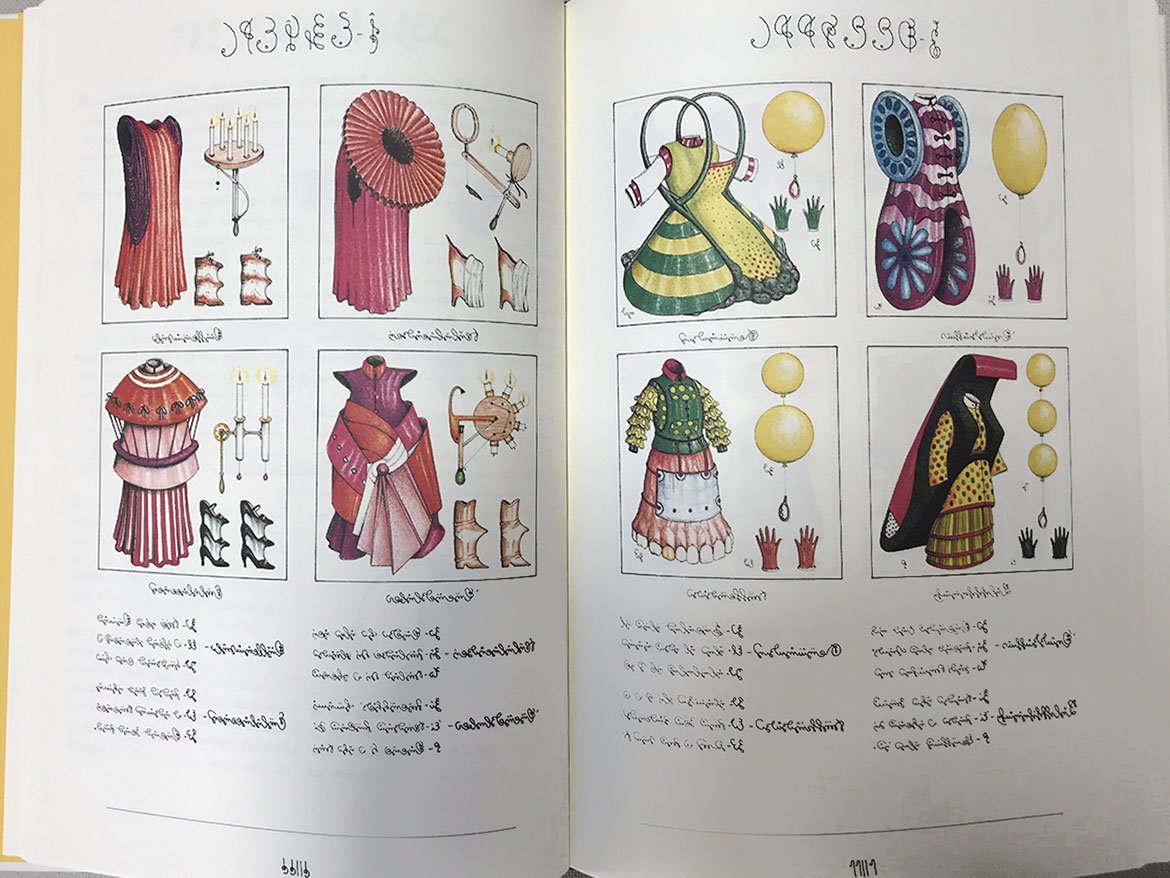 And judging by the illustrations and the wealth of details with which they are presented, the idea that the images were suggested by alien civilisations or by a cat speaking on behalf of an unknown world seems almost plausible. Indeed, Luigi Serafini's main skill is catapulting us into the implausible.
Gradually, a plan began to take shape in the author's mind for a book of his illustrations. His drawings on sheets of paper became illustrations in an encyclopaedia, and he combined these images with text written in an imaginary language, freed from the rules of any alphabet, that disavowed and made a mockery of the main aim of any language: communication. His writing had soft, rounded letters, full of squiggles and arabesques – a style that matched his aesthetic tastes and that made the writing process smooth and automatic.
The images and words in the work draw on the world of fantasy – both are freed from the need to express coherent meaning, and therefore appeal directly to our imagination.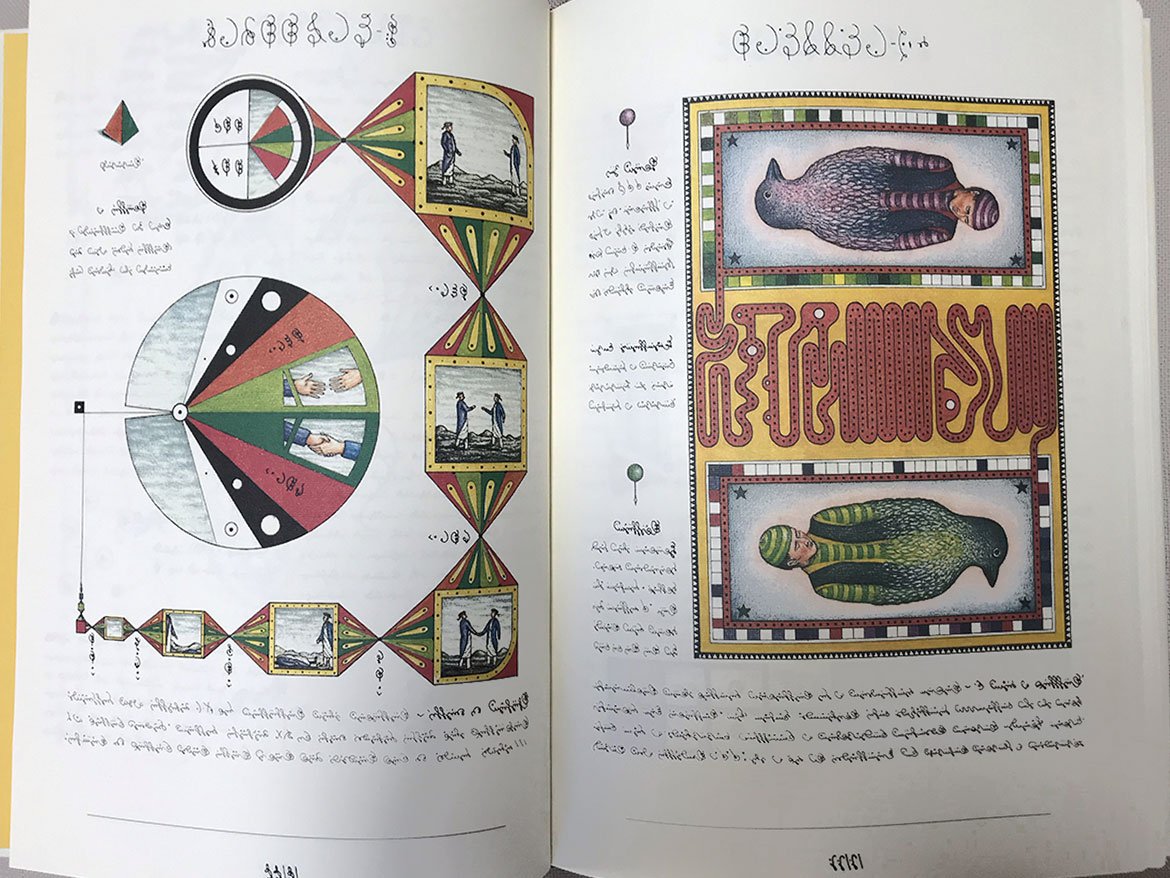 So what sensation do you get when flicking through the pages of Codex Seraphinianus? Its author explains.
"It is well known that pairing text with an image creates a semblance of meaning, even if we do not understand either. Do you remember flicking through picture books as a child, pretending to older children that you could read, but actually just daydreaming about the images? I thought perhaps an undecipherable and alien language could give us the freedom to relive those blurry childhood sensations."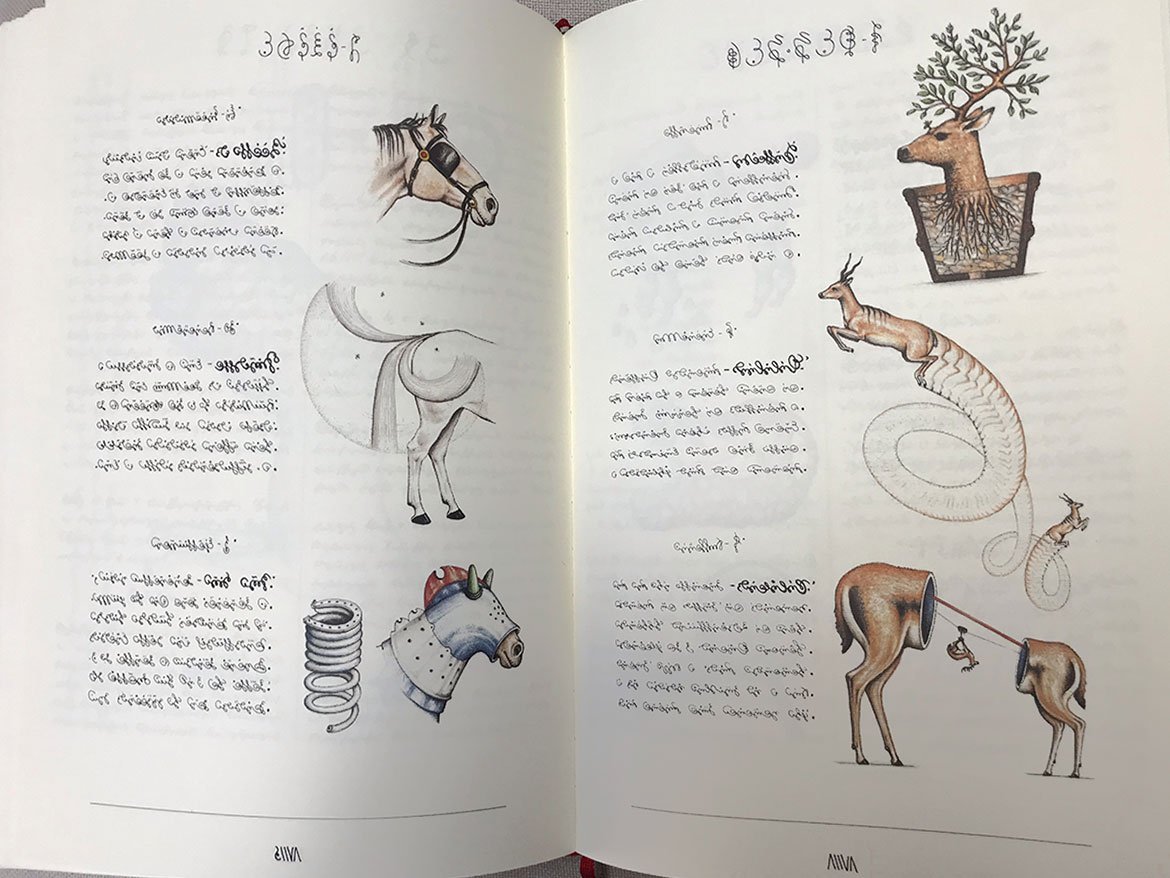 Meanwhile, when we flick through Codex Seraphinianus, we become as enchanted as children, while a fantasy world takes shape in our minds. The world of Luigi Serafini.