It was 2005 when software developer Brad Neuberg opened the first-ever co-working space inside a feminist collective in San Francisco. This new shared workspace offered eight desks, free Wi-Fi, communal lunches and other social activities like meditation breaks and bike tours.
At the time, the concept of co-working was revolutionary. In the rapidly growing service industry, the vast majority of people worked from the office, and digital technology had only recently made working from home possible. But fast forward to today and co-working spaces can be found in every big city, as well as many smaller towns and tourist hotspots.
In this mini guide, we explain in detail what co-working means – a refresher for anyone who isn't quite sure and a deeper dive for those who are but want to know more!
What co-working means
Co-working means sharing a work space. Co-working is a work model that became widespread at the start of the 21st century and is mainly used by freelancers.
Software developers, designers of different stripes, artists, authors, copywriters and communication experts, as well as workers from the cultural, digital and service industries are just some examples of the freelancers who use the co-working model. But users of co-working spaces also include company employees who work remotely, start-ups and other innovative firms.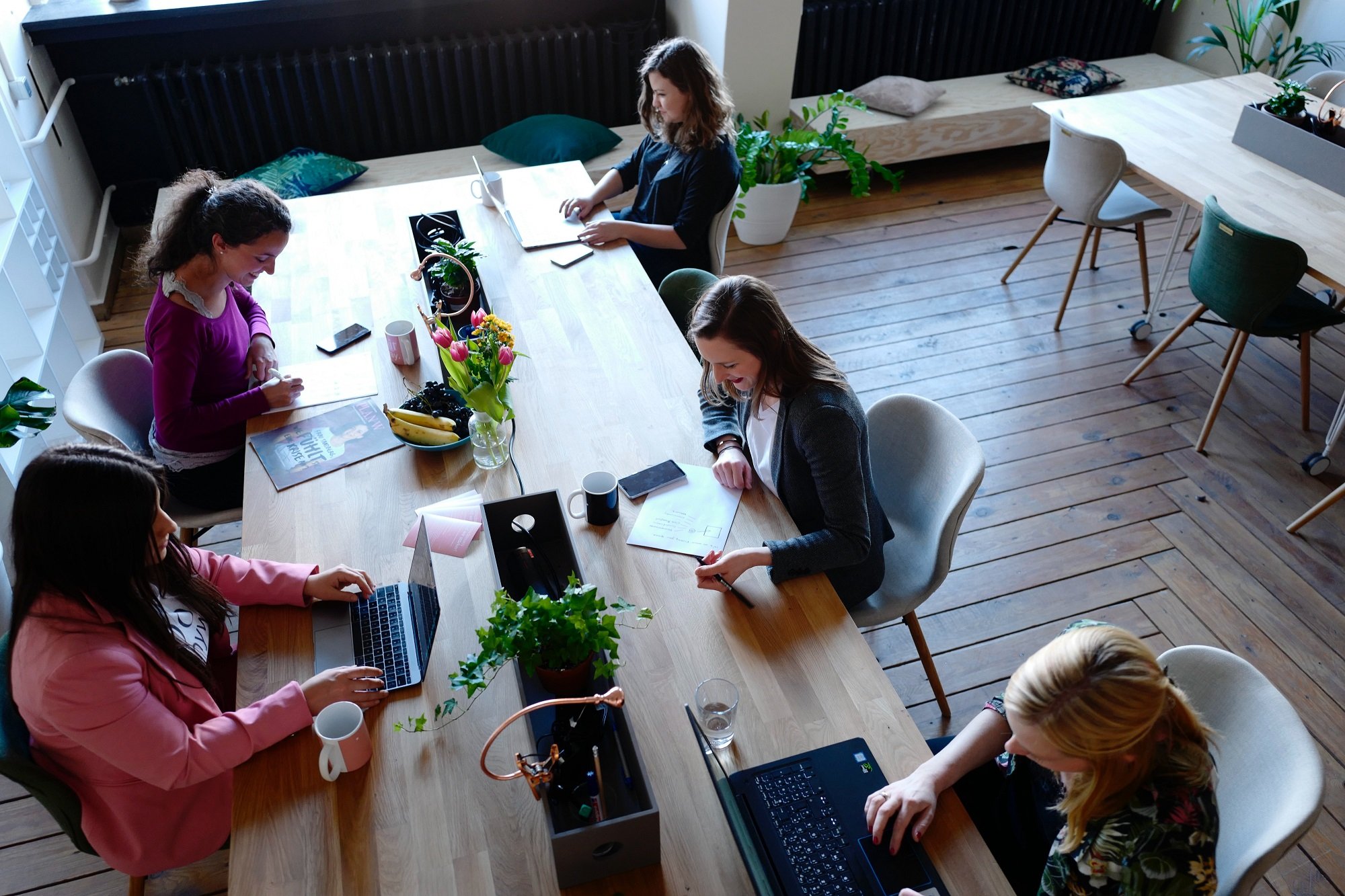 In the co-working model, although working independently of each other on their own projects, workers use a single workplace, sharing space, infrastructure and skills.
In fact, co-working is more than just a physical place: it's also the freelance community that grows out of a shared workplace. Co-working gives freelancers the possibility to collaborate with one another, to work on projects together, to share their skills and to take part in professional development events. In other words, to grow professionally together.
Last but not least, co–working encourages sociability – unlike working from home – offering recreational activities like yoga, meditation, sport and cooking together.
To summarise, co-working:
Is a new work model for freelancers that's based on sharing
Involves sharing a work space and infrastructure, like Wi-Fi and printers
Offers a community in which freelancers share skills
Encourages sociability with networking events and recreational activities
The advantages of co-working
Co-working is a work model that was born and came of age in an era of great change. Advances in technology and the spread of the internet haven't just made it easy to work and collaborate remotely, it's created new jobs rooted in the digital economy. As the service sector grows, digitalises and fragments, new forms of micro businesses and start-ups are emerging.
Freelancers are coming together in new, modern communities. Co-working spaces are an alternative to the traditional office or working from home.
The advantages of co-working include:
Cutting costs. By sharing space and infrastructure, co-working allows the use of leading-edge services – fibre broadband, professional desks, printers and plotters – at more affordable prices.
Finding new clients and projects. Co-working communities are ideal for starting new projects and collaborations: they give freelancers the opportunity network and leverage their skills.
Continuing education and inspiration. In a co-working environment, there's a constant, often informal, knowledge sharing. Co-working spaces can therefore be a rich source of inspiration. What's more, more formal training and networking events are often held within these communities too.
Social activities and work-life balance. Yoga, sport, coffee and meditation: various types of event spring up around co-working spaces to mitigate the most harmful physical and psychological effects of remote working.
The best places for co-working
From beachside houses to disused factories, from historic buildings to train stations: co-working spaces are popping up everywhere.
Originality aside, some of the best places for opening co-working spaces are buildings in urban areas that are easily accessible by public transport, car or, preferably, bike. A fast and reliable broadband or fibre optic internet connection is essential (with a download speed of at least 30 megabits per second).
Often co-working spaces offer lots of open-plan space for workers, booths for phone calls and rooms for meetings and workshops.
In 2019, there were about 19,000 co-working spaces across the world. In the UK, the first co-working space was launched in 2005, in Islington, London. In 2018, there were An estimated  5320 co-working spaces nationwide.
The world's most famous co-working spaces
As we've seen, co-working can take on various forms, spaces and philosophies.
There are international communities that manage co-working spaces in different countries: ImpactHub – founded in Madrid – is the world's largest co-working network with 100 communities in 55 countries and 5 continents. Talent Garden, on the other hand, is a network of co-working spaces (and more) that started life in Italy: it has 23 campuses in 8 European countries and works with major brands like Google, Cisco and BMW.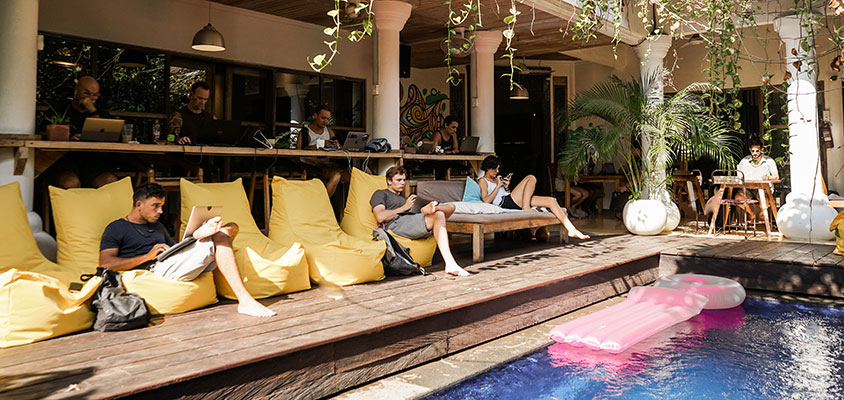 Co-working spaces can also be more intimate and creative. In Leeds, for example, there is Duke Studios, home to a vibrant community of digital creatives: photographers, developers, architects, makers and even travel writers. In Bali, Dojo is a dynamic community of just 100 metres from one of the world's most famous surfing beaches, while Bansko in Bulgaria is a small mountain village that has attracted a diverse community of digital nomads following the launch of Coworking Bansko.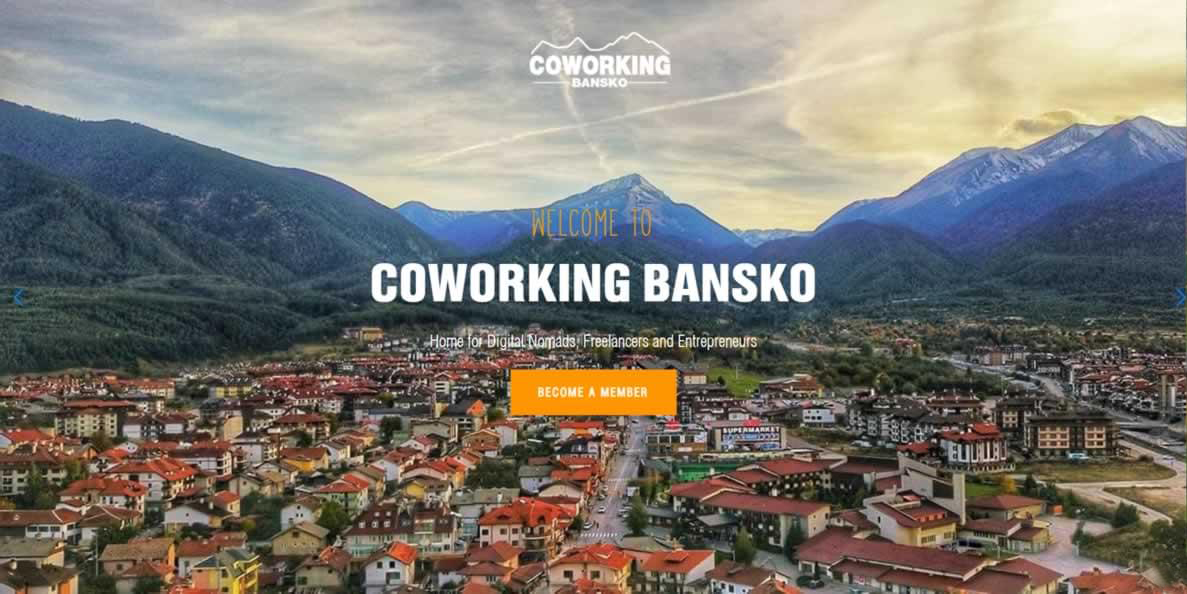 There are even co-working spaces in the lobbies of hotels, like Hotel Schani in Vienna, in stations like everyworks at Berlin's Hauptbahnhof or in tropical paradises like Cocovivo, the fairy-tale co-working space on the remote island of Bocas del Toro, in Panama.
Are you ready to start work in your nearest co-working space?