Foamex® is a type of plastic made of expanded PVC: particularly suited to direct printing, easy to cut to shape and light, yet also durable. Indeed, being plastic, it is waterproof and can therefore be used outdoors.
These are just some of the characteristics that have made Foamex® an extremely popular material in the marketing sector… in numerous different forms! It is often used for advertising boards, including extremely large sizes, and signs, but its versatility means it is also often seen in shop displays and decorations: for example shop-window displays or hanging signs.
This article describes what Foamex® is, the sectors in which the material is used and why it has been so successful. Finally, we'll give you a few ideas on how to use it in your projects with Pixartprinting.

Where does Foamex® come from?
Foamex® is a type of plastic produced in Switzerland. It is made by a Swiss company called 3A Composites, based in a small settlement between Lucerne and Zurich, which patented the Foamex® rigid foam panels  30 years ago.
Foamex® panels are therefore available very quickly in Europe through the Swiss company's various logistics partners. In America and Asia, meanwhile, Foamex® is distributed by various subsidiaries of 3A.
Foamex® is produced in 10 different thicknesses, from 1 mm through to 19 mm, although the three most common are 3 mm, 5 mm and 10 mm. The panels are available in nine colours, but the original is the white, easy-to-print version.
What is Foamex®? A printable, durable and lightweight material

As we mentioned above, Foamex® is made of PVC, one of the mostly widely used plastics in the world!
Want to know a bit more about Foamex®? Here are a few key points:
Foamex® is an easy material to print on. The PVC's molecular structure gives the Foamex® panels a particularly flat, even and, most importantly, white surface, which facilitates the printing process. Printing directly onto Foamex® produces a matt effect, but a UV varnish can also be applied to make the image glossier, as well as to give the panel extra protection.
Foamex® is a particularly durable material. Unlike cardboard, for example, Foamex® can withstand the elements, and so can be left out in the rain. This makes it suitable for creating outdoor advertising boards. For outdoor use, we recommend using the thicker Foamex® panels, like the 10 mm boards.
In addition, Foamex® is resistant to any wear and tear to which it may be subjected over time; even large panels do not become misshapen or shrink. However, if the panel is constantly in the sun, the images will tend to become gradually lighter over the years.
Foamex® is a lightweight material. In addition to its durability, its lightweight properties mean it is easy to transport and install.
Foamex® is an easy material to work with. The initial shape of the panel can be altered in various ways, such as cutting and milling it, or it can be bent either hot or cold. In addition, the panel can be drilled to insert screws or metal hooks, and it is easy to glue. These characteristics make Foamex® a very versatile material. For example, it can be used to create a wide range of display items, plaques or hanging signs, as well as classic advertising or information boards.
Foamex® is a highly fire-resistant material.
Foamex® is excellent value for money. In certain cases, Foamex® can be a good alternative to more expensive materials such as Plexiglas® or aluminium.
Printing on Foamex® with Pixartprinting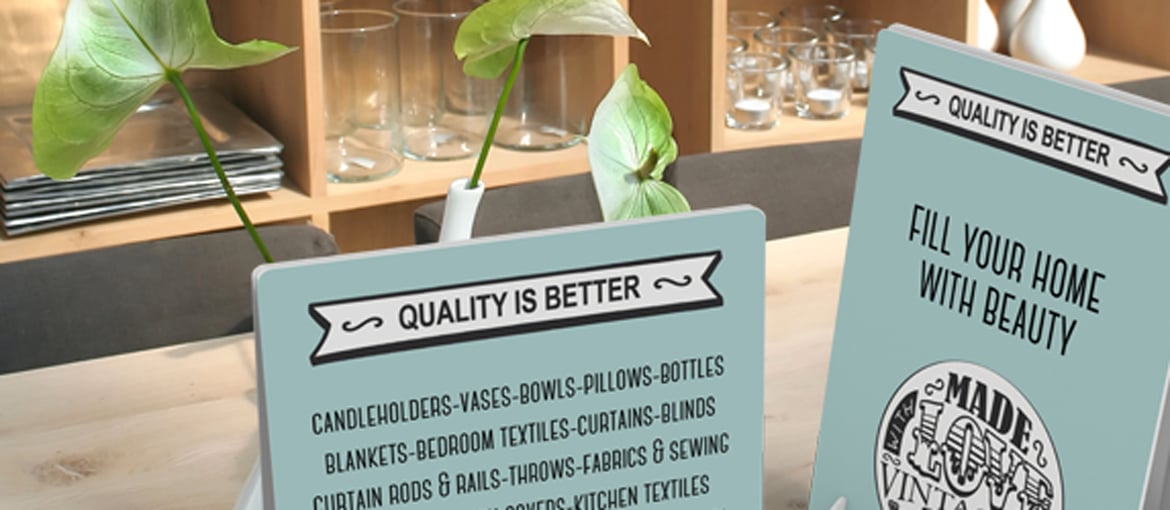 Now that you know all about Foamex®, it's time to describe the various uses you can put it to at Pixartprinting.co.uk. On our website you can order various items printed on Foamex®, using them for advertising your company, decorating the interior of a shop, putting together an exhibition or information point or furnishing your office.
To do all this (and much more) with printed Foamex®, Pixartprinting has the following products to choose from: printing on rigid media (large format panels), hanging signs, indoor display items and plaques.
Here they are explained one by one.

Large format Foamex® panels
You can either choose from 11 pre-set rectangular or square sizes, or choose your own dimensions for a customised product. They can be printed one-sided or two-sided, with the option of metal hooks to hang them. You can also opt for a special coating to make them more shiny and durable.
Use them as information panels at an exhibition or publicity event, to print an advert or sign for your shop, or to put together a stand for a trade fair.
Cut-to-shape Foamex® hanging signs

If you want to decorate your shop window, Pixartprinting.co.uk also allows you to print cut-to-shape hanging signs. You can choose from a range of predefined circular or arrow layouts and use ready-made artwork to advertise sales or discounts, or upload your own custom design.
Foamex® desk displays
If you need to advertise a particular offer on your counter or set up an info point, you could use Pixartprinting's printed desk displays. These are counter-top displays that can be printed either single- or double-sided, made with  3 mm Foamex®.
Foamex® plaques

A final use for Foamex® is to make plaques for your office. These can be printed either on Plexiglas® or on 5 mm Foamex® in a range of square and rectangular sizes, to be hung either with classic screws or in a flag system.
Now you know all about Foamex® and its various possible uses, all that's left is to let your creativity run wild!