Thinking back to our childhood, we all have a favourite book, one we spent hours immersed in, looking at its pictures again and again. Loveable characters like the Little Prince, Teo, Pelines or Fray Perico are in the collective imagination of the Spanish only because they have been able to see and touch the illustrations that brought them to life.
Marisa Mora (b. Madrid, 1982) grew up with these paper superheroes and heroines. What she couldn't have imagined as a child was that, a few years later, she would be drawing the adventures of new characters that would mark the lives of new generations.
"The first book I illustrated was El tesoro más precioso del mundo (2007), with the publisher SM El Barco de Vapor. It wasn't an illustrated album, but a fiction book in chapters", she tells us. "It's the wonderful story of the friendship between a boy and a girl and an imaginary world of puppets, princesses and dragons", explains the illustrator.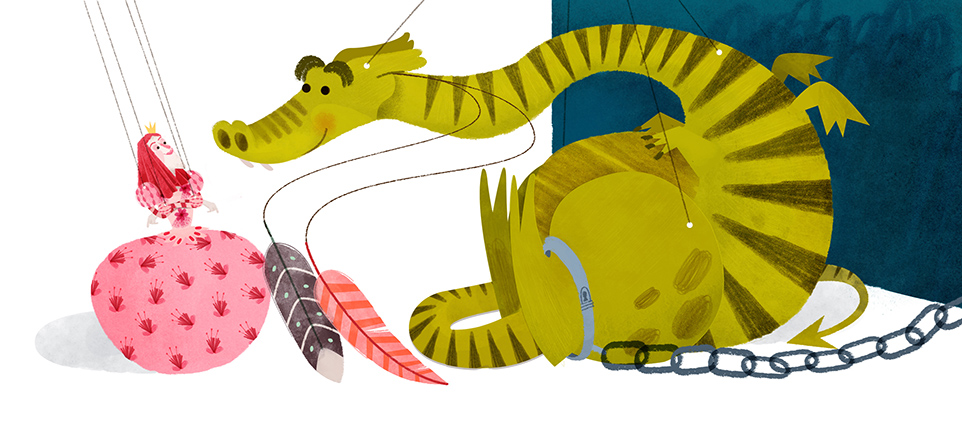 Morea began her career doing drawings for adults, but she was eager to make the leap to children's literature. "That collection of stories, 'El Barco de Vapor', is very old and I read them at school, so it brings back many memories for me as well".
When it comes to drawing, the illustrator doesn't try to put herself in the kids' shoes; rather, she thinks of them almost as adults. "What I like, I think can connect with them. Perhaps being a children's illustrator makes the child that they say we have inside us more alive than it is in other people".
To bring her characters to life, the illustrator combines digital work with other material processed with a scanner, which enables her to work with colour and textures. "My work is digital, but I use the scanner a lot to add watercolour, gouache or coloured pencil textures to my drawings".
If she had to choose one illustration from the hundreds she has created with her imagination, she would go for the likeable bear in Books aren't for Bears. In fact, Morea chose this drawing for the cover of a series of notebooks she has printed with Pixartprinting. "This bear has opened a lot of doors for me in the world of children's illustration", she says.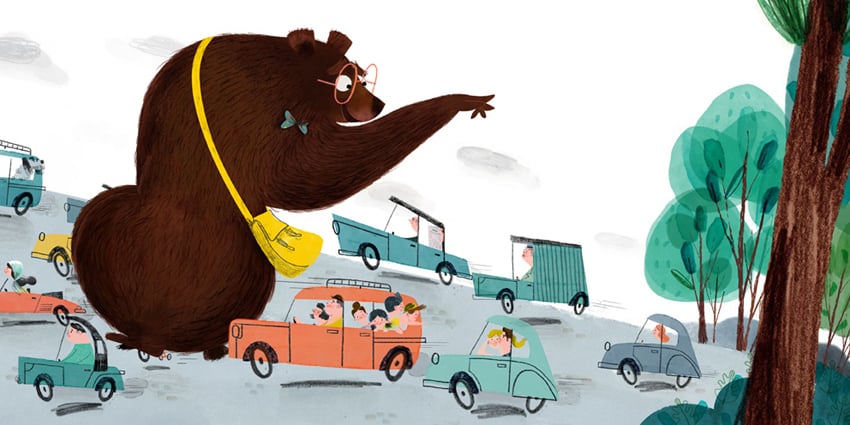 The illustrator uses the notebooks to sketch and write down ideas when she travels and has decided to hold a prize draw for some of them among her Instagram followers, who have been fascinated by them. As an expert with pencil and paper, she knows what the ideal notebook should be like. "It has to fit in your handbag, but must be thick enough so that you don't go through the paper with whatever instrument you use".
And it appears that she's going to continue to need her notebooks for the foreseeable future. At the end of this year, four new titles that she illustrated are set to be published. Since she decided to embark on this career full-time four years ago –giving up her job as an art director in advertising– she hasn't stopped working. "I would like to carry on illustrating books".
Although she has worked with international publishers like SM, Penguin Random House, Nosy Crow, Sterling and Simon & Schuster, she would like to expand her client portfolio. An intense career in which her childhood dream has come true. Paraphrasing the unforgettable Walt Disney, a role model for any children's illustrator, "If you can dream it, you can do it; remember that this whole thing started with a mouse".