"The cowl does not make the monk".
This proverb, rarely heard nowadays, means that an objects's outward appearance does not necessarily mean it contains anything of substance.
In the same way, we shouldn't judge a book by its cover: we need to read it first before we can assess its value.
Nevertheless, aesthetics are very important, because without giving shape to something it is difficult to promote its value and make its substance stand out. A thought that no doubt occurred to Silvia when she was considering creating a cardboard display stand with a pocket on the front to show off her works as an illustrator and designer.
Silvia needed the right frame for her printed works – something to make them instantly visible, to show them off and to invite people to take them, flick through them and take them home with them. She needed an assistant who wouldn't get tired and who could be everywhere at once. Someone who could talk about her and her ideas, but without using their voice. Someone who would always be on hand to give out her works to anyone interested. Someone with incredible stage presence, who could attract people's attention in an instant.
The portrait cardboard display stand with a front pocket she created with Pixartprinting's help was perfect. And here it is: ready to show off Silvia's skill and illustrations at trade shows and events, making her illustrated paper volumes easy to browse.
The display stand matches her brand's image and the rest of her merchandising perfectly, and we're sure it has helped her to grab people's attention and make valuable contacts in the sector, expanding her network and so opening up opportunities for both professional and personal growth.
In the interview below, we discover where the idea came from for the display stand, how it was developed and whether it lived up to expectations.
We hope you enjoy it. Here's the finished article for you to feast your eyes on!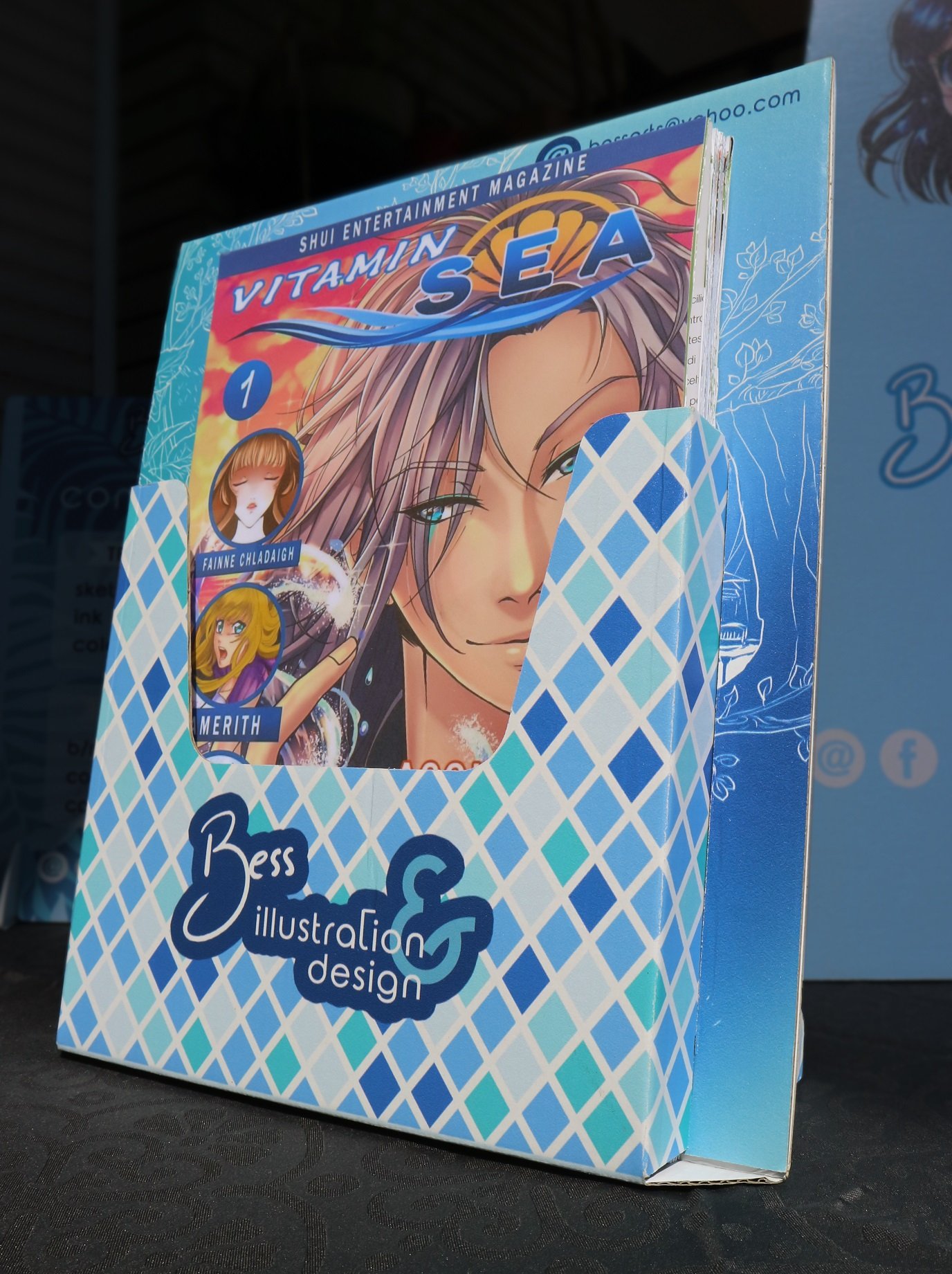 Who are you? Tell us about yourself, what you get up to in life, and your dreams, aspirations and talents. A short but faithful portrait!
Hi everyone, my name is Silvia Bessero, or Bess in the world of illustration and comics! I am an emerging artist, and when I am not busy daubing my illustrations onto innocent sheets of paper, I enjoy creating logos and working on graphic design projects. I have been involved in various self-published art books, and I am currently an illustrator at Shui Entertainment.
Before telling us how your idea was born, can you explain to our readers what you produced in the end using our printing services?
I have created and ordered a range of display stands and other products from the website, and the latest to arrive was Cannes, a display stand with a front pocket, perfect for holding my A4 books.
Let's go back to the moment it all began. When did you come up with the idea for this design? Was there something that sparked the idea? Did you stumble across it by chance? Tell us a bit about how you devised the concept.
I've been going to comic and illustration fairs for a few months to advertise myself and present my products, so I needed a range of promotional materials to decorate my stand. One of the things I bought was this display stand with a pocket, which was brilliant for showing my books at their best.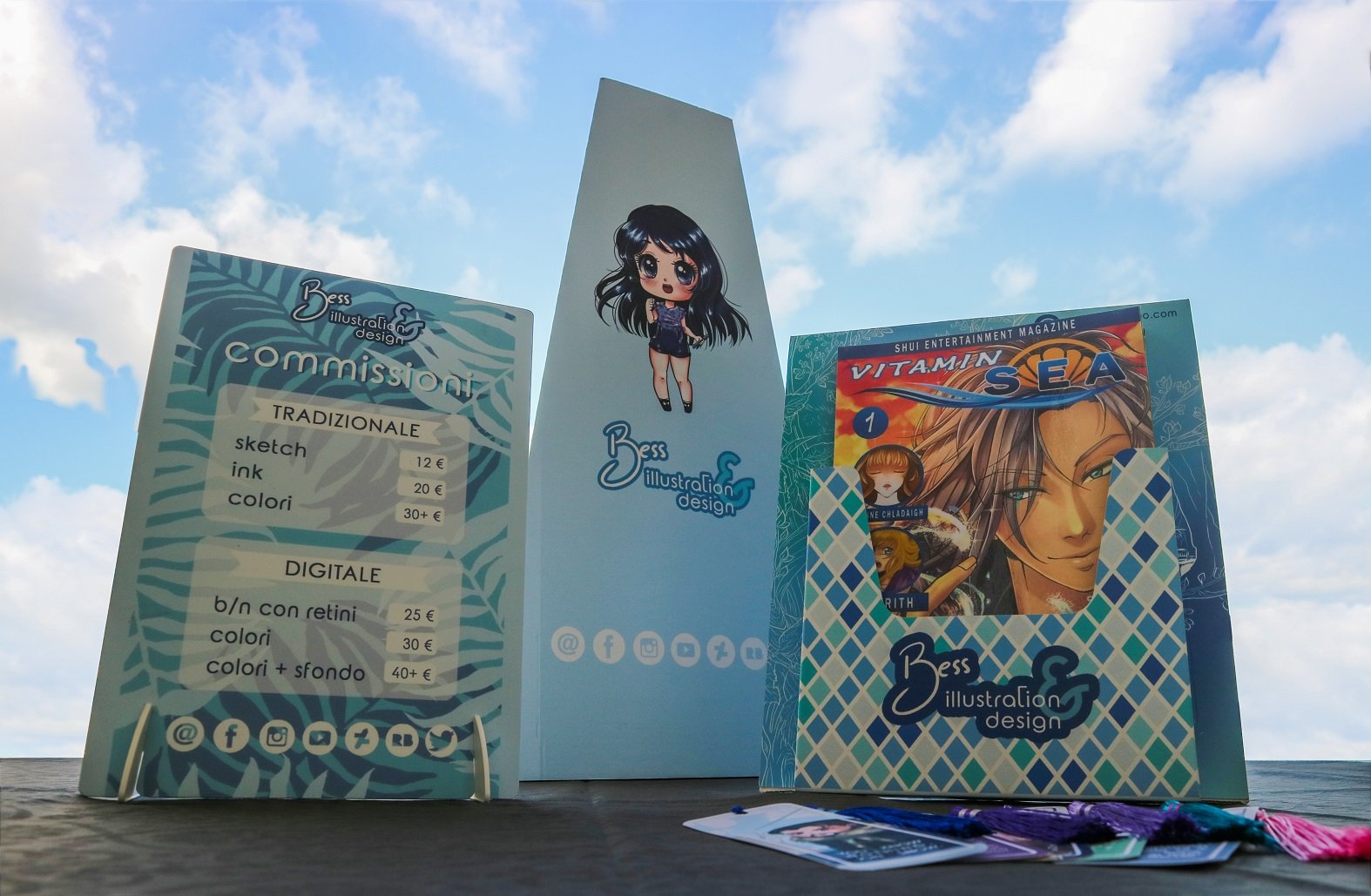 Once you had found the right idea, you had to set an objective. What did you want to achieve with your idea? What is the ultimate aim of your work?
I was looking for a display stand that matched the style and colours I had chosen for my stand, so everything would look good to visitors and focus attention on my books: an upright display gives the products much more visibility than simply displaying them flat on a desk, and during an event, when it's very busy and there are lots of products to choose from, it's crucial to be able to focus people's attention on the right places.
With the idea for the design and the aim you wanted to achieve sorted, all you had to do was create it! How did you do it? What were the design phases and how many were there? Tell us about the process that brought your idea to life and made it ready for printing.
Although I had done some graphic design before, this was the first time I had designed a display stand, so the first thing I did was to look online to see the things I liked and didn't like about the various examples I managed to find. It is much easier to come up with a design when you're sure about your preferred style! I did a few test runs, and after making the necessary corrections I downloaded the template from your website and got to work on my computer!
Then it was time to print! How did you use print on demand to produce your design? Which materials did you use?
Printing on demand from the website couldn't have been easier: after downloading the template, I imported it into my graphic design software and added the design I had made previously on paper to the layout. The material the stand is made from is ideal for its intended purpose: it is light and compact, meaning I can easily transport it to events without it getting in the way or becoming damaged.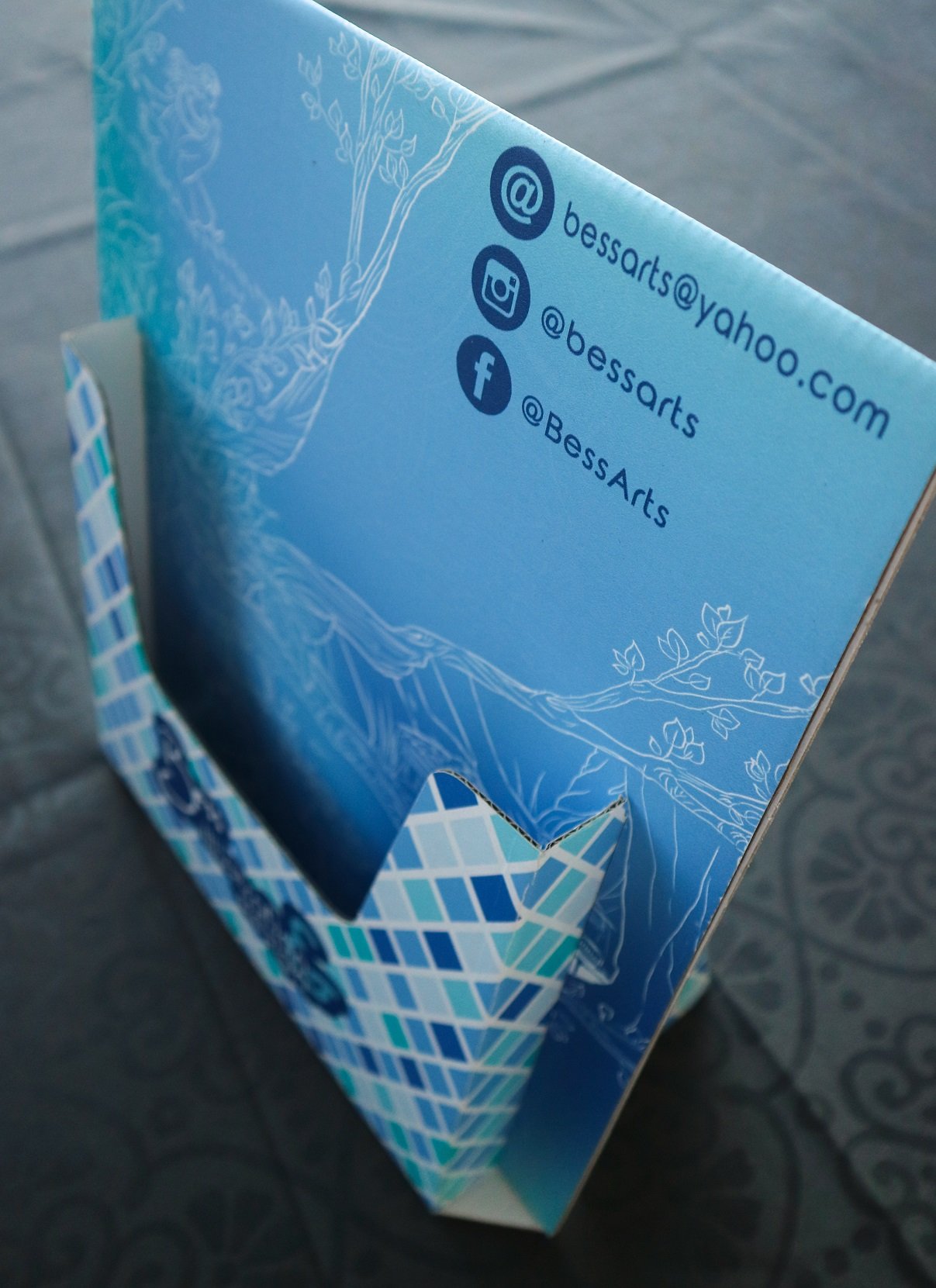 Once the item had been made, it was time to put it to use. In your case, the aim was to print a display stand with a front pocket. How did it feel to see it in front of your own eyes?
It is always exciting to see a project you have followed from the initial idea through to the design come to fruition. Then you get that little niggle of worry that makes you tear off the packaging to make sure that the product is exactly as you imagined it! As soon as it was out of the box, I assembled it quickly and placed my series of books in the pocket: I just couldn't wait to see them together!
This is only the start! What other projects do you have planned for the future? Can you share them with us?
Two volumes I have been involved with are coming out very soon: De Humanitate Florae, a self-published collective art book on the theme of nature (the illustrations will also be displayed in an exhibition at Murabilia in Lucca, Italy, on 6-8 September), and the first volume of Vitamin Sea, the magazine from Shui Entertainment that features comics, short stories, poetry, interviews and much more, due out in August. Both weighty A4 colour books, perfect for showing off in the display stand!
…This is the beginning of an artistic journey on which I will strive to always do my best!