Travel is an inimitable personal growth experience.
That's why Pixartprinting wanted to support archaeologist and instagrammer Andrea Angelucci, who embarks on his travels with an analogue heart and a digital gaze. Notebooks, business cards, bookmarks and postcards can all be found in his backpack as he explores the world. You can admire his stunning shots by following him on Instagram and Facebook.
We asked Andrea to tell us about his experience as an instagrammer and archaeologist: an unusual mix that makes him an unusual influencer. His account thrilled and fascinated us and we want to share it with you.
Are you ready to step into the shoes of a true Indiana Jones of the digital era?
Happy exploring!
Instagram and mindful travel: an impossible combination?
Travelling has become mainstream.
There are thousands of influencers out there showing off their trips to the most remote and exclusive parts of the planet. Indeed, it's hard to find a profile description which, among the passions listed, doesn't include "travel". But what does travel mean? Or rather, what should it really mean?
There are different ways of travelling. You can choose to be a tourist, shutting yourself away in a resort or all-inclusive hotel. Or you can choose to be a traveller. And what distinguishes a tourist from a traveller? Curiosity, the desire to challenge yourself, to explore and discover. I'm an archaeologist, I've been obsessed with history since I was little. I can't imagine visiting a place without looking for a ruin or an old church, without seizing the opportunity to scratch beneath the surface of the place I'm staying, its traditions and culture.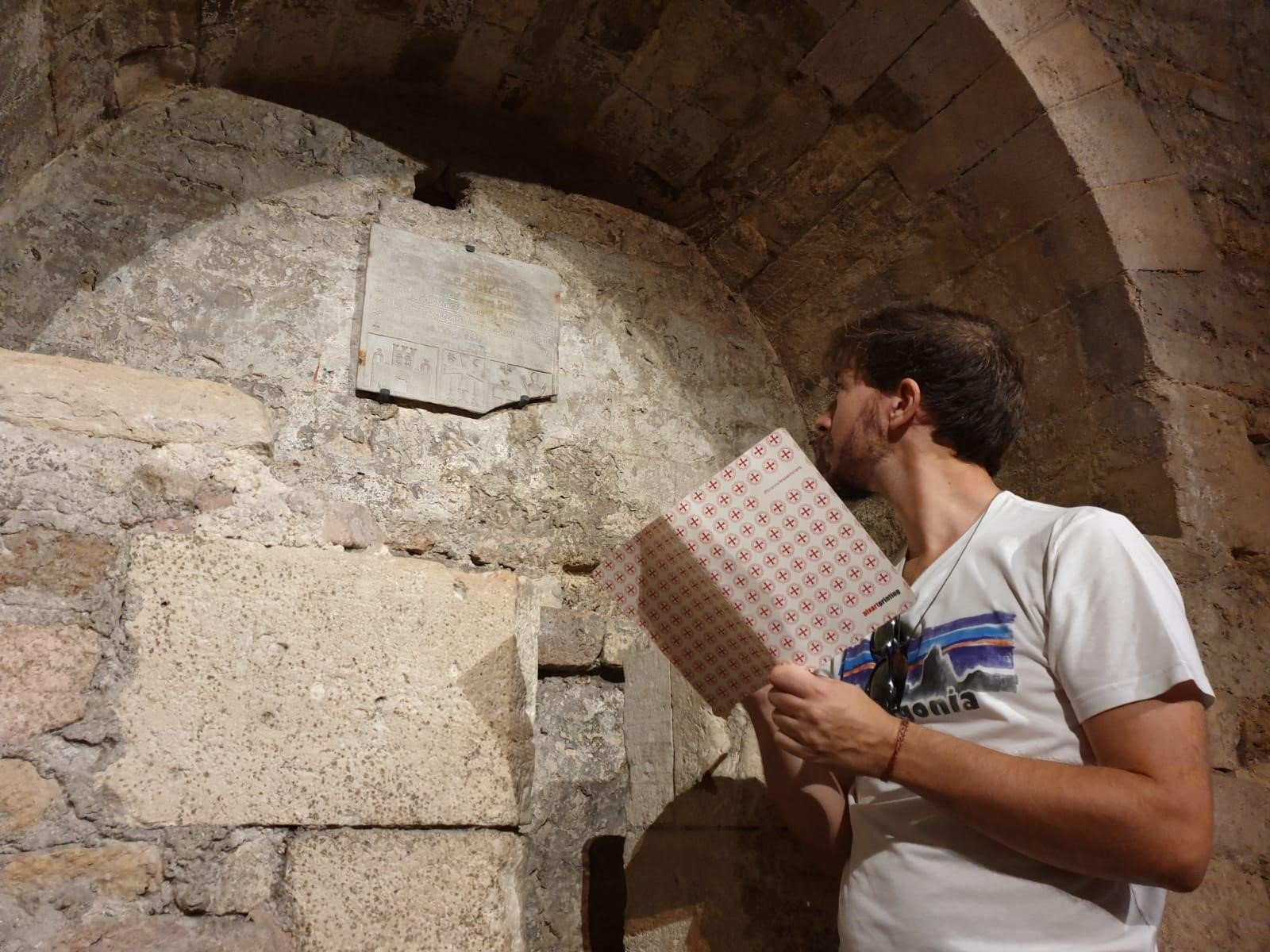 Not doing so would mean travelling by halves. That's why, when I choose my travel destinations, I always try to find places that have a lot to offer in terms of history, archaeology and art. So, the choice of the south of France as a destination to explore was no accident. This part of Europe is full of not just historical sites and artefacts, but above all myths and legends. Archaeology is, after all, just that: a journey into history, into scenery and, more than anything else, the most intimate side of human beings.
I studied archaeology, following my passion, and I've since become an authorised tour guide, turning "travel" and historical education into my livelihood. I travel for pleasure, I travel for work and I love sharing the thrill that I experience every time. My passion for photography has in no small way helped me to do this and, in the end, I too joined social media.
The secret to the perfect shot? Seizing the chance and enjoying the moment.
I try to use social media by making the most of its positive side, namely the opportunity to share beauty and content of value.
Some shots are not easy to take: often, I've had to get up at the crack of dawn or climb a mountain, tackle the freezing cold or baking heat. When hiking, I've had the chance to admire breathtaking scenery, to glimpse things that few get to see. Although it's heavy, I always carry my DSLR with me in my backpack so that I can capture instants packed with wonder.
In France, I climbed a mountain in the middle of the night to photograph Montségur Castle beneath the stars. I also trekked up an arduous alpine trail to capture the best shot of Queribus Castle, which is perched atop a rugged spur of rock. I think that taking photos is really useful for preserving memories, but you shouldn't get carried away: otherwise, you'll spend the entire trip behind the lens of your camera (or smartphone).
Taking the right number of photos, captured only once you've savoured the moment of discovery, will help you remember how you felt when you took the shot. There's been many a time when I've opened my hard drive and started combing folders just to relive memories!
Notebooks and watercolours: how Andrea prepares for trips
A few years back, I started filling notebooks with my observations.
As a tour guide, I have to constantly study and dig deeper into the places, sights and events that I describe in my tours. Moving away from just words, I've also started drawing, inspired, I'm unashamed to say, by one of those films that "changed" my life, namely "Indiana Jones and the Last Crusade", in which Indi's father studies the myths of the Holy Grail by scribbling down notes, sketches and drawings.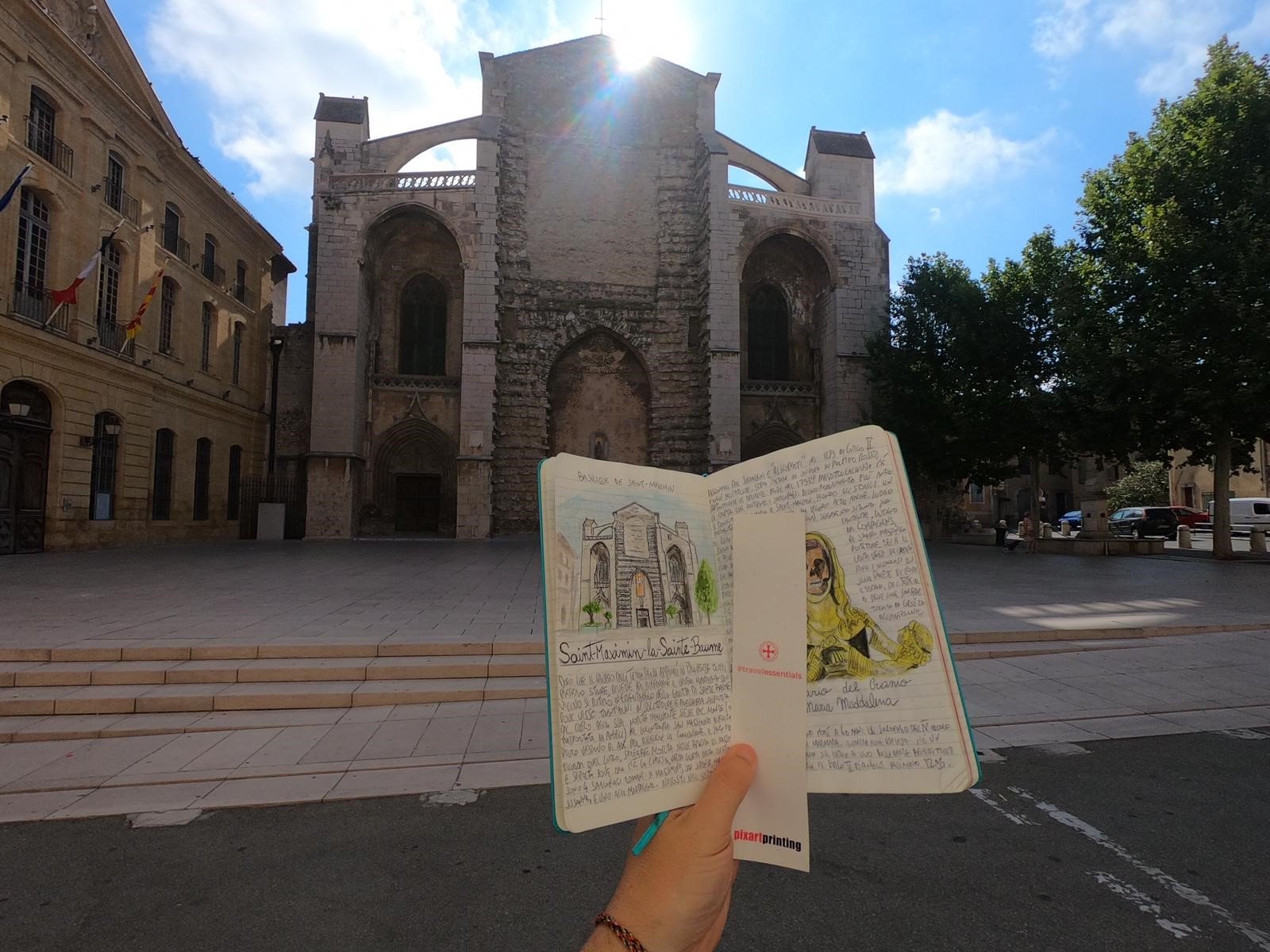 That's how I've ended up spontaneously creating little watercolours that are useful not just for helping me relax, but above all for recording the details of the places that I visit. My notebooks are galleries of drawings interspersed with notes that seem to have been written down in a frenetic and disorderly manner, but which I'm able to decipher when I need them. Once I got into this habit, it's was only natural to post on social media photos in which I display my drawing right in front of the place that I have just drawn, as if to say: " Here I am, I did it in the end: I studied you and I reached you!".
Die hard: the timeless appeal of handwritten notes
I appreciated the interest that the photos of my notes shared on social media generated: for me, this shows the success you can achieve by straddling the modernity of Facebook and Instagram and the romantic customs of drawing and notetaking practiced by travellers and explorers of yesteryear. Innovating while remaining rooted in the past sort of sums up my life.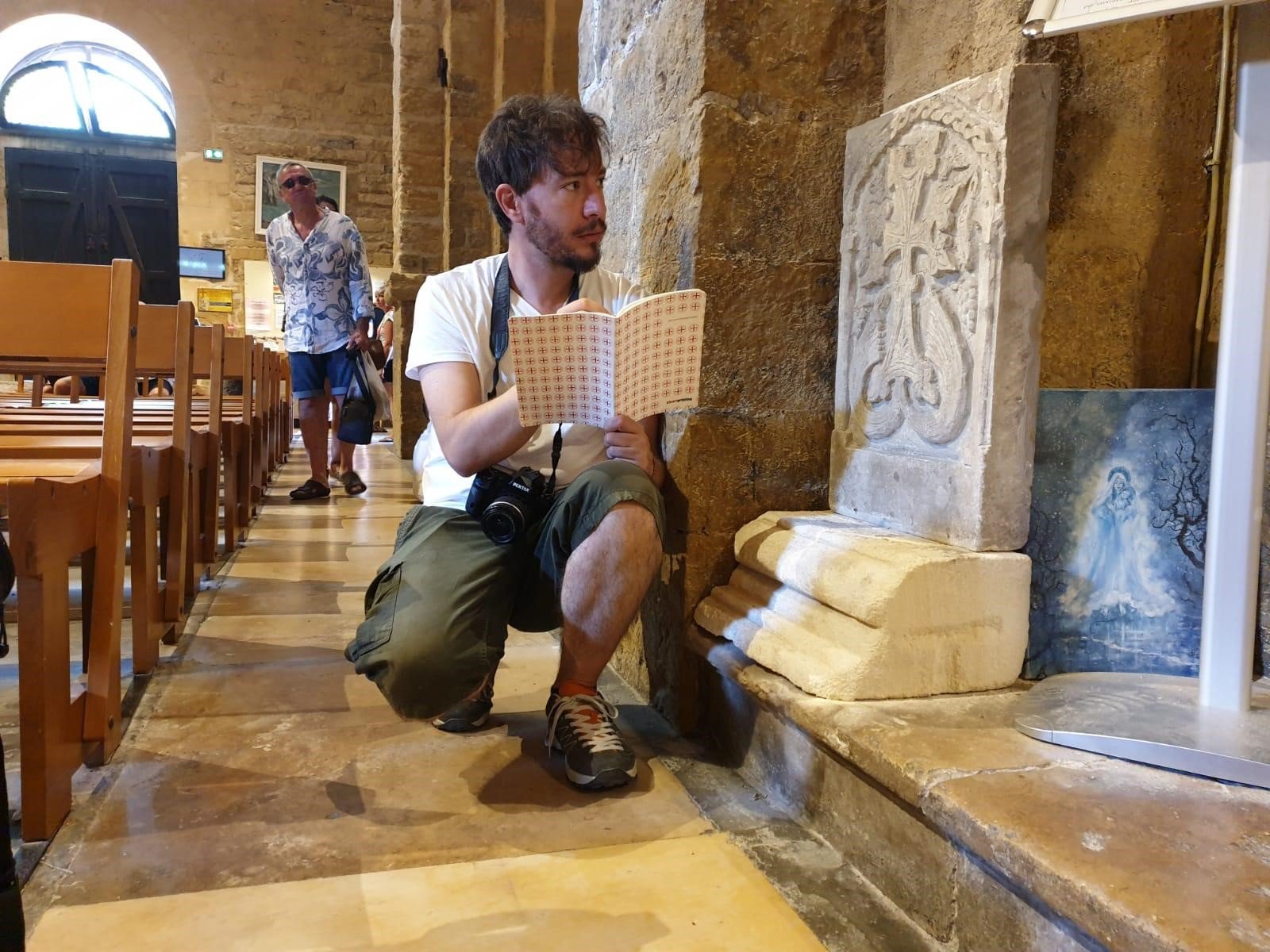 This way of mindful, analogue travel also piques the interest of the people I meet on my travels: in Pakistan, my notebook was immortalised in various newspaper articles, and it went down well in France too. I think my approach to taking notes by hand, in my notebooks, sums up my idea of travel: if you travel mindfully, you travel twice. You return home with a far richer set of experiences.
#Travelessentials: Pixartprinting's kit for supporting Andrea's adventures
Pixartprinting designed the #Travelessential kit based on my experience as a mindful traveller who wants to thoroughly explore: I needed notebooks to record my copious notes about ideas, feelings, thoughts and facts; folders for storing documents, receipts and, of course, plane tickets; bookmarks, invaluable for someone who likes to read up on their destinations while they travel; and business cards, essential for anyone who travels for a living.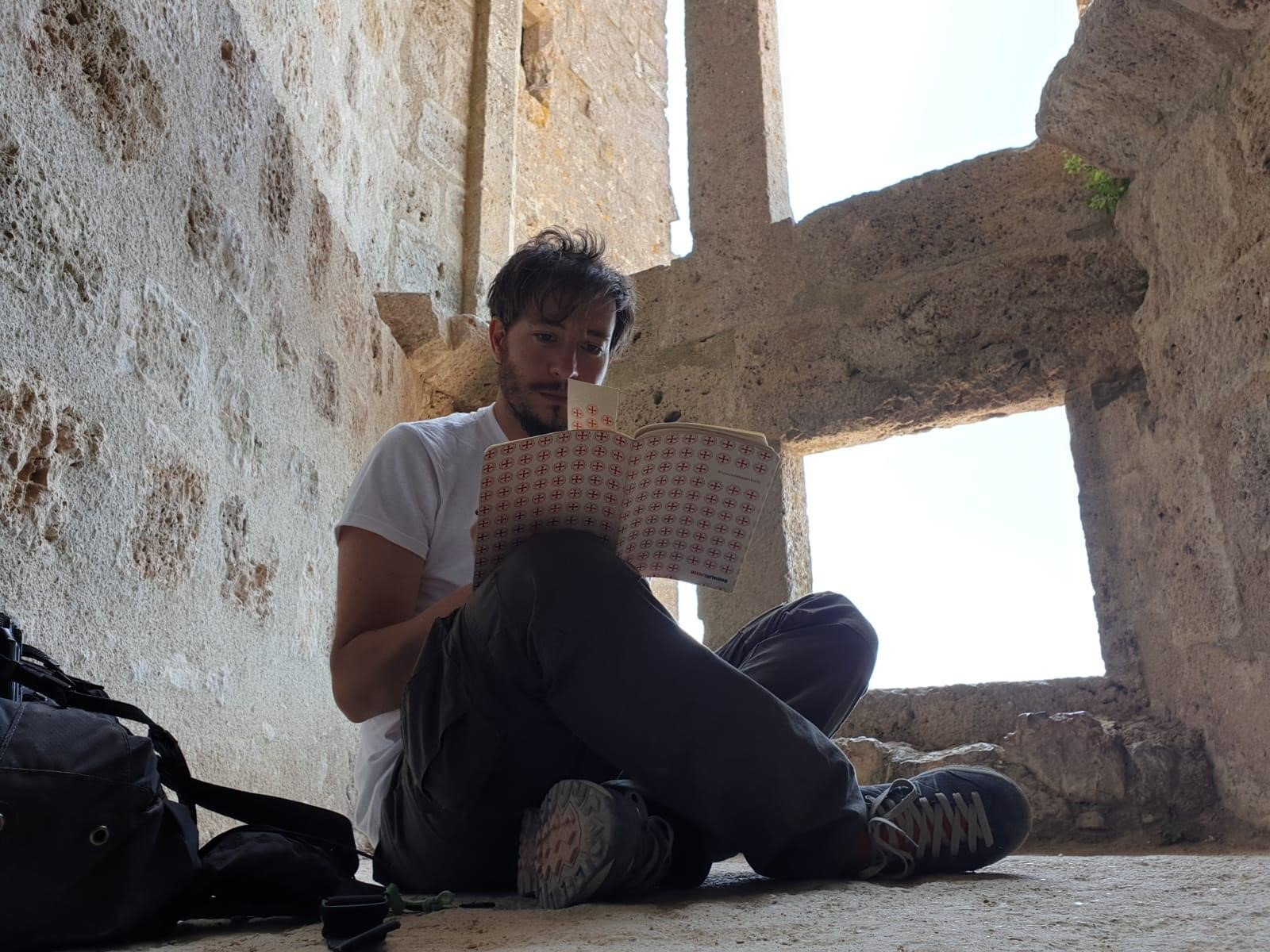 Each printed item, like the T-shirts, carried a symbol to mark this journey:  the cross patonce. It connotes many things. It was the symbol used in the crusades, which, in 1209, were launched in France to defeat the Cathars, who were accused of being heretics. The same accusation was also levelled against history's most famous order of knights, the Templars, which had major strongholds in France. And it is the Knights Templar who connect all the places that I visited on this trip. Their true nature has been obscured over the years by the myths and legends that have gradually grown around them.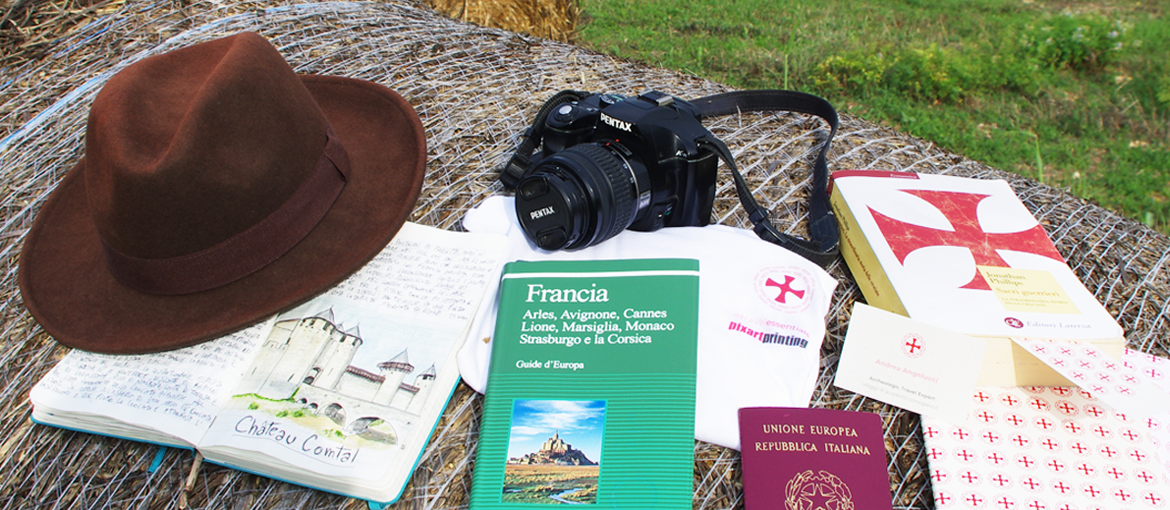 Travel mysteries and memories: castles, notebooks and chance encounters…
I want to share with you two travel anecdotes that are still fresh in my mind.
At Rennes-le-Château, while I was jotting things down in my notebook in front of the Tour Magdala, a couple of Italian tourists came up to me. They saw the graphic printed on the notebook from the kit, looked at me curiously and asked in English whether I was one of the many treasure hunters who flock to the village each year! I introduced myself, explaining in Italian that I was there exploring the south of France and that afterwards I would share my impressions, feelings and insights on social media. They immediately asked how and where they could follow me in future. So I gave them a couple of business cards from the #travelessentials kit with all the details they needed to find me on social media.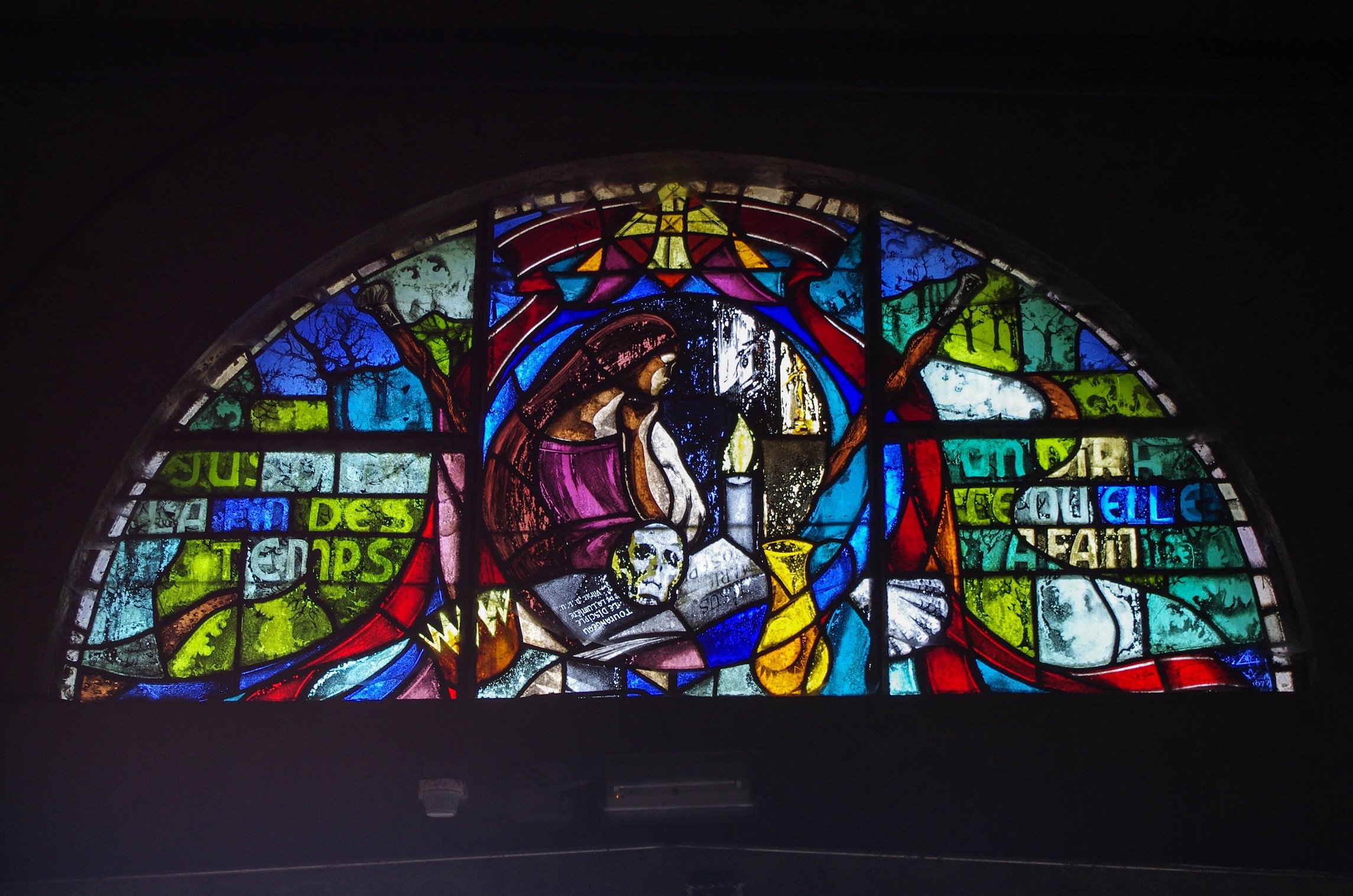 I had another chance encounter at the foot of Montségur Castle, where I met the manager of the campsite where I had spent the night. He was a very nice gentleman who didn't speak a word of English but who knew how to make himself understood with gestures. And it was in this last discussion with him, just as I was leaving the campsite, that I noticed on his finger a ring bearing a Cathar cross, very similar to the one printed on the kit.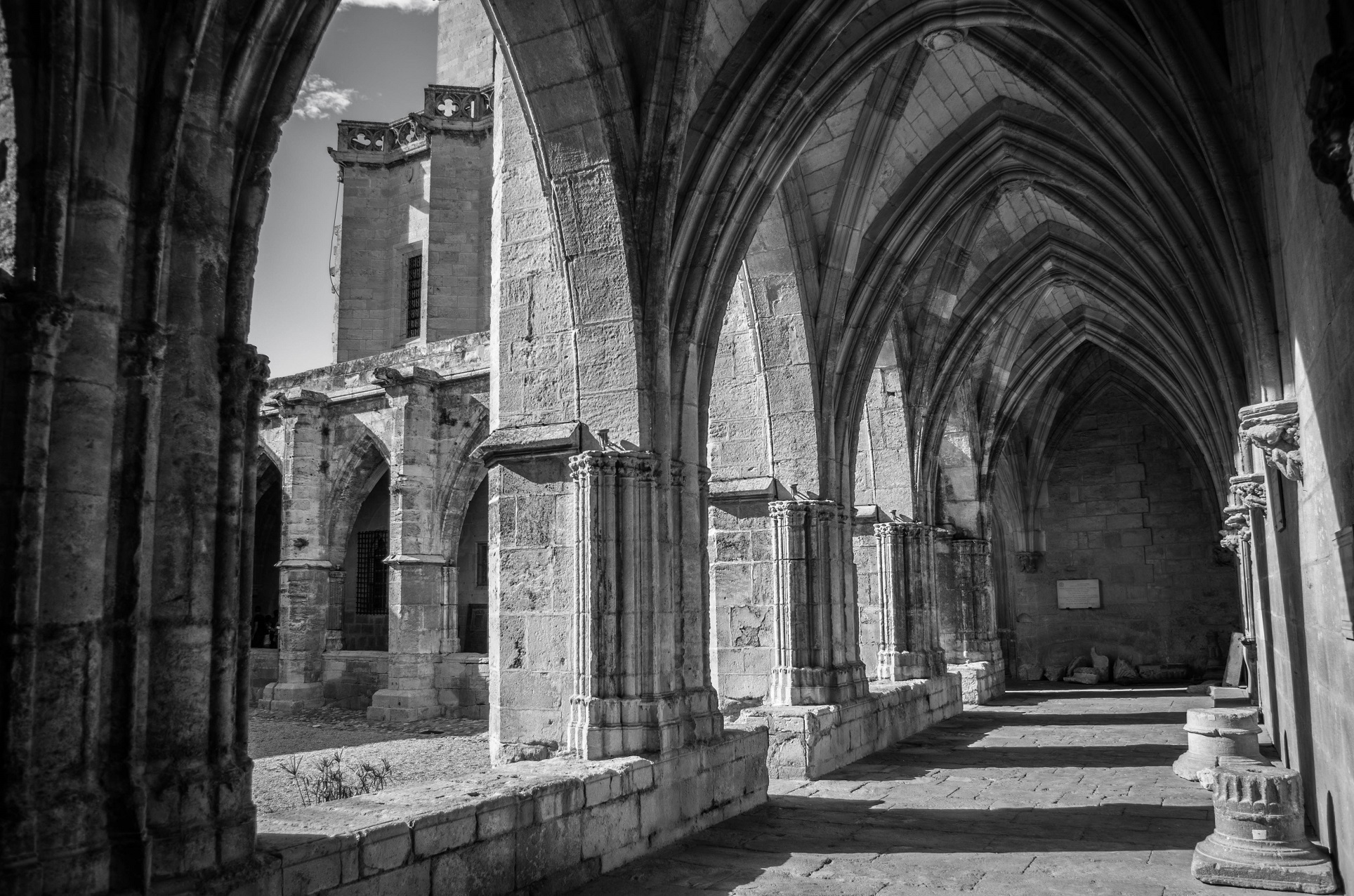 In response to my question "do the Cathars still exist?" which I put to him with the help of an online translator, Pascale answered by smiling and spreading his arms, as if he wanted to tell me, without being able to add anything else, that I was heading in the right direction and that he wanted to say: "yes, but I don't want to tell you any else, you'll see for yourself". Happy and spurred on by this encounter, I gave him a business card, showing him the symbol printed on it and promising that I would return soon to continue my exploration.
Travel begins before you leave and ends after you get back
My discoveries continue even once I've returned home. Travel,, after all, begins before you leave and ends long after you return. When you get home, the digestion phase begins. This is the perfect time for looking at photos and re-reading notes to put together the puzzle of experiences and feelings. At the end of this phase, you have a mosaic of memories that leave an indelible mark in the mind.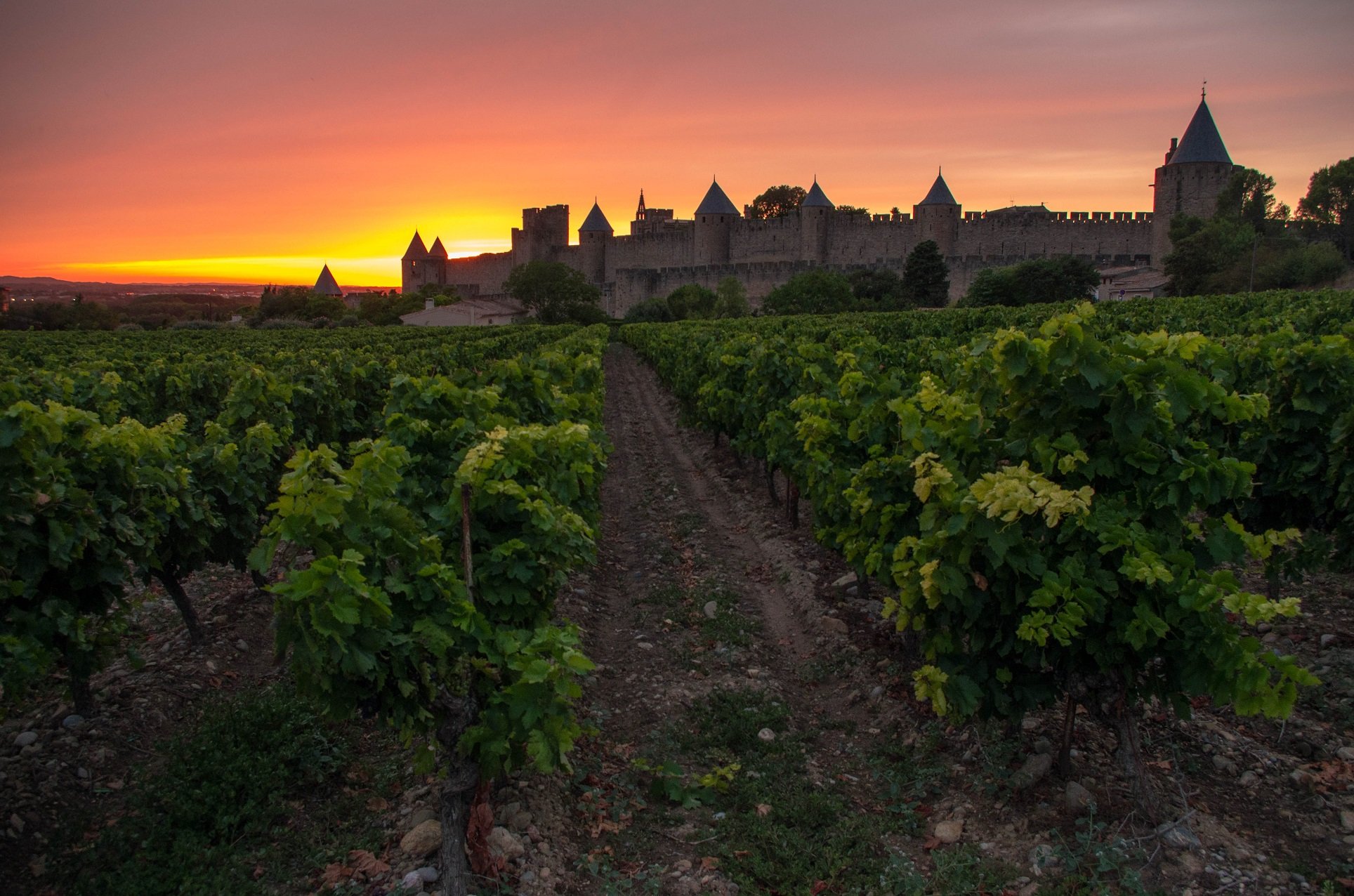 Social media should not be demonised. Instead, we should use them to give depth to content. We should give more value to experiences. We should stand out in the flood of superficial images that show apparently perfect lives. We should carry a notebook, take notes with a pen, sitting in front of superb monuments or stunning landscapes, recording our thoughts in analogue.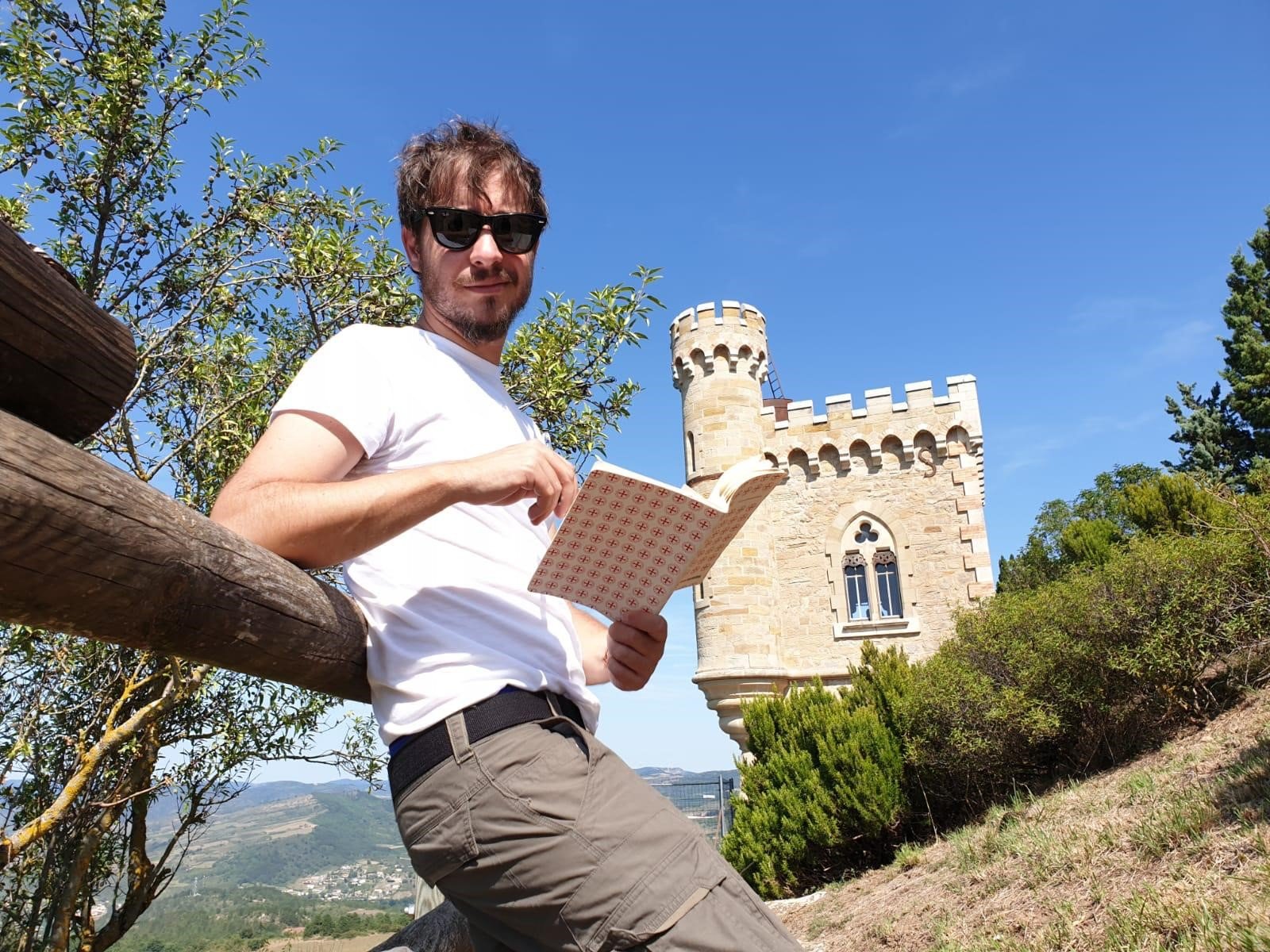 We should enjoy the experience first-hand, and only then turn to digital devices. In future, we'll be able to relive the experience of awe and wonder. And it won't be a series of simple letters read from a screen that moves us: it will be our drawings, the ink we've spilt, that will take us back in space and time once more.