If the first post on brand identity piqued your interest, either you work for an SME (in the UK, SMEs account for over 90% of all businesses and most have no more than 9 employees), or you're a freelancer.
You've probably always thought that these marketing arguments only make sense for big companies, yet all firms operate in the market and marketing concerns anything that happens in it.
So brand identity concerns your company too, however small it may be.
I'll try to give you some tips to best manage or at least start looking after your "corporate image".
1.Storytelling: create your image by telling a story
Often companies forget the importance of their own story: how many companies, family firms and freelancers have an interesting story to tell? More than you think. Think about the very romantic story of the Baci Perugina chocolates and their creator Luisa Spagnoli (that's right, she of knitwear and fashion fame).
If you don't know the story, I recommend reading it: once you have, you'll love Baci even more, because it will seem like the fruit of a secret love affair, born in a small chocolate factory in Perugia, Italy. If you're a freelancer, you could have an incredibly varied and non-linear story to tell, or a career path that's straight as an arrow: in either case, find the strengths in your story! And try to tell people about them. Your story is what makes you unique and differentiates you from your competitors.
2.The benefits of your products or services
It's important to know how to properly define the benefits your products or services bring to customers: too often we focus on their description, resorting to technical jargon, without really thinking about the actual uses or benefits that interest users. This is a crucial step in understanding yourself better and so helping customers better understand your brand.
Taking a step back, understanding how the public sees us, ascertaining whether or not our message is reaching them is something that may seem obvious. But many companies fail to do so, making their brand identity sterile and disconnected from their business. Brand identity lies in a particular story as well as in the benefits that the product or service gives customers.
From a technical point of view, it means that a lot of work needs to be done on textual content: this is the foundation on which the website is built and can then be used in various corporate publications like brochures, reports and all the company's information material.
3.Image management
Brand identity consists, in large part, of visuals. How do your company and its products look to the outside world? How is the company or freelancer perceived when people see their visual communication? It's vital to manage all images: from photos of the company head office to the images shared on social media, from the corporate identity (i.e. logo, business cards, brochures etc.) to stationery and promotional items.
A brand is not just products but a continuous and coherent visual language for communicating with the outside world. Freelancers and small businesses tend to neglect this aspect, instead focusing on PR and advertising. But it's a bit like speaking to someone, watching your language and choosing your words carefully while trying to persuade them wearing a random outfit, with your hair a mess and your slippers on. This is the impression that some firms and freelancers risk giving…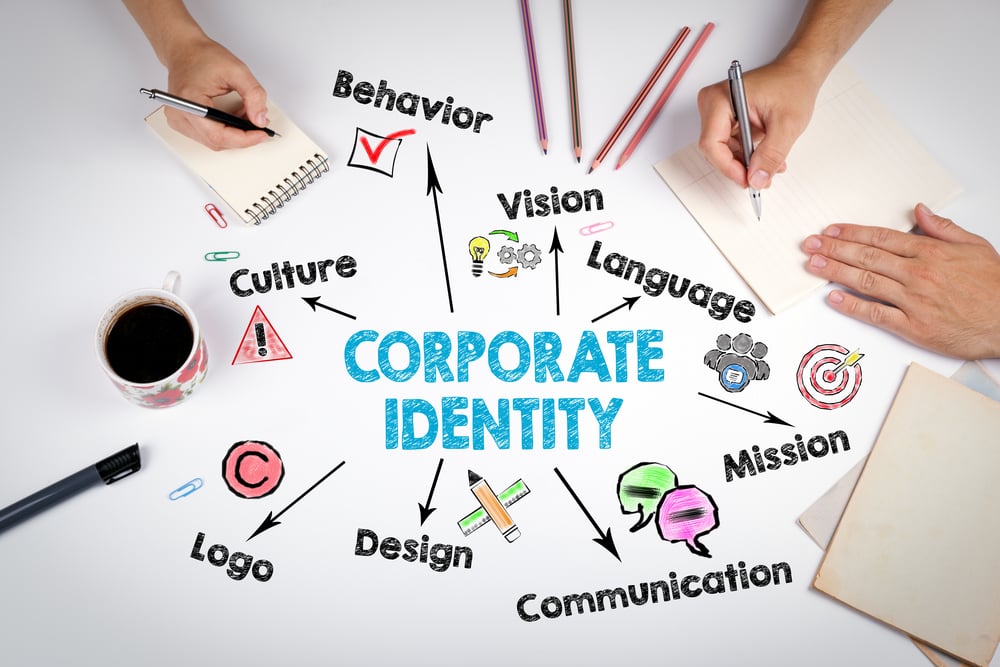 4.Strengthen brand identity with simple communication products
As we've already said, sometimes modest investments are needed to promote your brand identity the right way: print  business cards and company brochures; produce Christmas cards or banners and posters for decorating your workplace or showroom; create information material for the public. But also enhance your website with the right stories and information. There are many ways to communicate and every business or freelancer must find the most suitable tools for building their image. There are countless ways of doing so today, just as there are possibilities for storytelling and presenting yourself to the public with a clear and coherent message about your company, its history and its products.
5.Always use professionals
Sloppy copy, dull graphic design, low-quality printed materials and hard-to-navigate websites can do more damage than you can imagine to a company's reputation. That's why it's always important to use specialist professionals who can give you the best advice and work with you to create impactful products.
The question of brand identity is extremely complex and this article merely scratches the surface. But every firm or freelancer must be aware that building an image for the public and customers involves a host of actions that can improve or damage it and that communication is not just about advertising, in other words selling products or services, but also about conversation and information. The most important thing to realise is that brand identity influences decisions to buy your products and services, which is why it must be built and nurtured over time.
Food for thought!