Is there an unspoilt side to Christmas?
A hidden corner where trees, rivers and mountains exchange festive greetings in silence? For us, Christmas is closely connected to the feeling of being human, the warmth of home and festivities. But while we light the fire, set the table and feel our cheeks glow, somewhere else, lit only by starlight, there is another celebration going on.
A secret banquet attended by charming and silent diners.
This is how nature celebrates winter: an icy host welcoming its guests into an enormous and immaculate living room. Photographer Casi Bowes is lucky enough to live near this sub-zero realm, and if anyone could immortalise this silent party, it was her. So we asked her to describe her own Christmas atmosphere through photos. When you look through them, you can almost hear the muffled thud of boots on fresh snow, the creaking of frozen trees, and the quiet gurgle of water lapping against sheets of ice.
If the festive schedule is taking its toll, this is the perfect remedy. Take a few minutes to admire these photographs and be carried away to somewhere where quiet reigns supreme. You won't regret it!
Dive in.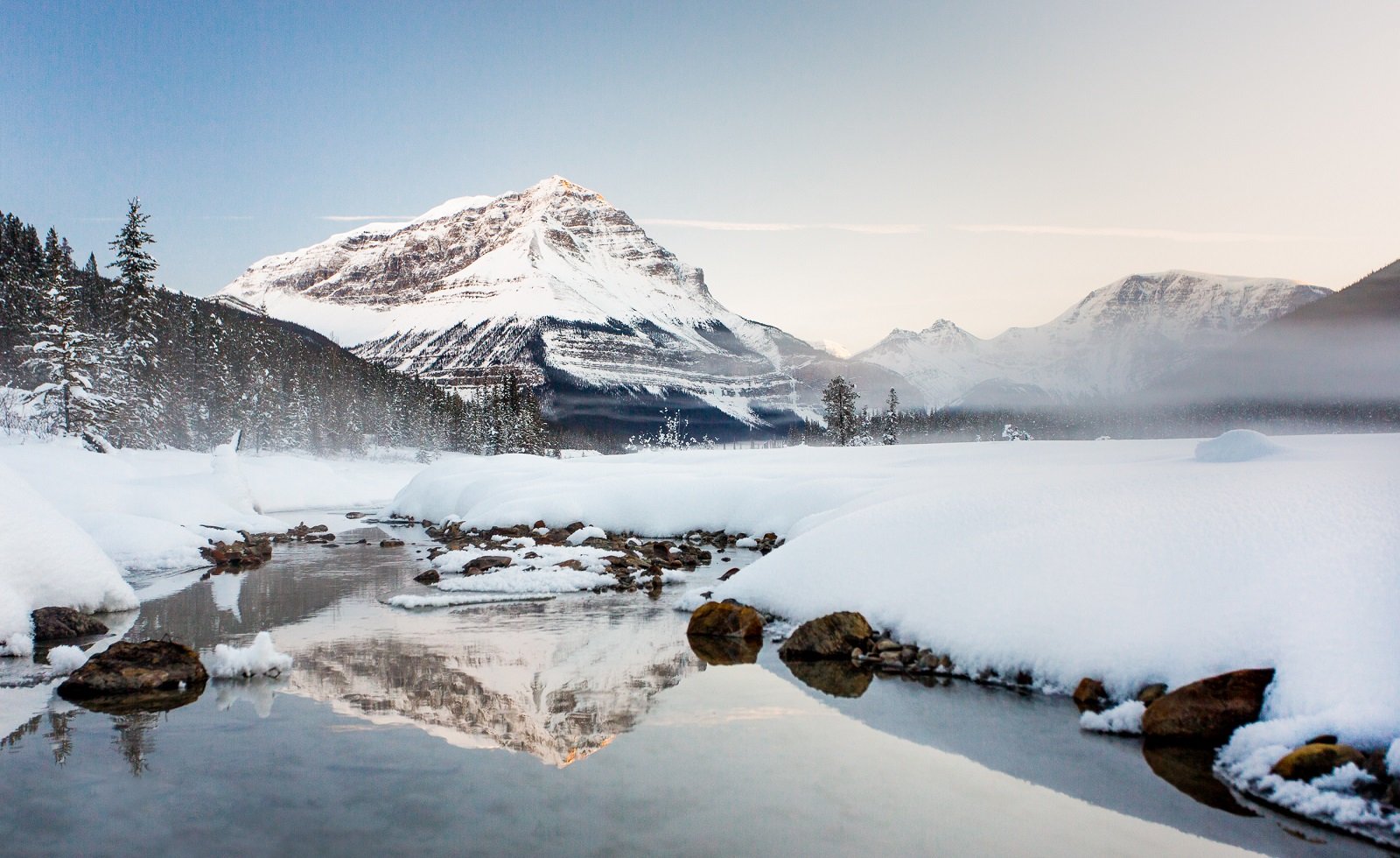 Could you please spend a few lines to describe each of the 5 pictures we chose? Tell us about the emotion you felt in that precise moment, the making of that particular photo, how you find that sight, some story connected to that moment/picture.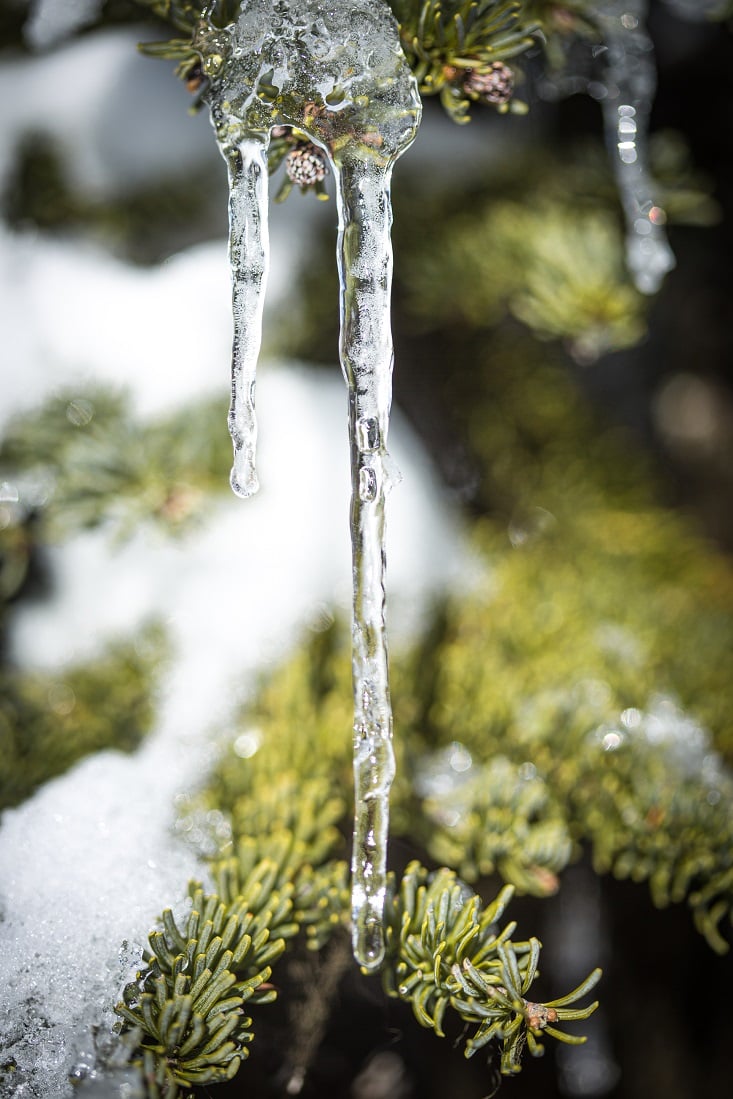 I find so much beauty in the little things, I'm able to spend entire days exploring and studying details of forests, especially in winter. I am enraptured by the sheer intricacy of nature while looking through my macro lens at the world. While snowshoeing, I captured this glistening icicle created by snow on a fir tree branch melting and freezing again.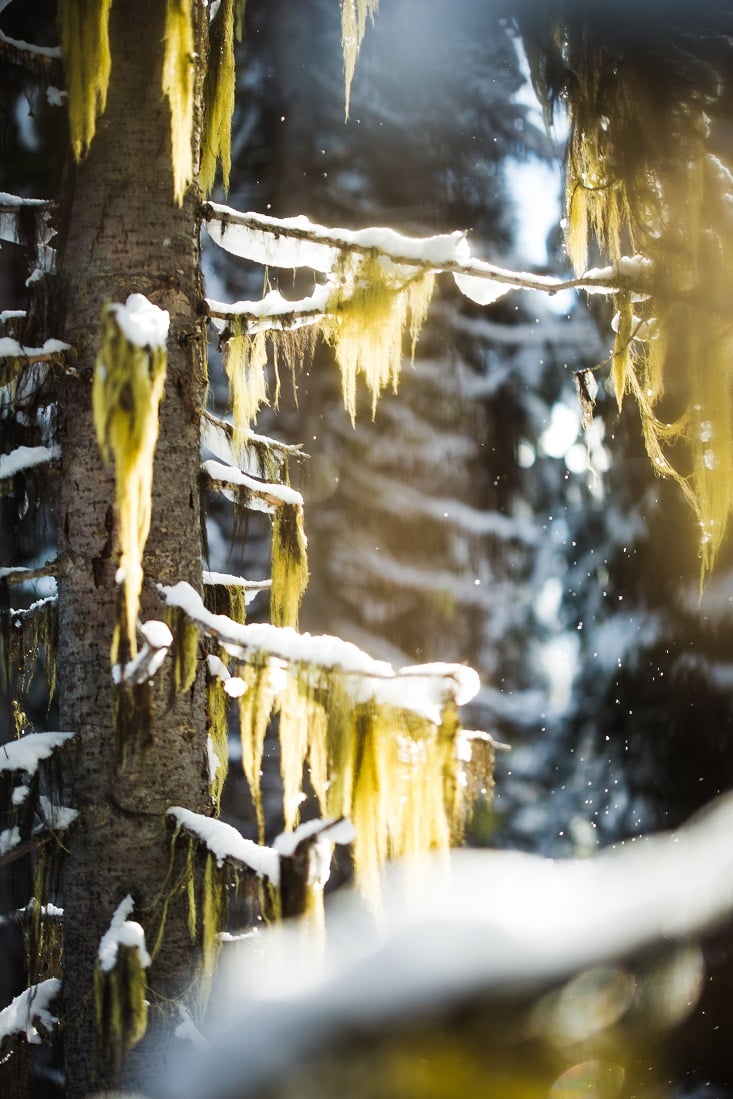 I captured this photograph peering through a thick forest of trees covered in snow and Usnea (beard lichen). The sun was setting and pouring through the trees, lighting the snow that was drifting down creating an incredible twinkling effect through the woods. I truly felt at peace wandering through this winter wonderland.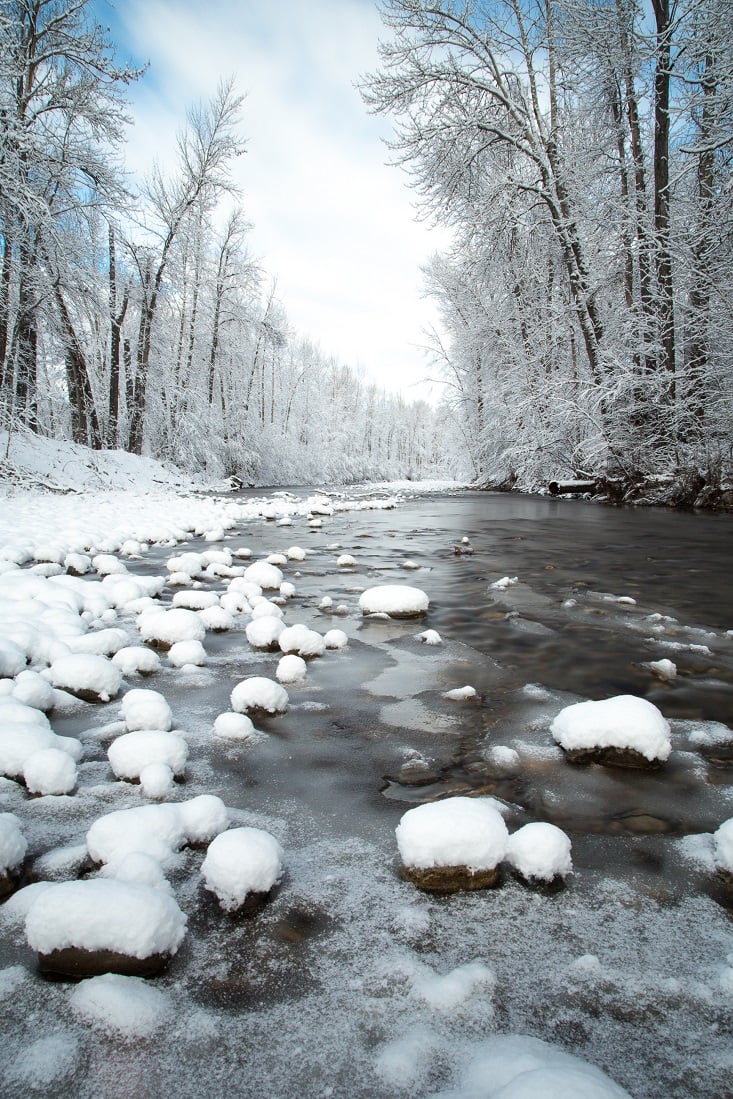 I have photographed this creek in my hometown many times, but this one particular day after snowfall and freezing cold winds all of the trees and foliage lining the creek were completely covered in a thick frost creating this incredible winter scene. I am constantly in awe of how frozen nature picks up light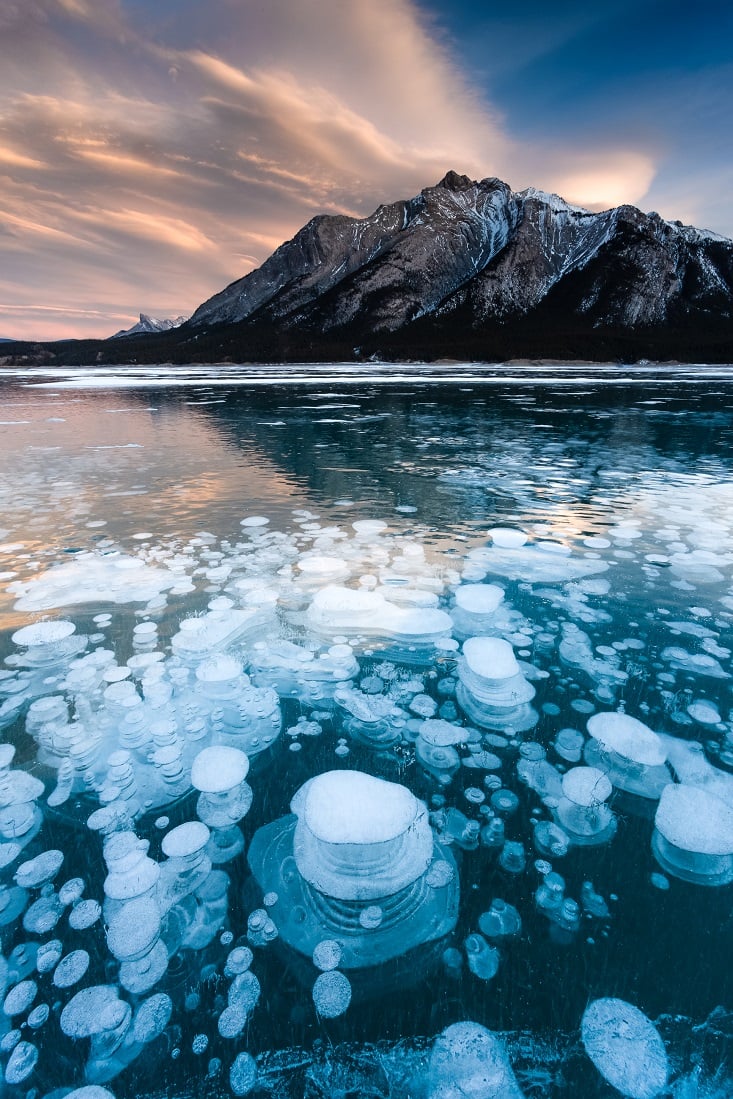 Abraham lake is situated deep in the Rocky Mountains, it is known for releasing methane gas from below. Over the course of winter, these methane gas bubbles will freeze in layers on top of this expansive lake. Abraham Lake became my absolute favourite subject I have ever photographed. I was freezing, my feet and my hands were completely numb despite the 7 layers of clothing and giant down jacket. To capture my ideal photographs of this lake I climbed around on my hands and knees on this lake looking for the perfect bubbles for three days straight, every sunrise and every sunset. Despite the -20°c temperatures, the early mornings and the horrendous hotel I stayed in for the 3 nights in the middle of nowhere, I have never been so inspired, excited and satisfied to photograph a landscape before.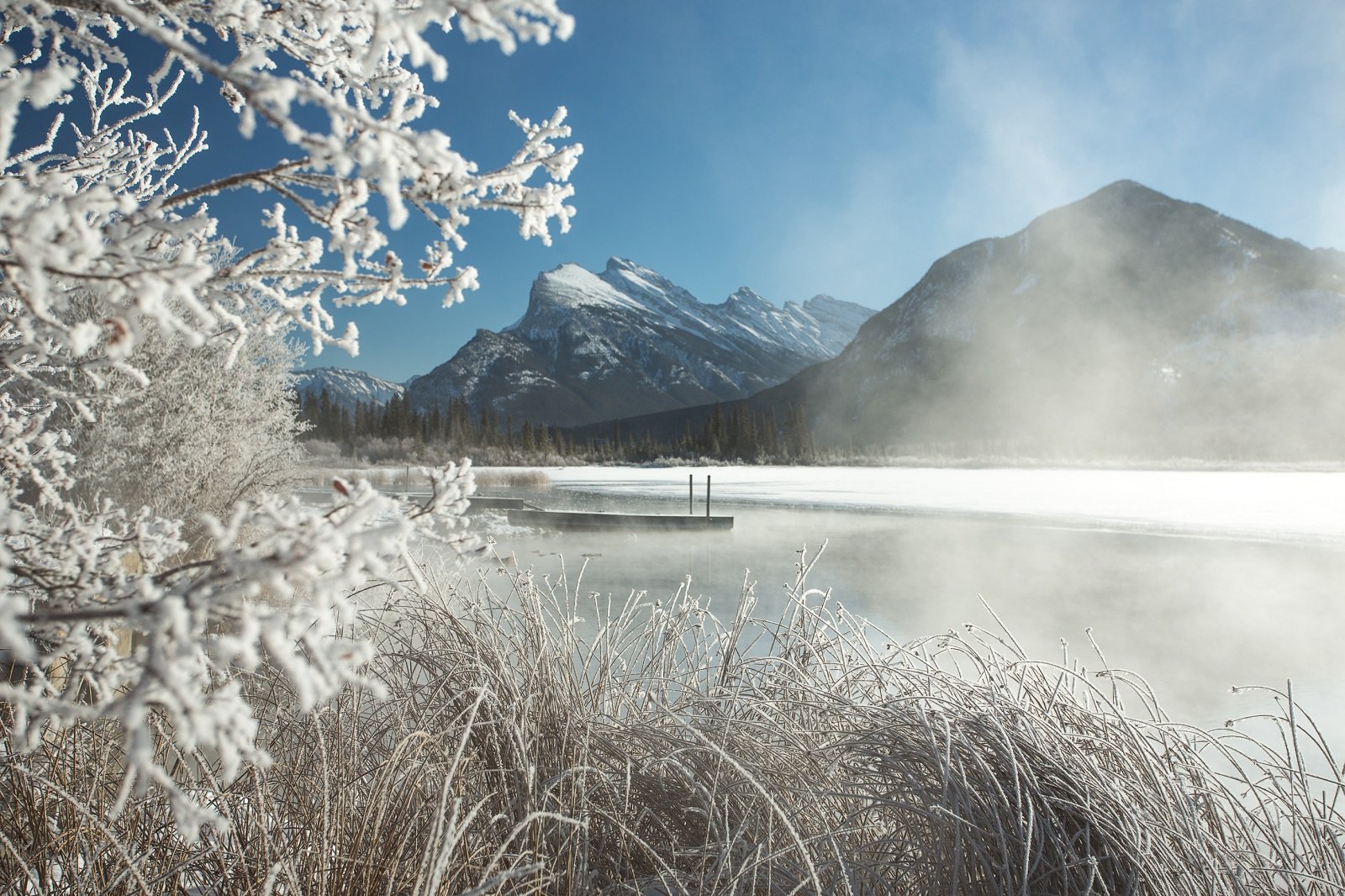 I spent my afternoon while the sun was low in the sky climbing around reeds and through bushes to capture this photograph of the Vermillion Lakes in the Rocky Mountains. These sulphury lakes do not freeze over in winter, the relatively warm water creates this fogging effect on the top of the lakes and frosts the surrounding foliage throughout winter creating this lovely mystical scene in the mountains surrounding Banff.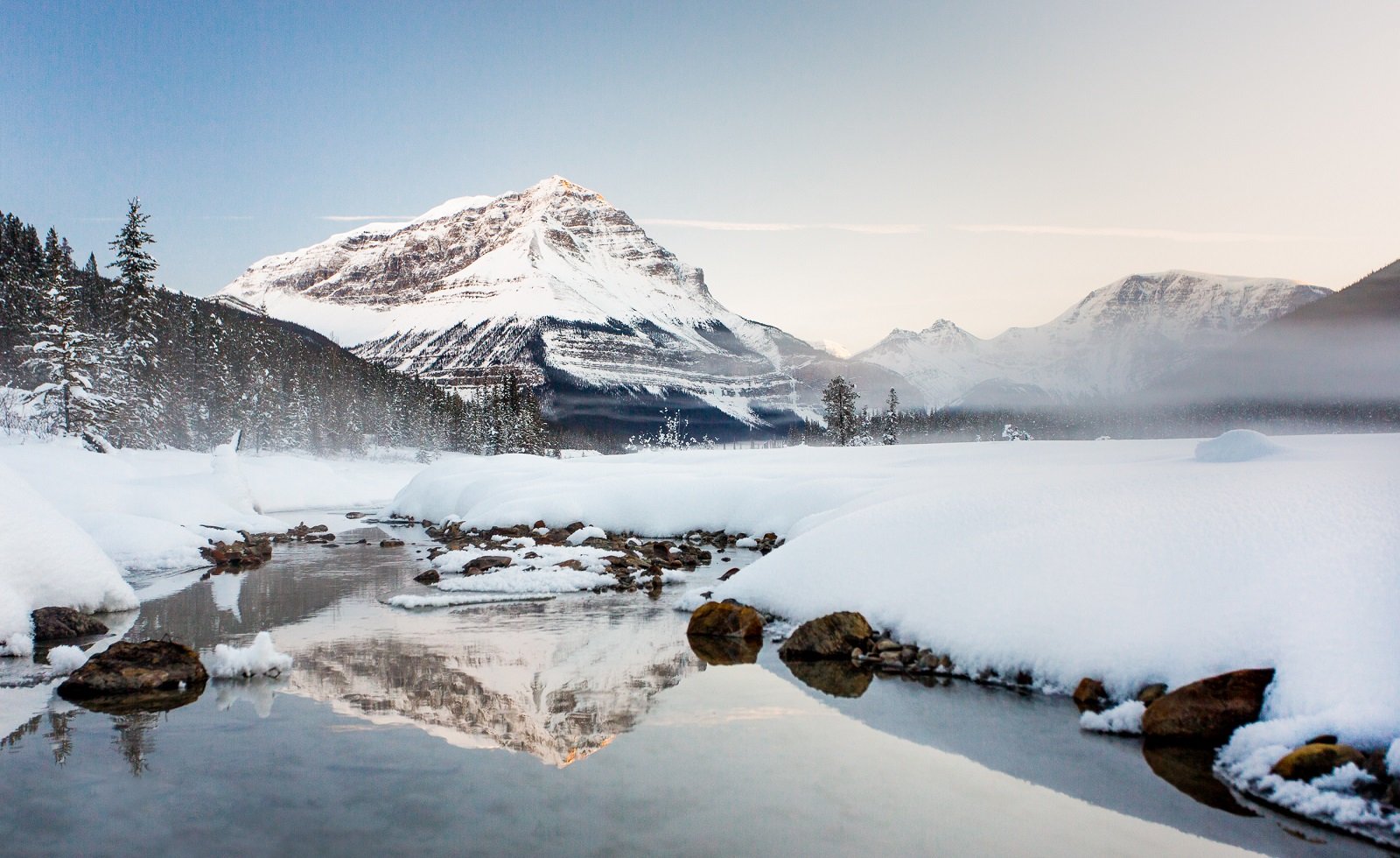 My heart is always full driving through the Rocky Mountains, but driving through this immense landscape at sunset is even more awe inspiring. Every way that I look I'm inspired by something beautiful. On my journey south from Jasper, the sun was setting and as I looked over a field covered in snow it had a thick layer of fog suspended above it. The scene was so beautiful that I quickly pulled my car over to the side of the road and ran down into the field of knee deep snow. There I found a small creek where the distant illuminated mountain was reflected perfectly.
Why don't you write down a quick brief about you: who you are, what are your passions, your profession and your dreams?
Hi there! My name is Casi Bowes, I grew up in Australia but I have been living in Canada for the past 4 and a half years. I was raised to be adventurous and to always exercise my creative muscle. I first picked up a camera 5 years ago, and since then I have completely fallen in love with the craft and even more so, fallen in love with the process that continues to keep me exploring and adventuring around the world. As I love change and to keep things interesting, by day I am a hand lettering designer, a photography production manager and brewery tasting room manager. My life dream is to keep doing what I love and to keep finding new and exciting places to document in my own creative way.
There is no Xmas without winter! What are your feelings when you think about this indissoluble couple? How Casi feels while Xmas is quickly arriving? What kind of memories do you bring to the surface during Xmas time in winter? Feel free to be honest!
I think I might have a very unique perspective when it comes to the relationship between winter and Christmas. Growing up in Australia, Christmas has always been in Summer. We eat seafood, cold meats and drink beers in the sun out by the pool. My love for snow is what initially brought me to Canada. Since then, I have experienced 4 white Christmases and it's everything I ever dreamed, completely magical. It's almost like living in a movie for me.
I am enthralled by capturing frozen landscapes, when winter is around the corner I am incredibly excited, planning trips, adventures and photographs I wish to capture through the cold months. Winter is my favourite time to shoot, although it definitely comes with its own challenges.
We chose you because your pictures were mostly settled into amazing winter landscapes. But why you feel so close to those frozen realms? What's the trigger for your creativity while you're holding your camera in front of those magic views?
 My inspiration comes from the sheer beauty of the frozen world. Maybe my fascination stems from growing up in Australia, where the winter is mild and snow is limited. But for me, winter and frozen landscapes are as close to magic as the world can be. I find incredible beauty in tiny details and I will endure extremely cold temperatures, numb hands and feet, just to capture frozen scenes to share with the world.