A company profile is the formal summary of a company and its activities; a sort of identity card that, as well as providing basic information, also includes things like the company's mission, vision, values, future aims, and so on. It is essential for communicating the spirit of the firm to everyone involved with it: potential investors, clients and suppliers alike.
A company profile therefore gathers together various pieces of information in a single document. It can be very short and incisive, or divided into sections and dozens of pages long. The format can also vary: originally a paper version was most common, but nowadays businesses prioritise digital formats, from static PDFs through to animated infographics on their websites.
The main aim of a company profile is to get the business known. This is particularly vital for small and medium-sized businesses that want to maintain a good range of clients, or who want to grow and expand. If a potential client shows some interest in your company and wants to know more, a company profile provides a single port of call for all the useful information they need.
If written and structured correctly, they can also improve the image of the company, making it seem more professional in the eyes of stakeholders (suppliers, shareholders, etc.). Moreover, the information they contain is useful internally, as it helps to ensure the company's identity, values and objectives are always at the forefront of people's minds.
How to put together a company profile
 The first part contains the business' details. These are usually at the start of the document, and should be as accurate and up-to-date as possible.
Name

Date of foundation

Address(es) of premises

Telephone contact details

Email addresses

Website link
After the more technical details, it is a good idea to describe the essence of the company. This information varies a lot depending on the type of business, and does not apply to all firms, but it is the  central element of the company profile.
Description of the company's activities

Vision and mission

Description of products

Description of services

History, evolution and growth

Public relations

Advertising

Information on the specific sector

Health and safety

Description of the main team

Client portfolio
If the company has received awards or achieved significant results within the industry, these can be included too, to reflect the business' prestige.
Prizes

Certificates

Special programmes and products

Testimonials
Then there are various optional elements, which depend both on the type of company and the approach the company takes.
Annual sales figures

Financial goals

Number of employees

Partners
Some examples of interesting company profiles
As we have seen, this document has a detailed structure, and the final results can vary enormously. It all depends on the nature of the company and its objectives, and there is no 'right' or 'wrong' way of doing it. That said, one key rule that every company should follow is to create an interesting and captivating company profile. A boring presentation will be bad for business, and will not successfully attract new investors and customers. Let's have a look at a series of excellent examples from businesses of various sizes, and in a range of formats.
Google's company profile
Despite being one of the most famous companies in the world, and despite everyone knowing precisely what it does, even Google has a company profile. It is online, and it has a relatively straightforward structure. It is divided up into sections that describe simply and succinctly the history of the company, its not-for-profit activities, the products and services it offers, its management team (which varies depending on the country) and a general page reporting news about the company. The entire document (which is effectively a website) is, of course, furnished with images, videos and interactive links.

Starbucks company profile
The famous cafe chain Starbucks has taken a much more sober approach. Its company profile is also found in a section of the website, but it is only a single page of text, easy to print and with no images. The document has a serious tone and describes the company's history, products and shops, its brand and its corporate social responsibility policy.

Able's company profile
Now let's look at a smaller company. Able Construction Pte from Singapore has a company profile in PDF format. Around fifteen pages long, the document begins with the company's history and structure, outlines how the team is organised, lists the sales figures, and finishes off with a series of photos of completed projects. The structure is simple, but it ticks all the right boxes.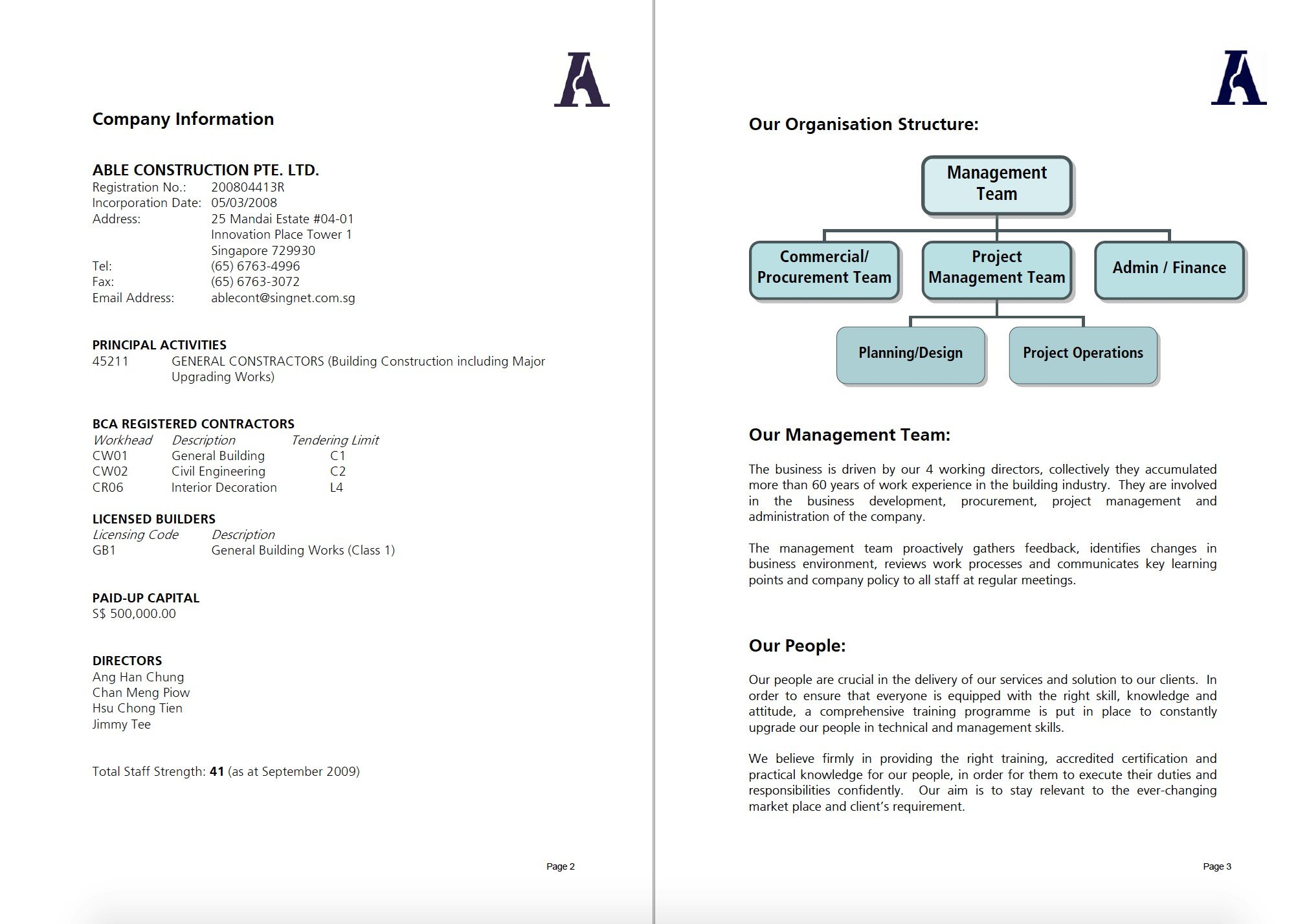 As we have seen, there are various types of company profile, and the exact form you choose depends on the size and nature of the business. Having an online document offers the opportunity to add interactive content and therefore make it more interesting, while a static format, such as a PDF file, can be more convenient when it comes to distributing it. Company profiles therefore offer many opportunities for creativity and graphic design; you just have to find the right format and tone for your company!