In December 2019, in the city of Wuhan in China, a virus developed that unfortunately we now know all too well. In just a few months, the COVID-19 coronavirus struck first China, and then the rest of the world.
Research conducted in the summer of 2020 showed that the virus was already present in Europe from late December onwards. However, the situation got much worse a short while later, in March and April 2020, and various countries decided to enter national lockdown.
Lockdown and its consequences had a devastating effect on companies in many different sectors, forcing them to close either temporarily or permanently. And while the firms that provided essential services managed to survive in spite of the restrictions and closures (often thanks to government support), the creative sector was extremely hard hit.
Nevertheless, during this extremely dark period, myriad initiatives were launched to try to overcome the difficulties caused by the coronavirus. All over the world, starting in March 2020, many professionals, design studios, agencies, businesses and public institutions reacted to the situation by creating campaigns, podcasts, interview series, kits and guides with resources for tackling the pandemic, as well as offering free or discounted online courses.
Let's have a look at a few of the most successful projects launched during the pandemic.
Culture Is Not Cancelled by Zak Group
Zak Group is a graphic design studio based in London that specialises in brand identities and digital platforms. In March 2020, Zak Kyes, the studio's founder, published an image on Instagram containing the text "culture is not cancelled", encouraging people and organisations to respect social distancing, but without cancelling culture.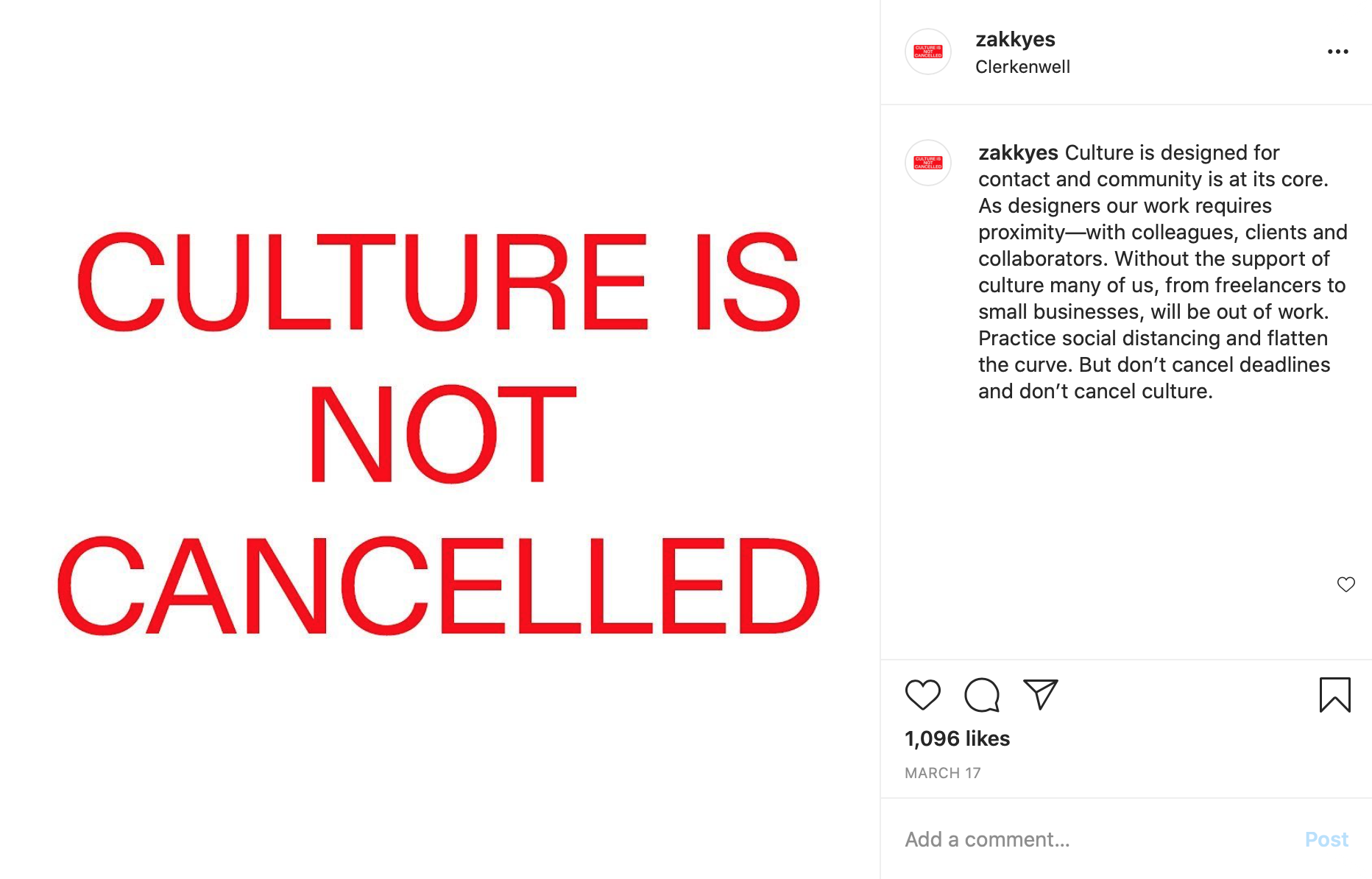 The campaign, based on an iconic design of white text on a red background, aimed to promote professionals' online content at a time when work was hard to come by, to provide a slogan for initiatives supporting culture, and in general to be used and publicised as much as possible to send a clear message to institutions and governments that culture must continue in spite of the restrictions.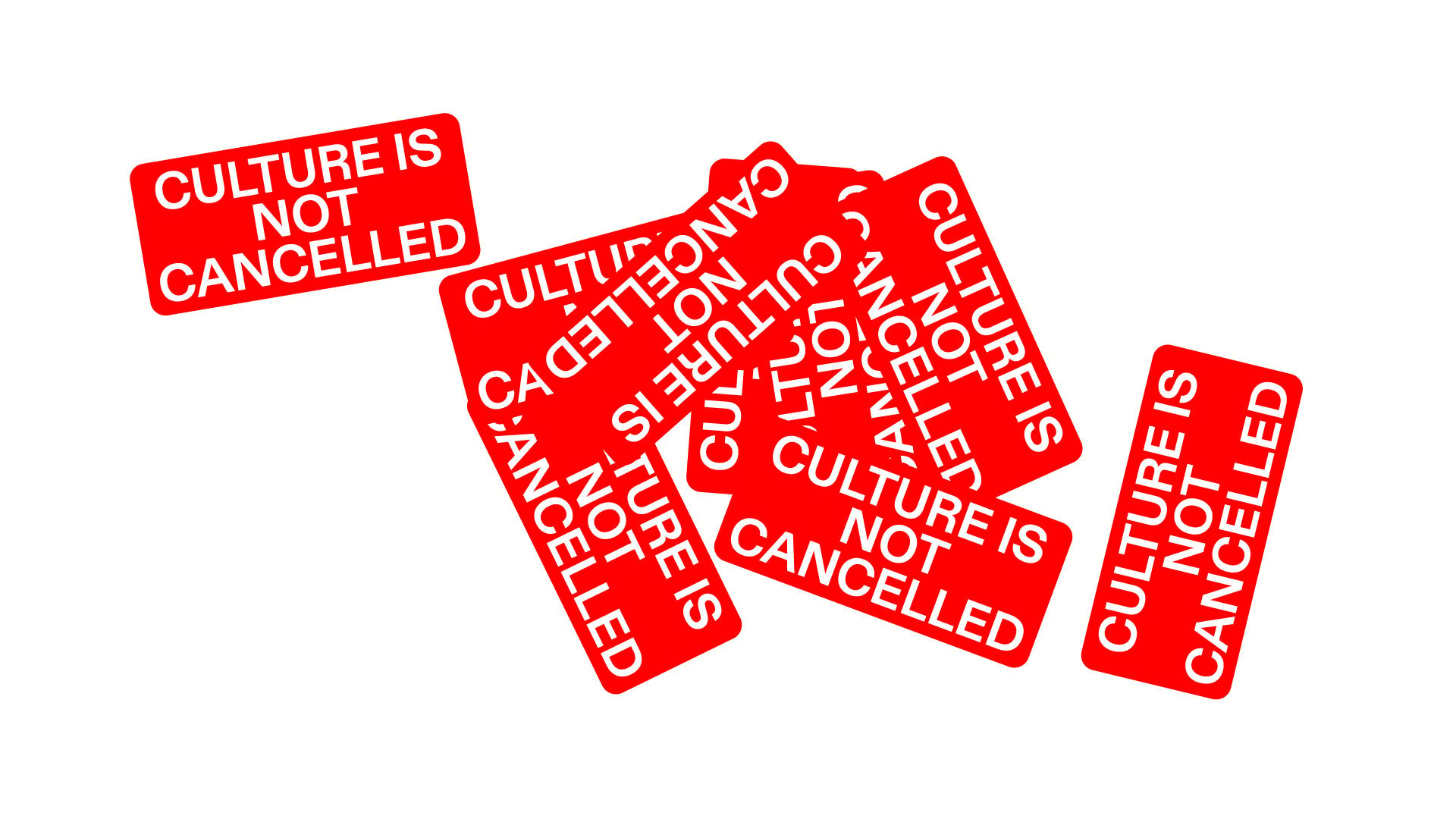 Eye on Design's guide to isolation
On 20 March 2020, a lengthy article was published on the Eye on Design website listing resources that could be accessed during the pandemic in various areas, including education, networking, work and entertainment. Eye on Design is the blog run by AIGA (American Institute of Graphic Arts), the largest and oldest design-related NGO in the United States.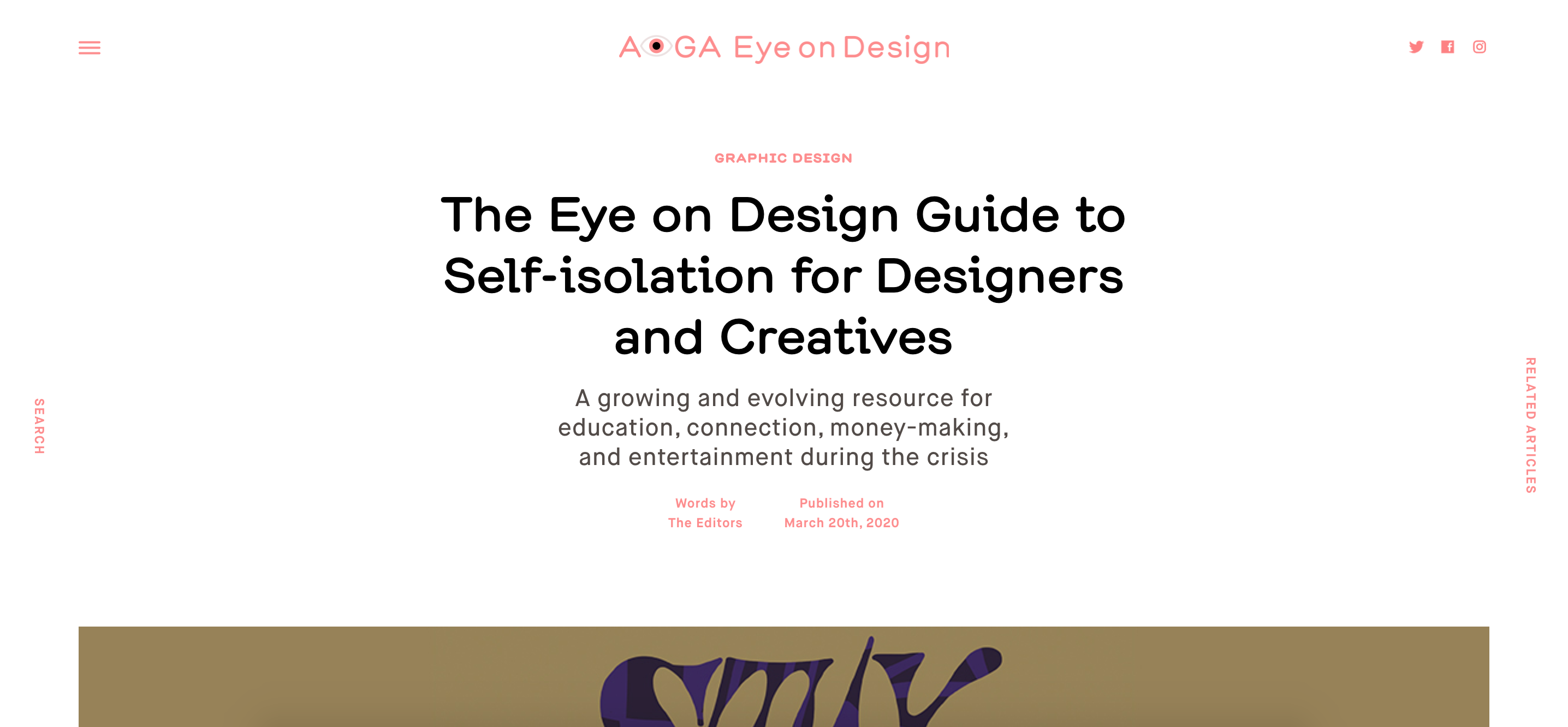 This article, which is constantly growing and evolving, is divided into sections and contains information and links that may be useful for creative professionals all over the world. The content includes: details on how to support small artistic, publishing and printing firms; useful links on how to save money and find work; a list of resources for entering into collaborations (conducted remotely, of course); links to various free or discounted courses; and online entertainment resources, all with links to the creative community.
Live! online conferences organised by Gianluca Alla
Another interesting initiative, this time the brainwave of a young designer, was Live!, a series of conferences featuring creative minds from all over Europe. Gianluca Alla, a graphic designer who specialises in animated typography, used Instagram as a platform to present these conferences, which began in March and ended in mid-May 2020.
Over 90 creative professionals were involved, including graphic design studios, agencies, artists, illustrators and type designers. The talks were held almost daily for two months, and were hugely successful among the international creative community. As the website makes clear, the initiative aimed to fight isolation and boredom and above all instil hope for the future.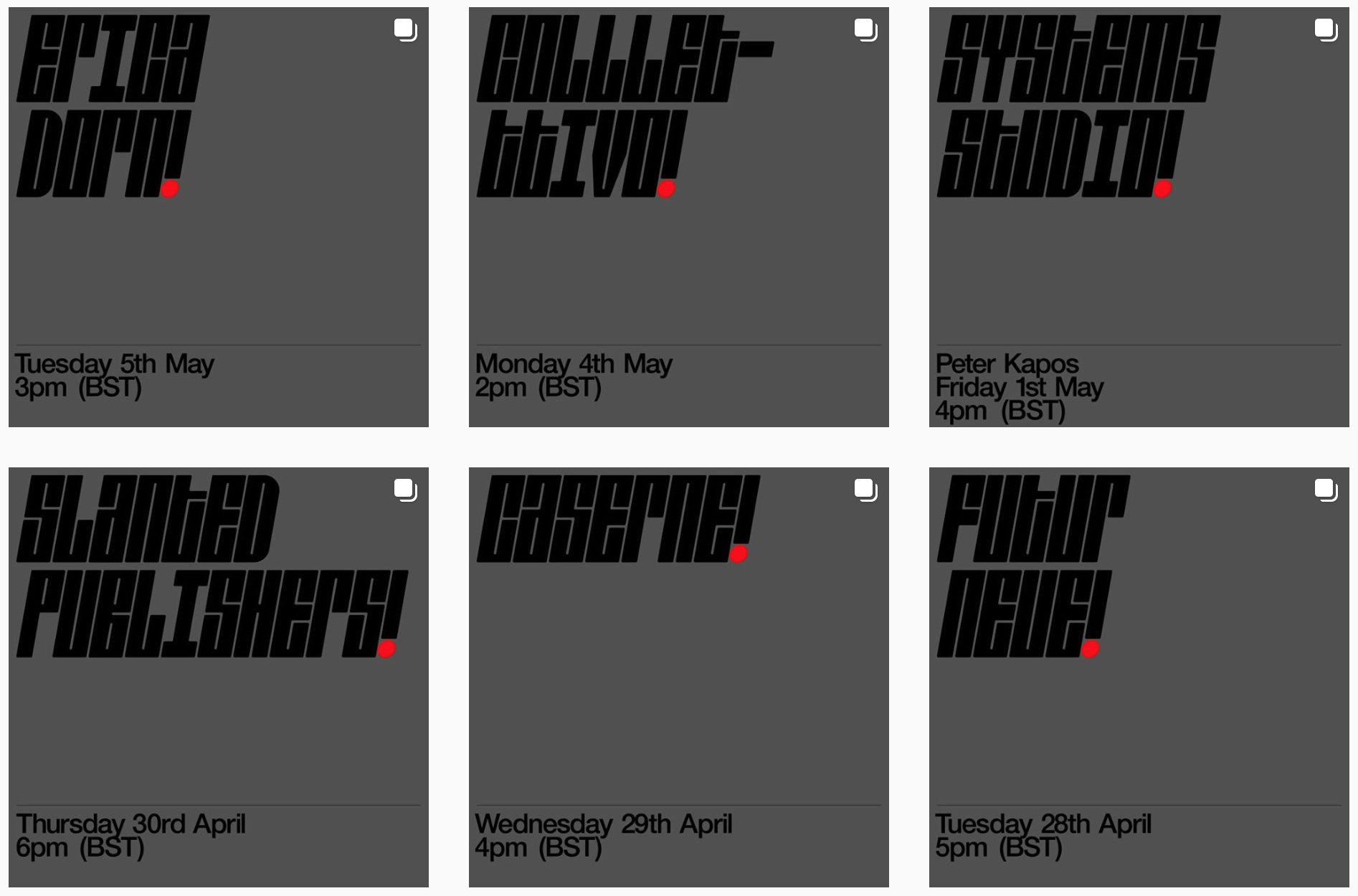 Stay Sane, Stay Safe by Studio Lennarts & De Bruijn + Overdeschreef
On 22 March 2020, a friend of Max Lennarts and Menno de Bruijn, who works in a hospital, asked if they had a motivational poster he could use to raise the spirits of his colleagues. Max and Menno are the founders of the graphic design firm Studio Lennarts & De Bruijn, based in The Hague in the Netherlands.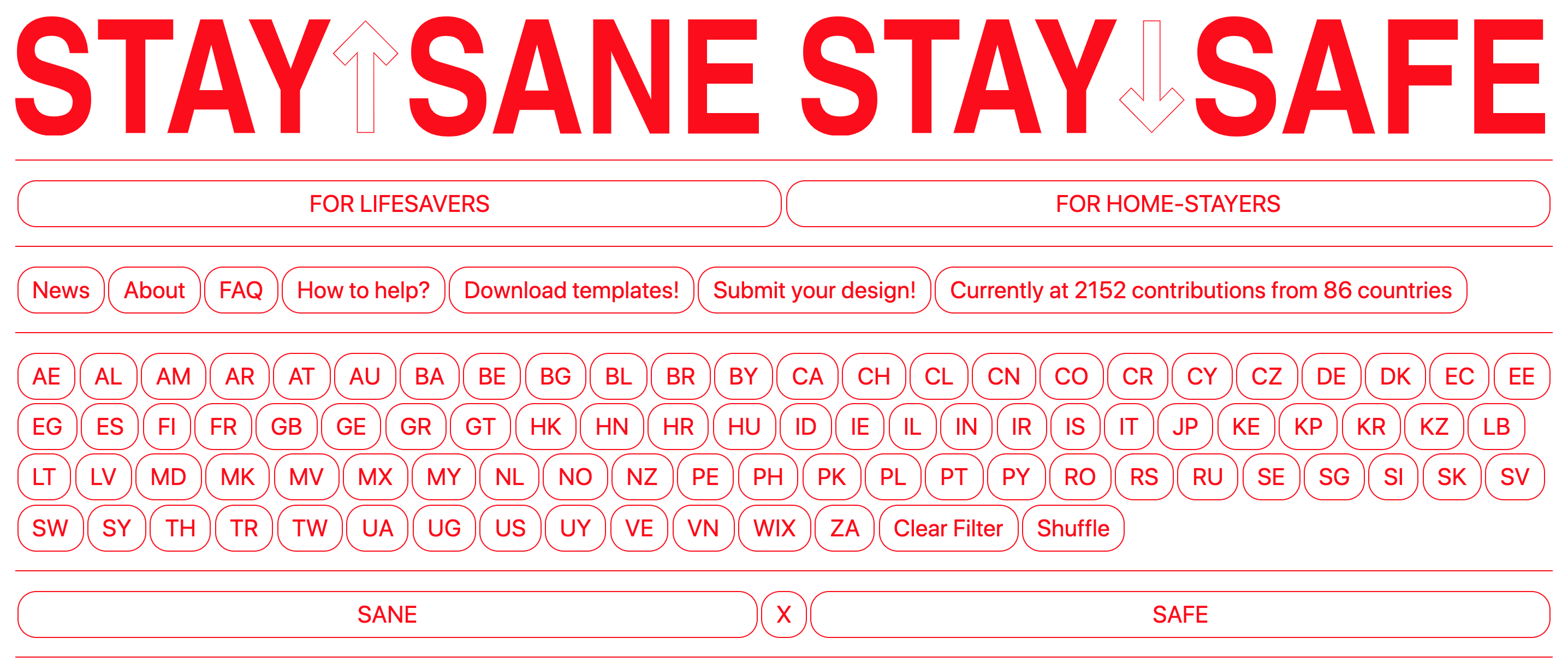 Their friend's request inspired them to create something much bigger, involving thousands of creative professionals: Stay Sane, Stay Safe, an online platform devised with Ronald de Leeuw that assembled a collection of posters to motivate both healthcare workers and anyone stuck at home in isolation. The platform has more than 2,000 posters on it, sent in by creatives from 86 different countries. The posters can be downloaded free of charge and shared, published and printed.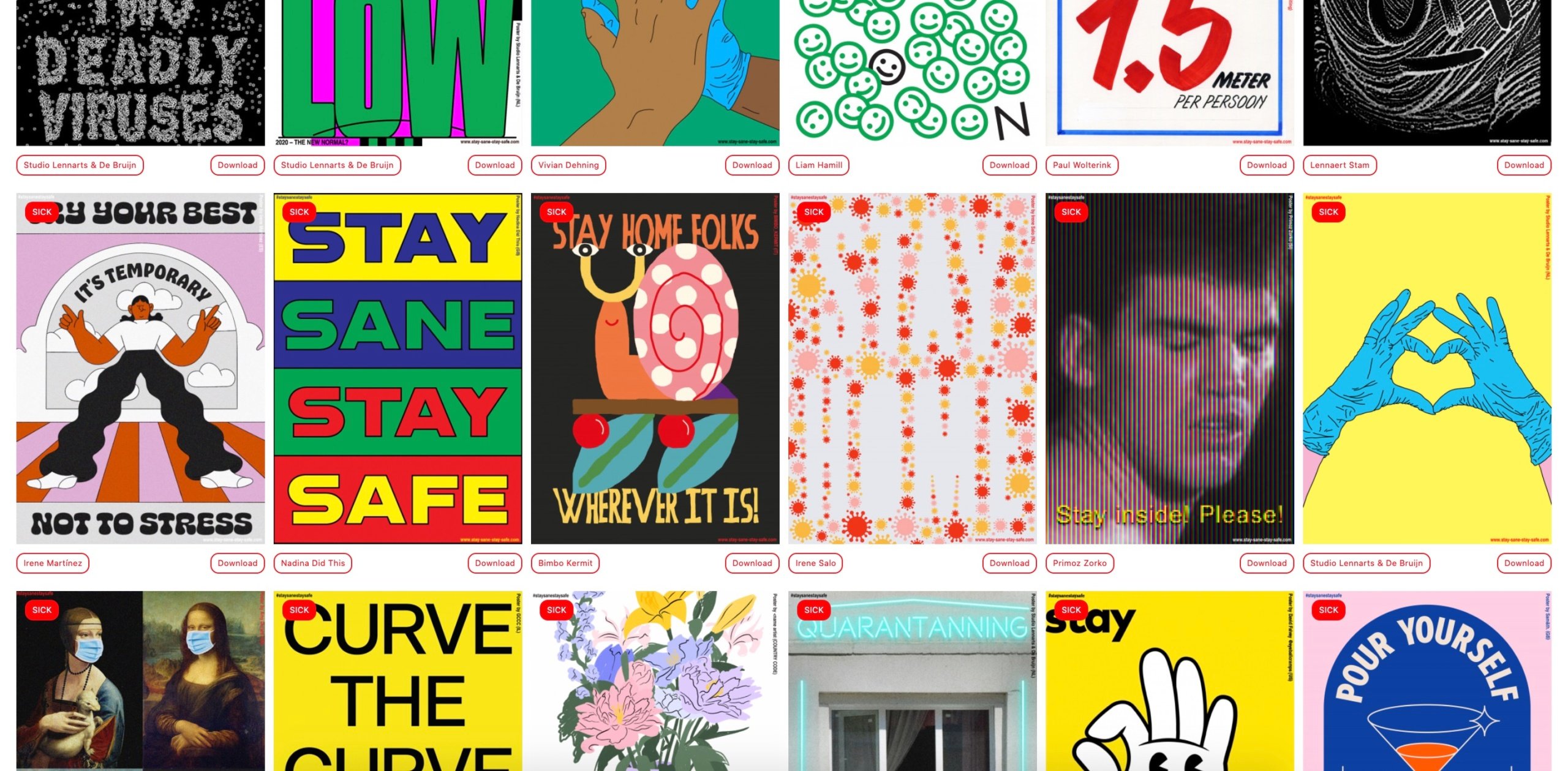 Online courses from MoMA
One organisation that tried to do something to tackle the crisis caused by the pandemic was the Museum of Modern Art in New York. During the months of lockdown in Europe, MoMA published a series of free online courses on various topics.
The courses were extremely popular at a time when many people were at home, helping to combat the monotony of isolation. The material offered by the museum included courses on contemporary art, the perception of photography, fashion as design, and various aspects related to teaching.
The book produced by Designers Against Coronavirus
A similar initiative to Stay Sane, Stay Safe was developed by the creative agency Carosello Lab (Milan, Italy). The agency created Designers Against Coronavirus,a digital platform narrating the coronavirus pandemic through the eyes of designers, illustrators and creative firms from all over the world.

Material from the archive was then assembled in a book containing works by 272 creative individuals including Malika Favre, M/M Paris, Akatre, Vrints-Kolsteren, Anagrama, Gio Pastori, Futurneue and Marylou Faure. All proceeds from sales of the book are going to the Italian Red Cross, and the project was made possible thanks to the support of Luxoro, Grafiche Antiga and Artalia.
It is extremely difficult to predict the long-term effects of the COVID-19 crisis. The pandemic has created an unprecedented situation, and the world as we know it is changing.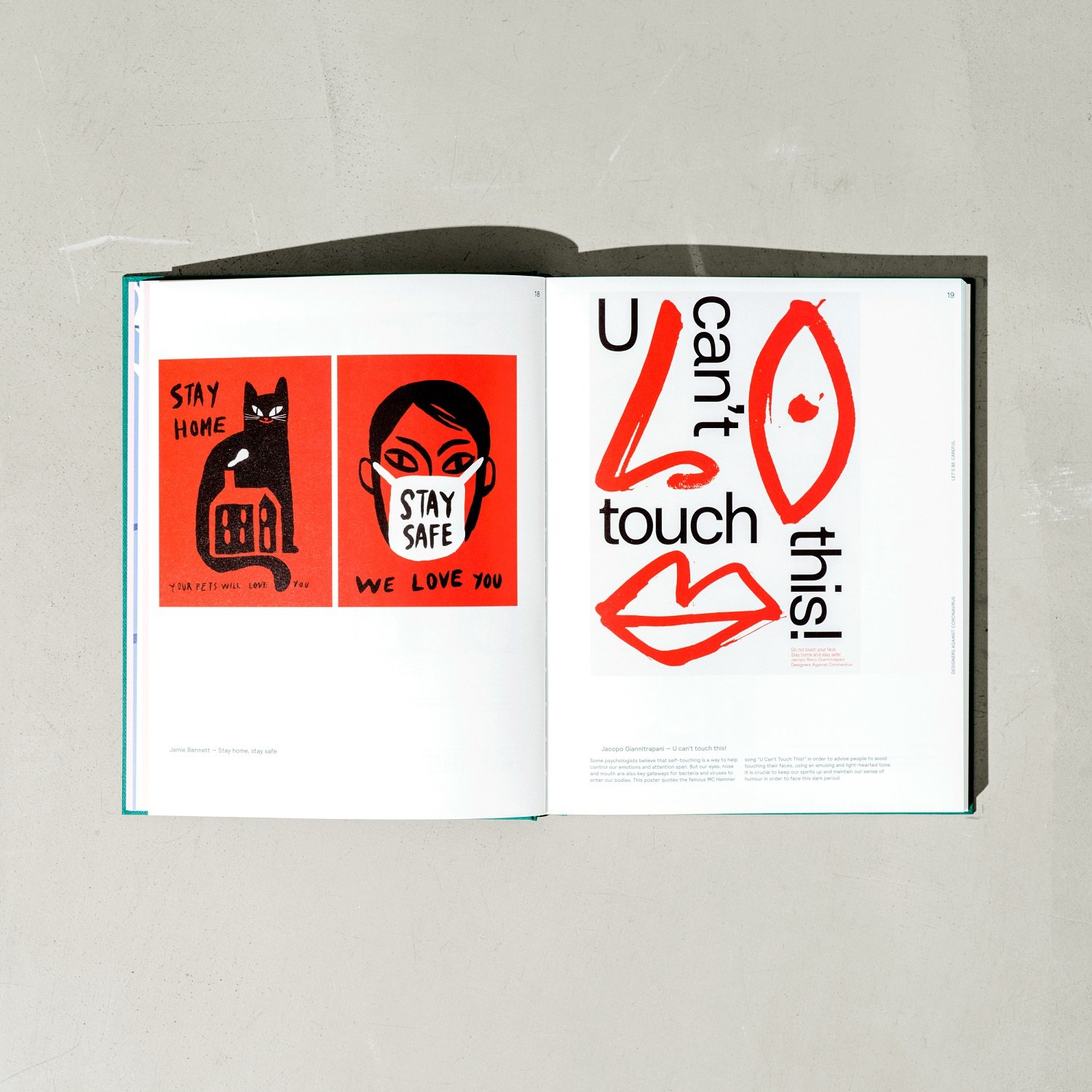 However, the reactions of the creative community should fill us with hope. The large-scale production of work and launching of new initiatives shows how creativity can be stimulated during times of crisis. We need creativity more than ever: it motivates us, helps to relieve stress, allows us to express ourselves and better understand our thoughts and emotions, and most importantly it brings us together.