Disclaimer
This article is for our reader's information only. All coins and projects are subjectively chosen and should not be considered investment advice!
New Grounds
Everyone has been talking about blockchain and cryptocurrency over the past years. The blockchain is a distributed ledger technology that lets it's users record transaction of various types (i.e. money transactions) between two people or companies and it is constantly updated in multiple databases. It is highly secure due to its decentralized nature.
Based on this technology, cryptocurrencies like Bitcoin where developed. Cryptocurrencies are digital money, meaning they only exist in digital form and are not owned or given out by any higher authority. A cryptocurrency is difficult to fake because of this security feature. Many cryptocurrencies are decentralized and based on the blockchain.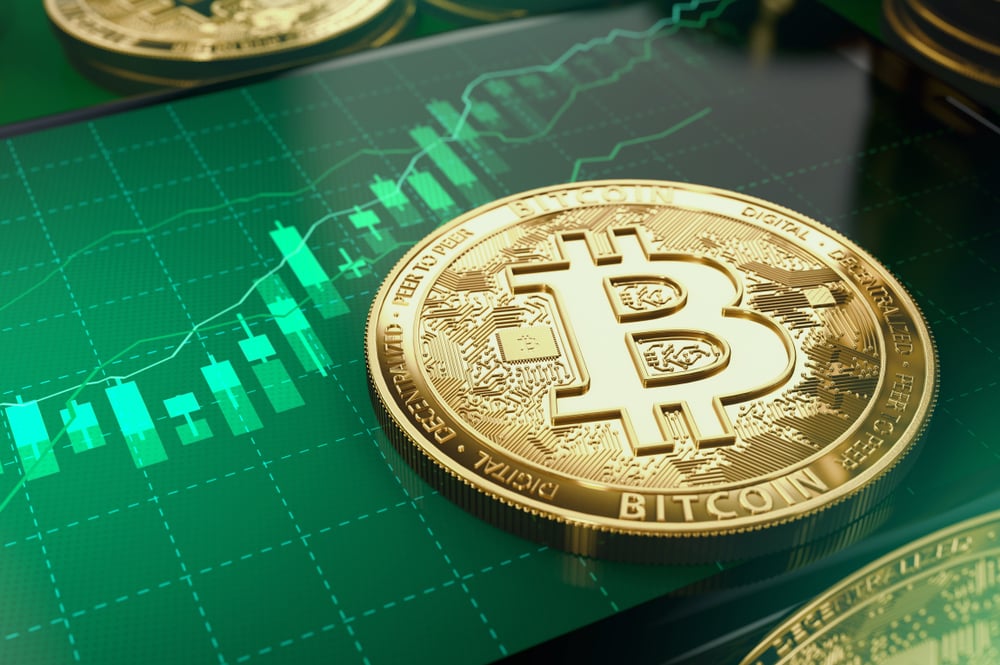 Since Bitcoin launched in 2004, numerous other currencies and a large number of companies have emerged that are keen to revolutionize different markets through blockchain technology. Right now, there are over 2200[1] currencies and over 5000[2] blockchain based companies.
Blockchain and cryptocurrencies are the next big thing. For designers especially, it is still new territory. However, complex topics need good design to convey their advantages to the user to make it mass adoptable. Creating good user experiences and outstanding brand identity will help to make cryptocurrencies usable in daily life.
Designs leading to the future
We have analyzed 100s of logos, websites and brand identities and have chosen the best – the ones that are unique, focused on good user experience and that convey a clear message to the consumer. For most cryptocurrencies, their identity and logo must fulfill multiple criteria. They must stand out from their competitors, be visible in small spaces (like on exchanges or a listing sites) and they must appear to be serious, yet interesting to the public. How have the following currencies and companies achieved this?
Bitcoin
Bitcoin is the best-known cryptocurrency. Although it might not have the best design overall, we wanted to mention it because it has achieved something, that will help the mass adoption of digital money. Similar to the $ sign, or the ¥ and €, its logo is instantly recognizable and it can be used to indicate a currency. We are excited to see more of ₿ in the future!
NEO
NEO coin is one of the bigger cryptocurrencies, ranked number 16 in market cap on coinmarketcap.com. The organization NEO offers software products for the blockchain industry, targeting mostly developers that want to get into smart contract development.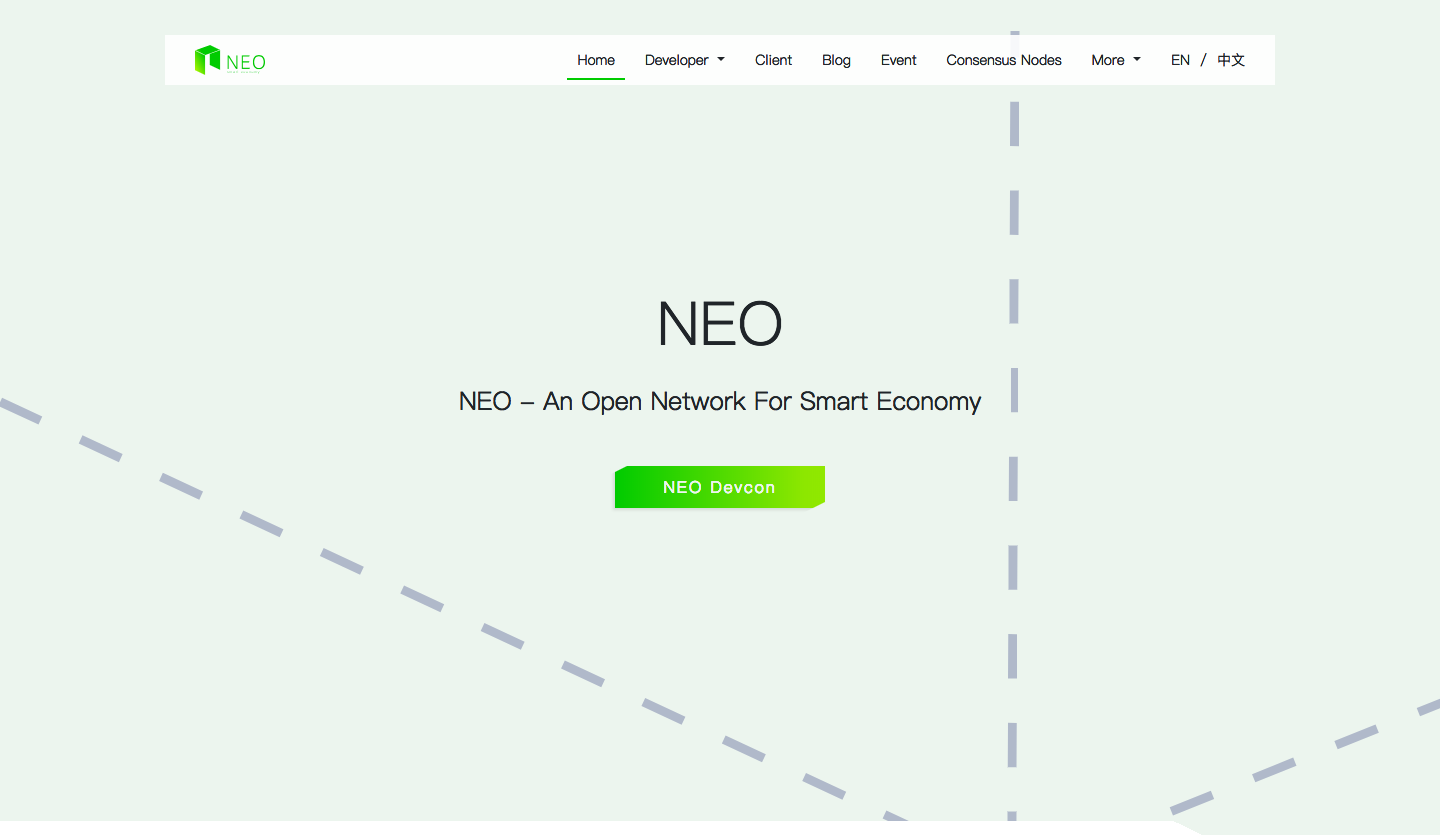 Their brand identity is well thought through, very fun and playful. NEO's logo is immediately recognizable. They use a great suite of icons throughout their communication channels. You can see and feel how future thinking this company is, without losing the fun.
Kraken.com
Kraken is a cryptocurrency exchange platform that was launched in 2011 and is one of the biggest exchanges. It lets you buy, sell and trade different pairs of fiat currency (like USD, EUR or CAD) and cryptocurrencies.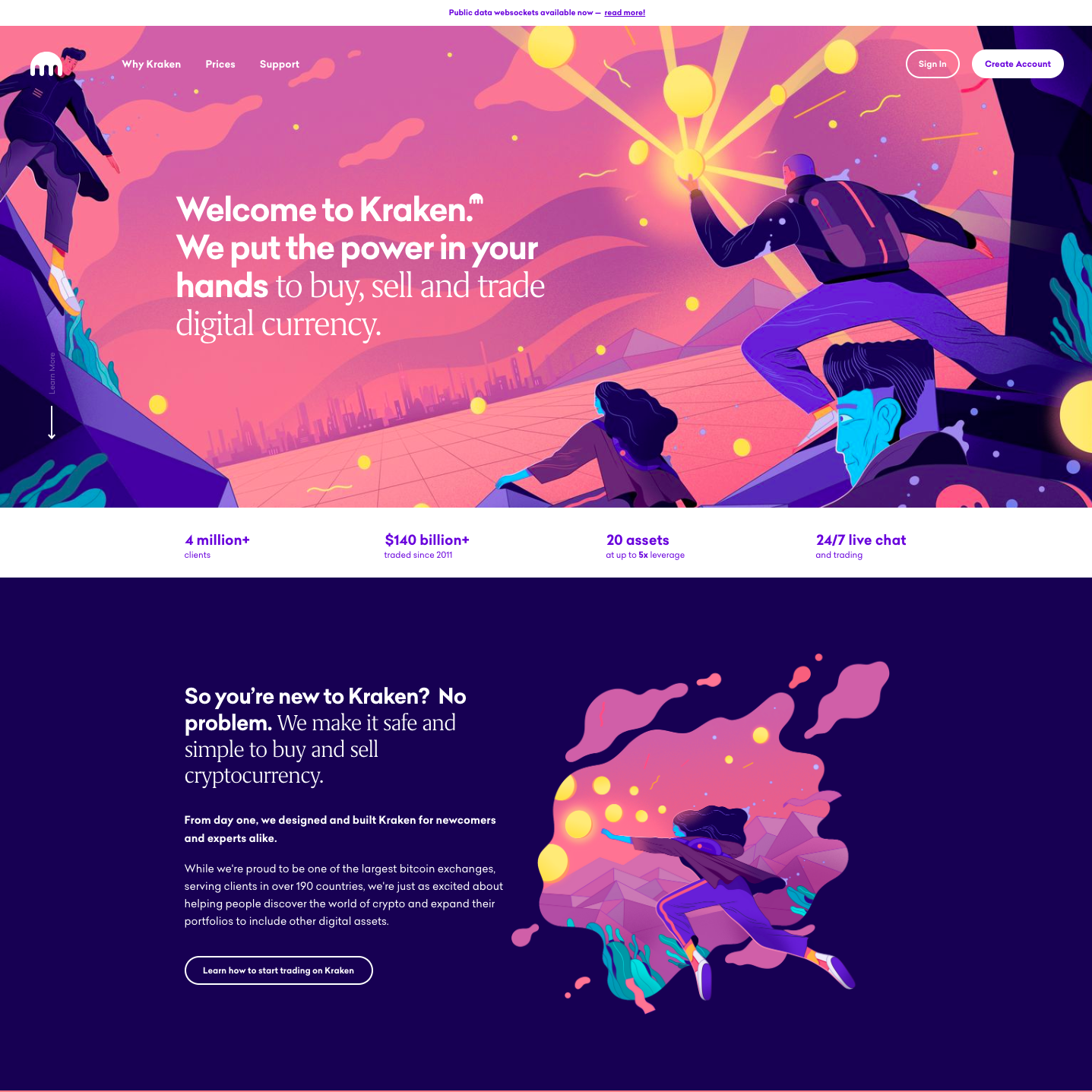 They just recently refreshed their website, changed their brand colors and added futuristic illustrations to their site. The use of these intense colors is brave and looks fun. They kept their logo as it was before – a four-legged Kraken but now it has a purple background.
Maker DAO
Maker DAO or MKR is a cryptocurrency coin build on the Ethereum protocol.
The design has a persuasive clean look. The logo is very adaptable and can stand by its own without the wordmark. It also neatly fits into small spaces. What we liked about the website are the fresh, light colors, and brand icons.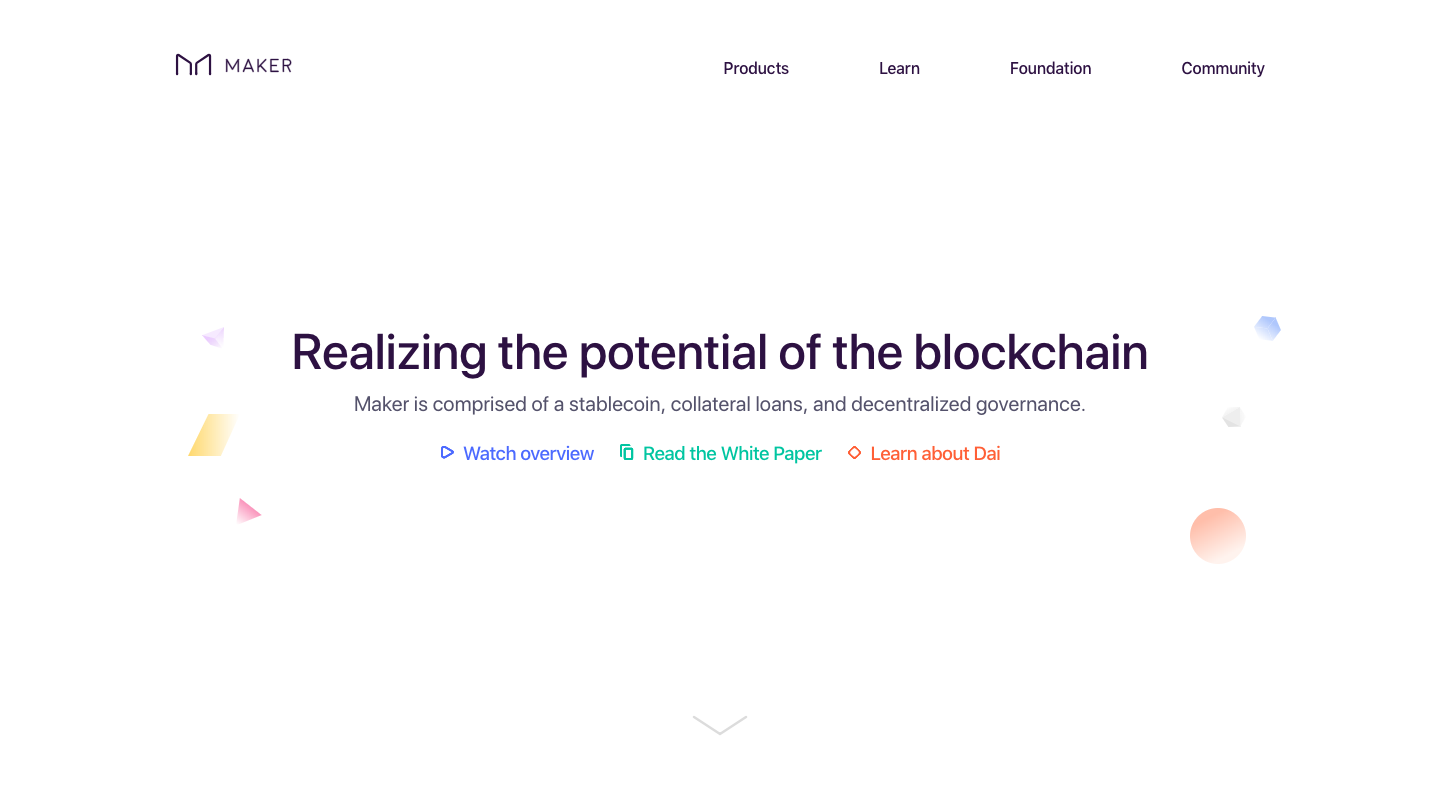 The company offers different products, not just a cryptocurrency. All other software products fit into the brand identity, using the logo and fonts in different variations.
Waves
Waves is a "global public blockchain platform", that was founded in 2016. The platform gives individuals and companies the opportunity to use and develop products on the blockchain. For example, you can use the Waves platform to create your own coin.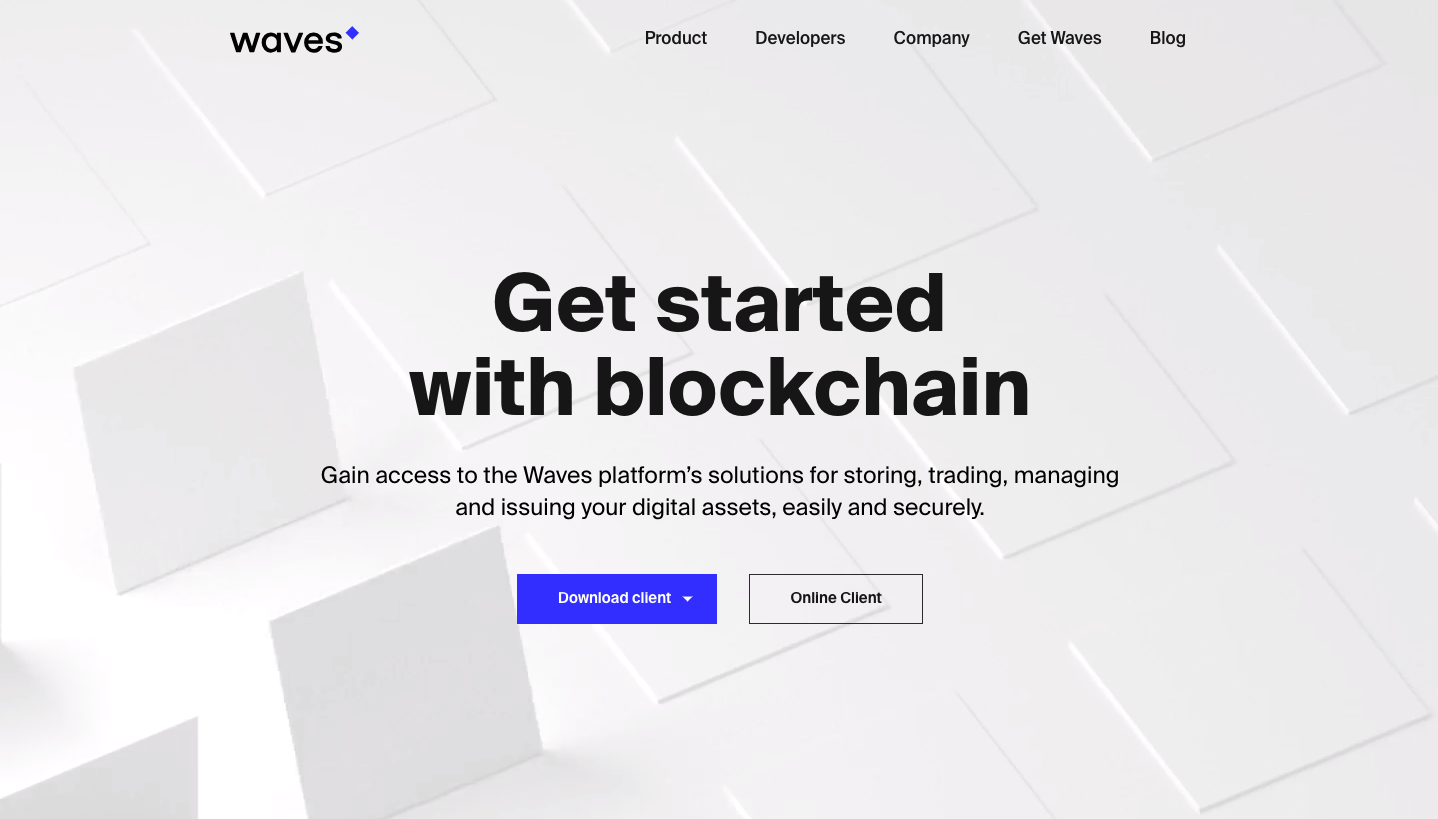 We like this identity because it's clean. The design is streamlined throughout the whole platform. The logo is super simple, but the typical square can be found as an element throughout the company communication, without being too heavy. The website also has movement, which creates a modern and dynamic look, without being too playful. The color choices of blue and a few grays seem appropriate for the industry.
ConsenSys
ConsenSys is a very large blockchain and technology company that offers different products to its users and business partners and develops software for the blockchain industry. On their website, they state: "ConsenSys Solutions brings blockchain to business. We help enterprises, governments, non-profits, and startups across the globe build, test, and deploy public and private blockchain solutions. We offer education and training, strategic advisory, implementation and development services, and opportunities for joint ventures and co-creation."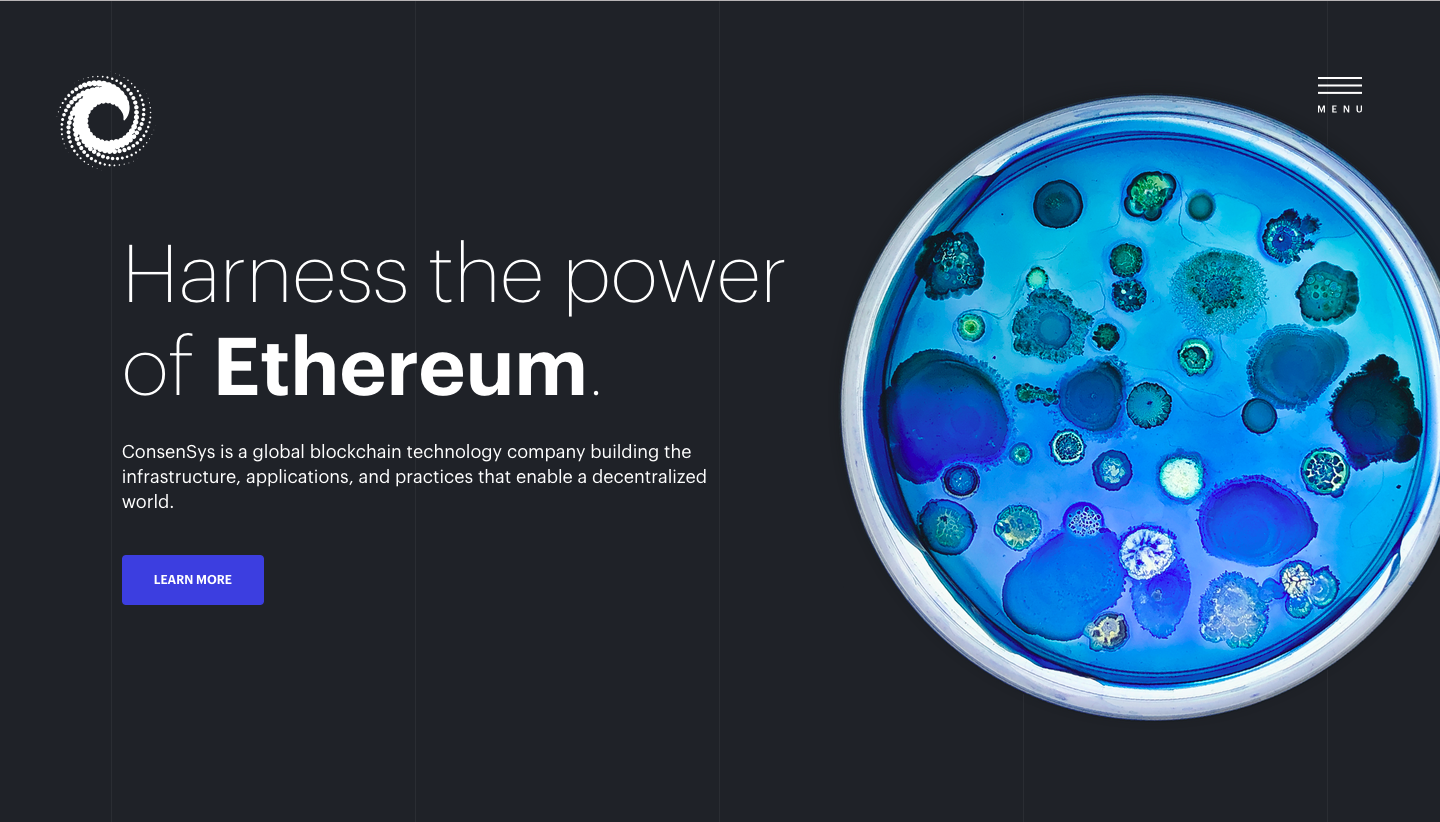 Their logo and corporate design is futuristic. They use dark colors combined with imagery throughout their communications. The logo, a spinning circle, resembles a black hole in the universe; something mysterious, that needs to be discovered. On the first site of the homepage, Consensys uses a very bold, scientific-looking images. It kind of lets you wonder – is this a biology experiment, a research project? It encourages the user to explore the site and the company even more.
So how do you design for the Blockchain?
Blockchain and cryptocurrency technology is new and exciting but needs a lot of explanation before it can become mass adoptable. We need good design and skilled designers to create brand identities and product communication. There are a lot of opportunities out there, but also a few things to watch out for. So what should you keep in mind as a designer?
1.Design with the user in mind
Try not to fall into using jargon or technical terms. Make sure you are designing for the user and focus on the value the product will have for them. For most people, cryptocurrency and blockchain are not yet exciting as it is hard to get involved. For you as a designer, the mission should be to get each user excited about the industry and make it easy for consumers to enter this market.
2.Simplify where you can
Even complex technology needs to be understandable. Right now, a lot of terms like DApp, Altcoins, proof of work etc. keep people wondering. Make an effort to simplify steps, create a clean look and feel for the navigation of a website, and make the user-flow understandable. As a user, we do not particularly care about the technology behind a certain product, we just want to be able to use it easily.
3.Take away the fear
A lot of people are still suspicious about cryptocurrencies and blockchain. A brand identity should be fun and will motivate you to use and try out that new product, buy that coin or get more information. Make sure you spark curiosity!
4.Be transparent
We should not forget that dealing with cryptocurrencies, is dealing with people's money. There are a lot of security layers that need to be clear and understandable. Also, transactions between different coins can take time and it is crucial to be transparent and communicate how long things can take and what kind of security measures are in place. This will improve trust and certainty.
5.Stand out!
Whilst analyzing logos and designs in the cryptocurrency space, we realized that a lot of companies look similar, using particle effects or futuristic shadows and angles. This is often caused by companies using logo creation sites or website templates. It is very important to stand out as much as you can. Be brave, be creative and be bold. We are at a point where we still can take a risk with our designs, bring new products into the world and to have them be seen by many new eyes.
It's up to you now! Get into this exciting new field where technology and design can grow together!
Links
Ethereum: https://www.ethereum.org/
Bitcoin: https://en.wikipedia.org/wiki/Bitcoin
Litecoin: https://litecoin.org/
Kraken: https://www.kraken.com/
Waves: https://wavesplatform.com/
ConsenSys: https://consensys.net/
Maker DAO: https://makerdao.com/en/
NEO: https://neo.org/
[1] https://www.investing.com/crypto/currencies