"If you want something done properly, do it yourself."
It's a saying that David followed to the letter.
Not just a creator and designer of games, but a fan too, he wanted game mats that met his expectations. An enthusiast like David could no longer make do with the usual mats found on the market; he wanted something more.
So, drawing on skills and experience developed in a 30-year career in the industry, David decided to create his own.
He was exacting in his aesthetic and functional requirements: the game mat had to be the colour, size and shape that he wanted. And Pixartprinting proved a reliable partner in developing David's idea, which quickly went from something in his head to printed reality.
The mats designed and printed by David are not for commercial use, but simply the work of a huge fan, developed to satisfy his incredible passion for games. That said, the beautiful end result of these playmats shows how the potential of printing can be harnessed to create new products.
Sit down and play with David: you'll discover a world of imagination, creativity and fun!
Enjoy!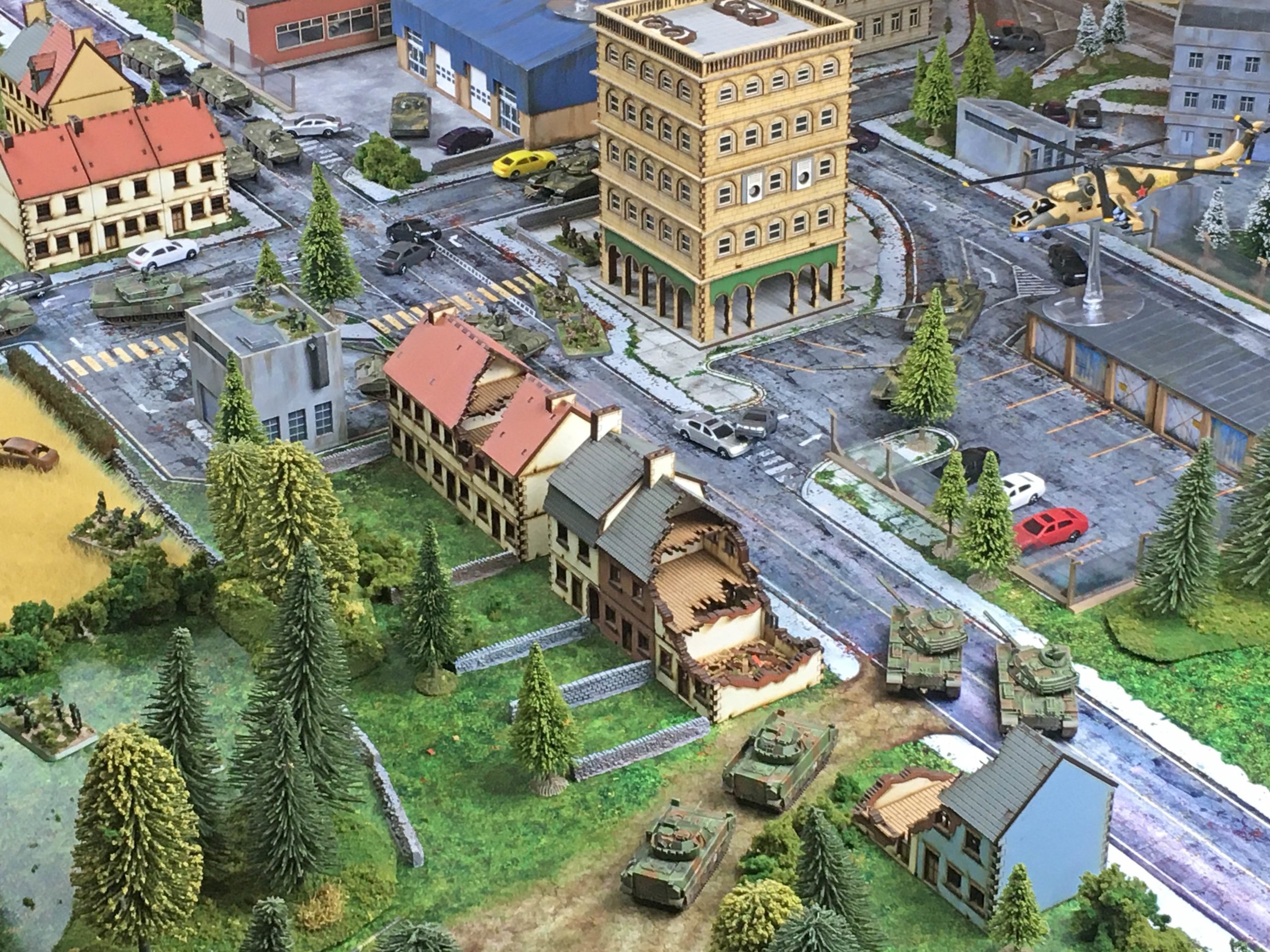 Who are you? Tell us about yourself, what you get up to in life, and your dreams, aspirations, and talents. A short but faithful portrait!
I am David Sheff, a Toy Designer, Sculptor, Inventor, Modelmaker, Graphic Designer, and promotional video maker living in the South West of the UK near Bath, and I have over 30 years' experience working for many of the biggest toy companies in the world. Growing up I was obsessed with the miniature, the scale of something reproduced perfectly in a smaller form. I have never shaken this love, and once I had two sons, Lincoln, and Harvey, with my lovely wife Bethan, it wasn't long before I was infecting them with the same enthusiasm for all things micro! I love games of all sorts, be it war, board, or videogames. Game mechanics interests me greatly and I am also keen on creating A.I. for gaming purposes too.
Before telling us how your idea was born, can you explain to our readers what you produced using our printing services?
I created large PVC battle mats to serve as the base layer for the scenery and miniatures in our wargames of Star Wars Legion, Team Yankee, Warhammer 40K, Dropzone Commander, Frostgrave, Zona Alfa, amongst others. I also designed some play mats for card games such as Fantasy Flight's Arkham Horror, and Death Angel.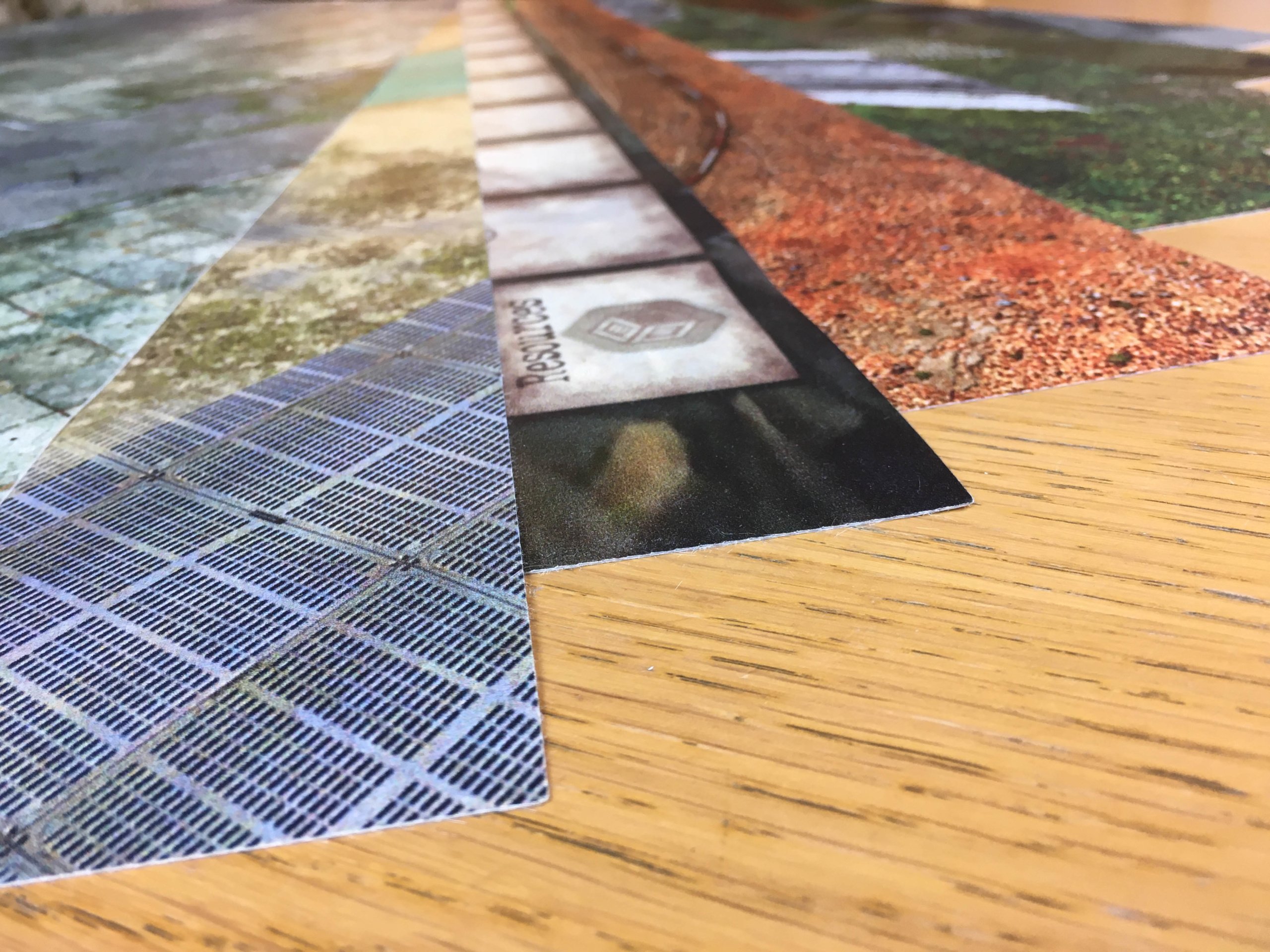 Let's go back to the moment it all began. When did you come up with the idea for this design? Did you stumble across it by chance? Tell us a bit about how you devised the concept.
I had become frustrated with the lack of decent game mats on the market for 15mm scale miniature games, particularly Team Yankee by Battlefront Miniatures. The market is awash with mats for 28-32mm figure scale wargames of varying quality, but I needed something modern-looking (the game is set in the 1980s) and cost effective (I am quite poor!). I decided it would just be easier to design something myself using Adobe Photoshop and then print it off on my home Epson printer. This proved even more frustrating as trying to create a 1800mm by 1200mm battle mat out of separate A4 printed sheet just looked terrible. One day I was looking at Pixartprinting as I was getting some labels printed for Bethan's pottery business, when it struck me, I could get a PVC banner printed at a fraction of the cost of a conventional battle mat (usually printed on neoprene), but it would have far superior image reproduction in a very resilient material.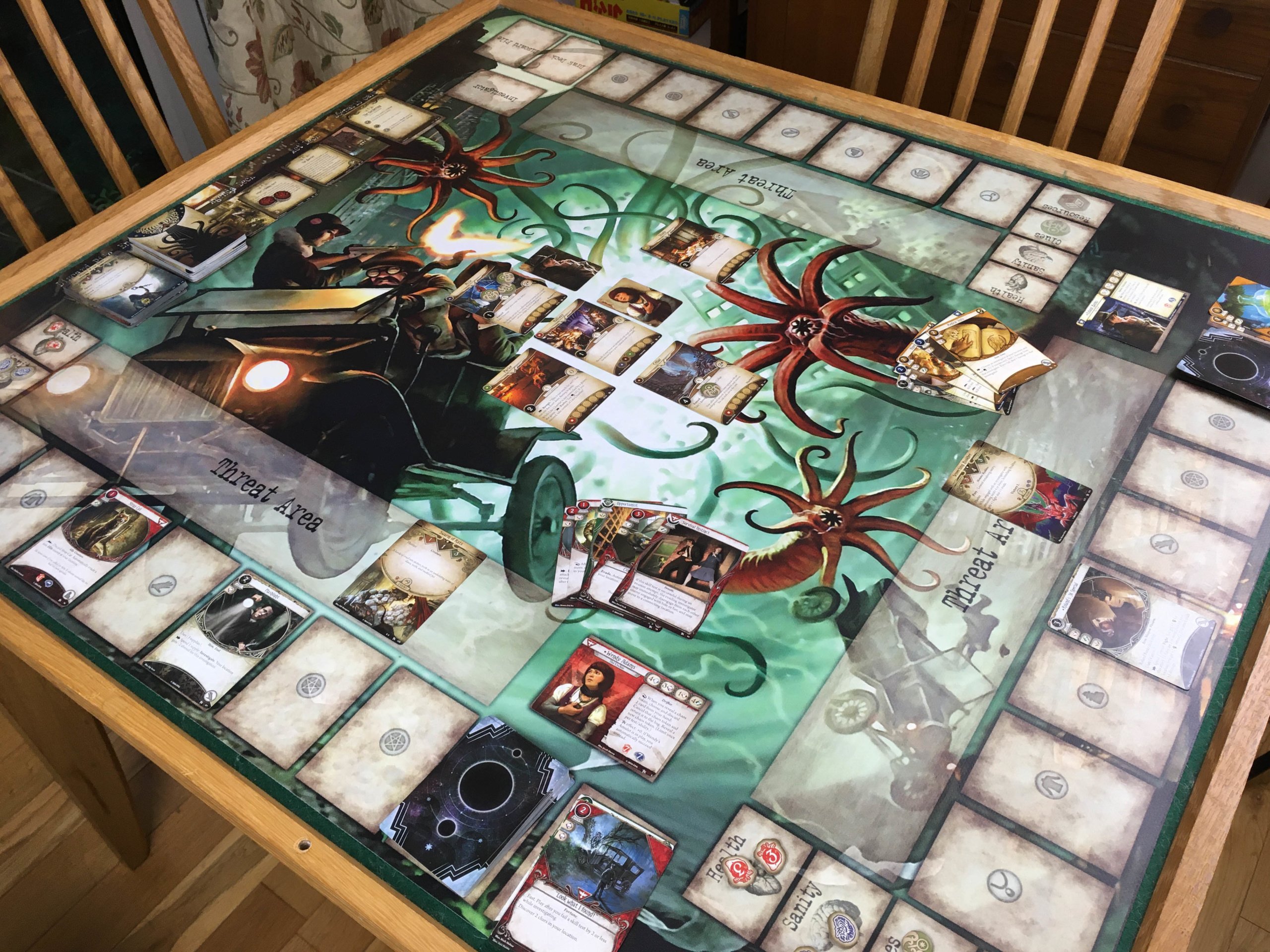 Once you had found the right idea, you had to set an objective. What did you want to achieve with your idea?
I wanted to achieve a mat that would store away easily, be able to take some abuse, and have great image reproduction. The PVC banner material was perfect for this. From a design perspective, I wanted to create mats that would be versatile and could possibly be utilised for multiple game systems. From the initial Team Yankee idea, I expanded to other games looking for gaps in the market, and because I was making them for myself and not to sell commercially, I could stray into copyright areas which would rightly have gotten me into trouble otherwise. I also wanted to create two different sizes of mat, one small for playing quick games on our tiny dinner table, and larger mats for playing on the table we have in our shed.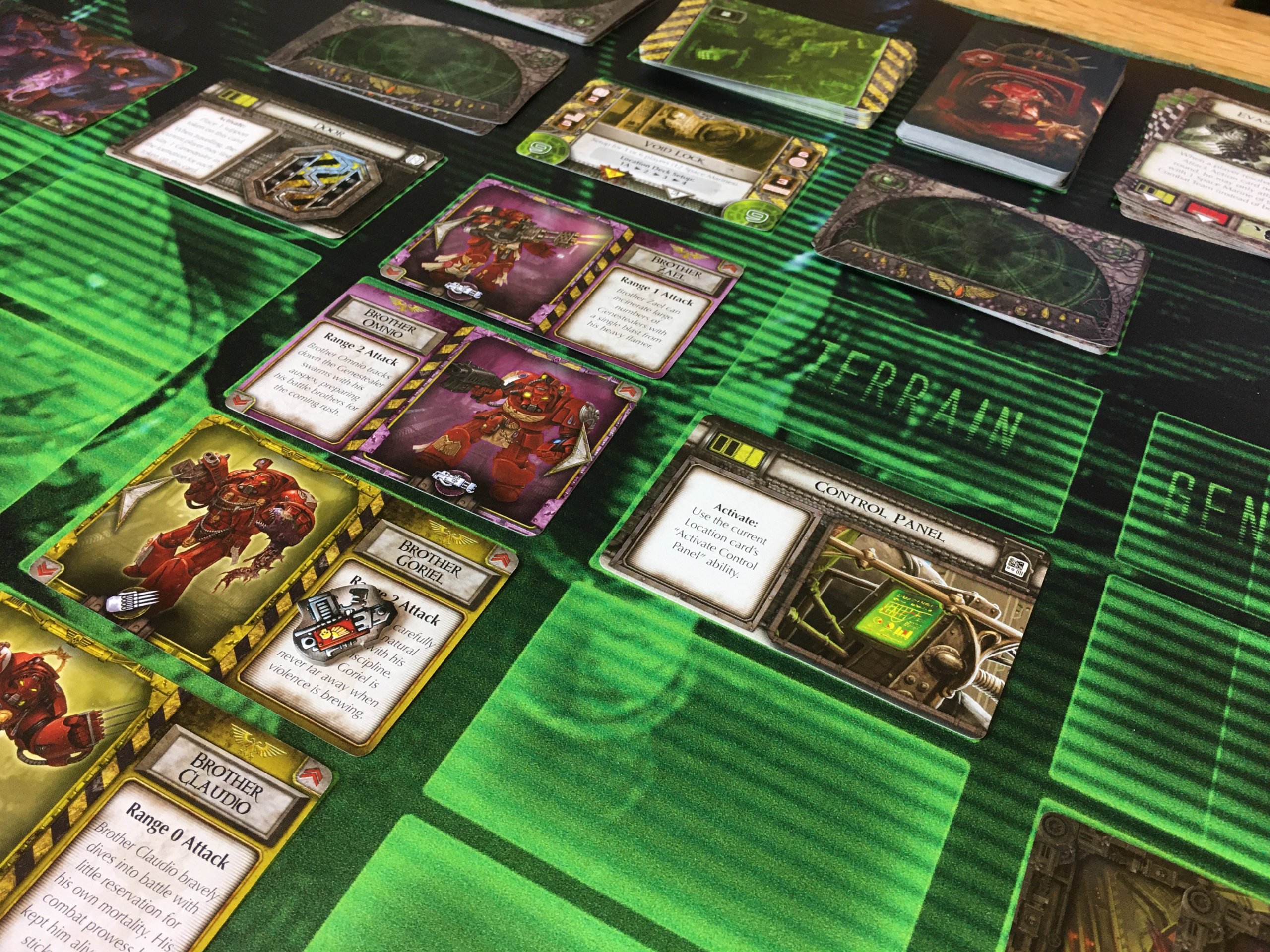 With the idea for the design and the aim you wanted to achieve sorted, all you had to do was create it! How did you do it? What were the design phases and how many were there? Tell us about the process that brought your idea to life and made it ready for printing.
I was fairly unambitious at first as I didn't want to pile a lot of time into an unproven system. I started with one mat that was a reworking of one I had purchased from a commercial battle mat maker and digitised. The original mat was at 28mm figure scale, so it was rescaled for 15mm and a did a lot of colour correction work and blending of elements within photoshop. I then printed a rough draft off on A4 sheets, stuck it together, and dropped a tank and some little soldiers on it to check all was good with the scale. After a few attempts I was happy with the results it was ready for proper printing!
Once I saw the results that came back from Pixartprinting I was inspired to create my own designs. After some brainstorming with my sons about what would be great battlefields for us to fight over, I used graph paper to work out the initial layouts. Taking to photoshop, I would use the scanned layout as a background to start adding layers of textures that I have created or found on the internet. I used a great deal of masking and other techniques to get a mat that did not have a repetitious look to its textures and was not to jarring in its presentation. I dislike battle mats with too much clutter and debris detail, I can put that on the mat using physical models myself, and it gave the mat a more adaptable nature.
One of the main mats I wanted was to represent the islands of Scarif from the film Rogue One: A Star Wars Story. Bethan had bought me some miniatures for the Star Wars Legion game by Fantasy Flight for my birthday and I thought it would be great to recreate this environment. I had also run around on these islands myself playing the Star Wars Battlefront 2 videogame by EA, and this helped with thinking what textures would be useful. I would often get shot by a passing Stormtooper as I was gazing down, studying the transition between sand and fallen leaf cover on the ground textures!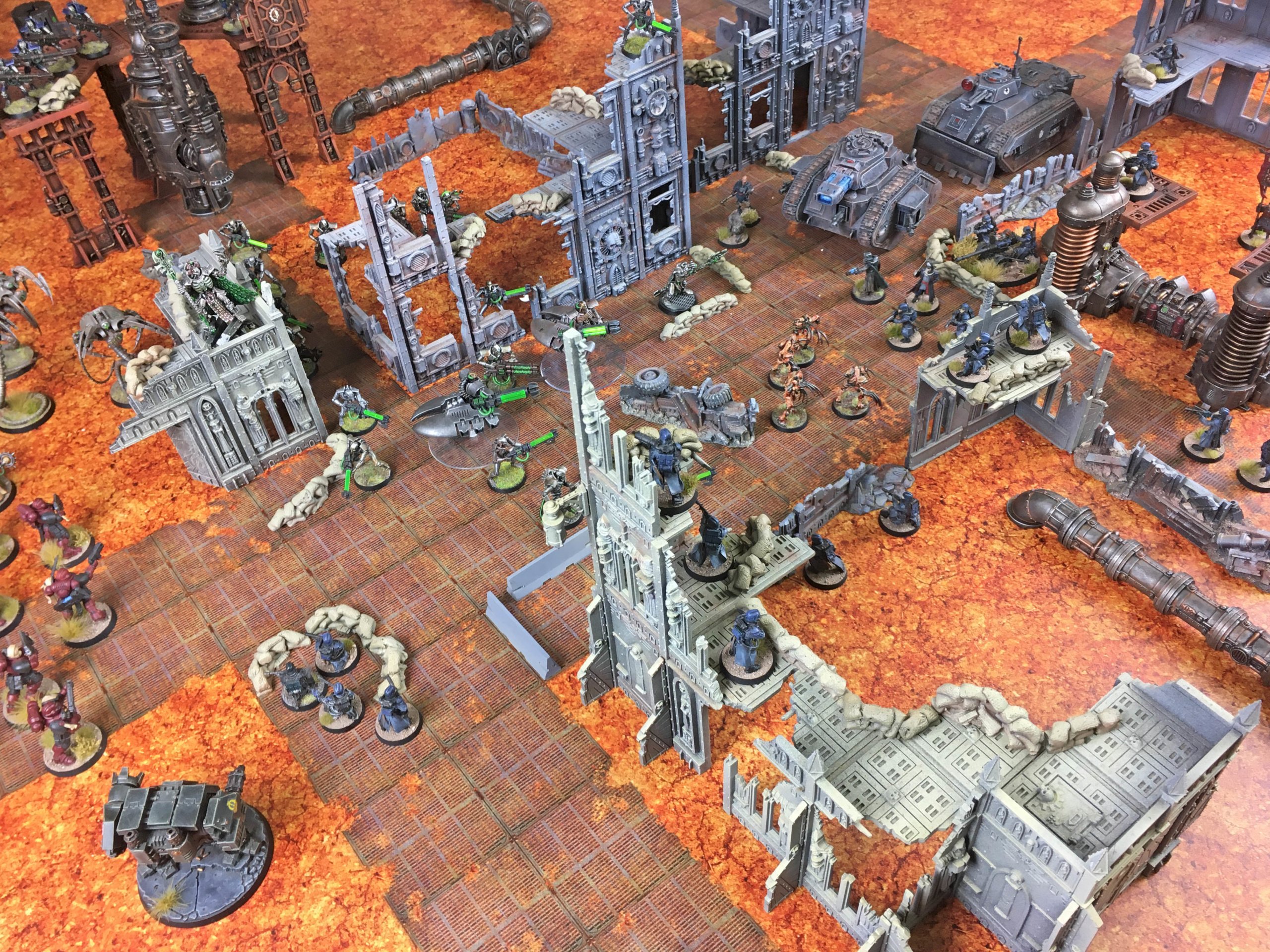 It's time to print! How did you use print-on-demand to produce your design? Which materials did you choose? And why did you choose these materials and this printing technique?
Choosing the materials I wanted was made easy by the great tools on the Pixartprinting website. I chose Extreme Classic PVC 500gsm, rectangular cut, no Accessories, no Reinforced Edges, no Pole Pocket, gave each one of my mats a different job name, picked a delivery date, and then just added it to the Basket. After paying it was off to the Upload Area with my artwork, which I had already put into CMYK FOGRA39 format. I opted for 150pi resolution as this is a good pay off between size of file and quality of image. I had some pretty big images to handle here, 1802mm x 1202mm so sometimes I was forced to lower my resolution to 100pi, but the results were still perfect.
Now it's time to make the most of the products you created. In your case, the aim was to produce some battle mats. How did you feel to see them finally printed?
I was astonished with the results, the printing was clear, crisp and detailed. Once I had the first mat, I could correctly calibrate the colour representation of my screens to match those that Pixartprinting were reproducing on the PVC material. This was barely anything, and it just took giving my final designs a last pass with the Shadows tool in Photoshop, set to about 18%, to bring out any hidden details.
The feel of the mats is terrific, they flatten very easily after being stored rolled up, and take up extraordinarily little space when compared the huge, heavy neoprene mouse mat style mats commercially available. Another brilliant unseen advantage was that the surface tends to 'grip' models and scenery that are put on it. Don't get me wrong, there is no tackiness to these mats, but something about them is great for keeping things where you put them, essential during a game, where things are often getting nudged by excited hands and elbows!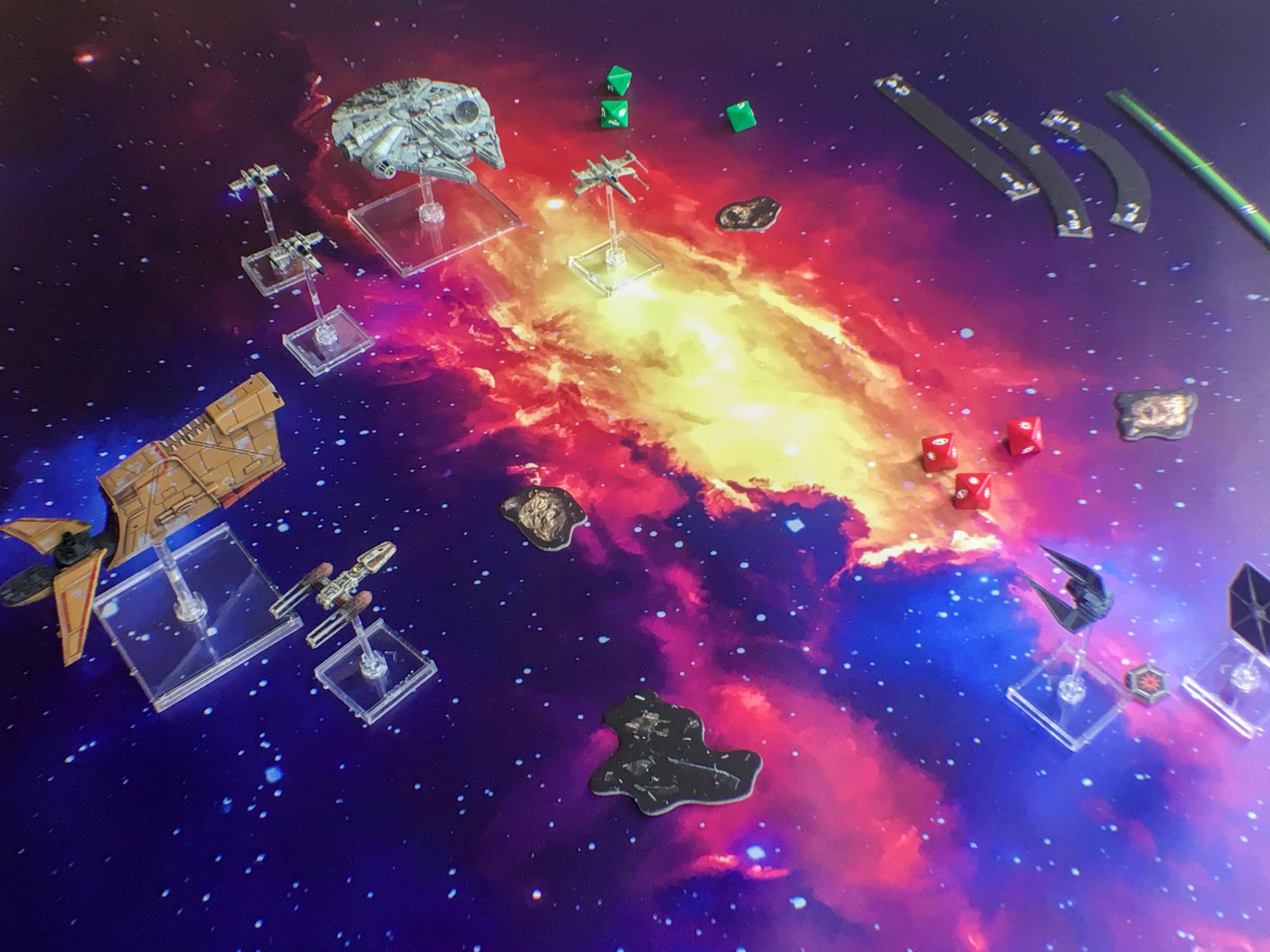 This is only the start! What other projects do you have planned for the future? Can you share them with us?
I have stared to create mats for some of the card games that we have, such as Arkham Horror and Death Angel. The 'grip' of the mats perfectly lends themselves to holding everything where it should be, and the artwork sets a great atmosphere for the game. I plan at looking at more of the board games we have and seeing if I can do something with these. I love the Fallout series of video games and I have miniature and board games themed around this. I suspect I may be doing some mats based around a post-apocalyptic future sometime soon…