Creating an effective LinkedIn profile for attracting work, clients and contacts.
From headline to profile picture, from personal information to professional experience, creating an optimised LinkedIn profile can open doors to many opportunities.
These days, it's essential to create an effective LinkedIn profile to build your personal brand, find new clients and work, and develop a network of useful contacts for your business. Indeed, the Microsoft-owned social network hasbecome the key virtual space for advancing your career, being visible to firms looking for professionals and selling your services.
But many users make a crucial mistake when they create a LinkedIn profile, treating it like an online CV: it's not enough to just fill in all the sections with a simple list of professional experience and education.
Understanding yourself and your target
The first thing to do before creating a LinkedIn profile is to fully understand your own skills, in other words, how you can help businesses and other people in their work. This applies equally to freelancers, employees and firms. The fundamental question is: "who am I and what problems can I solve?" The answer might be: "I'm an illustrator and I tell compelling stories using images".
Once you've understood this, it's worth creating a so-called "buyer persona". This is the profile of person that you're aiming at, your target. For example, if you're  a designer or an illustrator, your buyer persona could be the art director for various publications.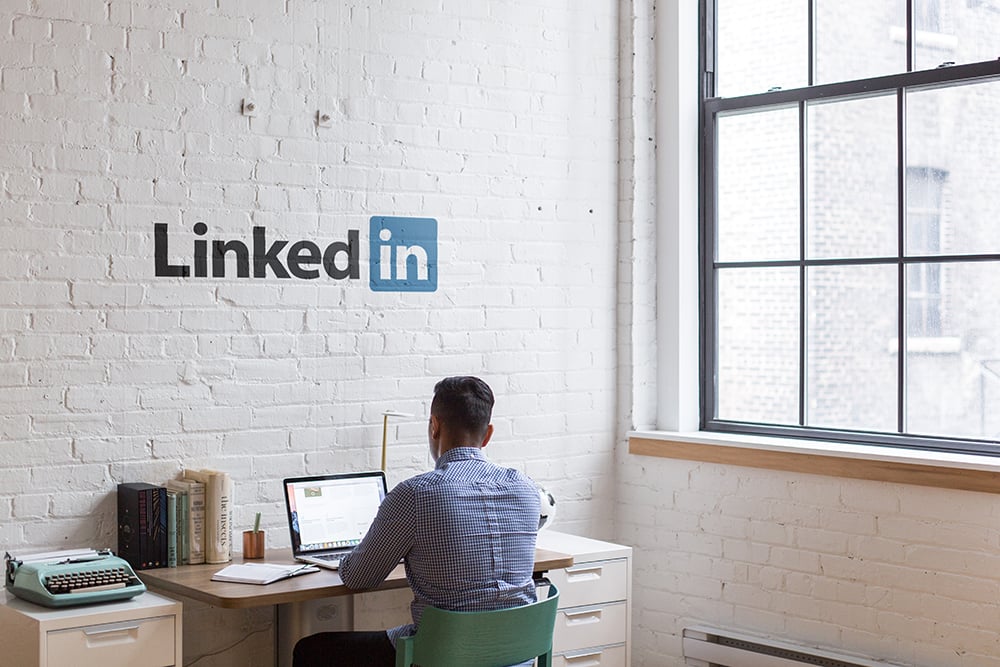 Using SEO to stand out on LinkedIn
Something else to consider before putting together your LinkedIn profile is how to choose the right key words to increase the chances of being found on the platform by search engines.
On LinkedIn, we write for:
People, so everything that you write on your profile must be true, understandable and grammatically correct
Search engines, which scour your profile for one or more key words typed in by users
You need to do what in SEO jargon is called keyword research, which involves creating a list of keywords that, in this case, describe a profession or different skills. This research can be carried out using Google Keyword Planner or other more advanced tools that you have to pay for, but in the absence of these, you can simply pick words that are associated with your profession. Take the example of an illustrator: associated words might be "editorial illustrator" or "designer". Once you've chosen the words most likely to get you found, you should add them to most of the fields available in your LinkedIn profile.
Creating a LinkedIn profile: tips for making it effective
 Your LinkedIn profile should be put together as if it were a landing page, in other words, a sales page that attracts and holds the attention of visitors and gets them to take specific actions. For instance:
Encourage potential clients to request a connection to find out more about your services
Connect with a recruiter interested in your profile and skills
Make yourself easier to find through the LinkedIn search engine
Here are some tips for getting the most out of your LinkedIn profile.
1.Choose the right profile picture
The profile picture acts as a business card on LinkedIn and is the first thing that visitors to your page look at. The photo should be professional but not cold. Furthermore, it should show who you are now, so it's advisable to avoid photos that are too old or taken in the wrong contexts (like weddings or other special occasions). The passport photo format is preferable, perhaps with background that is darker, slightly blurred or that shows your ideal working environment.
It's best to position your face in the middle of the image, smiling – or even half smiling – with eyes and teeth. You should definitely avoid photos taken from a distance  or that show little of your face, which should take up at least 60% of the image. The size of the photo should be 400 x 400 pixels, even though it will be displayed as a circle. It can also be a good idea to add a coloured border to the image to make yourself more visible on the platform.
2.The background picture should say something about your skills and experience
The second most viewed part of your profile is the background image, also known as the cover. It can really captures people's attention, so it's very important to show either examples of services offered, simply or creatively, or a professional photo that shows you at work. The photo size should be 1584 x 396 pixels.
3.The headline shouldn't just give your title
Many people just use the headline to give their job title. "Lawyer", "Engineer", "Designer". In realty, this section, which has space for up to 220 characters, can be used to highlight your specialisms in creative ways. The main thing is to always include keywords that accurately summarise your skills and that you'd prefer to be associated with.
The headline can be standard or creative. For example:
UX Designer – Graphic Designer | I help companies create effective and powerful digital products

Just your friendly neighbourhood recruiter | Nerd at heart | Introvert living in an industry of extroverts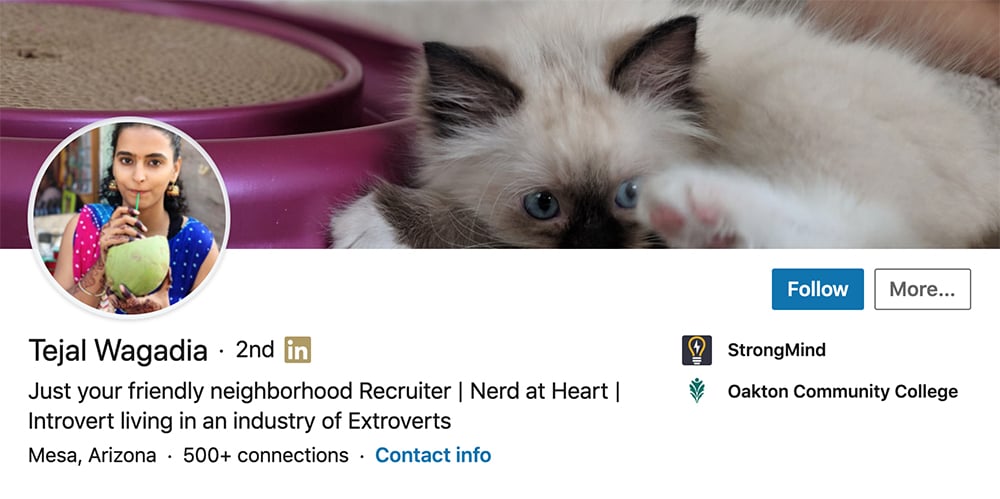 4.The About section is your story
The biggest mistake you can make in this section is to simply list your skills or services. In fact, here it's advisable to tell a personal story, be it human or professional, addressing a specific audience and without forgetting to add keywords organically. Basically, it's about turning your profile into a useful resource for future clients by making your potential into an inspiring story.
5.Featured: showcase the most important things
This section is displayed as a gallery. Here it's essential that you add your own website, if you have one, but if you don't, it's important to add things like blog posts, links to a portfolio or posts on LinkedIn that have been a success.
6.Experience: carefully choose what to include
This is the section on LinkedIn where you talk about your professional experience, past and present. Using the right keywords, here you should provide a compelling description of your skills, as well as links that showcase your work. By doing so, you can make this section a detailed portfolio.
7.Education, skills and endorsements: the importance of thinking strategically
The Education section is, of course, the place to list your degrees and other qualifications, but remember to think about who will be looking at your profile. This means emphasising the education and training that is most to likely to attract target clients and bring in work.
In the Skills & endorsements section, you can use a few carefully chosen words or phrases, like "Journalism" or "Digital illustration", that summarise what you can do. These can then be endorsed by other users, so the more endorsements you get, the higher your profile will be ranked in searches for those words. What's more, you can also pick three top skills to showcase, so it's vital to choose the three that you most want to be contacted about.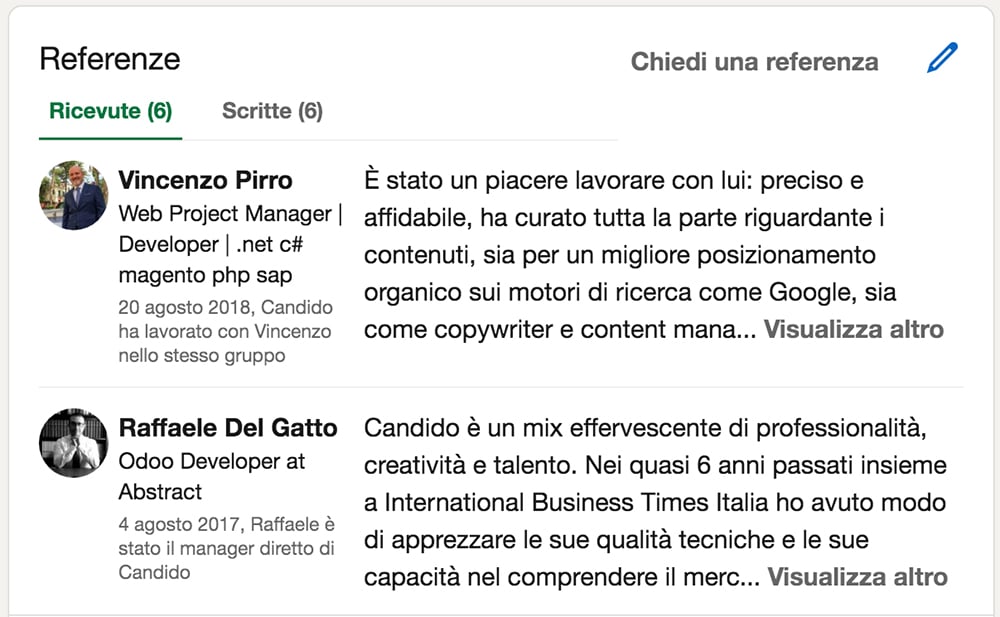 8.Only ask for genuine recommendations
The last section to consider carefully is Recommendations, which is where you can display testimonials from colleagues and former colleagues. Do not ask for fake recommendations from people who don't know you: this is unethical behaviour that will only damage your profile. Instead, contact people with whom you have worked in the past, or even people you studied with. Simply ask them to write you a recommendation, perhaps including some of the specific keywords with which you'd like to be found.
Beyond the profile: having a content strategy
Creating an effective LinkedIn profile is just the first step in getting the most out of the platform. The goal is to get as many people in your target audience to "land" on your profile and see what you have to offer. And the best way to get noticed is to create content in the form of posts, for example, by sharing a thought for the day, news from your industry or an interesting article or video.
Ideally, you should create a content plan, although you don't need to post something every day. But a well-established presence on the platform is important for building a network of contacts that can bring in new work opportunities.