Milan, at the end of the seventies. The fashion kingdom crowns its king: King George, as he will become known abroad. With Giorgio Armani, Milan is fast becoming the world's fashion capital, and Made in Italy is no longer just a label: it's now synonymous with elegance, sophistication and class.
How was this iconic fashion brand born? And where did the idea for that eagle come from? Read on to find out.
King George and the birth of an empire
Giorgio Armani was born in 1934 in Piacenza, northern Italy. After dropping out of medical school in Milan, he started working with architects for the luxury Milanese department store Rinascente to update its image. It was on Rinascente's gleaming shop floors that the designer-to-be honed his creative skills and aesthetic flair, and the direction for his future career started to become clearer. Shortly afterwards, in 1964, he would take his first steps in clothing design, thanks to a collaboration with Cerruti for Hitman, a brand that made men's clothing. This first assignment in fashion, which lasted until 1970, was his most important formative experience.
So much so that just five years later, in 1975, the Giorgio Armani label was launched, an independent brand producing menswear and, from 1976, womenswear too.
The rest is history: from the Armani jacket worn by Diane Keaton to accept her Oscar in 1978 to the suits made for Richard Gere in the 1980 film American Gigolo. His many admirers include Madonna, Lady Gaga, Laura Pausini, Christian Bale, Cate Blanchett, Leonardo Di Caprio, Tom Cruise, Julia Roberts and Renée Zellweger. It's impossible to list them all.
Now we come to the idea for Emporio Armani. It's the eighties, and Giorgio Armani wants to broaden his appeal to younger people and all budgets. And so a new, more affordable clothing line is born. The key to this new offering is denim. Taken for granted today, but less so back then: no designer had ever before included a pair of jeans in their collection. It was a revolutionary move at the time, one scoffed at by more conservative figures in the industry. But it was greeted with enormous enthusiasm by his many future customers: Emporio Armani offered simple, elegant and easy-to-wear clothes at affordable prices.
Why the name "Emporio"? And what's with the eagle on the logo? We're about to find out.
The Emporio empire: birth of a name and logo
Let's start with the brand name. It was Giorgio Armani himself who wanted the word "emporio", Italian for "emporium", in the name of his new line, as he explained in an interview with Italian Vogue in 2018.
I liked the idea of a place where you could find everything and at a fair price. That idea still applies today: for me, Emporio is a collection of garments, accessories and ideas aimed at a broad, cosmopolitan and urban audience.
And now we come to the logo.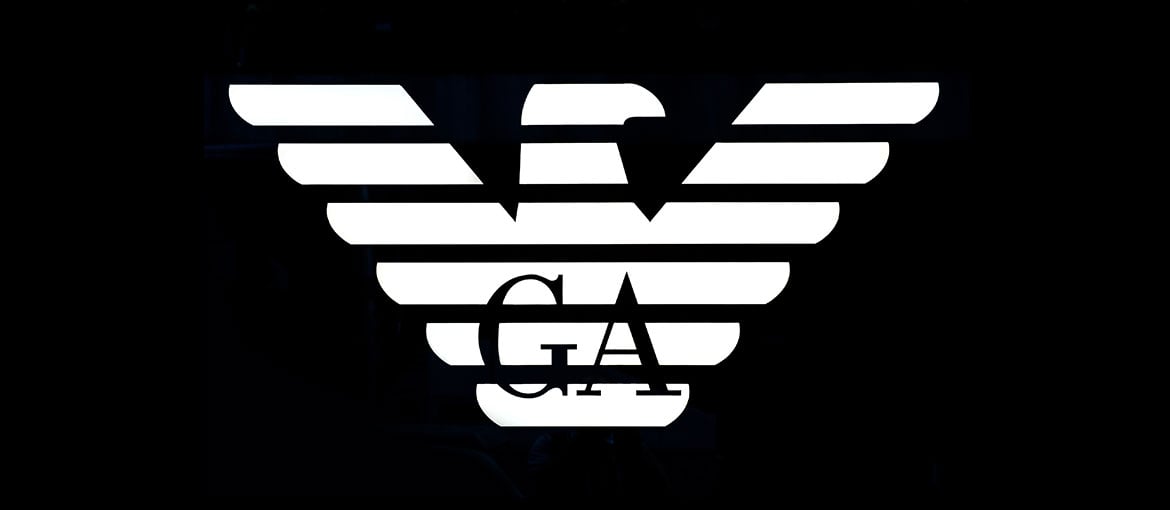 An eagle divided into horizontal stripes and featuring the designer's initials. The font used is Didot LT, an elegant serifed typeface. Why an eagle? Legend has it that the symbol was a tribute to his biggest market: the United States. Yet the eagle faces east, in the wrong direction. It's a detail that suggests it might be no more than an urban myth. Indeed, in the same interview with Vogue, Armani says that the logo was inspired by an image that suddenly popped into his head.
It was born by chance. I still remember the moment I drew it, while I was on the phone with my business partner, Sergio Galeotti, who urgently needed me to decide on a logo. I scribbled something down, without really thinking, and that symbol of elusiveness launched my name among the elite of young designers. I would never have imagined that this design, done in a hurry, could be such a powerful symbol.
A logo born spontaneously, one that perfectly embodies the brand's identity. Minimalist, harmonious, simple, elegant, noble. Just like the designer's creations.
At times, the big ideas seem to appear out of nowhere, as if they were inside us all along, just waiting for the right moment to take flight.