Erik Spiekermann likes travelling by train – not only because the coffee comes in a large cup, but because the cup has one of his fonts on it. I learn this from Erik's Twitter feed, the designer's social media network of choice.
From one of the first typographers in the mid-1980s to use a computer to an active member of the digital community with 322,000 followers, over the years Erik has experienced and helped to shape the development from analog to digital print media, printing production, and the overall media landscape.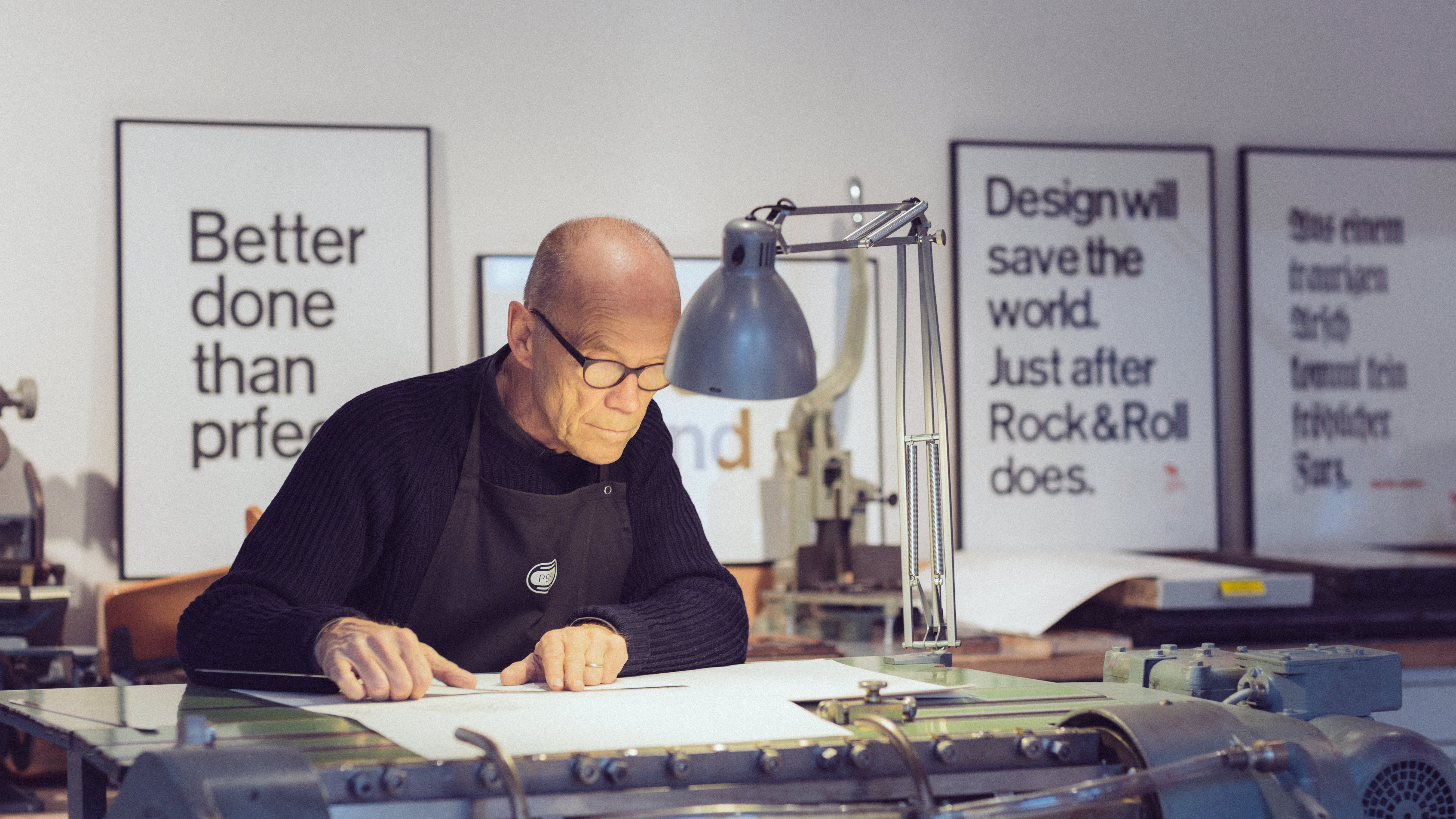 I once again had the pleasure of chatting with Eric about the analog in a digital age.
Have you noticed any breakthroughs in printing in the last five years (either positive or negative)?
Digital printing has become competitive, since it's now possible to print on almost all kinds of paper, and especially in sheet format. Smaller editions can be printed quickly and cheaply, and there's practically no difference in quality to offset printing.
It's a shame that there are fewer and fewer small presses printing in medium format, and maybe even with one- or two-colour printers. With those you can print black type and, particularly in small editions, the quality is better than with a six-to-eight-colour Speedmaster.
The same doesn't go for 3D printing, even though it's also a kind of printing process. I can imagine, however, that we'll soon be able to produce plates for letterpress with a 3D printer.
How has digitalisation helped printers and presses? How has it helped print as a medium?
The path from draft to print has become shorter, and common data formats have created standards. You can't imagine how we had to work before PDFs! No one has to send out templates anymore and hope that the films are still around when it's time to reprint.
On the other hand, graphic designers now have more responsibility than ever before. No reproduction photographer can intervene, no typesetter can do the make-up, and hardly anyone goes as far as the proofs. It saves time and money, but it makes us stupid, and it renders the process increasingly opaque.
But above all, digitalisation has eliminated a lot of print media. Most of what we read on a screen isn't printed anymore. So the more the printing sector digitises, the more it digs its own grave.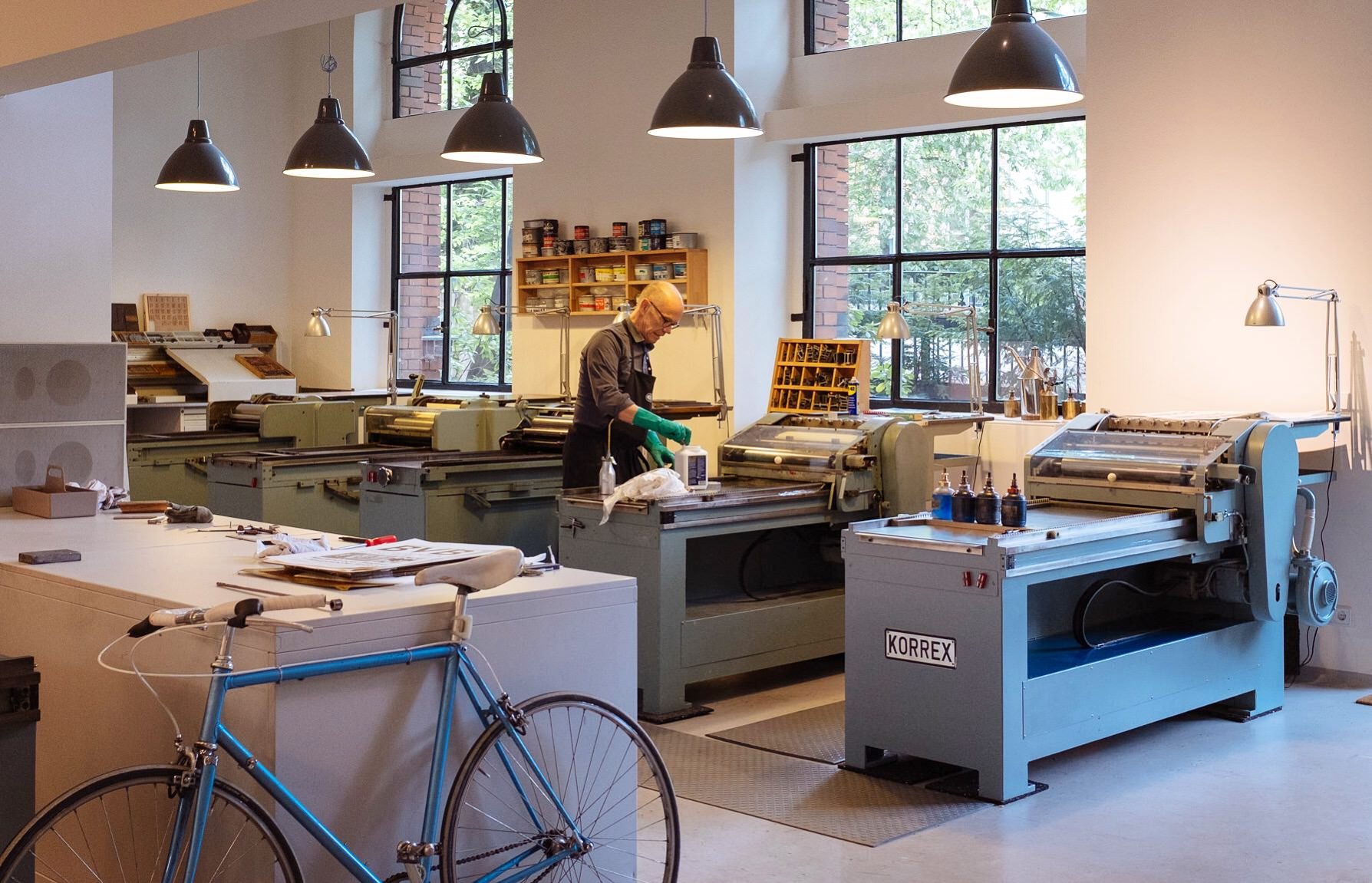 You mentioned in an interview that book printing, in particular, achieves its result through the establishment of physical boundaries, and that it's through these that the object becomes valuable. Is this also true for digital printing?
On the contrary: digital printing hardly has physical boundaries at all! For me, the advantage is that black is blacker, since the colour is thicker and no longer diluted with water or alcohol, which you would still have to do when following the lithography principle.
How do you use social media to boost your business?
If I were to try to boost my business with advertising, it would backfire, and I would lose my credibility. I only share what interests me and hope that it interests my friends and colleagues in the scene, too. And if they know that I have to sell some things in order to finance my ideas, that's all right. I couldn't use my network to just sell whatever, though, merely to make money.
How do you inspire yourself, and are there people who inspire you?
Life offers enough inspiration. You just have to look closely.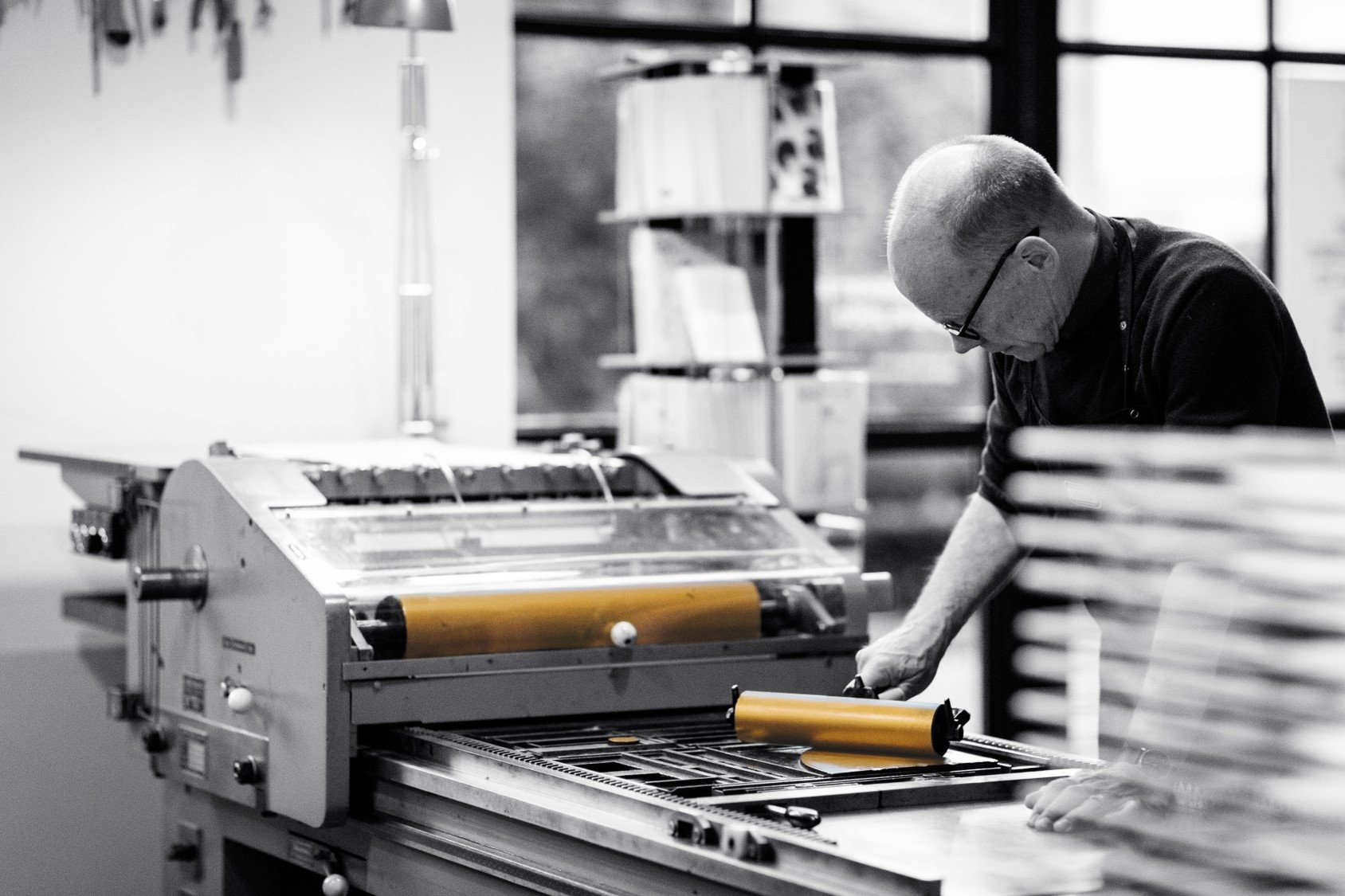 'Analog' has recently made a comeback, whether in the form of vinyl records or speciality printing. Why do you think high-quality analog products have grown in popularity again?
Because we're made of atoms, not bits. Because we eat, drink, go to the toilet – we're entirely analog beings. The digital is completely foreign to us and can only be the exception, not the rule. The pendulum is swinging back now.
Have there been any new, unexpected media in the design industry that have surprised you in the last three to four years?
The many niche products: books, magazines, newspapers in small and miniscule editions. Publication is among the most human of activities, and holding something printed in your hands is still a different experience than scrolling on a screen, when everything disappears in the instant that we turn off our devices or the battery dies. And then there's all the other qualities of print media – you always know where you are, you can skip over things that don't interest you more quickly, and you don't get distracted by links that lead you somewhere else. The advantages of digital media are also their disadvantages. There's no real pause or end anywhere. On one printed double page, I find things I wasn't looking for. On a website, I have to search just to find something useful. So I always have to know what I want to read, because otherwise I'll drown in the current of information. A book or magazine page is the shore, where I can decide whether I want to go swimming or not.
Are you reading any interesting books at the moment?
Andre Wilkens' 'Analog is das neue Bio'.
Erik divides his time between Berlin, London, and San Francisco, but can most often be found at his letterpress workshop p98a in Potsdamerstraße in Berlin.