How green is your office? Making your business more sustainable
Recently, many companies have grown accustomed to remote working, which offers a range of benefits, not least a reduced environmental impact. However, working from home is not the only way to pollute less: growing numbers of businesses are adopting sustainable habits that save energy and reduce waste (and so minimise pollution at the same time).
If you're looking to make your company more sustainable too, this article is for you: we've gathered together a few hints and tips on how to create a 'green' office.
How to save energy in the office
It goes without saying that the best way to reduce energy consumption is to make the most of natural light, but when this isn't an option, there are still ways to make a difference. How? By choosing LED bulbs, for example, which consume less energy and last up to 40 times longer than incandescent bulbs. Or by purchasing eco-friendly printers with low energy consumption, which use up to 90% less energy than traditional models.
Then there are some other good habits to get into:
Talking of printers, did you know that just a fraction of the energy they use is actually expended on printing? According to an article by Wolters Kluwer, a provider of IT solutions, software and other services, 49% of the energy is used when the printer is on standby, and 43% is used to turn it off. So the best thing to do is to print everything in one go and then switch the printer off once you've finished using it.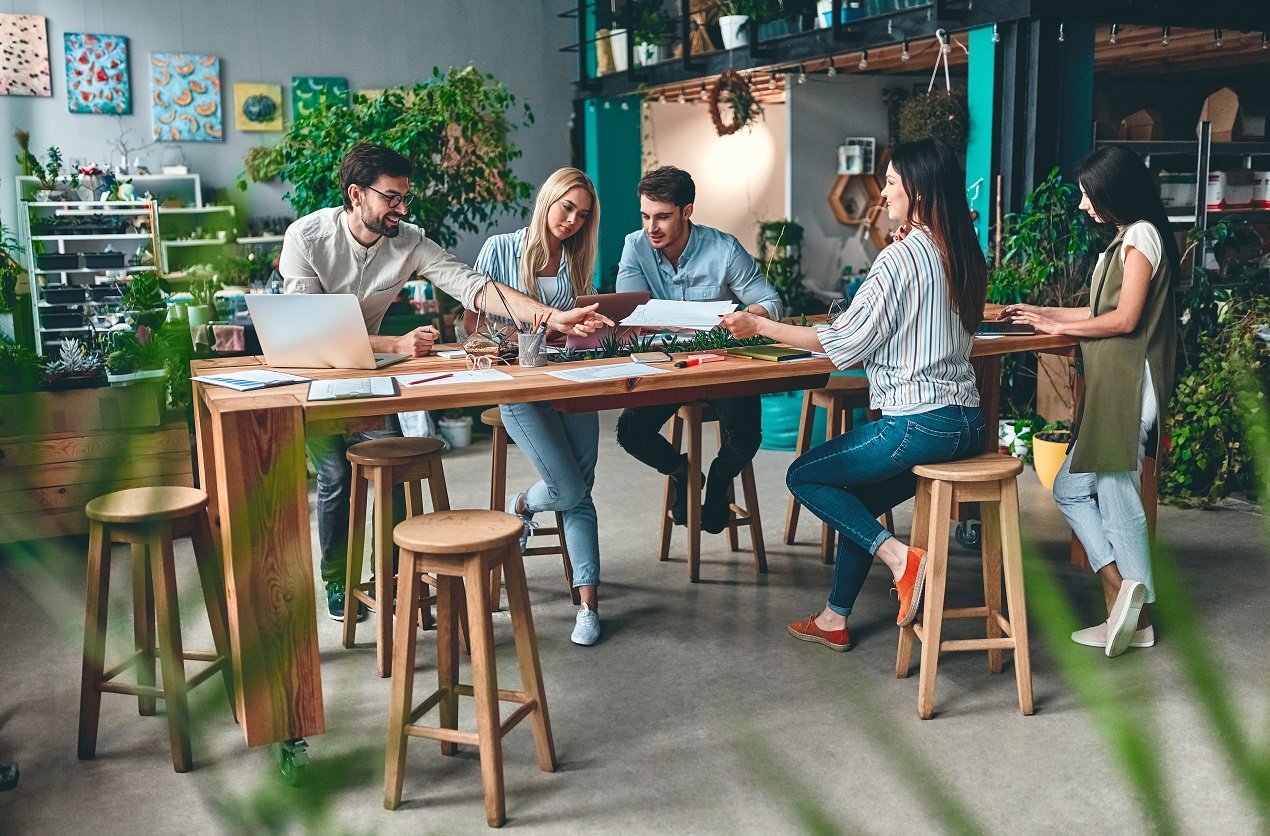 Embrace recycled materials
Let's start off with the biggest items in the office: the furniture. If you are restyling the office, you could opt for reclaimed furniture or items made using sustainable, recycled or recyclable materials, such as recycled resin, cork, natural fabrics or PVC. This will help you save money and pollute less, and will also create a healthier office by reducing the level of toxins in the air.
Then there are the smaller items, which can still make a big difference. Pens, markers, pencils and highlighters tend to be scattered all over the office, but we never know where to find one when we need one, so we continue to order new stationery. What lessons can be learned here? Keep the office tidy to avoid wasting resources, and when it's time to buy new equipment, do so judiciously. And if you're not sure what 'judiciously' means, read on: we'll explain!
Stop using (too much) plastic at work
Set yourself the target of putting as little as possible in the plastic recycling bin. To succeed in this challenge, you need to think ahead and choose alternatives to plastic at the procurement stage. For example:
Mission accomplished!
How to reduce paper use in the office
Many offices are drowning in paper – and not just those, like us, who work with the stuff! The majority of it ends up crumpled up in the bin, but with just a little more awareness, we could reduce the amount of unnecessary paper we use considerably:

Practical and convenient recycling
Once you've reduced your paper and plastic use, your waste bins will be considerably lighter. in a sustainable office there shouldn't be that much recycling to do (because you're producing less waste) and the system should work seamlessly. But how can you make sure everyone follows the rules? The answer is to make recycling convenient and practical:
As you can see, these are all small measures, but they can make a big difference: a small step for your company, a giant leap for the environment.