Business cards are a very important part of any corporate identity – an original and well-made business card undoubtedly helps your customers remember your own or your company's brand.
But how do you go about making your business cards? In the past, this blog gave you 8 Great Ideas for Original, Professional Business Cards and entertained and inspired you with Business Cards of the Rich and Famous. Now, however, the time has come to explain how to make business cards that look professional using various online and offline software, such as Microsoft Word, Adobe Illustrator, Canva and many more.
How to make business cards with Word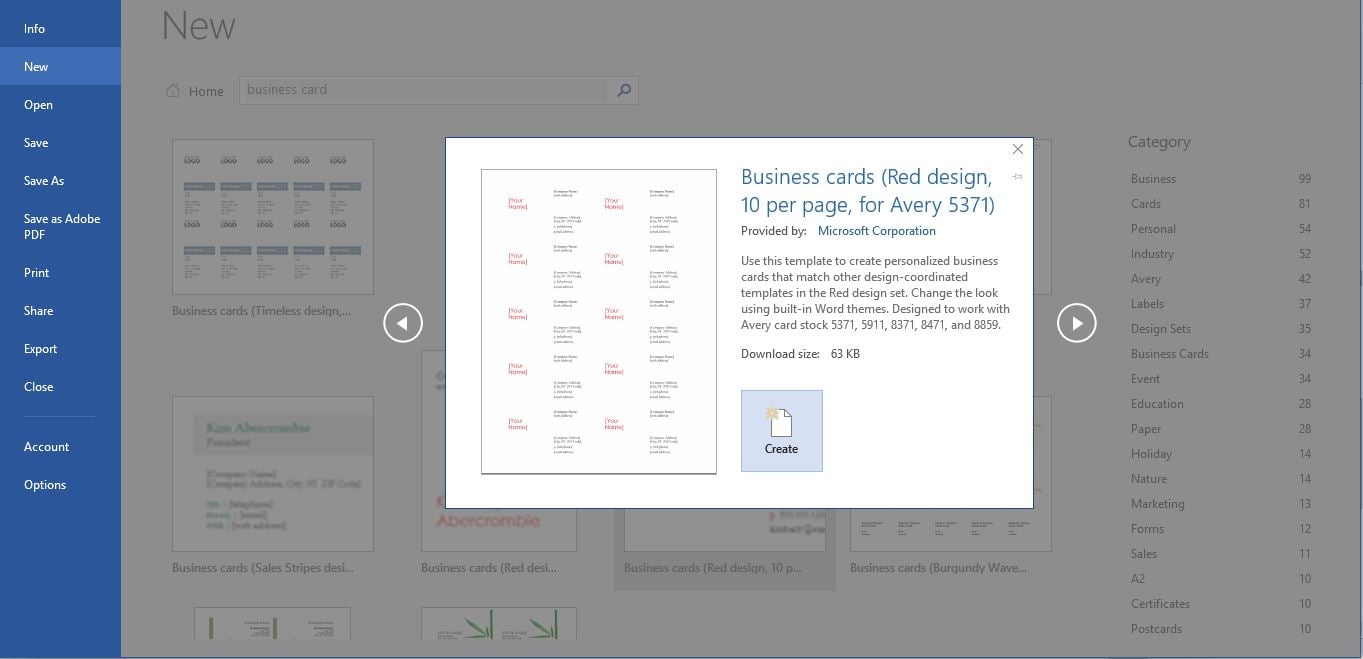 Wondering how to make business cards using Word, the Microsoft Office software you probably use on a daily basis? Nothing could be simpler. Word is a good program for creating your business cards, as it allows you to base your work on its business card templates.
Using business card templates not only helps to get your creative juices flowing by suggesting new ideas, it also allows you to work on a document that is ready to be printed, hassle-free, in standard business card formats.
To make business cards with Word 2016, simply launch Word then type 'business cards' into the search bar at the top of the page. From the list, select the business card template you prefer, the one which matches the size of card you want to print. If you have already purchased a particular type of paper to print your business cards on, you can also search for the name of the brand and the reference number.
Now you're ready to modify the business card template. You will see the business card repeated several times across the page in front of you. Note that you need to add the necessary information to one of the business cards only, such as your full name, address, job title and company name, and the rest will update automatically. You can also alter the font, colour and size of the text, although we recommend sticking to the preset styles provided in the template.
Another useful hint: print a test page on normal paper, then hold it up to the light against the paper you have purchased for your business cards to check you have set up the template correctly for that paper type.
How to make business cards using Canva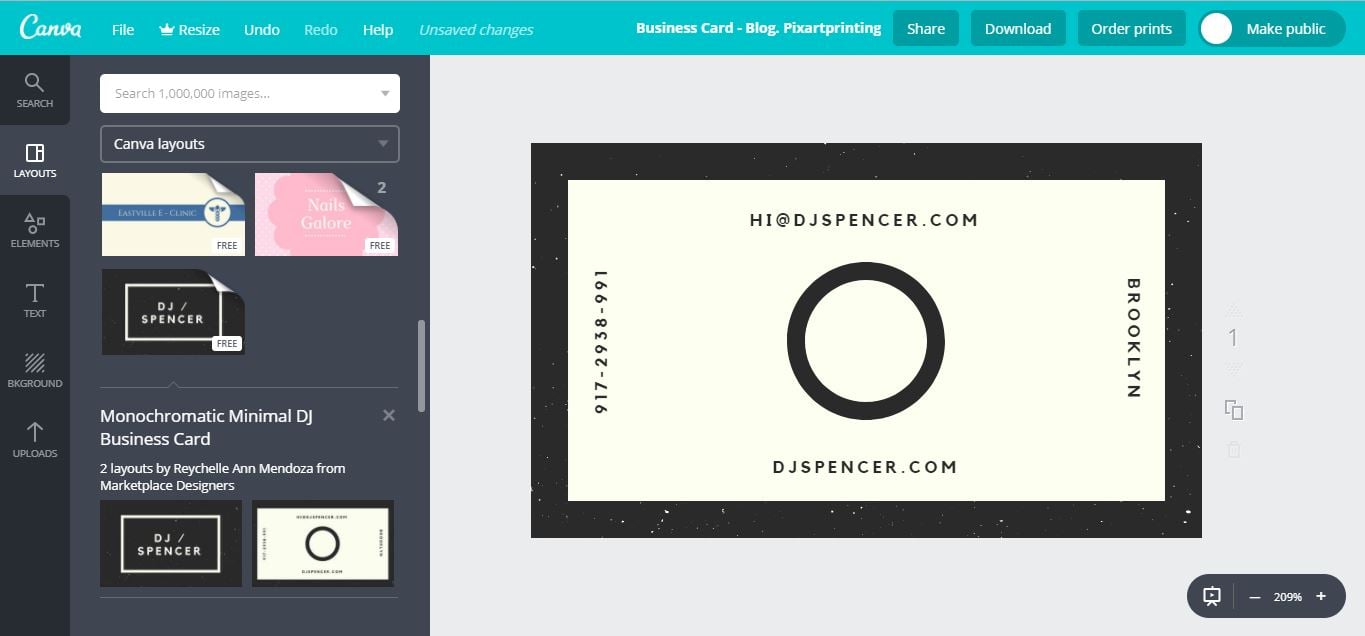 Let's continue our guide on how to print business cards using various different types of software. Creating a business card with Word is very straightforward, but your card could lack originality given that Word is installed on almost every computer in existence, and the designs offered are not necessarily the most in vogue. An alternative software for creating business cards in just a few clicks is Canva.
The basic version of Canva is available for free, and has two other strong points: the hundreds of visually engaging business card templates to get you going and the simplicity of the drag & drop system for positioning the various elements. Once you've had a look through the hundreds of business card templates available, you can add images like your company logo or other graphics.
Be warned, though: not all of the templates are free, and you'll need a premium subscription to change the size of your business card. The finished result can be downloaded in PNG, JPEG or PDF format, ready for printing.
Adobe Spark: how to create business cards in just a few clicks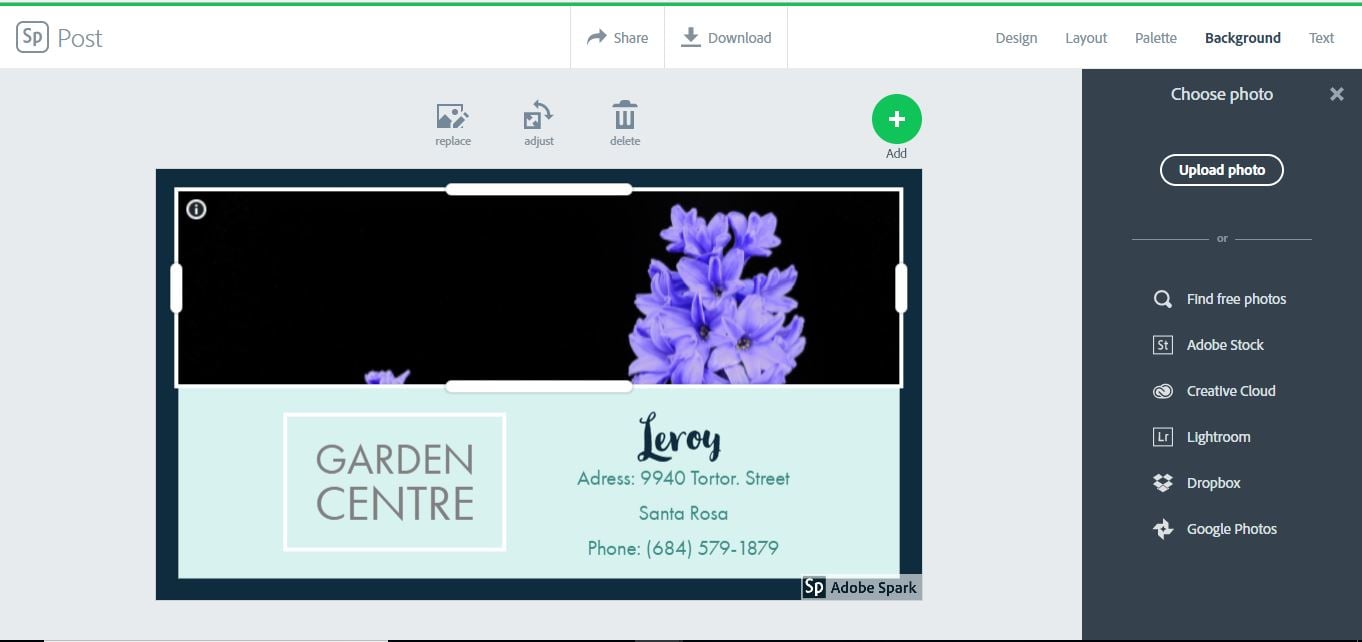 Adobe Spark, the third program in our guide to making business cards, could be seen as Adobe's answer to Canva. Once you've registered on the online platform, you can access the free version of the software.
This allows you to create your business cards in just five steps. Under 'Design' you can choose the business card template to base your work on; clicking on 'Layout' allows you to arrange the various elements; 'Palette' lets you choose your colours; and 'Background' and 'Text' offer the chance to customise these two important aspects. You can also modify the original images, replacing them with elements that reflect your corporate identity. Once you're happy, you can download your business card in JPEG format.
How to create business cards online with Logaster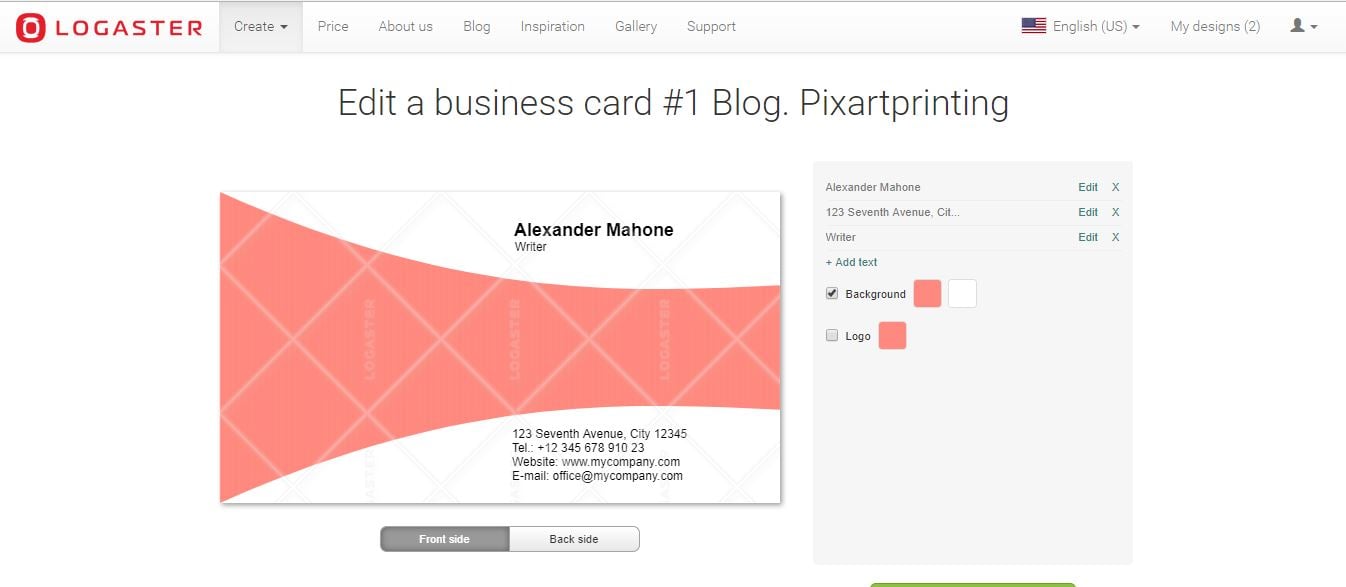 Logaster is a fee-paying online service that is normally used for creating logos. However, it also has a section dedicated entirely to making business cards.
You can give it a go for free thanks to the free-trial version and create your business card in just a few clicks, choosing from the various business card templates available on the platform. Once you've found a template you like, you can alter both the front and back by adding the information you require. The price works out at around £9 for a business card, which can then be downloaded in a format suitable for printing or sharing online.
One downside is that, at least for the time being, you cannot upload your own logo; you either have to use a logo created with the platform or create business cards with no logo at all.
DeGraeve.com: how to make completely hassle-free business cards
Another exclusively online software worth a mention in this guide to making business cards is DeGraeve. You're bound to notice the relatively sparse options when it comes to the graphics, but on the plus side this web-based platform for creating business cards is all about speed and simplicity.
You put together your business card using a single interface, which lets you upload your logo and modify the text, with just a few simple buttons to vary the size (in three dimensions) and put text in italics or bold. Simple and effective! You can download a page of 12 business cards in PDF format by clicking the 'download' button.
Using Adobe Illustrator's business card templates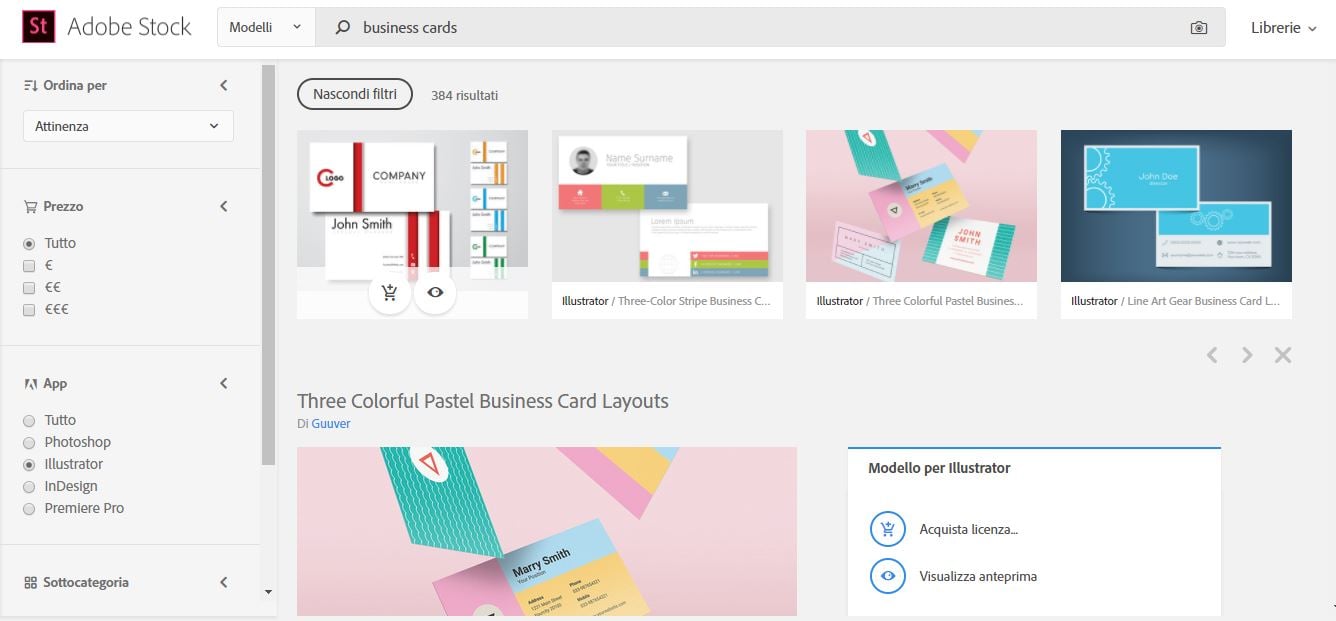 Adobe Illustrator is among the most popular vector graphics software in the world, though creating a business card using Adobe Illustrator is certainly more difficult than using the other programs described in our guide to making business cards.
One option could be to use Adobe Illustrator's business card templates and modify them slightly, although you'll still need to be familiar with the program's basic functions.
Hundreds of carefully styled business card templates can be found on Adobe Stock; simply search for 'business cards'. These resources are available with a monthly or annual subscription, but we recommend using the free one-month trial, with 10 templates to choose from.
We've reached the end of our guide to making business cards with various online and offline programs. Whichever piece of software you decide to use, always remember the golden rules for a good business card: be original, concise and incisive!