Every day, hundreds and hundreds of images flick across your screen as you browse the web. You collect those that might be useful later in a folder on your desktop, which in turn contains more subfolders bursting with images. The result? When you look for an image to work with, you risk a nervous breakdown.
In this article, we take a look at the most popular platforms for collecting and discovering new visual content. These are spaces where you can find inspiration as well as save and organise your own images. We'll also look at some lesser-known tools for customising images and videos, and for creating compelling visual content – infographics, surveys, maps, reports, quizzes, posters and much more.
Tools for hosting images and finding inspiration
In this post we look at some of the best online image libraries designed to host your visual content and provide inspiration: Pinterest, Flickr, Tumblr and Lingo. We explain what they are and how they work.
What is Pinterest and how does it work?
Pinterest is a social network for sharing photographs, videos and images. Its USP? Simple: it lets you "pin" content that you don't want to forget.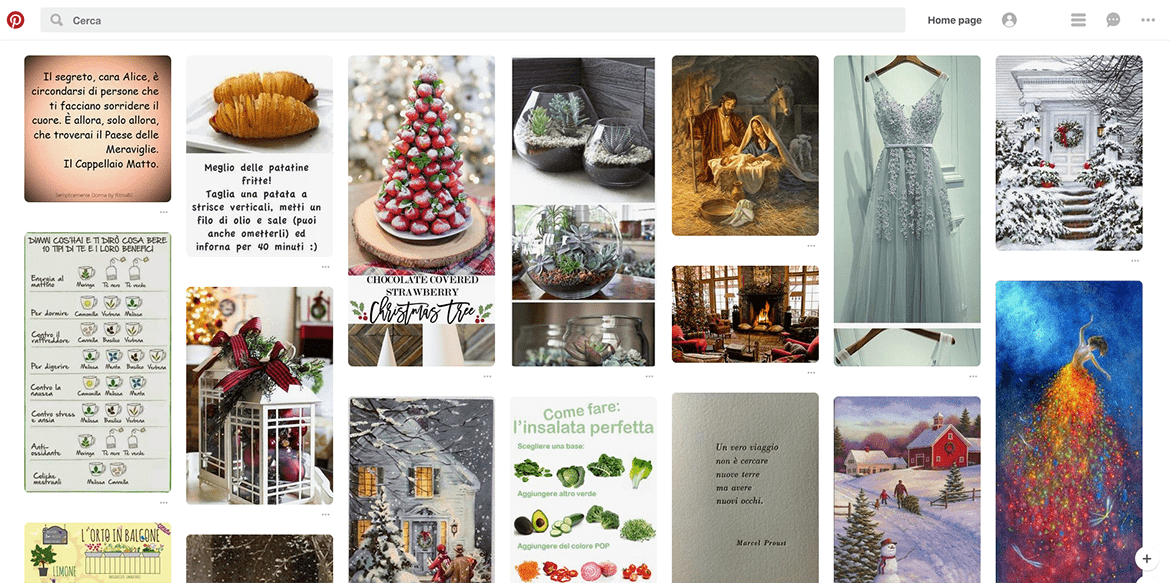 You upload your images – the ones that would now be randomly scattered across various folders – and organise them into easy-to-view themed boards. Once you've signed up, you can browse the network's enormous archive and "pin" images that you like, save content you want to keep and organise it all by theme. Looking for inspiration on a particular theme? Type a keyword into the search bar and… you'll discover a whole new world!
What is Flickr?
Flickr is another platform for saving and sharing images. The site is used by people with an interest in visual content – whether for work or play. It's a place where you can find something new and showcase your work.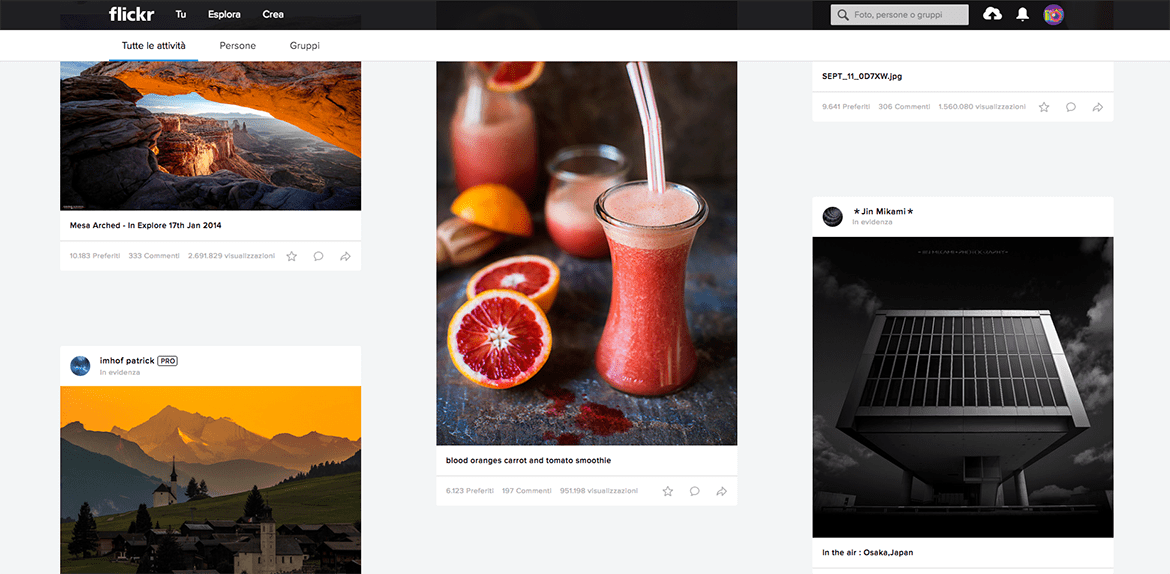 Just like Pinterest, Flickr lets you find ideas by browsing an archive of images uploaded by other users. Because this archive is immense, there are filters to refine your search and find what you're interested in more quickly. Content can be downloaded in various resolutions and saved as "Favourites". You can even contact an image's author to compliment them on their work or request further information.
How does Tumblr work?            
Tumblr is a social network and microblogging platform. It was founded in 2007 – yes, it's old! – but it is still very popular. On Tumblr you'll find images, videos and short texts. Its standout feature? The site only hosts content that is quick to view and visually striking.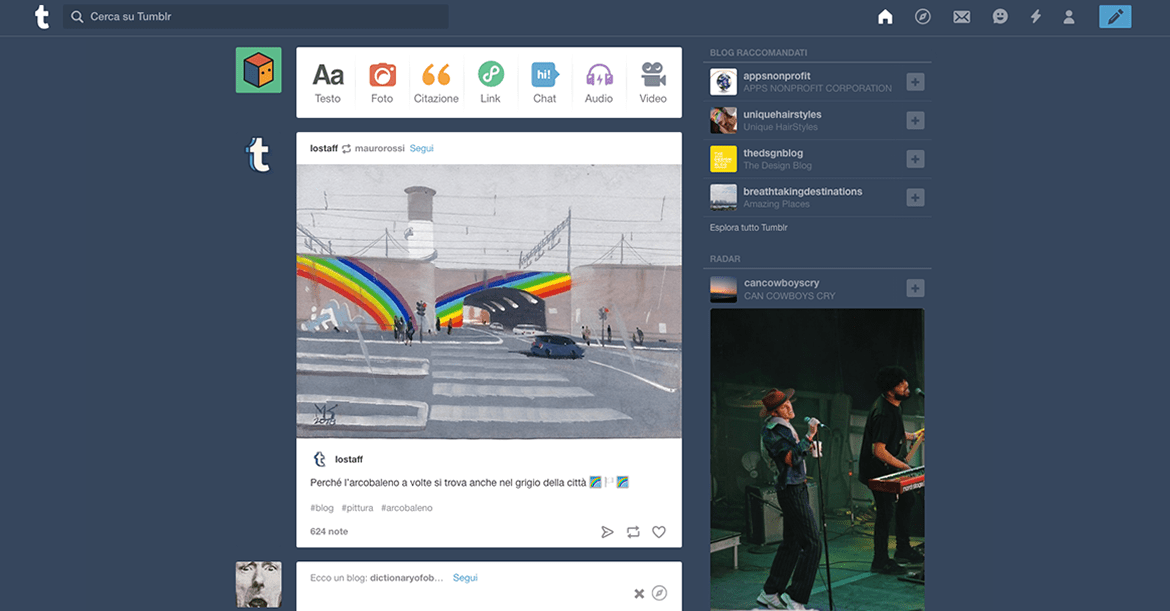 Tumblr also has a dashboard that displays content from the blogs you're following. From here, you can interact with the content or look for more by typing a keyword into the search bar. Tumblr emphasises the visual: in fact, in the "Customize Appearance" section, you can personalise various aspects of your Tumblelog. We recommend doing so, that way you can add a personal touch to your space.
What is Lingo and how does it work?
We've saved Lingo for last because it's the most professional but least known platform. Lingo is an indispensable tool for editorial or commercial design, art direction or those working with visual content generally. What's its goal? It frees you from all those folders bursting with images that clutter your desktop and instead gives you a tidy archive where your content is organised by tags and types (icons, logos, illustrations, photos, etc.). You can then share everything with your team. That way, everybody working on a project can access the content uploaded to Lingo and, if necessary, edit it or add comments. Here the video.
Basically, Lingo is the assistant that all designers would want by their side.
Graphic design tools
Now that you have tidied up and organised your images, you can move to the next level. Let's take a look at platforms offering useful tools for customising visual content to make it even more appealing.
Adding personality to images and videos
Your content's success – or lack thereof – also depends on its visual impact. If, for example, you don't want an article to go unnoticed, you need striking graphics in addition to great content. So how can you create them?
Crello is a graphic design tool that's very easy to use. It gives you 12,000 templates, 33 different image formats, 240 fonts and a 65-million-file image library.
Pablo is a useful and intuitive tool created by Buffer. How does it work? You upload the images/photos you want to edit, choose your preferred format and then add titles, text, filters and logos.
That's Pablo!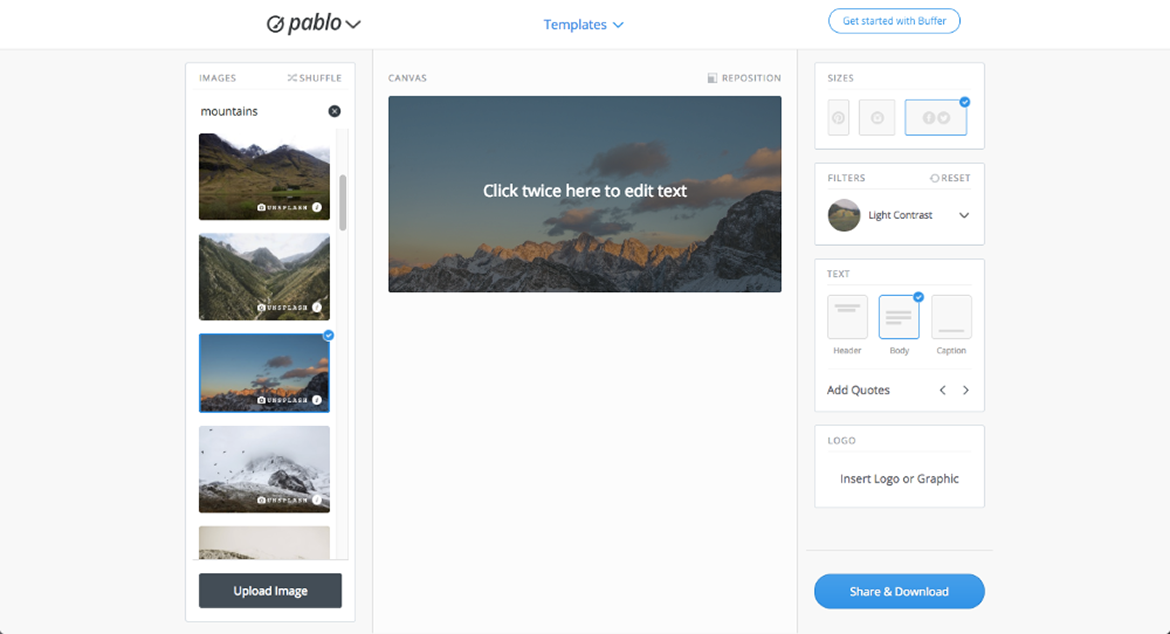 Everyone knows that video content is click bait on social media. Which is why you should check out Rocketium, a tool that lets you spice up your video content. How does it work? Upload the video you want to edit to Rocketium and then add titles, captions, voiceovers, logos and music. Choose from over 20 styling options. The result? Slick and professional. Here the video. 
Tools for creating infographics, flyers, posters and more
There are a thousand ways to engage your audience. You can, for example, turn content into infographics, reports, maps, posters and flyers that are easy to read and easy on the eye. Or you can get people involved with quizzes, questionnaires, surveys and interactive videos. Interested but don't know where to begin? Start with these two tools:
Piktochart is a graphic design tool that gives stunning results. What's it for? Designing presentations, maps, infographics, reports, flyers and posters. You'll find it easy to use, even if you don't have much experience in graphic design, because Piktochart has a very intuitive drag-and-drop editor.
Apester is an invaluable resource for creating interactive content. On the platform you'll find everything you need to create interactive videos, questionnaires, surveys and quizzes.ç
Here you can see how Piktochart works and everything you can do with this magic tool.
Pick the platform you want to put your visual content on and get rid of those image-filled folders that are cluttering your desktop. Then choose a tool to customise your images or create more compelling content. We're sure your audience will love it!