Screen printing studio Aisle6ix Industries was found by Shannon McKinnon in 2000. Originally started as a T-Shirt label, the company has been growing rapidly into a flourishing screen printing studio that serves creative entrepreneurs as well as agencies and product companies. The six employees print everything from T-Shirts, posters, stickers or fine art, even demonstrate live-printing at events all over Australia.
I had the chance to have a quick chat with Shannon, who I have worked with a few years ago, about the printing scene in Australia, Hipsters and how he sees the future of screen printing. Working with Aisle6ix has always been amazing. Hugely influenced by art, music and the creatives they collaborate with, Aisle6ix are curious craftsmen who don't fear to push printing to its limits.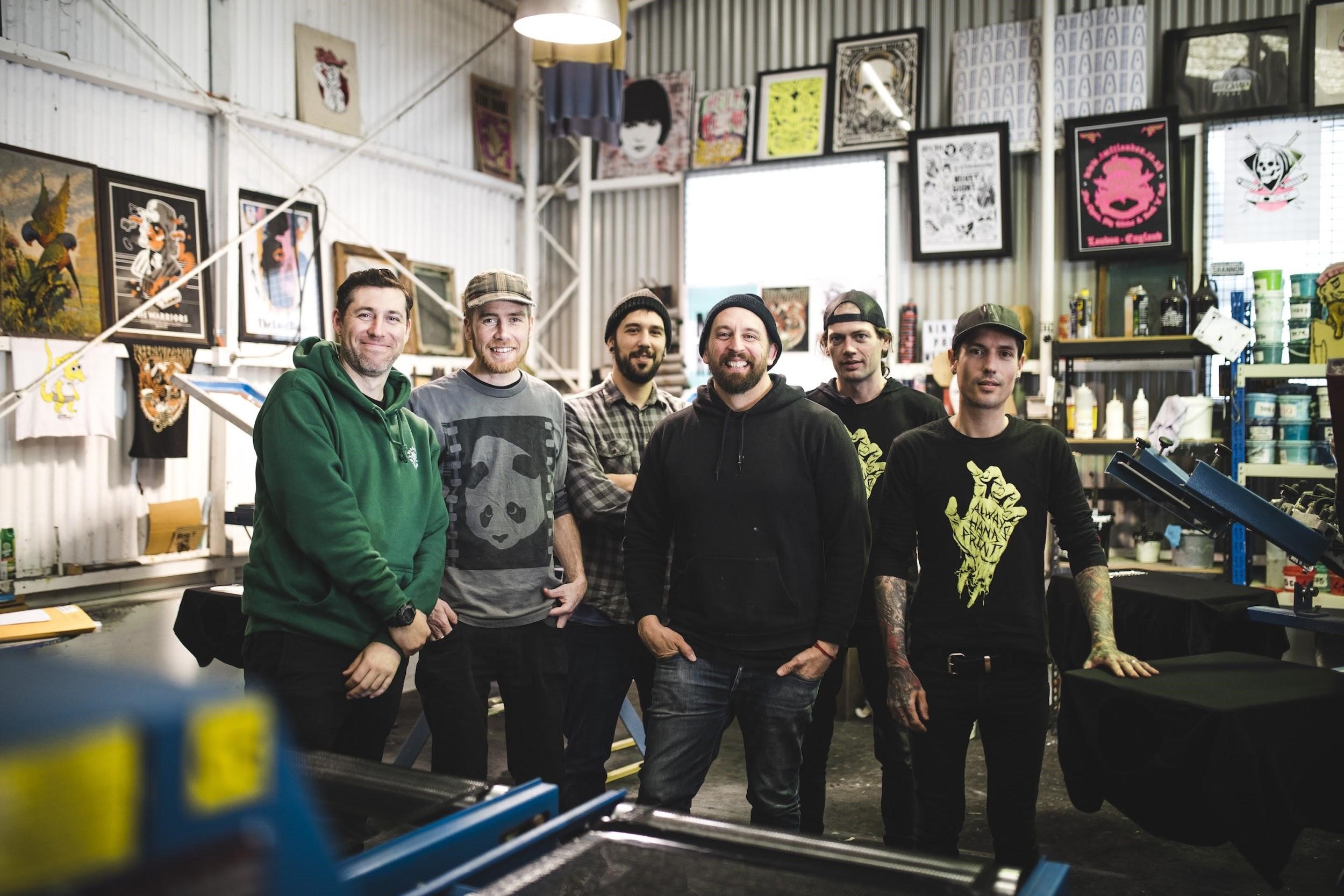 What's the history of the studio, how did you get started?
I'm a huge fan of the Australian clothing label Mambo. They are always creating original items and my original plan was to start Aisle6ix as a T-shirt label. I've always been interested in screen printing as an art form and I studied screen printing during my 20s.
I moved to London a few years later and worked in a print shop called Photofit. That was such an important learning experience for me, and so much of what I learned in that print shop I use in my business today. I stayed in London for two years then moved to Melbourne and worked in a print shop called Screenplay. I later moved to Sydney and participated in the Australian Government run NEIS program. Instead of getting the unemployment benefits you participate in a small business course, write a business plan and then you put that into action and are subsidized using the benefits that you would receive.
So Aisle6ix Industries was born. I shared a studio with a couple of mates and the business has grown from there. Seven years later and Aisle6ix is busier than ever, we now employ six people and we ship T-shirts and prints all over Australia.
Our client base is made up of Ad and creative Agencies, craft beer brands, band merchandise including T-shirts and posters, cafes, coffee roasters, tattoo studios, motorbike and car brands. We love printing great artwork and everything we print is by hand. All of the inks are mixed by hand which means that we have control over every step of the process and what we do has soul and passion for the craft of all things screen printing.
Have there been any recent breakthroughs in the field of printing in Australia? And, is there something you can see in the international market, that you feel is missing in Australia?
As far as new technology is concerned, we're now seeing a lot of equipment suppliers, in particular, M&R, opening up the distribution channels and bringing products in from overseas which is great because it means that we're now getting the latest products to use in our shops and studios and that was definitely missing!
Combined with the new equipment suppliers we're also seeing new ink technology coming into the market with water-based acrylic inks which are great for everyone. There's also the Australian made Permaset Aqua which is something that we've started to use in the studio to print T-shirts and posters. It would be great if more OS brands would come and bring their products to Australia considering the amount of sun we get. Australians own a lot of T-shirts so to have new products in the Australian market makes sense.

Screen Printing is still a very hands on pro

cess but our world is getting more and more digitized – how did digitalization help printers, how did it help the medium print?
In its simplest form, digitization has helped refine and simplify the process, one of the biggest changes was transitioning from using rubylith to acetate to produce positives for screens. We use acetate in the studio which is digitally printed, the technology has progressed to a place where you can now print artwork direct to the screen and this helps with the workflow and means you don't have to hold onto film positives.
How do you use social media to boost your business?
Social media is a major part of how I promote the studio. Apart from word of mouth, it's how we get the studio out into the marketplace. The main channel we use is Instagram, but we also have Facebook and Pinterest pages, the more visual the social media channel the better result we get.
How do you get inspired? Who inspires you?
There are a huge amount of things that I draw inspiration from, including magazines like Very Nearly Almost, Juxtapoz and Adbusters. Other inspiration is from street art, music, Instagram, old ephemera, Pinterest and our clients and friends who are constantly pushing the studio into working with new artwork.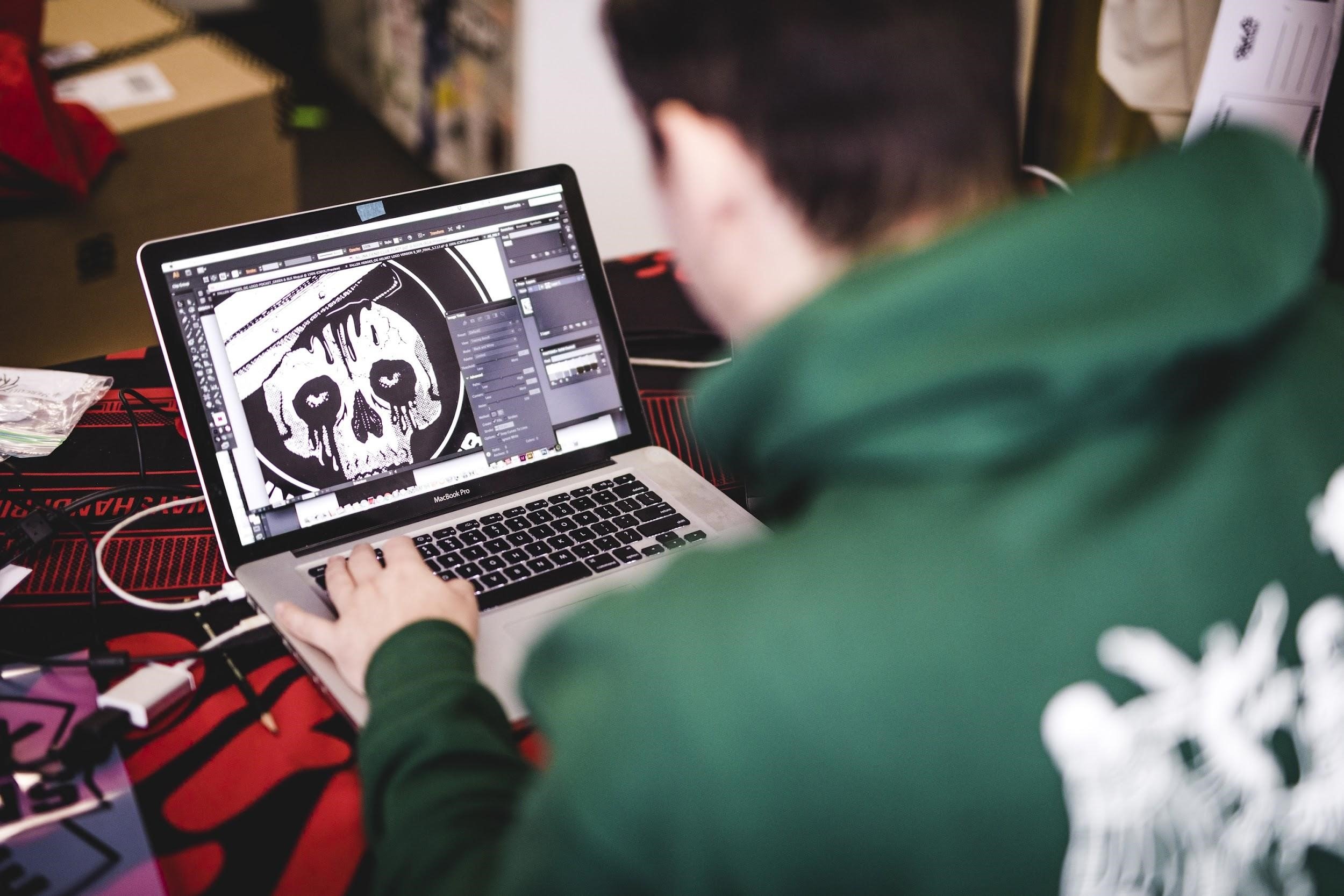 You are a very artsy studio and you are not afraid of trying new things and collaborating with artists and working out how to realize an idea – How much of your work is art, how much is craft, do you even differentiate?
Collaboration is a huge part of what we do in the studio as it's constantly evolving. As part of our recent 5th birthday studio anniversary, we collaborated with ten of our favorite artists who we've either printed work for or have been fans of. They included Ben Brown, Glenno, Sindy Sinn, Steve Cross, Lynes & Co, Billy Zammit, Greg Beer, Nathan Pickering, Honey Rogue Design, West Objects Workshop. It's hard to differentiate between what is art and what is our craft as they're so strongly entwined as we choose to work on projects with passionate artists who trust our craft and skill to deliver an awesome result.
Analogue has recently made a comeback, whether it is Vinyl Records or letterpress printing? What do you think made high-quality analog products become popular again?
I feel that the resurgence of all things handmade has a lot to do with a combination of the hipster movement and people realizing that fast, quick and cheap doesn't have longevity. People want to know the story behind how something is made and if possible be involved. The Hipster movement has played a big part in that because what it did was push stuff back to its roots and there was a resurgence of quality handmade goods.
Any unexpected mediums that are new to you, what has surprised you in the industry in the last 3-4 years?
I'd say that the rise of Risograph Printing has been interesting. Even though it's digital it has an element of surprise which I like as every print is different. I'm also super happy to see the rise of the poster movement through people like Mondo. In the states, they've taken the movie poster and pushed it into a new space that might not have existed and it's given some amazing artists like Ken Taylor and We Buy Your Kids a way to showcase what they do.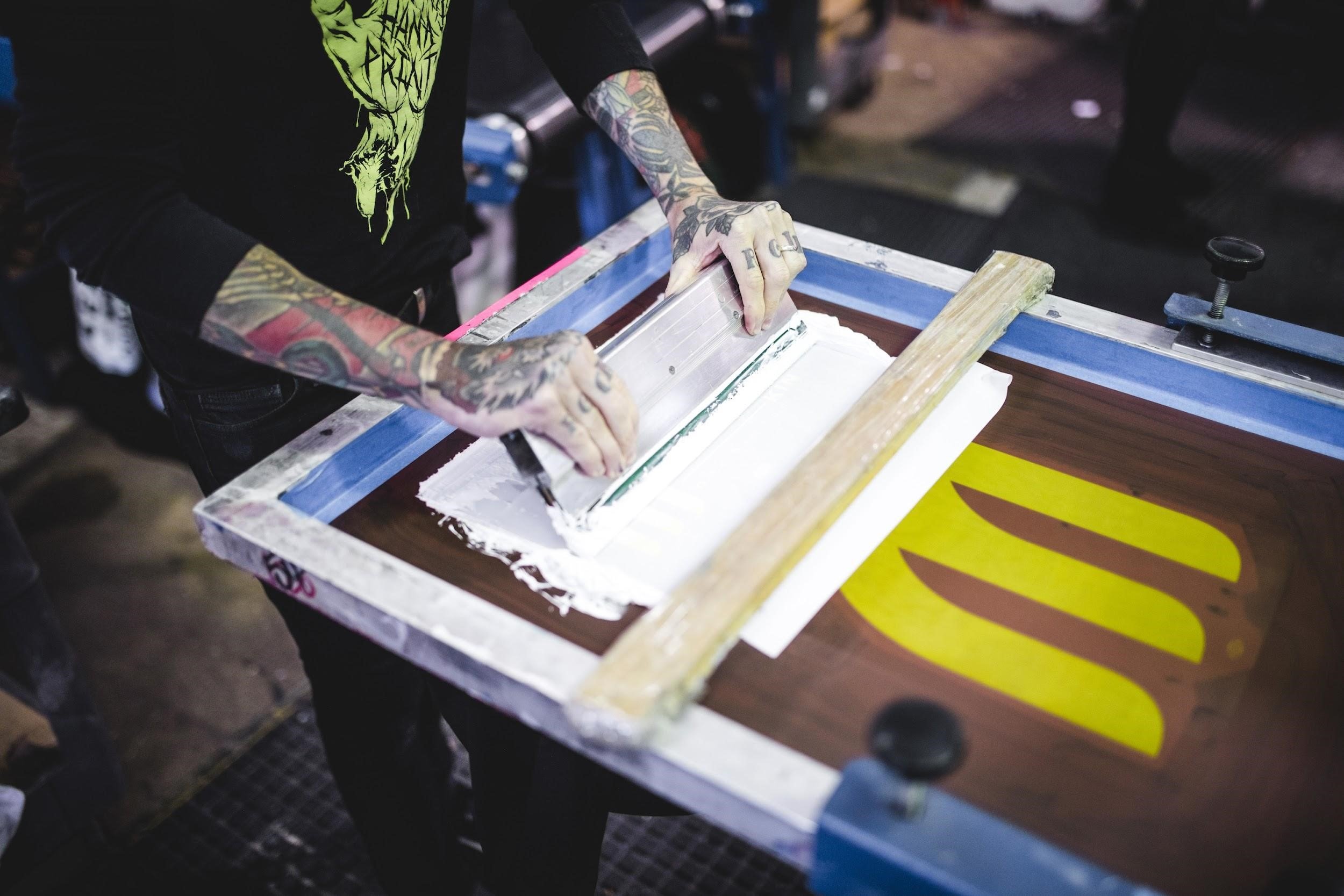 How do you see the future of screen print?
For the studio, it's hand printing but at a level that is out of this world. I've got plans to upgrade equipment so we'll be using the latest tech combined with our passion and skill to showcase what we do. I'm continually surprised and what clients want and this encourages us to push the boundaries, so I don't know what the next year looks like for the projects we'll be working on but it's always exciting. The future for screen printing, in general, is limitless, we're always learning new skills and working with different materials and artists to produce amazing products. If you can get it flat we will try and print on it.