Can a challenge lead to inspiration?
Some ideas, often no more than the loosest of concepts, are just waiting to emerge from the darkest recesses of our minds into the bright lights of creation. They are forces that swim in dark waters, hidden between the rippling waves, that appear for an instant then sink with a sudden jolt, just out of grasp.
Often talent, creativity and energy are hidden just below the surface, ready to emerge whenever we need to step outside our comfort zone. Only by pushing our limits and testing out our skills can we discover just how far we can stretch ourselves. If we are to truly put ourselves to the test, we must be willing to accept challenges.
With this in mind, Manuela Lopez, mostly just for fun, decided to take part in a month-long challenge for illustrators with a bizarre title: 'Mermay'. For the whole of May, Manuela drew a mermaid everyday by hand, creating a range of different characters and following a new spark of inspiration with each new dawn.
As an illustrator, her soul was eager to dive into unexplored seas, to come up with unique characters and depict mysterious creatures. And the mermaids she created, mythological beings with a dual nature, star in the illustrated book she printed with Pixartprinting, which her fans have both bought and enjoyed.
Was it the mermaids that drew Manuela in with their irresistible song? There are certain desires and ideas that are just waiting to surface. And sometimes, a distant call or the right challenge is all we need…
Dive in!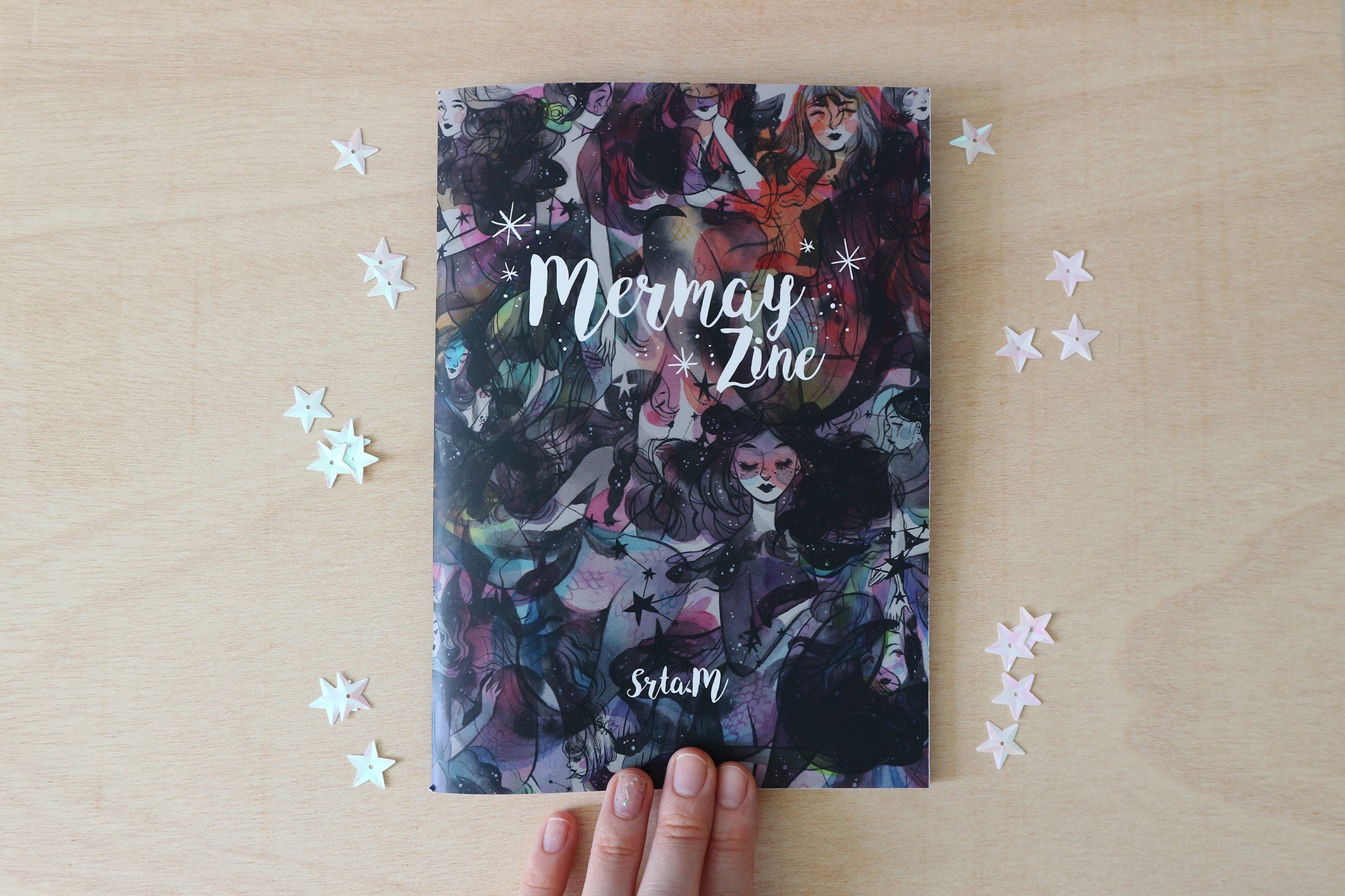 Who are you? Tell us a bit about yourself and what you do. Dreams, aspirations and talents. A short but faithful portrait!
0.Hi! I'm Manuela López, you can find me on social media as "M". I'm a children's book illustrator, although you can also find my illustrations in textbooks, comics and even puzzles. I've also created character and background designs in the world of animation. I was born and still live near Barcelona (Spain), and in my free time I like to experiment with traditional materials such as watercolours and coloured pencils.
Can you explain to our readers what you produced using our printing presses?
I've created a small artbook or fanzine with Pixartprinting, a 48-page book with stapled binding – although over the years I've also created postcards, business cards, prints, stickers… all kinds of self-promotional material, which is crucial to an illustrator's work.
Let's rewind to the very beginning. Where did the idea for this project come from? Is there a particular story behind it?
It all started with a social media challenge called #Mermay, which consisted of drawing 1 mermaid a day during the month of May. I love signing up for these kinds of challenges if I have the time – it's something that allows me to experiment and create a series of connected illustrations, as well as forcing me to be creative on a daily basis. I like to work with traditional materials, so after a month I'd managed to create a collection of original watercolour drawings of mermaids. During the month of May 2017, I drew 1 mermaid every day with watercolours and ink, and these original drawings found new homes to live in. In 2018 I was able to sign up for half of the challenge, and those mermaids also found new walls to live on, but some of my followers asked for a product that included them all. That's how the Mermay Zine was born, an "artbook" of all the mermaids I created during that period.
Once you had found the right idea, you set a goal. What did you want to achieve with your idea? What was your objective?
More than anything I wanted to give my followers the opportunity to have the full collection of mermaids. Most people couldn't buy the original drawings from me because, of course, they were unique and there was only 1 of each. Creating the Mermay Zine gave them the opportunity to own them all, and it gave me the opportunity to create a product that was a perfect summary of my work during those weeks.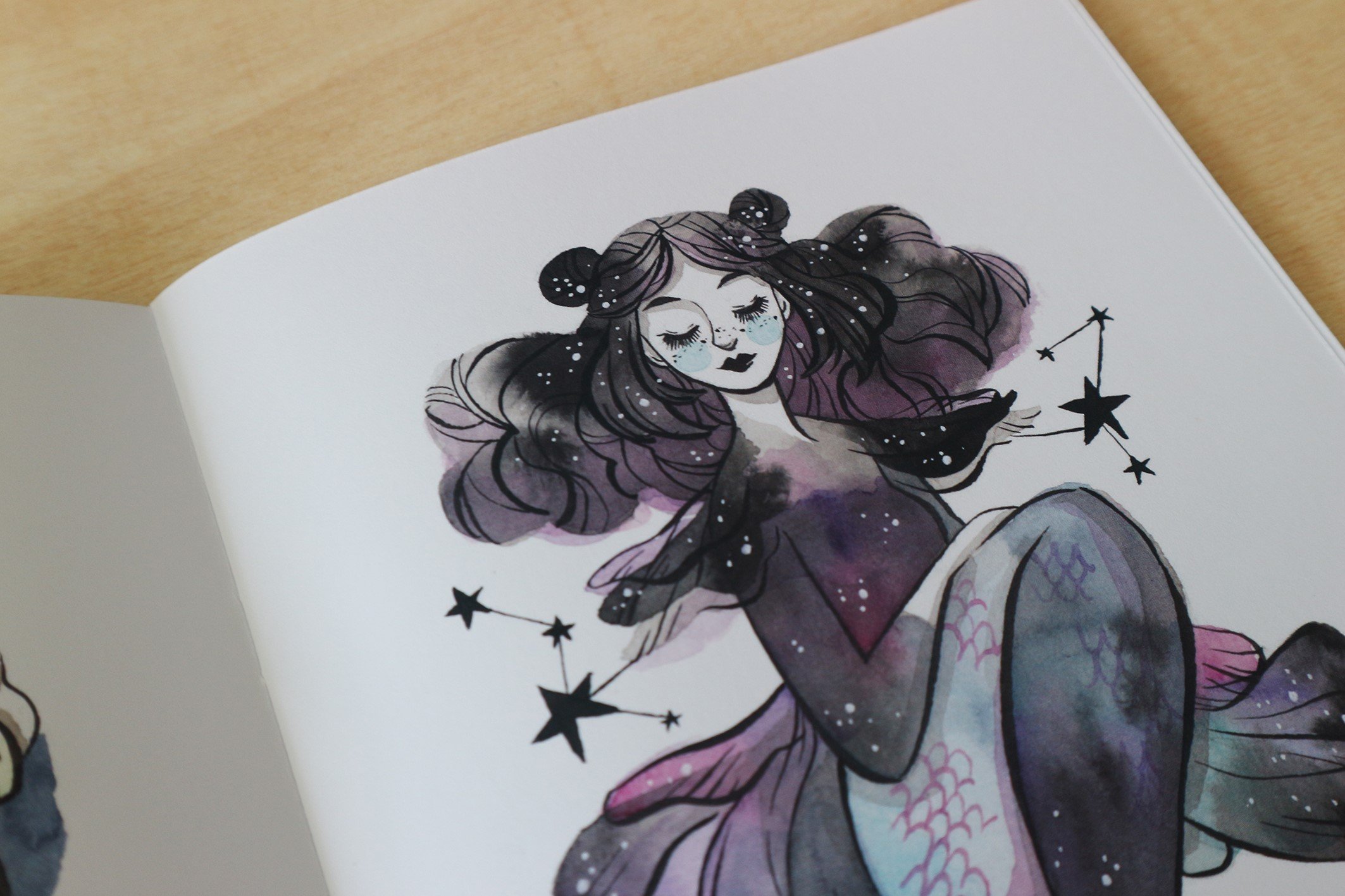 How did you turn your project into reality? What were the design phases and how many were there? Tell us about the process that brought your idea to life and made it ready for printing.
The production process for the Mermay Zine was very straightforward, since by the time I started receiving requests for the artbook I'd already scanned all the mermaids. Saving a digital copy of an original drawing is vital when it comes to developing other products in the future, such as postcards, prints or an artbook.
First I digitally retouched the images (adjusting brightness, contrast, fixing minor flaws, etc.) and then I created the fanzine pages for the cover, the introduction, the acknowledgements page, etc. Because it was a binding I needed to have specific number of pages, so I did all the page planning.
Then I took care of the layout, placing each page in the right order. Once it was all ready I did the first printing of 50 copies – it was that easy!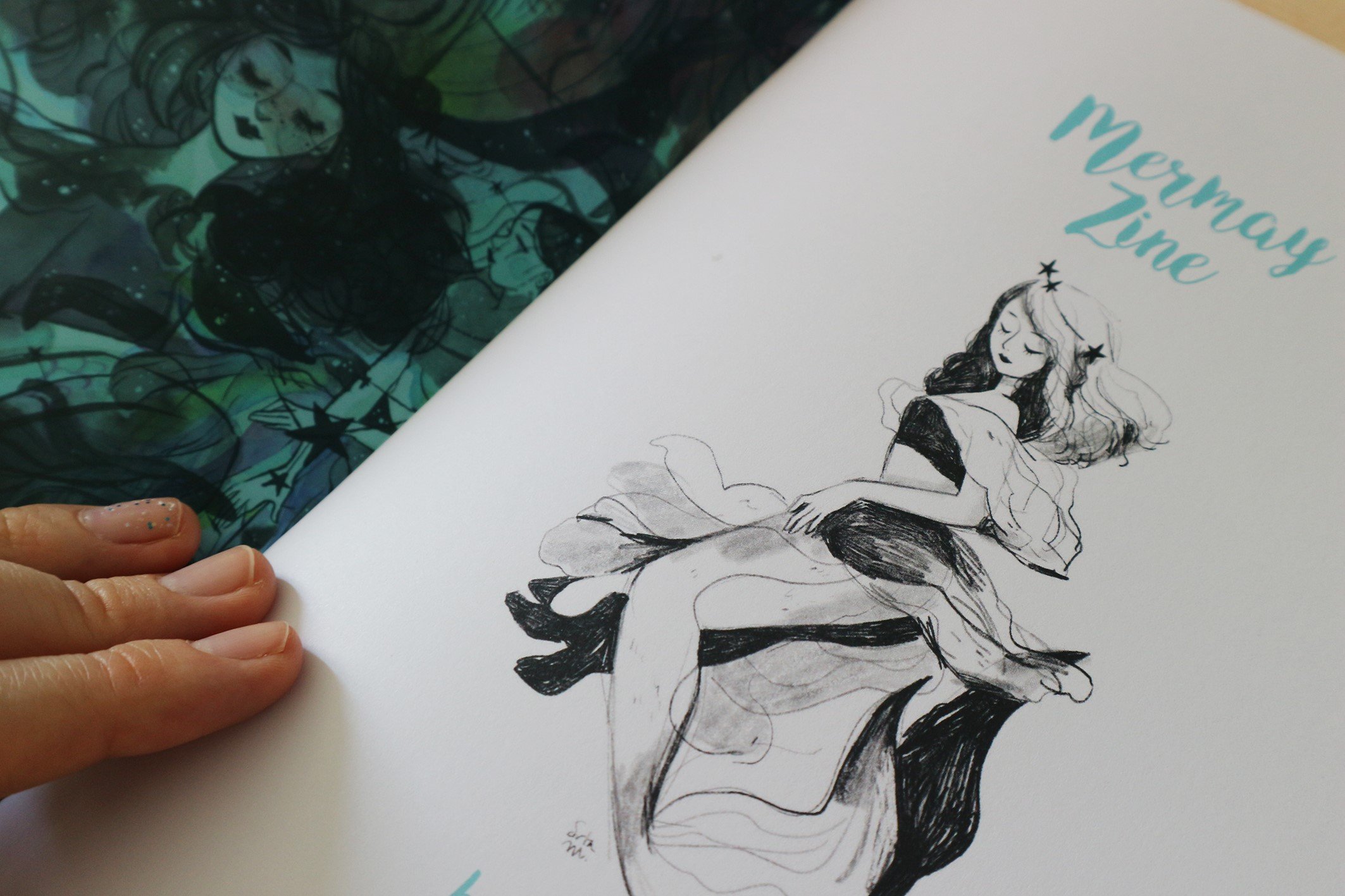 How did you use print on demand to produce your work? Which materials did you choose and why?
I'm an independent creator, and Pixartprinting allows me to make small print runs using its print-on-demand. This is really useful because it means we can offer illustrated products with only small investments, which we wouldn't be able to do with very large print runs. Their range of papers is also very wide, which is great when you have illustrated products. I chose a 300g matte laminated cover, to make it solid and smooth, and a white coloured paper for the interior so the watercolours could really stand out. I did an initial print run of 50 copies which quickly sold out, which then helped me to continue creating and offer my fans a second print run of 100 copies.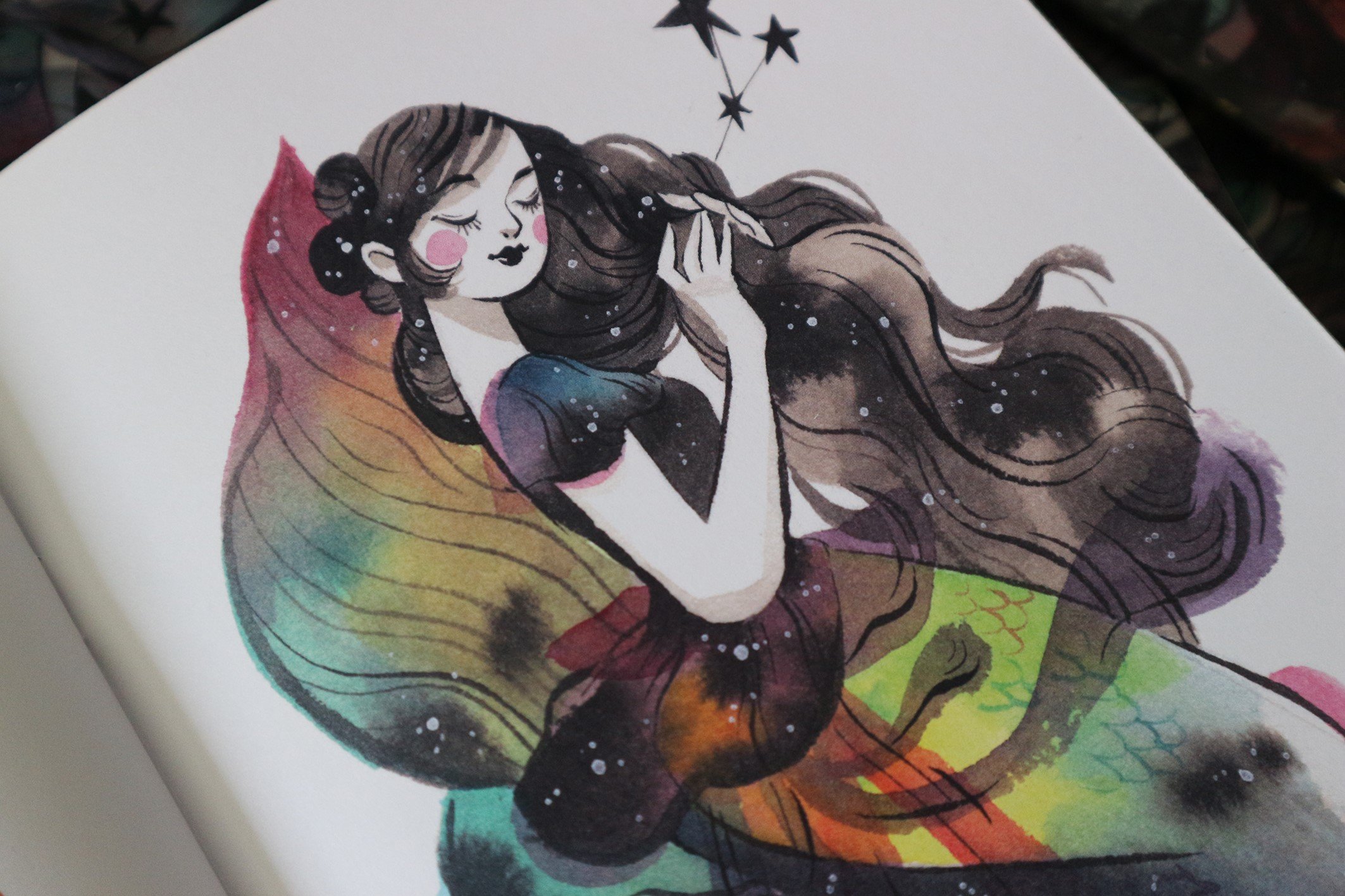 Now it's time to make the most of the products you created. In your case, the aim was to produce an illustrated book focused on mermaids. How did it feel to see it right in your hands?
It was incredible seeing it in my own hands, because I had never produced a 48-page artbook before – for me, that was a lot of pages! I'd consulted the paper catalogue many times while producing it, and I often imagined how it would look. I was nervous in case I hadn't adjusted the colours or the intensity properly, but everything turned out perfectly.
This is only the start! What other projects do you have planned for the future? Can you share them with us?
Even though my main work is illustrating children's books, I love to create illustrations for products that can make other people feel something beautiful. That's why I've experimented, for example with printing using special finishes such as gold ink. I'm passionate about astronomy, and getting to try out this kind of printing has been wonderful. I want to keep on experimenting with this type of illustration, as well as trying out other types of printing: cloth bags, notebooks, notepads… the possibilities are endless!