Mariano Fortuny's fabric printing
Condiered by many a twentieth-century Leonardo da Vinci, Mariano Fortuny y Madrazo was a multitalented artist who showed his creative genius in a huge number of sectors, from theatre lighting and interior decoration to photography and fabric printing. He did not distinguish between the 'major' and 'minor' arts, seeing all of them as seeking to achieve the same ideal of timeless beauty, based on the reworking of ancient cultures.
Born in Granada to Mariano Fortuny y Marsal, a world-renowned sculptor, and Cecilia de Madrazo, who came from an illustrious family of Spanish painters, Fortuny grew up in a culturally stimulating environment that gave him the opportunity to develop the creative talent he had inherited from his father from a young age. Following the early death of her husband, Cecilia decided to move the family to Venice, a popular destination for the intellectual elite at the time. The Fortuny household rapidly became a meeting place for artists, writers and composers, who found inspiration for their conversations in the sumptuously decorated rooms of Palazzo Martinengo.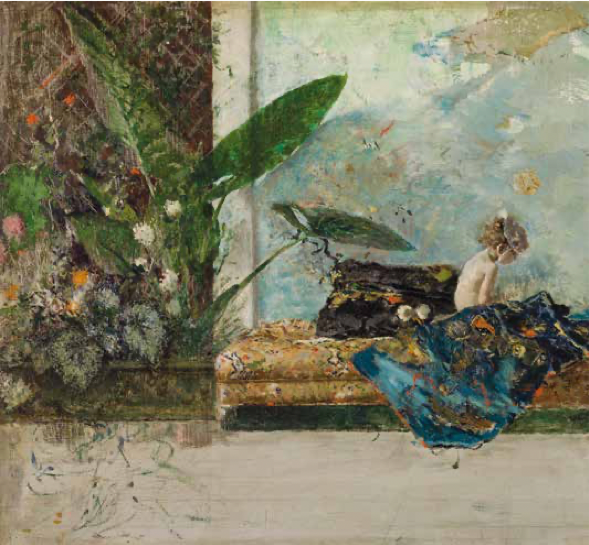 Mariano inherited a large collection of artworks, Murano glass and ancient fabrics from his father, a selection that not only inspired his paintings, but also aided his historical and technological research. In various letters, for example, Fortuny y Marsal described his efforts using a potter's kiln to recreate the iridescent effects typically seen in Hispano-Mooresque majolica. This aptitude for technical experimentation, and his passion for collecting – pursued with the aim of carrying out detailed iconographic research, rather than merely to accumulate precious objects – were the main intellectual attributes the famous artist passed on to his son.
The launch of the textile workshop
Fortuny's first foray into the world of fabrics came in 1907, when, together with Henriette Nigrin, his life partner and muse, he opened a fabric printing workshop on the third floor of his house, Palazzo Pesaro degli Orfei. In their creations, the couple made use of Fortuny's painting and deep knowledge of Eastern culture; their garments recalled ancient Greek clothing and Moroccan, Arab and Japanese costumes, while the prints featured floral, marine and abstract patterns taken from Minoan, Hispano-Mooresque, Turkish and Persian artworks.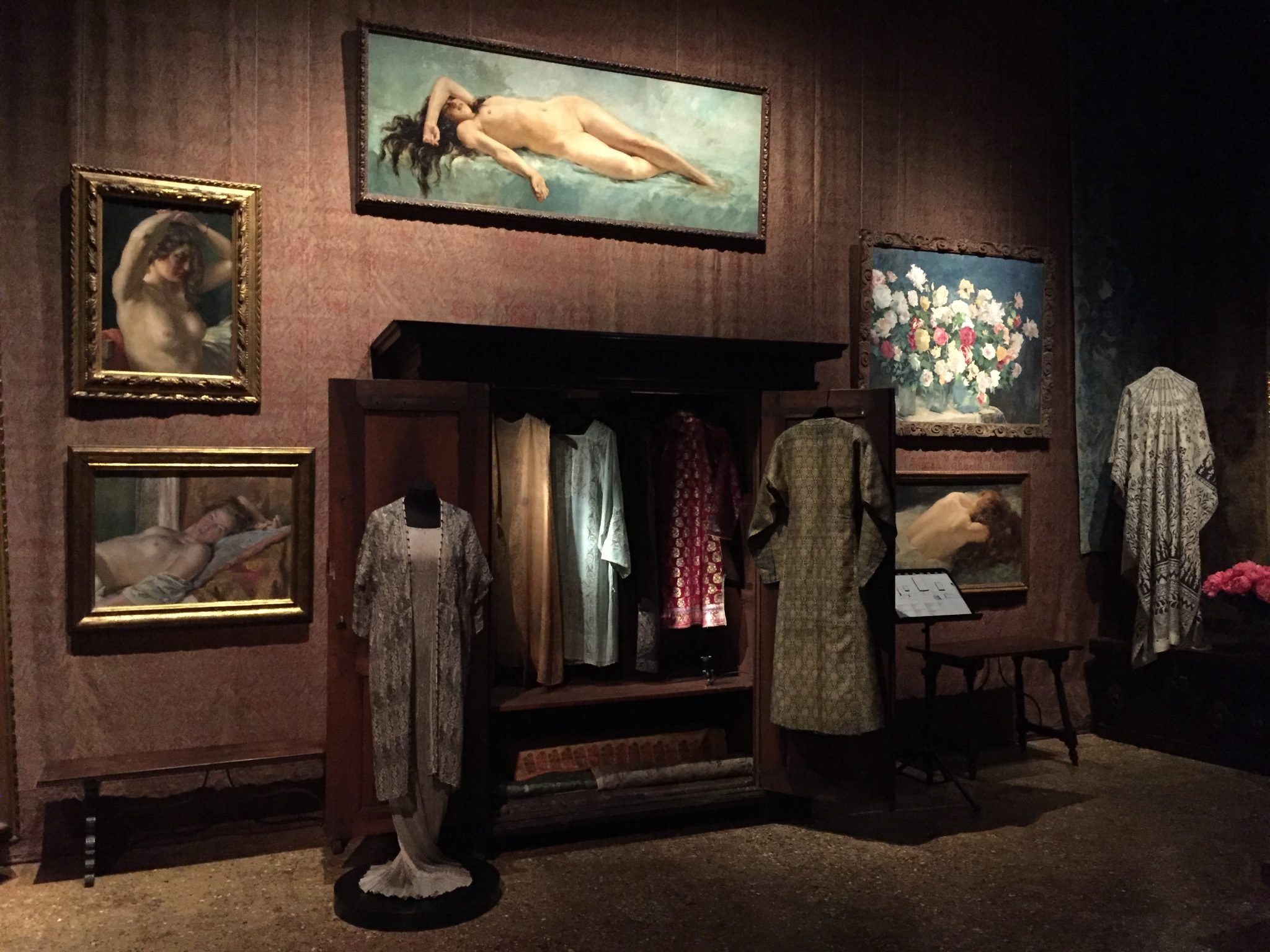 The artist reinterpreted ideas from bygone eras and far-off lands to create pieces with pliable shapes, designed to enhance the beauty of the female body with their simple yet refined elegance, freeing it from the restrictive nature of corsets and bustiers. Fortuny's atelier devised an unusual approach that took its inspiration from Minoan culture and the Eastern world and turned it into an innovative and highly modern style, with garments that were "faithfully antique but markedly original […]", as Marcel Proust so neatly put it. Not everyone knows that the author admired the fashion designer and artist so much that he cited him with his real name in his novel 'Remembrance of Things Past'.
Printing techniques
In just a few years, the small workshop in Palazzo Pesaro degli Orfei became a fully fledged textile factory and shop, employing one hundred people. It was here that Fortuny's first scarfs, dresses and sumptuous robes made of printed silk velvet were created; only later did he move into creating fabric for furnishing, using tools he invented himself. To begin with, the Fortunys adopted a very archaic printing method – direct printing using wooden matrices. Following an initial separation print, which created the outline of the pattern using a mixture that prevented the fabric absorbing the dye, other rough prints were carried out. The dye spread through capillary action, but stopped at the barrier created in the initial press, ensuring each colour had a neat edge.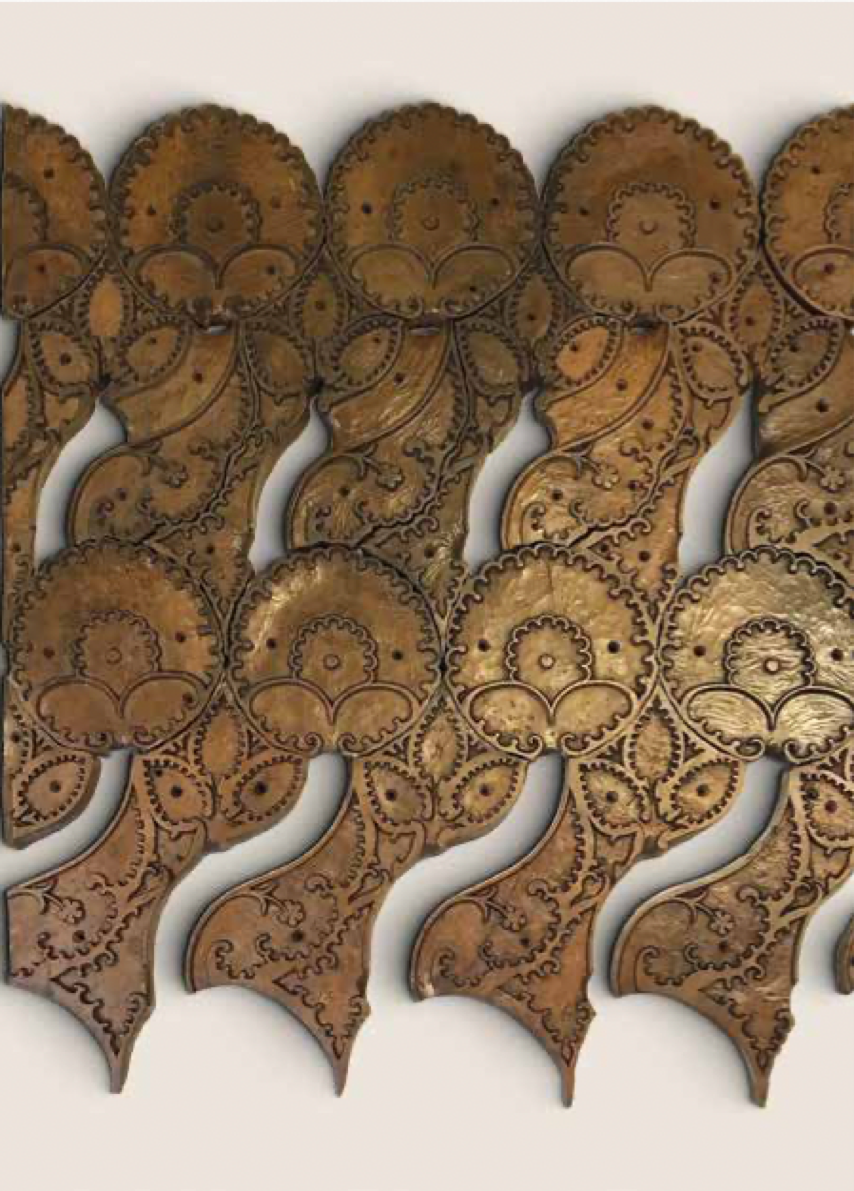 In 1910 Fortuny patented a new system for printing on large pieces of fabric, based on a mechanical rotary process. By attaching the matrices to a chassis or using them in continuous bands, production times could be reduced significantly, while retaining the craftsmanship and the use of natural products for the dyes. The fashion designer also patented an innovative system for pleating the finest silks, which he used to create the famous Delphos gown. In 1919 he opened a factory on the island of La Giudecca for the semi-industrial production of printed cotton for use in furnishings, while his wife Henriette continued to focus on producing clothes in the workshop in Palazzo Pesaro degli Orfei.
International success
Fortuny's garments, theatre costumes and furnishing cotton were unveiled at an exhibition at the Musée des Arts Décoratifs in Paris in 1911, and received immediate public and critical acclaim. Boutiques were opened in Paris, London and New York, and activity at the workshop went into overdrive. Aristocrats, intellectuals and famous actresses came from the most luxurious Venetian hotels to visit the artist's atelier, and the Fortuny name soon became synonymous with exclusivity, sophistication and elegance.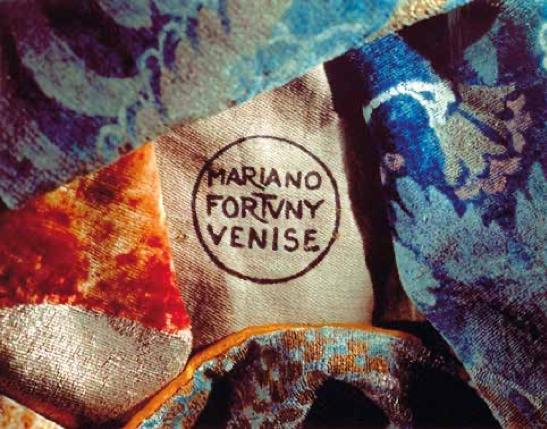 In particular, the Delphos gown, a pleated silk taffeta tunic inspired by the ancient Greek chiton, and the Knossos scarf, a large white silk satin cloth decorated with printed patterns inspired by Hellenistic and Mionian themes, won the hearts of the European intellectual elite and nobility. As a costume designer, Fortuny worked for the actresses Sarah Bernhardt and Eleonora Duse and the ballerina Isadora Duncan, who also loved to wear his creations at social gatherings.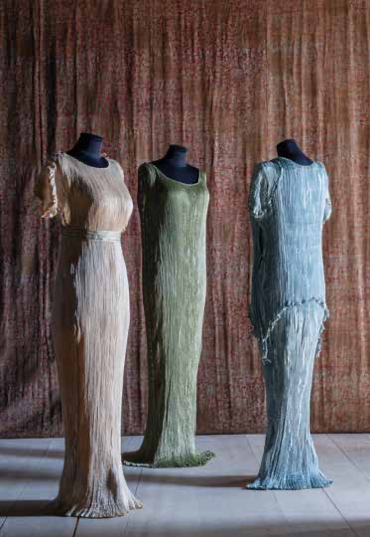 Inside Palazzo Fortuny, the artist's house museum, visitors can admire some of the works produced and collected by the father and son, the vast family library and various fabrics and garments created by the designer over the course of his illustrious career.