As if it were a ritual, an elderly man picks up a newspaper and puts down the correct change. A woman orders a coffee and leaves in a hurry. Two young men, on the other hand, park their bikes and enjoy their coffee while standing and chatting, seemingly in no hurry at all. All this happens in just a few minutes at News & Coffee, which has revolutionised the traditional concept of the newsstand in Barcelona.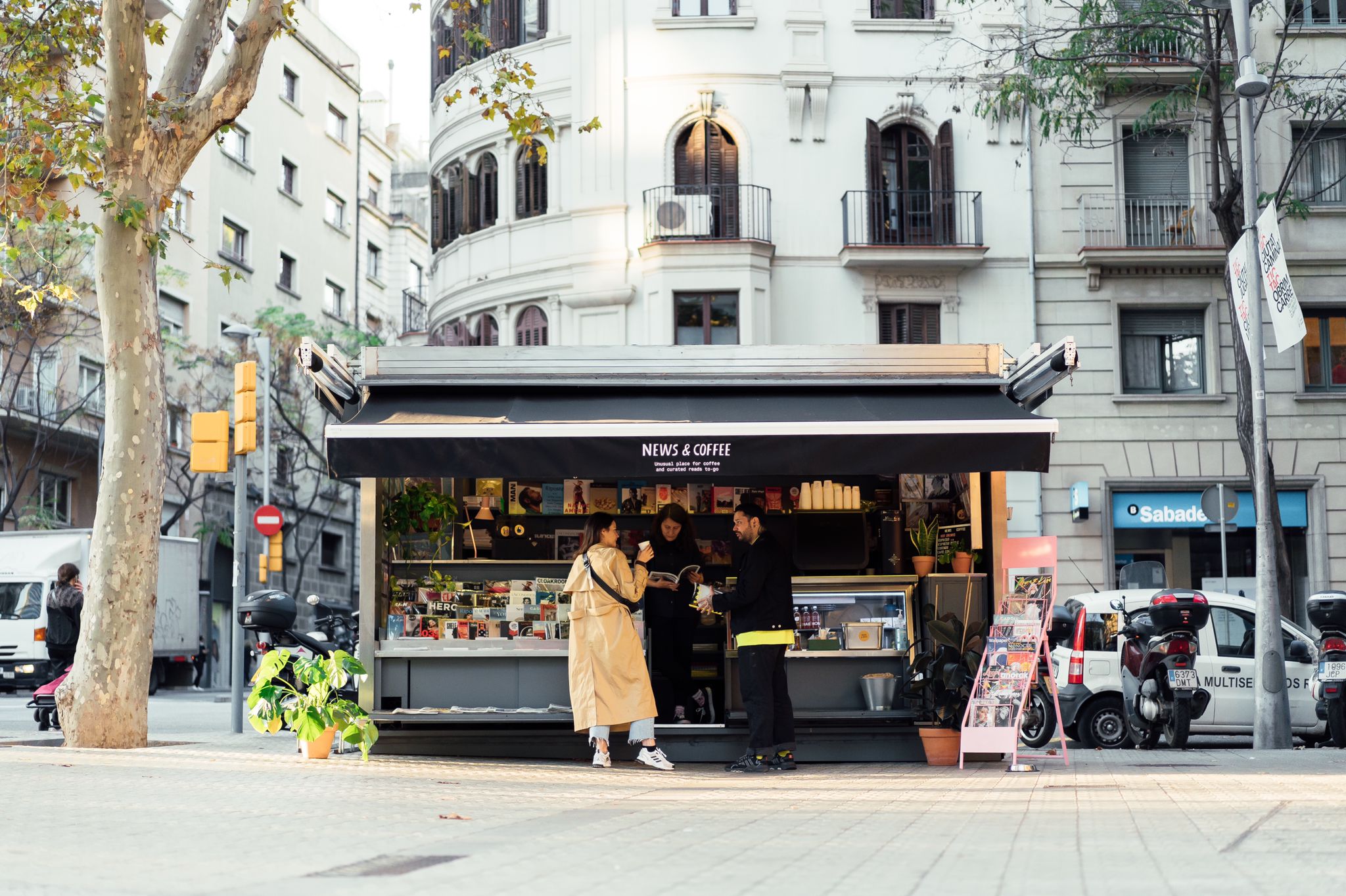 In recent years, these stands, which once enjoyed days of great grandeur, have faded in significance in the face of online media. "What happened is that many people tried to save their businesses by starting to sell souvenirs, cigarette machines and mariachi hats. All low quality, so they ended up becoming just another piece of street furniture around the city. In the end, many of them closed, and there was no passing down through the generations," explains Pablo Pardo, a consultant and creator of F&B concepts, and one of the three partners behind News & Coffee.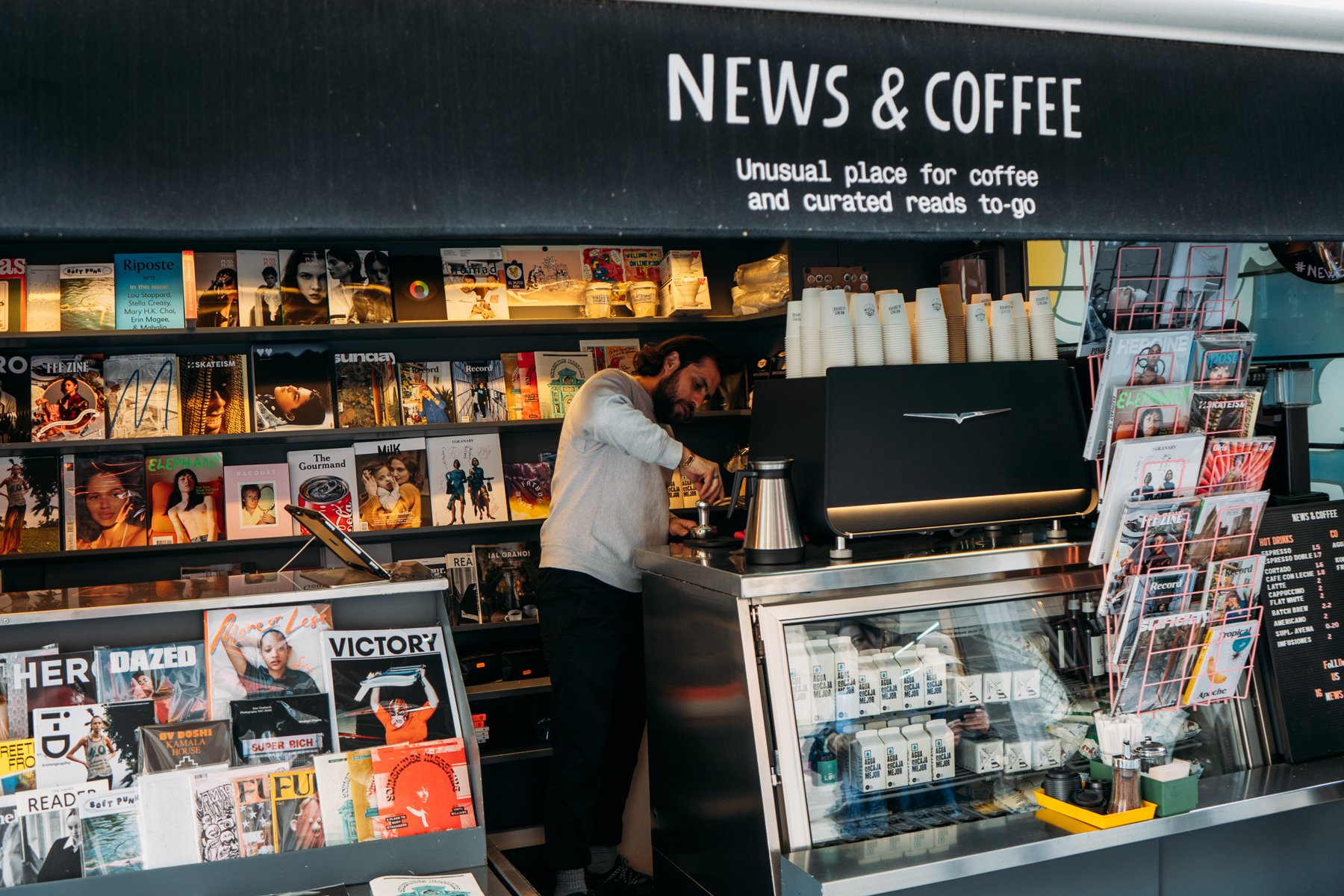 News & Coffee is a unique concept in Europe – possibly in the world
In December 2019, these three entrepreneurs took over this old kiosk located on Paseo San Juan, one of Barcelona's favoured streets for strolling, taking the kids to the park, eating on a terrace or even playing petanque. And they turned it into a meeting point where, as well as the classic newspapers, you can find a large number of independent magazines and enjoy locally produced speciality coffee with good music in the background. It is impossible to walk past News & Coffee and not stop for a few seconds to take a look at this peculiar stall, with a highly aesthetic design provided by the design studio Querida.
Three months after they opened, a state of emergency was declared in Spain and people had to confine themselves at home. This situation turned out to give the business a boost – at first they simply delivered magazines and coffees to people's homes, but when they reopened, there were queues up to two hours long stretching down the street. "During our hiatus, we started reading more and thinking about what really mattered. To be able to have a bit of normality, to go out again even just to get a coffee, that was something to be grateful for," says Pablo.
This is what led them to take a huge leap forwards and open two more kiosks in different neighbourhoods of Barcelona. And they're already thinking about expanding to different parts of Spain, and even overseas. They are not aware of this concept existing anywhere else in Europe, perhaps even in the world. From the 15 magazine titles that used to fill the shelves of News & Coffee, they have now grown to 85. Titles such as Perdiz, Fuet, Fucking Young, Metal, Apartamento, Indiespot, Openhouse, Solo, Purple, Natal, Heroine, Elephant, The Plant and many many more – normally impossible to find sold all in one space, or even in our country – as well as national and international newspapers. Today, 65% of their profit margins come from magazine sales, at a rate of 800 per month across their three outlets.
Odd Kiosk, the voice of the LGBTQI+ collective
Their success has been so great that other entrepreneurs have also been inspired to bring new life to closed kiosks around the city. There are some truly unique ones, such as Odd Kiosk, which specialises in queer publications. During lockdown, the graphic designer Iván Jiménez and architect Txema Montero, friends since adolescence, decided to go into business together. Kiosks were one of the few businesses they could open at the time, so they decided to revive one on the corner of Calles Valencia and Enric Granados. They dyed it pastel pink and dubbed it 'Odd', with a logo featuring different colours and typography.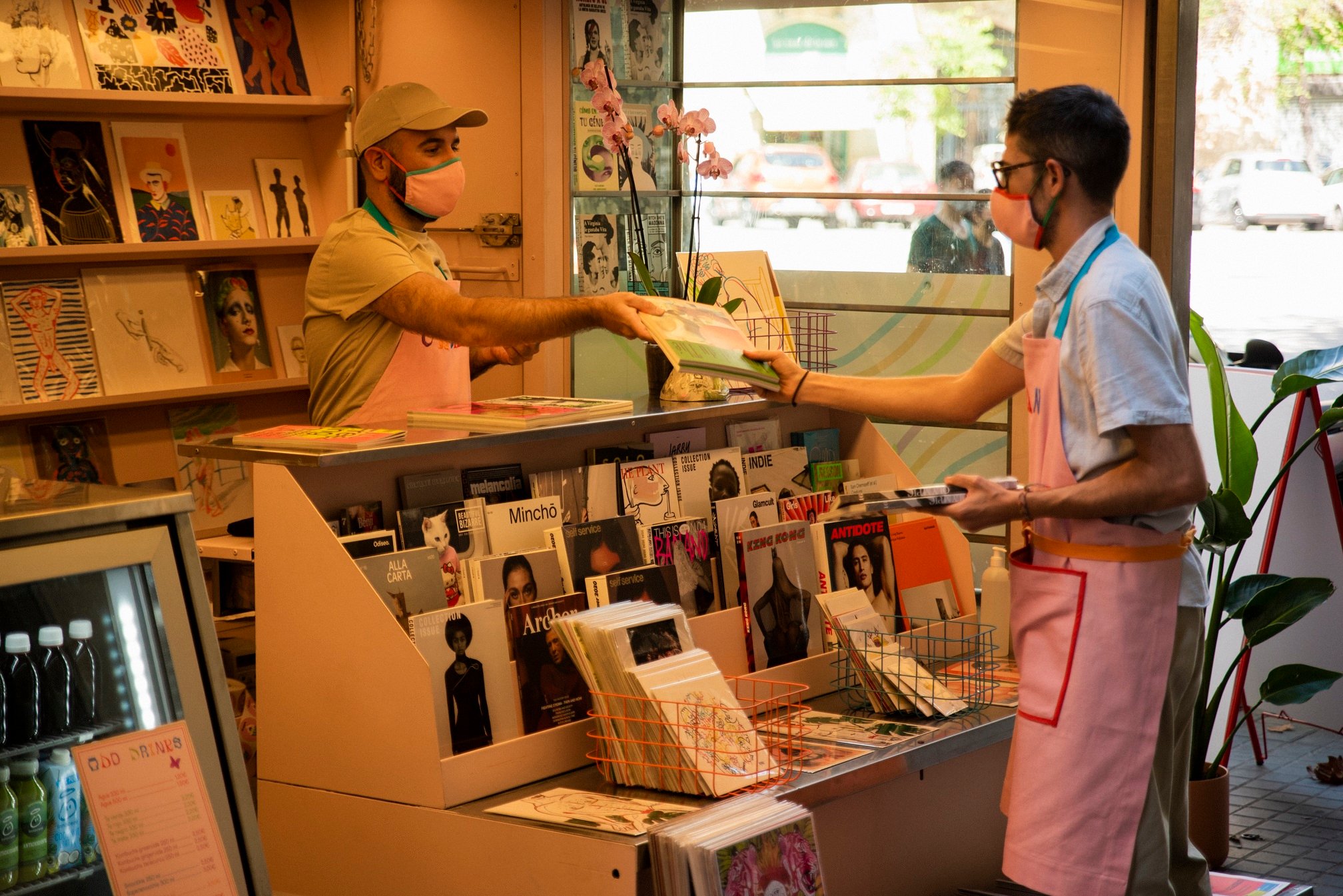 "We wanted something fluid and organic, something different and non-normative that conveys the idea that being different is a great thing. So we went with a flexible typography that can change all the time, representing how we are all different, but together we are complete," says Iván.
This small space is home to books, magazines and fanzines, mainly about art, fashion and trends, with works from some 30 artists from the collective who exhibit their originals, limited editions and prints. Iván says they started out with 50 publications, but now have more than 200 titles. "We're passionate about magazines, and we're always on the lookout for weird and unusual finds that you wouldn't see anywhere else."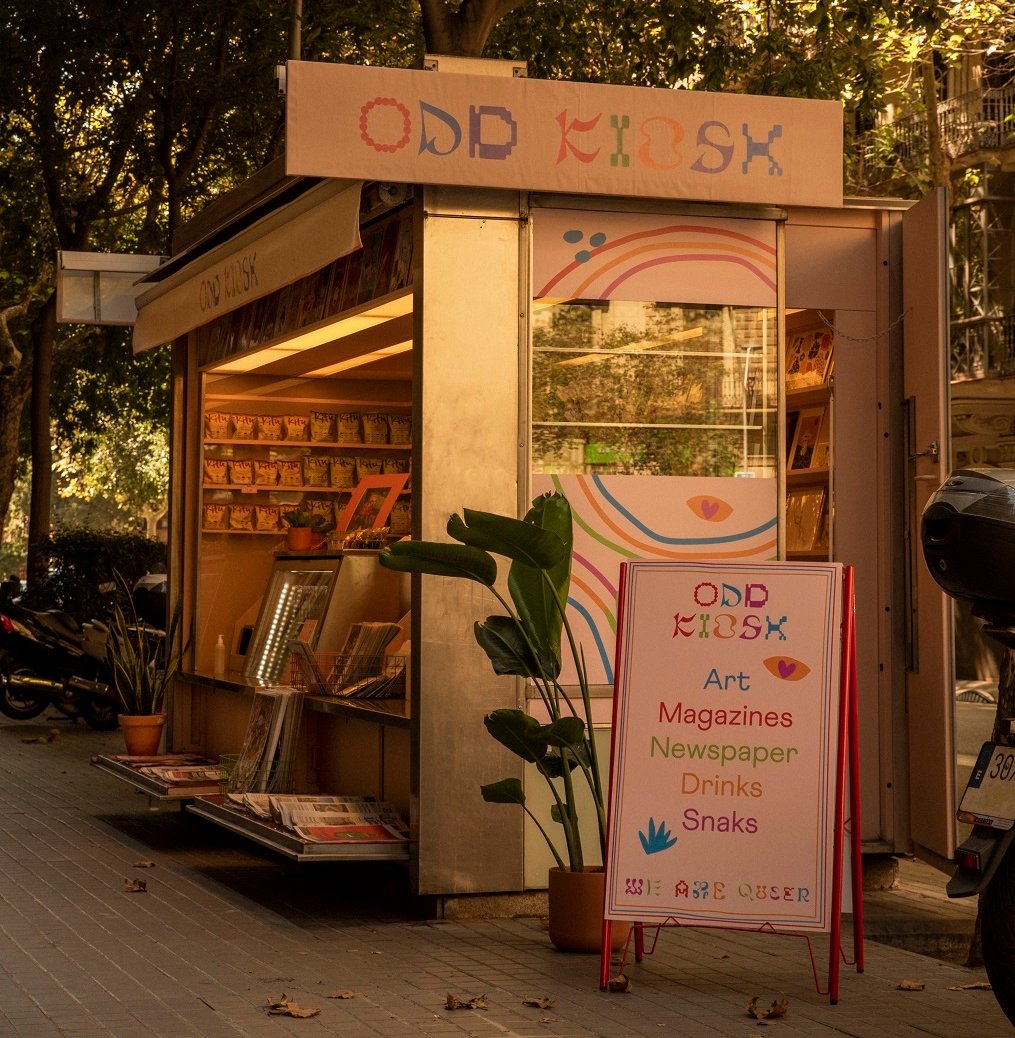 They say that print is dead, but in reality its reinvention has only just begun. For the people behind Odd Kiosk, "these types of publications, which use different kinds of paper, and have very powerful art direction in terms of photography and illustration, are still far more interesting to view in print – and this will never die." The proof lies in the fact that the kiosk has been warmly welcomed in the neighbourhood, something that makes them feel very proud.