Do you still write Christmas cards? Judging by the number leaving our printers at the moment, we can assure you that their popularity is not waning – quite the opposite, in fact. When it comes to sending festive greetings to family and friends, it's nice to opt for something a bit more exciting than a WhatsApp message.
In this post, we want to share a few ideas with you on how to create original and, most importantly, customised Christmas cards. We'll show you the top-rated cards from years gone by and the ones we liked the most, and we'll suggest some greetings to add and the best tools to use to make them. Let's get started!
Original Christmas greetings – some ideas
To get a few ideas, let's take a look at the cards that have gone down best in previous years. The Telegraph chose the 24 best Christmas cards for 2018 – here are our two favourites: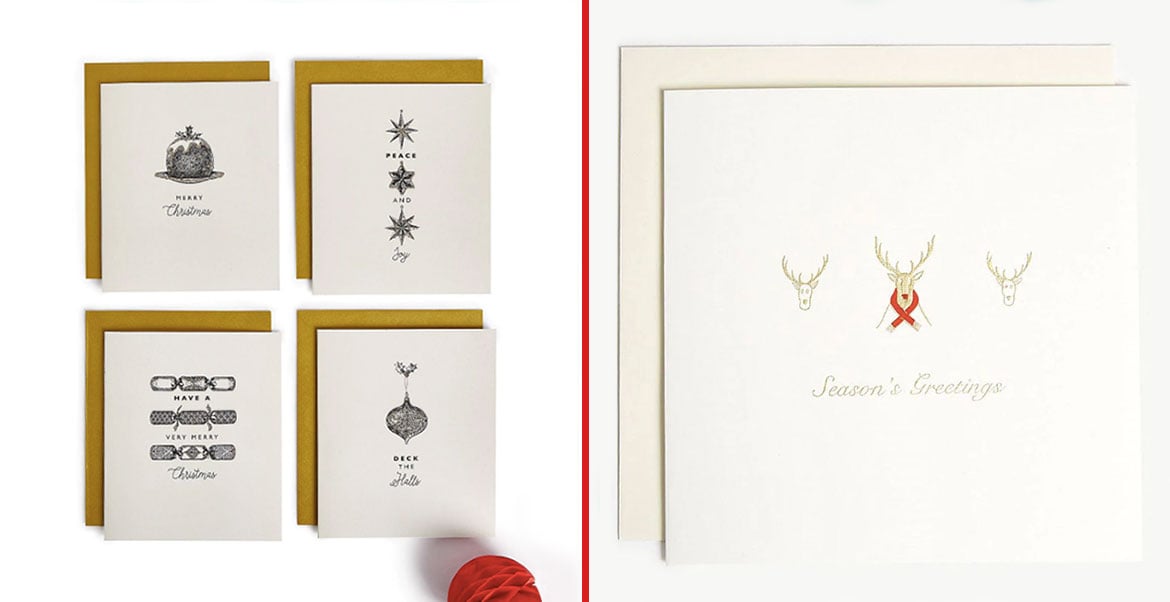 When you're searching for inspiration, we'd also recommend browsing Pinterest, where you'll find various handmade cards. Here is a fun example, suitable for children, and one that we feel is perfect for music fans: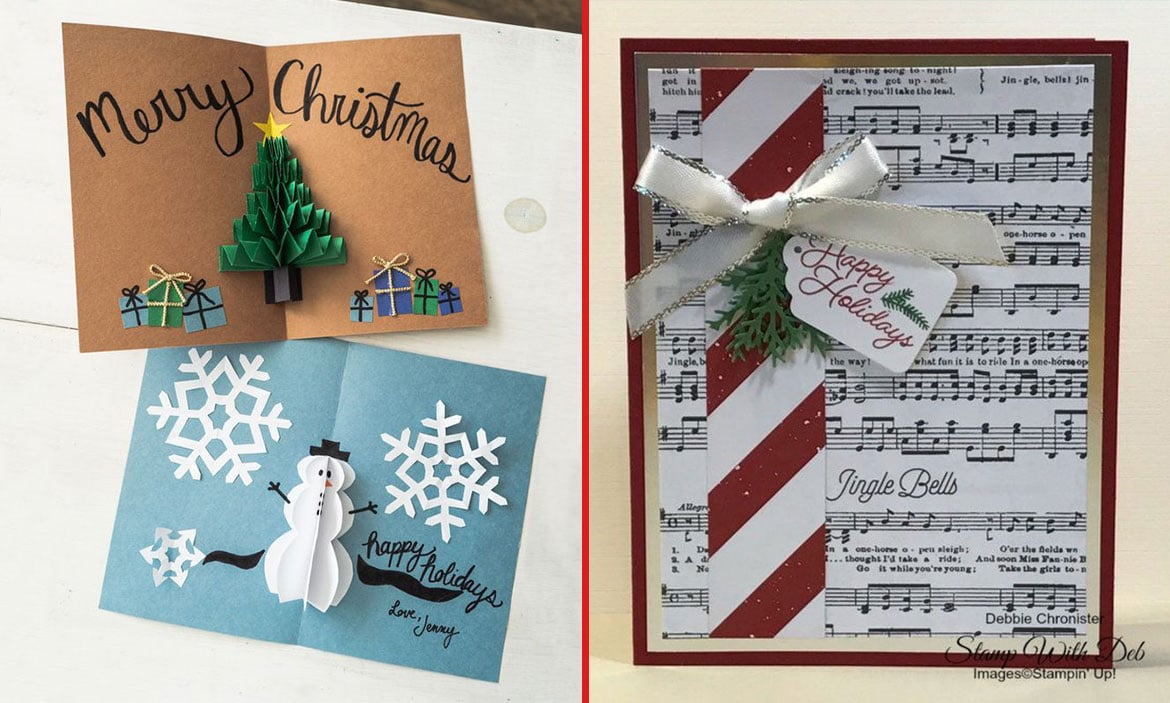 Still on the lookout for ideas, we went in search of some more humorous alternatives. We found some fun examples on Etsy, like these, for instance: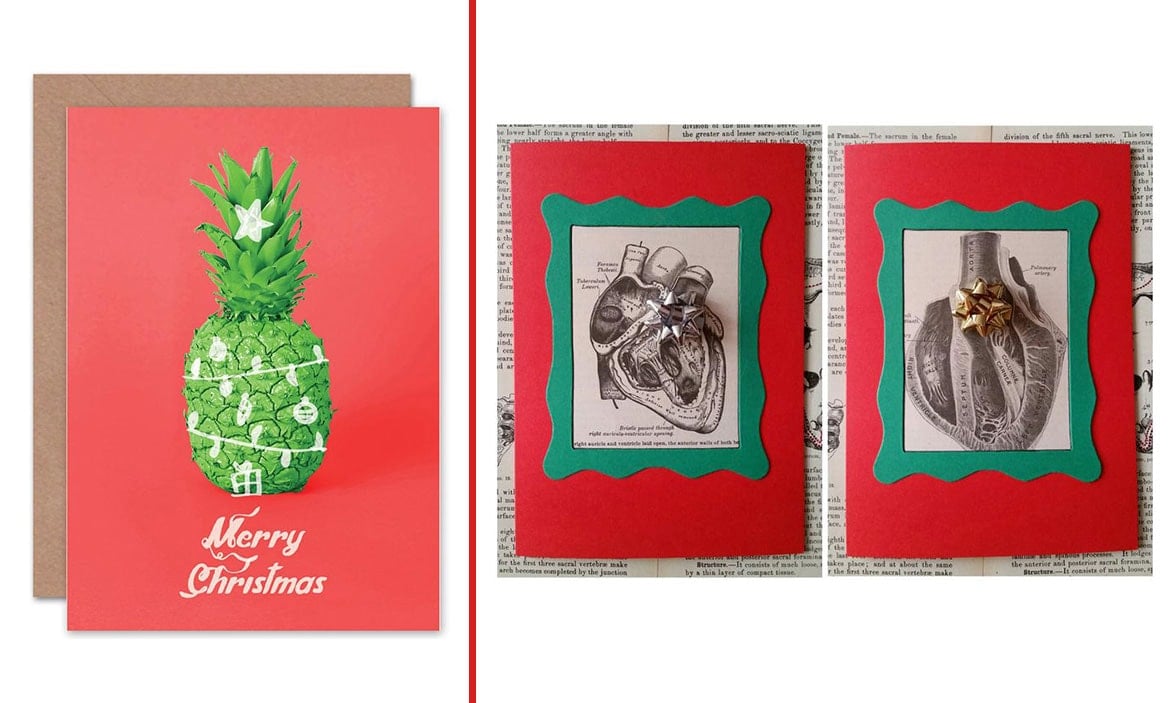 When you're looking for inspiration, try to focus on the card's recipient. If you take into account their interests and passions, you're sure to make your message warmer and more personal. Here are three examples to give you a better idea of what we mean.
Christmas cards for jet-setters
Why not get a nice-looking world map and draw Santa's journey from Lapland to your friend's home city on it?
Christmas cards for paper lovers
People like us who, whether for work or play, are always surrounded by paper, will undoubtedly be drawn to this aspect. If you entrust us with printing your card, we'll help you to find the most stylish and sophisticated papers on the market, but since we don't like to talk solely about ourselves, have a look at Porridge Papers' winter collection: these are highly refined papers, with a surface that seems to sparkle like fresh snow.
Christmas cards for the environmentally conscious
If you're designing a card for someone who cares about nature, don't make a faux pas – print it on recycled paper. If you want something interesting and unusual, take a look at Raggio Verde's Ecocartolina, a card that also contains seeds for the recipient to plant.
Original Christmas cards: greetings with the recipient in mind
An original card should not come with bog-standard greetings, and once again our advice is to tailor your message to the recipient. If you're not a born writer, why not tap into the world of literature, film or music to create something fun. Here are a few examples.
For cinema fanatics
Think of a film with a Christmas theme, choose a quote and challenge the recipient of the card to name the movie. For example:
Okay, I know you're not the real Santa Claus.

What makes you say that? Just out of curiosity.

I'm old enough to know how it works.

All right.

But I also know you work for him. I'd like you to give him a message.

Shoot.

I'm Kevin McCallister, 671 Lincoln Boulevard. Do you need the phone number?

No, that's alright.

Okay, this is extremely important. Would you please tell him that instead of presents this year, I just want my family back. No toys. Nothing but Peter, Kate, Buzz, Megan, Linnie and Jeff. And my aunt and my cousins. And if he has time, my Uncle Frank. Okay?

(Home Alone)
For more schmaltzy greetings
You could quote a Christmas classic like All I Want for Christmas is You by Mariah Carey.
 I don't want a lot for Christmas

There is just one thing I need

I don't care about the presents underneath the Christmas tree

I just want you for my own

More than you could ever know

Make my wish come true

All I want for Christmas is you
For your Grinch-like friend who hates Christmas
Here's the perfect quote from Leaving Home by Garrison Keillor:
A lovely thing about Christmas is that it's compulsory, like a thunderstorm, and we all go through it together.
For those who love irony
Italian author Gianni Rodari's quote is bang on the money:
I have nothing but wishes to give: I have plenty of wishes, take what you want, take all of them.
Tools for creating Christmas cards
By now, you should have some ideas bouncing around your mind. However, you may also be wondering which programs to use to create the artwork for your cards. If you're not a graphic design pro, we'd recommend four really simple tools.
Canva
The first is Canva, which we already discussed in an article on, well what do you know, Christmas card ideas. Incidentally, Canva also comes with a collection of Christmas cards made by 50 different designers, which may be handy for stealing a few more ideas.
Crello
A similar tool is Crello, another program we've mentioned before. You have two options with Crello: create a card from scratch or use the layouts provided by the platform. If you opt for the latter, we recommend typing the keyword 'Christmas' into the search bar, and you'll be given a range of themed layouts to alter however you like.
Design Wizard
Design Wizard is another extremely simple graphic design tool. Here too there's a section dedicated to Christmas cards – simply select your favourite template and then open the editor, where you can customise it to your heart's content.
Klex
The final tool we'd recommend is Klex. Once again, you start from fully customisable preset layouts, with the option to change the colours, fonts, images and dimensions and add effects and filters.
Now you have everything you need to design and create your Christmas cards. For the printing, meanwhile, you can count on us!