Nowadays, ordering food from the comfort of your sofa at home via your mobile phone is an everyday occurrence. But can you imagine getting the same service to feed your pet? Moosi, the leading Italian pet food brand, has launched just this, creating a specific iOS app that allows customers to order bowls with personalised recipes for dogs and cats. The dishes are made with insects and waste raw materials from supermarkets and restaurants, and the packaging is recyclable – all with a pop look and feel.
Moosi's branding would be highly original if it weren't for the fact that it doesn't exist – it is a concept dreamt up by Niccolò Campanini as a thesis project. The Italian designer and art director explains that the intention was to give a fresh style to a market that is anchored in the past, both in terms of design and recipes.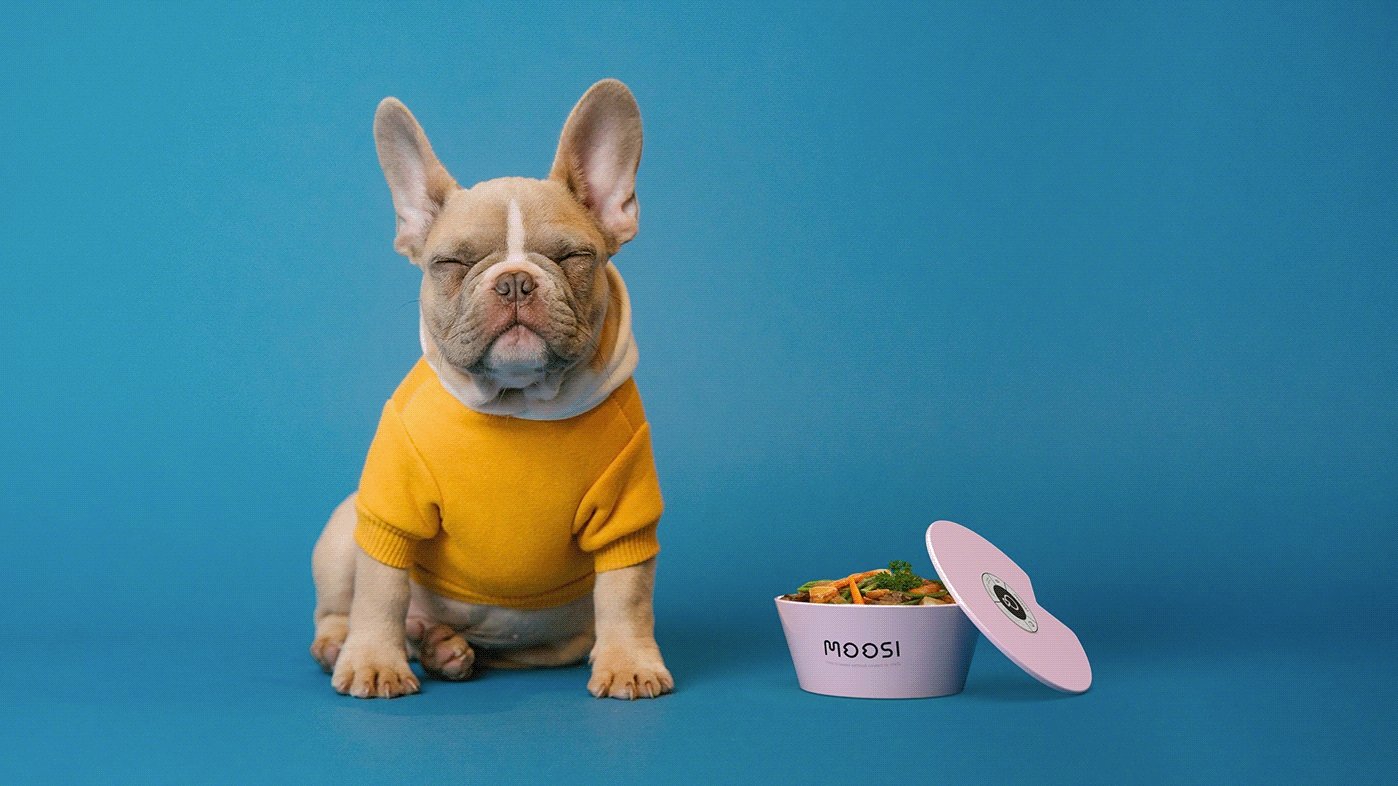 Attention-grabbing designs on the shelf
The fact is that pet food packaging doesn't seem to have changed much in recent years, but some truly innovative initiatives are beginning to emerge. In the same vein as Moosi, the rebranding of Vietnamese brand PetChoy seeks to connect with Generation Z through attractive, colourful packaging and nutritious meals with quality ingredients. The agency M-N Associates, which is in charge of the new concept, created a purely typographic logo and lettering incorporating tails, ears and paw prints. In addition, the packaging includes photographs of the raw ingredients and shots of pets enjoying the food.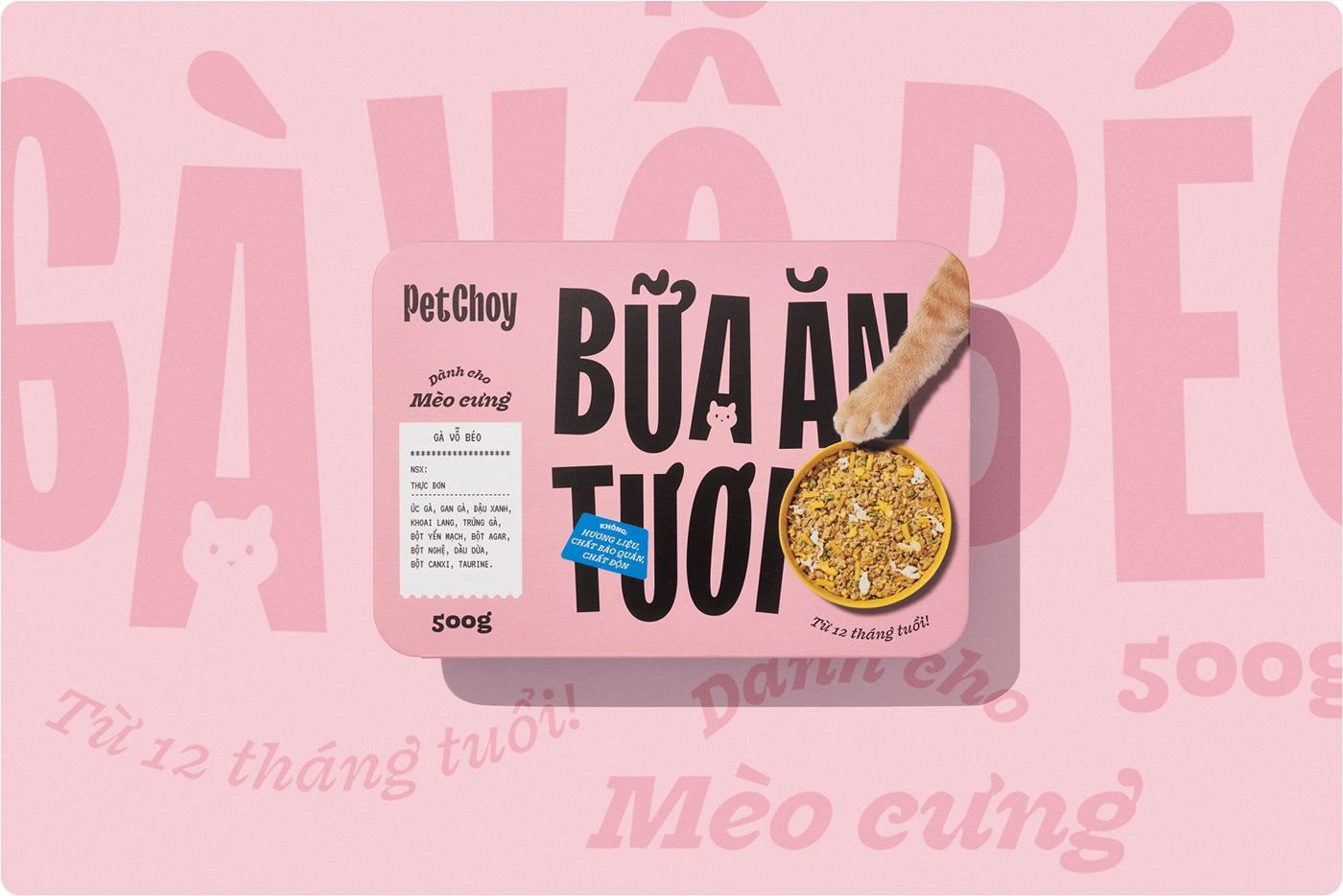 A fresh, modern, simple, accessible and fun new look is also what Solid Gold has been aiming for with its marketing strategy. The American company has set itself the goal of making its packaging an immediate eye-catcher on the pet food shelf. To this end, each pack features a colourful geometric illustration in a kaleidoscope of contrasting colours.

Sustainable packaging that cares for the planet
The packaging for Gather, the new line of products for dogs and cats from Canadian brand Petcurian is pure art, with beautiful illustrations of natural motifs such as the sea or a meadow. The ingredients are certified organic and genetically unmodified, but their commitment to sustainability is also evident in the materials chosen for the packaging. In particular, 30% of the packaging uses "bio-based plastic" produced from sugar cane. This has made it possible to reduce the use of petroleum-derived resources by 30%, according to the company.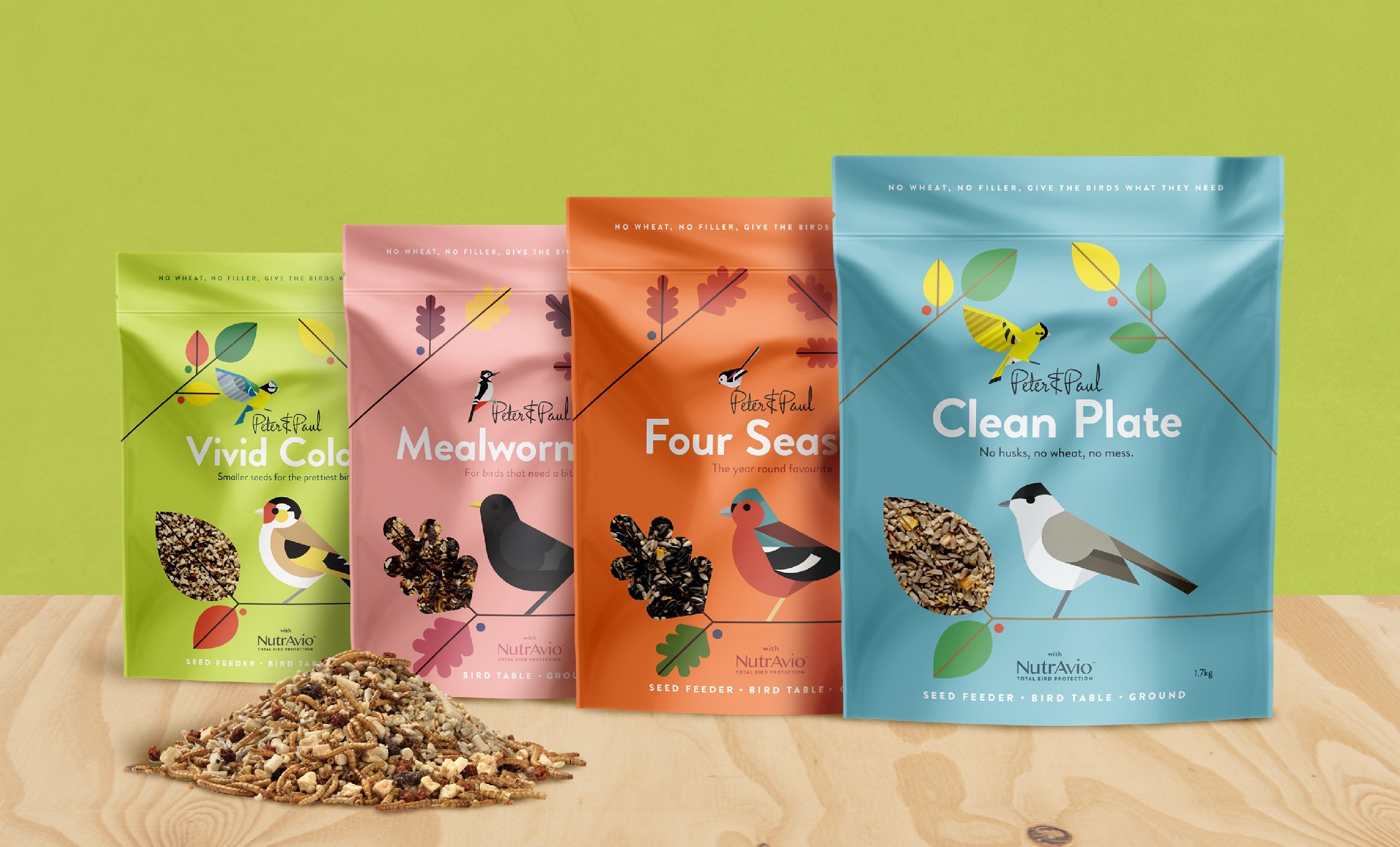 Concern for the planet also lies in the DNA of Edgard & Cooper, who state that their mission is to become "the most sustainable pet company in the world." Their 'Zero Pawprint Plan' strategy includes innovative packaging for dog and cat food and treats: the outer layer is made from sustainably sourced paper and water-based inks, while the inner layer is made from potato-based bioplastic. This combination of renewable materials, which are then 100% industrially compostable, allows consumers to throw the bags directly into the paper bin.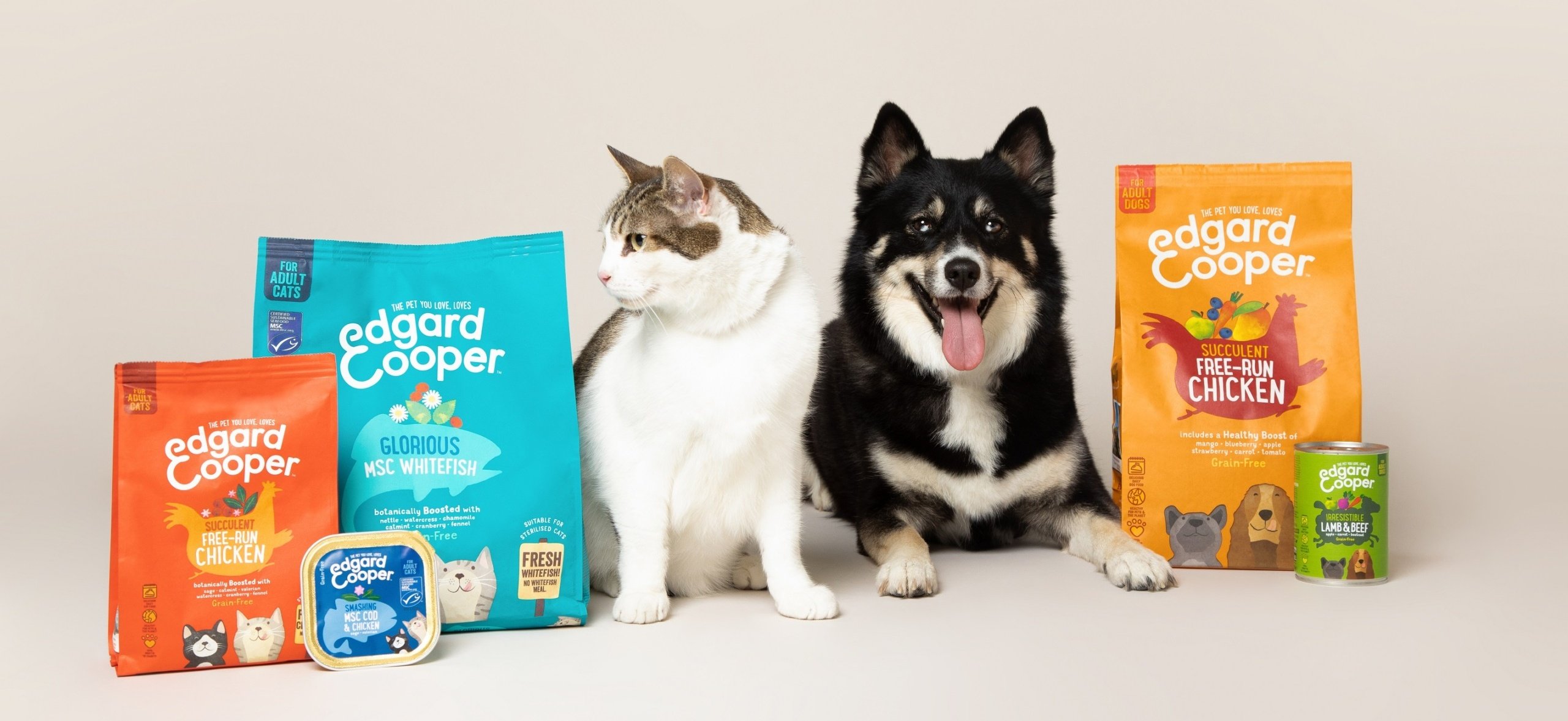 The Belgian brand has now managed to save on a total of almost 7.5 million plastic bags made from petroleum derivatives. In addition, it also uses metal cans and containers, which are easier to recycle than other materials and keep the product fresh for a long time, thus helping to reduce food waste. German organic dog food company Naftie also uses cans with delicate hand-drawn illustrations.
Bird food packaging also gets a makeover
So far we've only looked at dog and cat food packaging because it is the area with the most development, but it is also worth highlighting the colourful packaging of Mealberry, which makes food for birds, rodents and rabbits. Also of special note is the brand Peter & Paul. Founded in the UK by Danni Yeoman, a bird lover and member of several ornithological organisations, the brand uses 100% nutritious seeds, free of wheat, barley and any other kind of fillers.
Aside from the ingredients, what stands out the most is the packaging, with beautiful illustrations of different types of birds and bucolic names such as Mealworm Mix, In Full Song, Four Seasons and Clean Plate.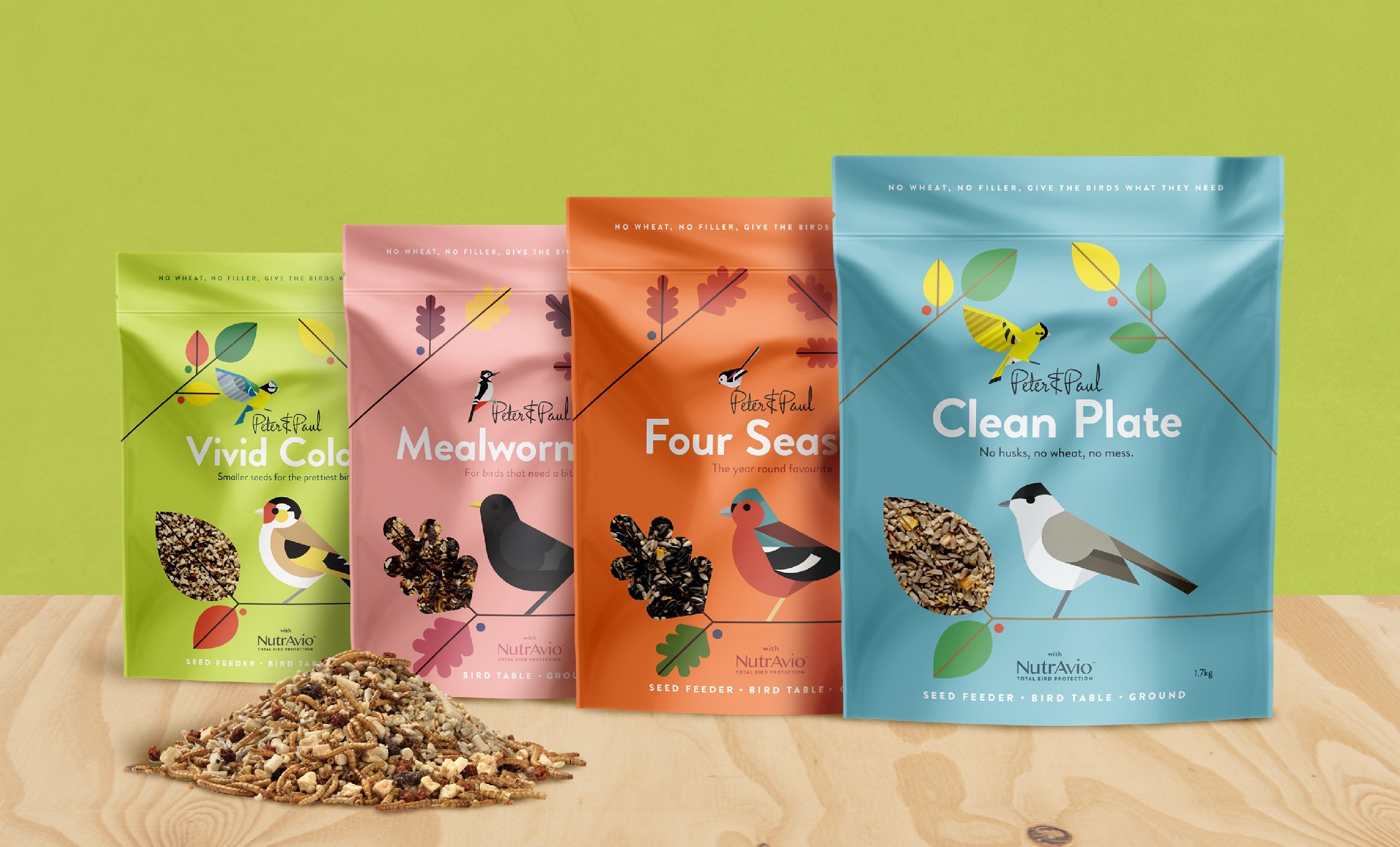 Pet food packaging, as we have seen, is gradually adapting to the new millennium with more creative formats, materials and designs.