They can bring together our fondest memories. They can add a personal touch to a home. And they can make a unique gift. Piqued your interest? If so, read on, because today we're explaining how to create photo collages online.
Below you'll find useful tips and tools for creating your own photo collage in a few simple steps.
Let's get started!
Tips for a well-made photo collage
A photo collage is a composition that brings together your best photos – or simply the ones you love most. You can make one in different ways.
One way is to get some paper, scissors and glue, and create them with your own hands – fun, yes, but it's a lot of work and results aren't guaranteed… The second way is a handy shortcut: the online photo collage. That's what we opted for, with the help of some specially designed tools.
However, this doesn't mean it's all plain sailing. Picking the right photos is essential, and the result will depend on your ability to put them together properly.
So, here are our tips for success:
Choose a theme: wedding photos, pictures of your kids as they've grown older, landscapes or travel snaps… Basically, use the collage to tell a story.
Black and white or colour photos? We advise choosing one or the other. You'll get a neater result.
Even out the tone of the photos: use the same filters, so that the tones are the same. In other words, choose either cold or warm tones to avoid colour chaos.
Try to juxtapose the darkest photos with the lightest, that way you'll balance out the brightness of the composition.
You can also use images in different formats. In fact, we'd encourage this: it will make the composition more dynamic.
Avoid photos that are too richly detailed, as they'll be lost in the bigger picture (especially if it's very elaborate).
Alternate photos of details (or close-ups) with images that have a wider perspective, to create more movement.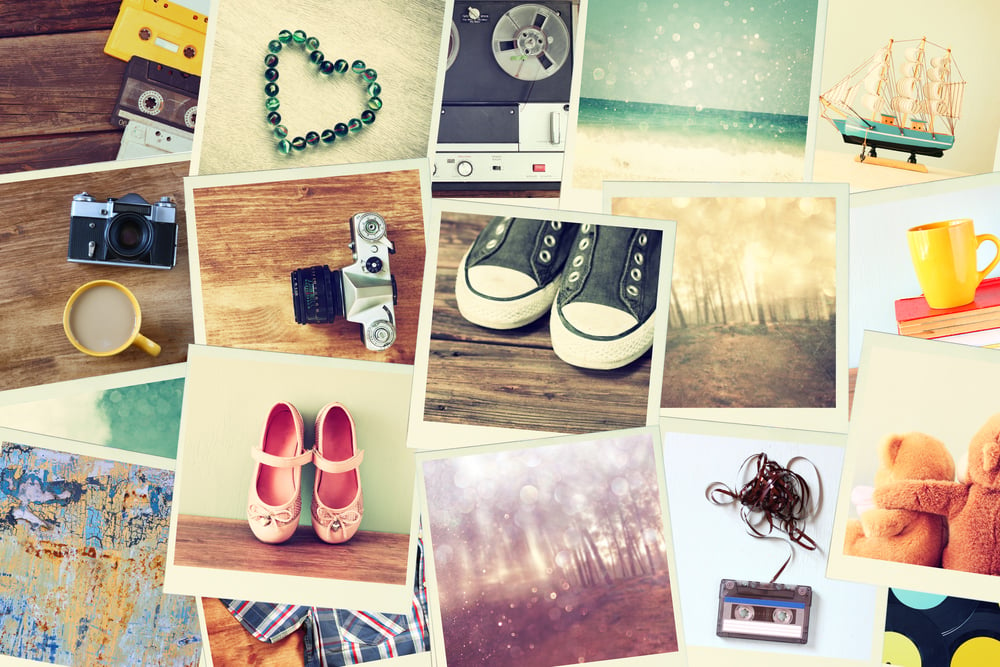 One last piece of advice: have fun! If you like, you can play with colours to create different effects. For example: pick out images that have dominant blue tones, then look for photos where yellow stands out. Assemble your collage by placing the photos with yellow tones at the bottom, and the ones with blue tones at the top. Can you see what we see? That's right, a seascape. That should get your creative juices flowing…
One more thing: you can also use words to help make your story even clearer. With the tools that we recommend below, you can insert text into your collage, such as places, dates or even poetry. Right, now it's time to look at the tools of the trade.
Programs for online photo collage
There are tons of tools for creating photo collages online. Rather than giving you a long list of them, we have picked a handful of tools that are effective, quick and easy to use, as well as being either free or cheap. So here are three programs that have all these qualities.
Adobe Spark
Adobe Spark is a free photo collage app. Once you've signed up, choose the format you like best and upload the photos that you want to use (you can also draw on the tool's vast photo gallery!). To make things easier, you can also start with a preset template, like the one you can see below, which you can then customise with your own pictures.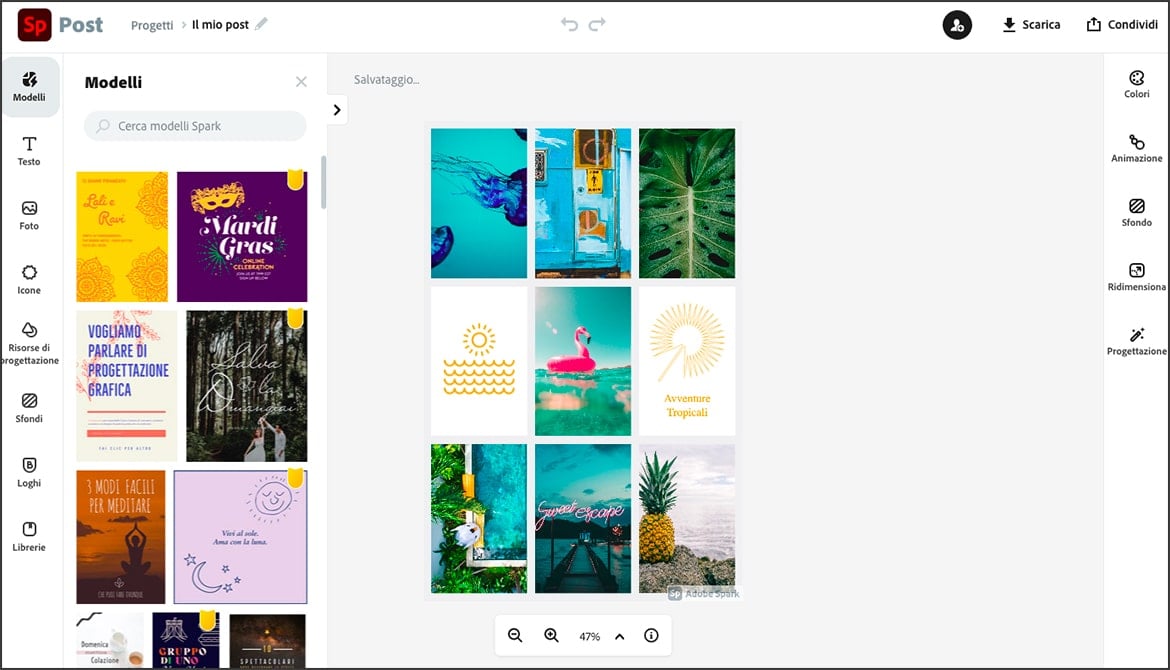 Once you've composed your picture, play around with the different design options: add text, icons, backgrounds logos or images. Save everything and then you're done!
Canva
We've frequently talked about Canva before because it's a free graphic design tool that allows you create great designs in just a few clicks – and that includes photo collages. After signing up, you can use one of the templates that Canva provides and change it as you see fit (you can replace the images shown with your own – simply download then drag and drop them into the collage). We chose this layout as a starting point for bringing together our travel photos. We crave the beach, as you might have guessed. 😉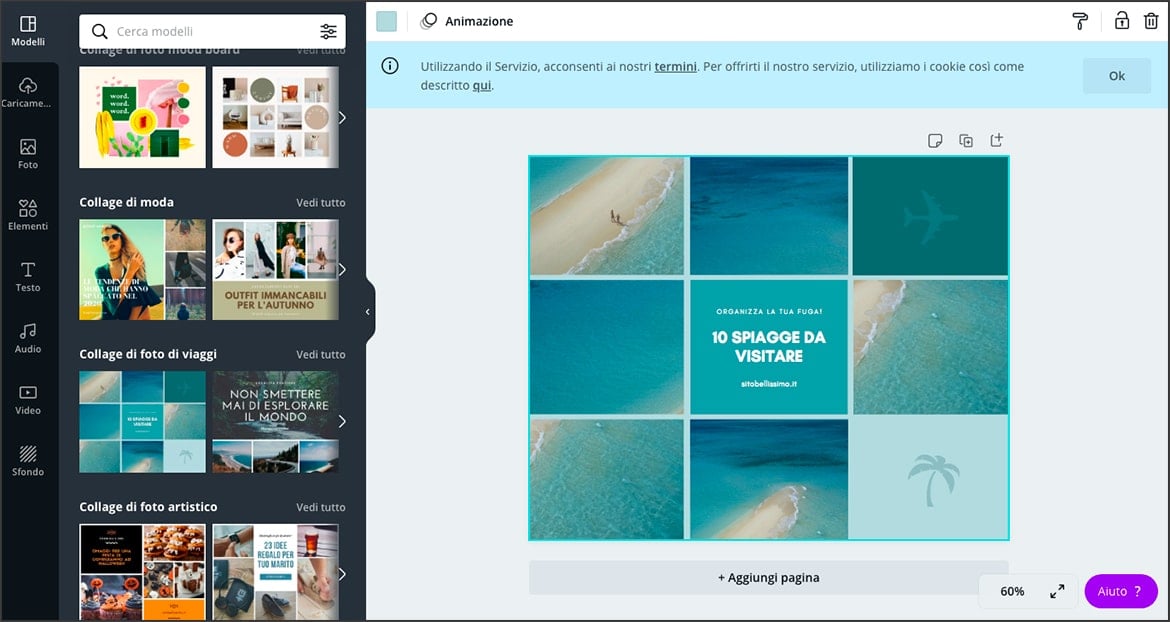 The possibilities for customisation are almost limitless: you can change the background, add graphical elements, text, and so on. When you've finished, (piece of cake, right?) you just have to save and download the collage.
FotoJet
FotoJet is the last tool on our list. In its free version, you can use it – with some limitations – to create a collage with creative layouts. Some of these are really fun, like the one we've chosen – ideal for photos of kids.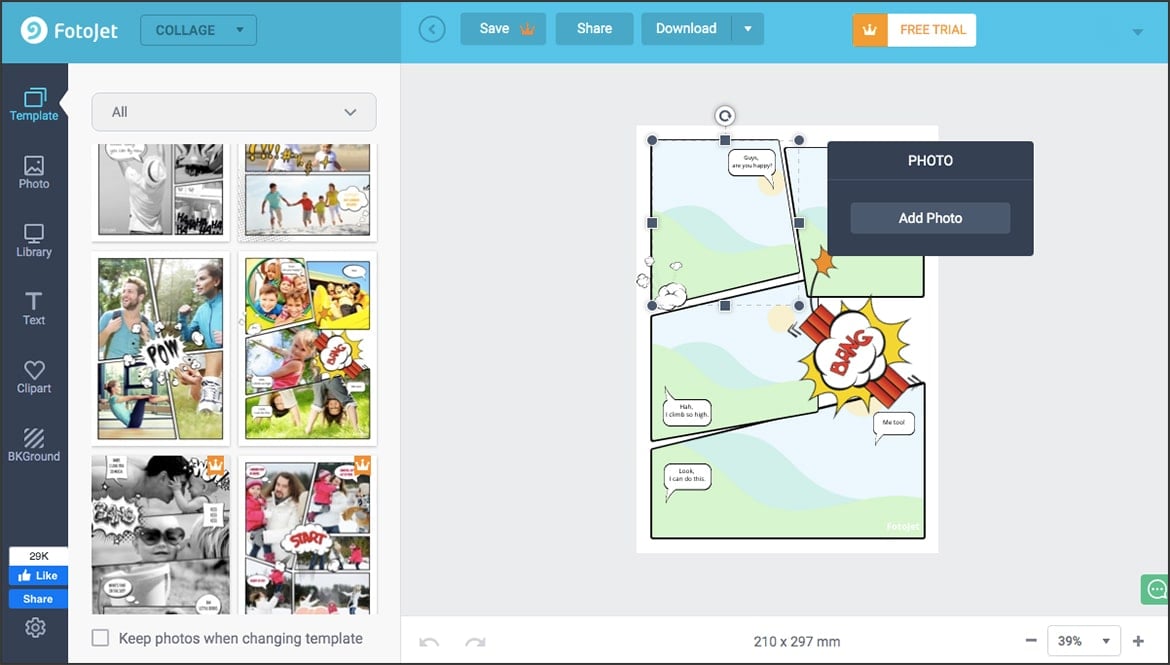 The tool is intuitive: you sign up, select a template and then start customising it with your own photos, text, backgrounds, stickers or icons. Once the picture is complete, simply download it. A word of warning, however: if you use the tool in its free version, you can only save the collage in small or medium size. For bigger formats (large and extra-large), you need the paid version.
There remains one last step: printing. But leave that to us. Once everything's ready, you'll find us here. Happy collating!