An original, packaging-based campaign
Last March in the US, Pizza Hut launched a series of limited edition boxes that let you play Pac-Man on them in augmented reality (AR). The traditional cardboard boxes simply had a maze from the game and QR code printed on them. Scanning the QR with a smartphone or tablet brought the maze to life and allowed customers to play an AR version of the classic eighties video game.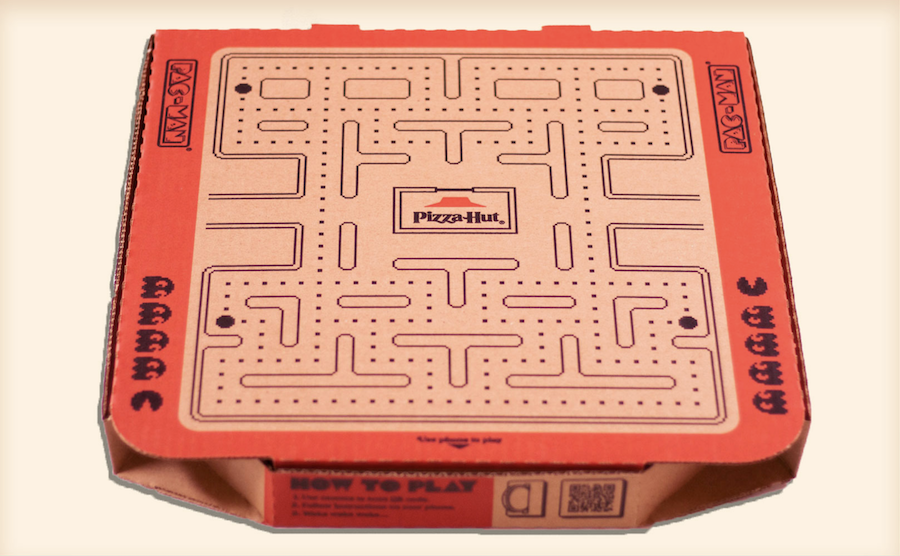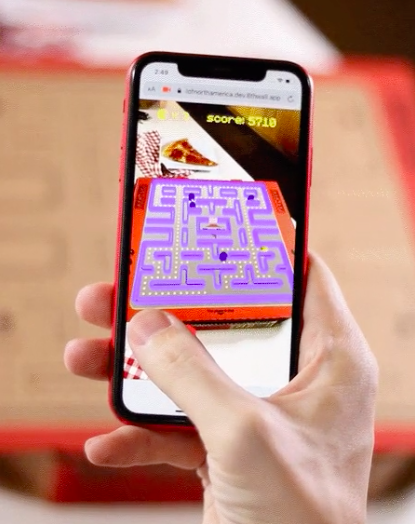 Once the game was over, customers were invited to share their scores on Twitter using the hashtags #PizzaHutARcade #Sweepstakes to be entered into a prize draw to win a custom Pac-Man arcade terminal.
Pizza Hut Arcade. Créditos: Pizza Hut
A campaign based on nostalgia
This collaboration between the two brands is part of Pizza Hut's wider "newstalgia" campaign. This combines some of the most loved aspects of Pizza Hut's identity with elements from today. Indeed, for many in the US, playing classic arcade games while waiting for pizzas to arrive at the table is a fond childhood memory of visits to Pizza Hut, along with comfortable red sofas, red checked table cloths and stained-glass Tiffany-style lamps.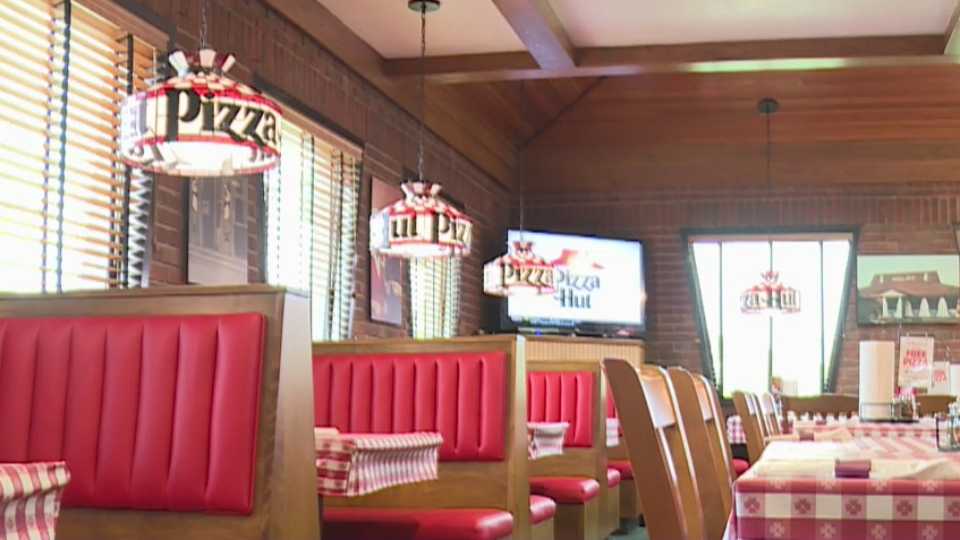 George Felix, Chief Marketing Office at Pizza Hut explained:
"There's so much love for this brand and so many iconic elements… any marketer would die to have a fraction of those things. The challenge is taking those things that people know us for, and bringing them into today's world in relevant ways. There aren't many brands with more iconic elements than us, whether it's the red cups, checkered tablecloths, connection to pop culture and entertainment – like Pac-Man – or our iconic Pan Pizza. As we look to connect with a new generation of pizza lovers, we are tapping into those things that make Pizza Hut great in a modern and relevant way. "
That's why the agencies Tool and GSD came up with a collaboration between Pac-Man and the Texan fast-food chain that was founded in 1958. What's more, the very game of Pac-Man was inspired by pizza. As Yutaka Fuse, Head of Licensing and Branding at Bandai Namco Entertainment Inc., explains:
"Pac-Man's design and creation was inspired by the shape of a pizza with a slice taken out of it, making this partnership so appropriate for the Pac-Man brand. Pac-Man games and Pizza Hut pizzas occupy a special place in many people's memories; we're excited to have the opportunity to create fun memories for a new generation of Pac-Man and Pizza Hut fans through this collaboration. "
A Superbowl launch
To launch the campaign, Pizza Hut turned to actor and comedian Craig Robinson, the new face of the brand, for a TV ad during the Superbowl. In the ad, we see him playing a retro Pac-Man game while tucking into pizza, just like in the good old days.
Video: 11. Pizza Hut Arcade. Credit: Pizza Hut
Pizza Pizza: the basketball pizza box
It isn't the first time that a pizza brand has turned its packaging into a game. In 2020, Canadian company Pizza Pizza released a box that could be turned into a mini basketball court decked out in the colours of the Toronto Raptors. The idea? To challenge friends to a game: whoever scores three baskets first wins the last slice of pizza.
Toronto Raptors. Credit: Pizza Pizza
 Pizza Hut: a track record of original marketing campaigns
This isn't the first time that Pizza Hut has used its boxes to create a game. At the end of 2020, the brand partnered with advertising agency Ogilvy to create campaign in Hong Kong to mark the return of the UEFA Europa League. Their idea? That football and pizza make the perfect match. So they devised an imaginative extension of the traditional red pizza box that transformed it into a table football table.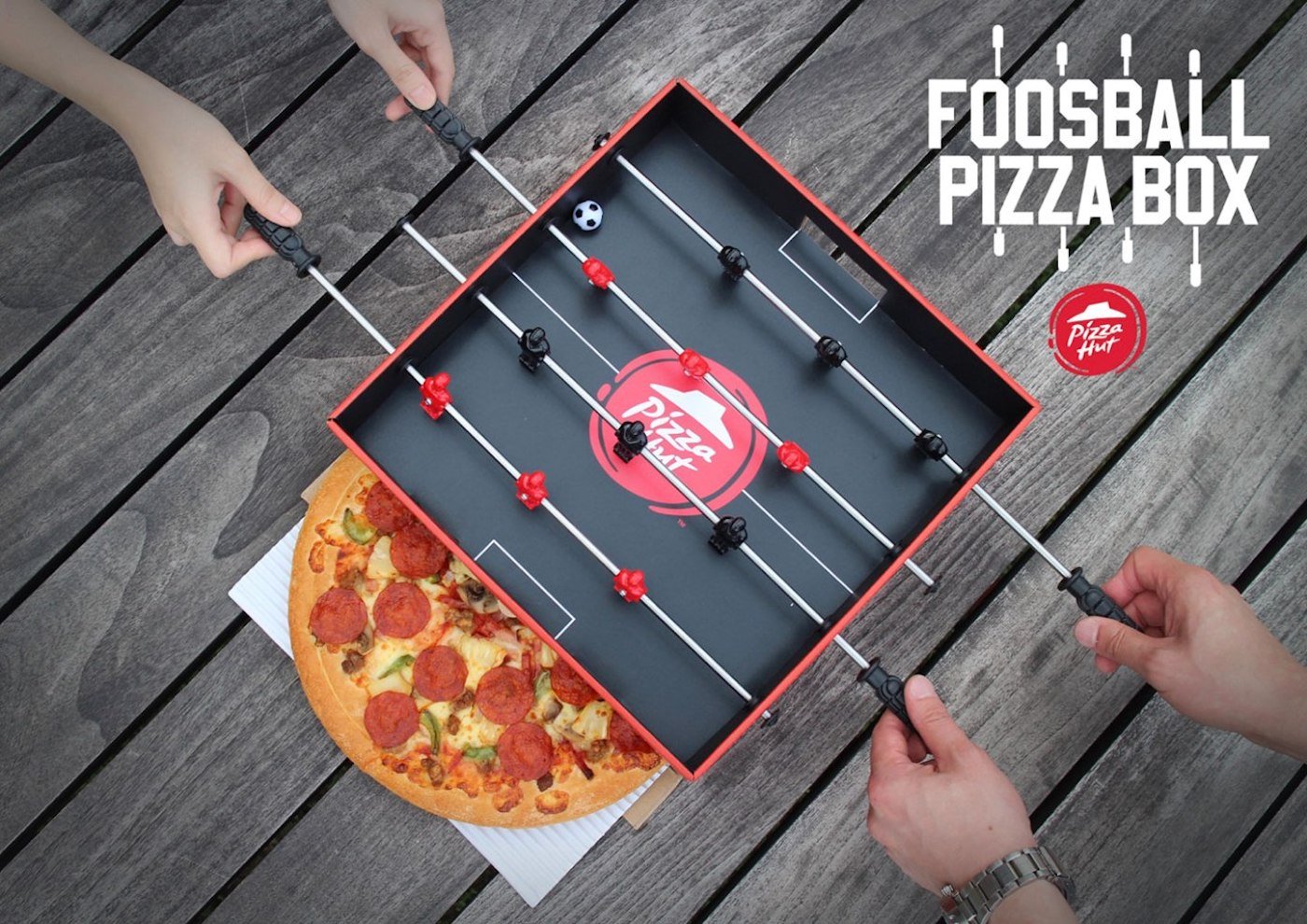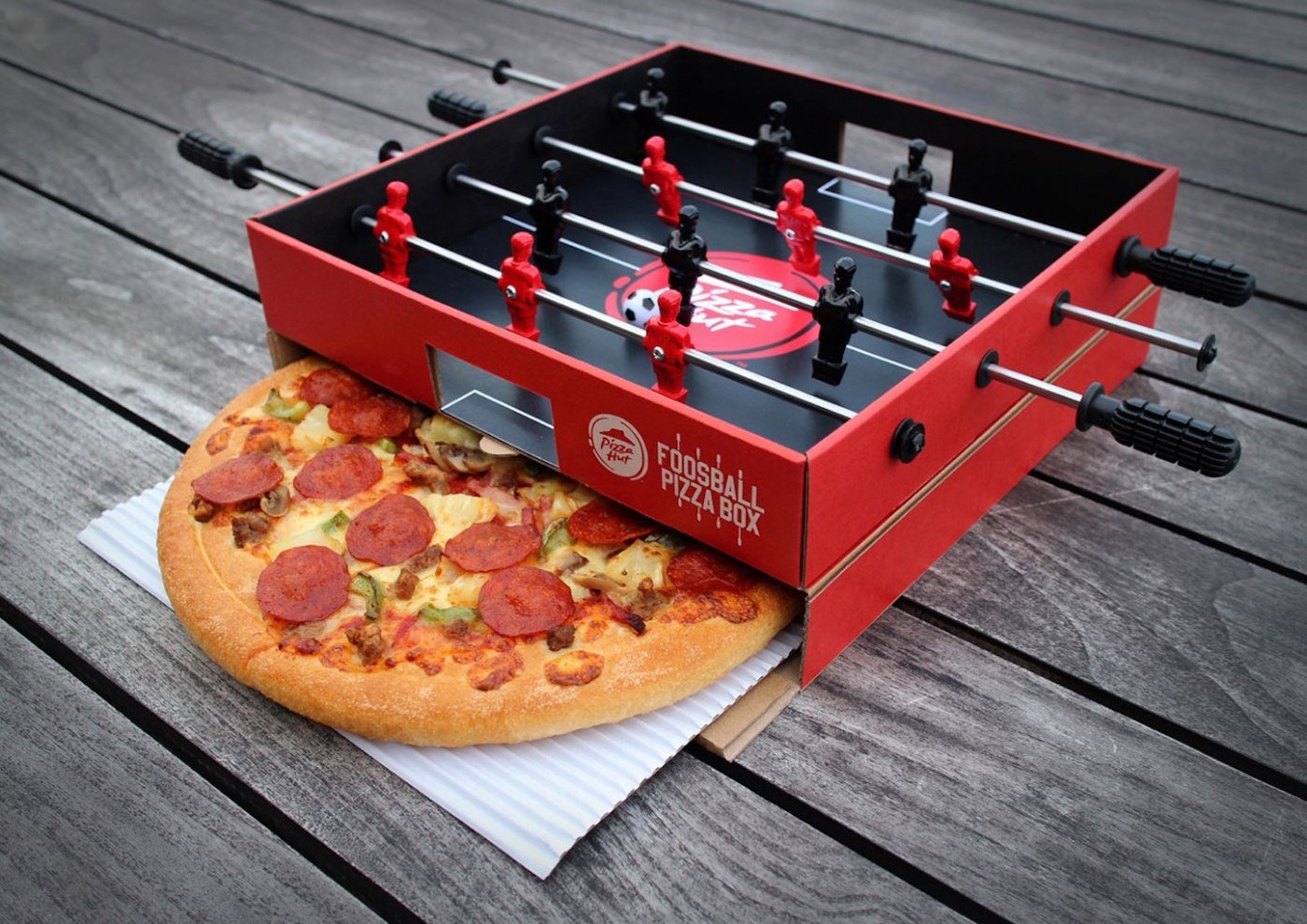 Environmentally friendly packaging
Recently, Pizza Hut also began testing a round pizza box made from vegetable fibres that is claimed to be more compostable and sustainable. Still at the trial stage, this concept was devised by start-up Zume and has been launched in the chain's outlets in Phoenix, Arizona. According to a press release from the brand: "Not only does the round box contain less overall packaging compared to a typical square pizza box, it's also industrially compostable (where available) and interlocks easily to ensure a smoother delivery." This shape should also considerably reduce heat loss, keeping pizzas hot for longer. Only time will tell whether this box will become the norm…