Plantable paper. Ever heard of it?
 Paper is our lifeblood at Pixartprinting… you wouldn't believe how much of it we handle every day! We try to keep waste to a minimum, not so much for financial reasons, but more from an ethical viewpoint. For many years now we have incorporated recycled paper into our product range, and recommend it to all customers who are proud of their green credentials – and, indeed, everyone else too!
As it's a topic very close to our hearts, today we'd like to talk to you about a type of sustainable paper that piqued our interest some time ago: plantable paper.
Plantable paper: what is it and how is it obtained?
Eco-friendly, biodegradable and… plantable! Plantable paper is made from waste materials, with the addition of seeds that, when put in soil, will germinate and create seedlings. This means no trees are sacrificed to make it, it doesn't create any waste and, most importantly, it creates new life.
To make things clearer, let's imagine going into a workshop that specialises in producing this kind of paper, and observing the various stages of the process:
It all starts with waste paper, or the fibres obtained from previously used paper or card.

The waste paper is soaked in water for around 48 hours, then shredded to create a pulp.

The pulp is placed in containers full of water, and various types of seeds are added – such as poppy, daisy or lavender or even edible plants like carrots, basil or rocket.

The pulp is sieved and then pressed to remove the water and bind the fibres together, creating new paper.
(NB: This is just one approach; different workshops may decide to use different methods, to give the paper their own 'trademark' appearance).
What does plantable paper look like? We think it looks amazing: it has an irregular surface that is rough to the touch, a natural colour, and a texture embellished with seeds that are visible to the naked eye. Some varieties are even decorated with small coloured petals. But the most interesting thing is that each sheet is unique, as they stem from an artisan process.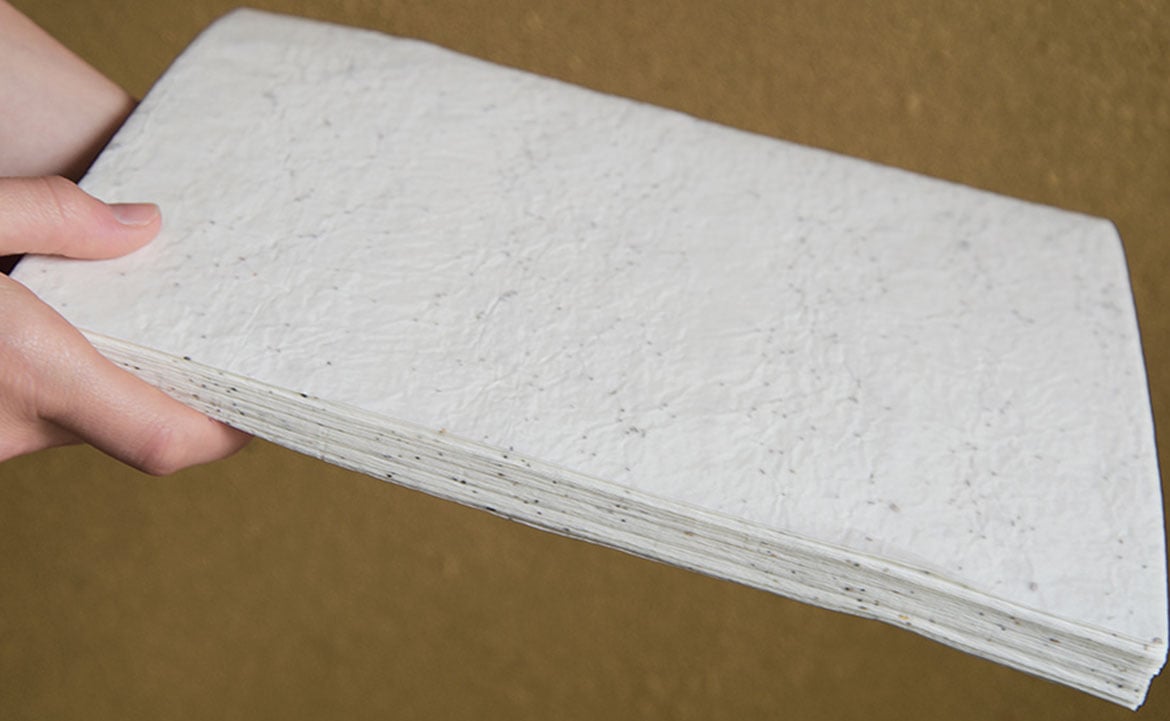 Now let's visit the home of someone who has received, let's say, a card made of plantable paper, and who wants it to germinate. Let's take a closer look at how the planting works:
The paper must be left to soak in a bowl of water at least overnight, before being broken up into small pieces. Incidentally, the soaking isn't always required: some types of paper can be placed in the pot as they are.

The paper is placed in a pot, covered with a thin layer of soil and exposed to the light.

The earth must be kept damp for at least the first few days after sowing.

Once a certain amount of time has passed, the first green shoots will poke out.
A new life has begun!
How to use plantable paper. A few hints…
By adopting plantable paper, a business is saying that it cares about environmental issues. But what's the best way to use it? We're tempted to say… with common sense! Don't choose it simply to win favour with the public, because the risk of appearing hypocritical and losing trust is always just around the corner.  Only choose it if your company truly believes in a green philosophy, and puts it into practice.
You can make anything with plantable paper: invitations, flyers, greetings cards, place markers, envelopes, notebooks, labels, the list goes on. Having said that, it's probably not a great idea to use it for business cards, unless you want to see your contact details turned into compost!
A few tips about printing: we recommend using an inkjet printer for plantable paper, or alternatively letterpress printing or screen printing. It is best to avoid putting too much pressure on the sheet, or exposing the seeds to high temperatures. And it is obviously preferable not to cover the entire surface of the paper with ink, as this could damage the seeds.
Where can I buy plantable paper?
Finally, given that it is not as easy to come by as traditional paper, here are a few places where you can purchase it:
Seed paper

: Their seed paper is handmade using a process called Dutch Stacks, using waste cotton fibres from the textile industry. The paper comes in two different weights – 140 and 225 grams – and the seeds are selected for easy germination.

Botanical Paper Works

. This is a very well stocked online shop featuring all kinds of products made of plantable paper. You'll also see a video tutorial on the site that explains how the planting stage works.
Simply type "seed paper" into the search bar and you'll be shown various products made of plantable paper, from white sheets to ready-made greetings cards.
Don't forget that as well as plantable paper there are lots of other types of recycled paper that offer an equally sustainable choice. If you'd like some advice on which type of recycled paper best suits your project, we'd be very happy to help!