Lightweight, versatile and easy to produce: these and other qualities have made printing on Dibond aluminium popular with advertising agencies, designers and interior decorators for over 20 years.
But what is this material exactly? What are the advantages of printing photos on Dibond aluminium? How can you print Dibond aluminium using online resources? We answer these questions in this article on rigid panels. If you're looking for the right rigid panel to print your art work on, we also recommend our article "Everything you need to know about Forex®, the perfect material for panels".

What is Dibond aluminium?
Dibond aluminium is a so-called "sandwich" panel comprising two very thin outer sheets of aluminium – usually about 0.3 mm thick – inside of which is a polyethylene core. Special polyester paint is used on the outer surface for increased durability and resistance to the elements.
The total thickness of Dibond aluminium panels varies from 2 mm to 6 mm. With Pixartprinting, you can print on Dibond aluminium that is 3 mm thick.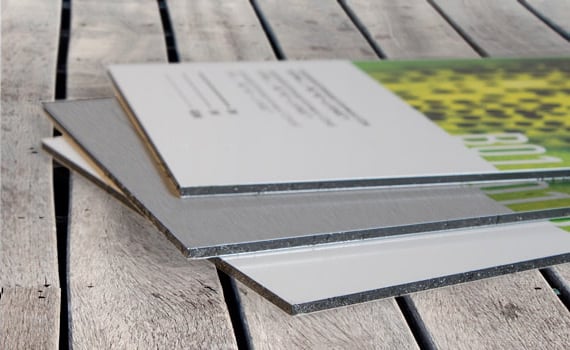 A brief history of printing on Dibond aluminium
Dibond aluminium printing was born in Singen, southern Germany, a small town near Lake Constance and the Swiss border. Although Dibond aluminium was patented by 3A Composites at the start of the 90s, its origins date to the turn of the 19th century.
At the time, in Singen, chemist Erwin Lauber, engineer Albert Gmür and entrepreneur Robert Victor Neher developed a technology for producing rolls of thin aluminium strips. Fast forward to 1969 when, still in Singen, panels made from aluminium and plastic were invented: they were initially used in architecture, but it didn't take long for their potential usefulness in advertising to become evident. They were called Alucobond panels and were the predecessors of the Dibond panels that would be created 20 years later by modifying Alucobond panels specifically for use as advertising signs.
The advantages of printing photos on Dibond aluminium
Because of the durability and toughness of Dibond aluminium, printing photos on this material is ideal for producing outdoor posters or stands for trade fairs and outdoor events. Dibond was in fact specifically created for advertising signage.
The panels can be cut, shaped, folded and assembled extremely easily, while staying strong and stable. These qualities make printing photos on Dibond aluminium suitable for interior design too, exploiting the colour and solidity of aluminium for the interiors of shops or homes.
Other benefits of printing on Dibond aluminium are that it's a lightweight, self-extinguishing material (rated class 1 for reaction to fire) and it is extremely flat.
That said, compared to other materials, like Foamex or Plexiglass, Dibond panels are more expensive but they ensure excellent quality and durability while being very thin.
When is printing photos on Dibond aluminium the right choice?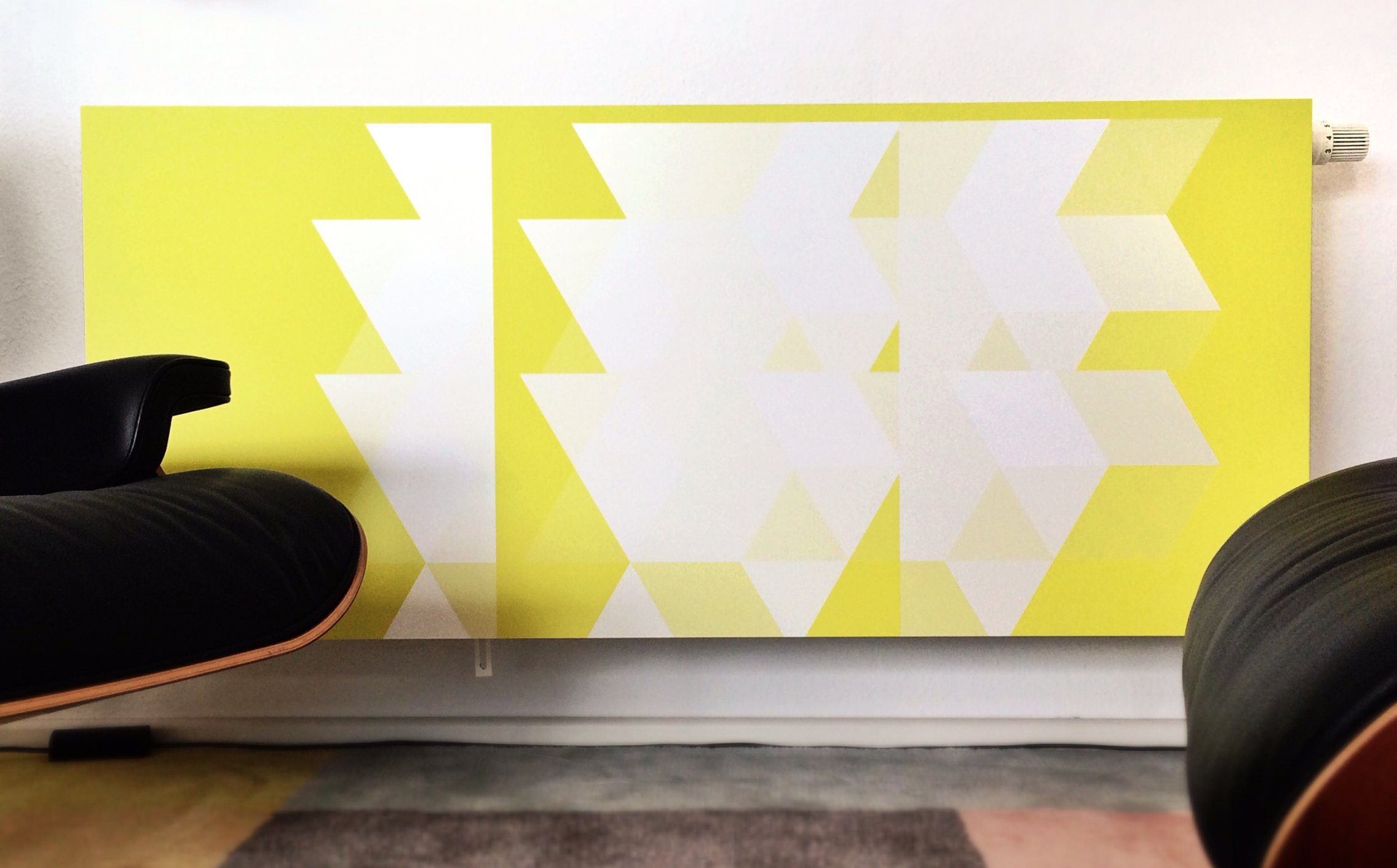 When should you choose printing on aluminium over other rigid media? Here are two examples:
Outdoor signs: printed Dibond aluminium for outdoor use is guaranteed for three years by Pixartprinting. If you need to create a sign for your shop, an advertising poster or an outdoor display for a stand – one that's reusable over the years – printing on aluminium could be the right choice for you because of its durability.
Interior decoration: printing photos on Dibond aluminium could be the right choice for you if you want to add a modern touch to the interior decoration of your shop or home. Because it's lightweight, easy to shape and fold, Dibond can give you new ideas for interior design.
Printing on Dibond aluminium with Pixartprinting
Online-generated Dibond aluminium printing with Pixartprinting is a great way not just to print photos on aluminium, but also for creating outdoor signs and interior decorations.

On the Pixartprinting website, there are two options for Dibond printing: white aluminium or brushed aluminium, both 3-mm thick. White aluminium panels are made from sheets of white aluminium on which you can print your photo or image. Brushed aluminium, on the other hand, features the modern look and feel of aluminium on the printed side and is white on the back.
For printing photos or other images on Dibond aluminium, you can choose various formats, either square or rectangular. The smallest standard size is 50×50 cm for square formats and 50×70 cm for rectangular formats. These are ideal for printing photos or posters for external use. The largest size is 140×140 cm for square formats and 140×100 cm for rectangular formats. These are perfect for creating outdoor signs for shops or events. Customised formats are available too.
With Pixartprinting, online-generated Dibond printing is only possible on one side of the panel. Another interesting option is the possibility of shaping the panel in the form you want, such as a circle, oval, star or a more complex design. As you'll see from reading the instructions for preparing your files for printing on Dibond aluminium, there are things you need to keep in mind when shaping your panel:
Don't create overly complex outlines: this may result in uneven and imprecise cutting
The outline of the shape must consist of a single, unbroken line
The minimum radius at the corners is 10 mm and the minimum cut width is 40 mm
As always, we recommend you carefully read the instructions for creating files for printing on Dibond aluminium and choose our Professional File Check service to make sure you send a file that's suitable for printing.