"Fantastic Creatures and Where to Find Them"
It's a title which gives a nod to the fantasy world devised by J. K. Rowling, as well pause for reflection.
Strange and imaginary creatures have populated bestiaries since antiquity. These animals, with all manner of forms and features, have always represented human attempts to make sense of the tumult in both our outside and inner worlds.
Creating and imagining fantastic creatures is something that humans have done since the dawn of time.Still today, urban myths tell of albino alligators living in the sewers below cities, or ravenous coyote-like beasts that roam the countryside preying on flocks of sheep.
But Stefania wanted to go further.
Her creatures, her imaginary monsters, are part of personal path towards interior and exterior growth. They are part of a journey, an adventure of mind, body and soul. Her first comic, "Moon", is this and much more.
It marks the completion of her studies, a phase in her life that opens the way for a creative future full of experimentation and personal and professional growth.
Stefania has not just completed a comic album stuffed with imaginary creatures, but finished an education that will propel her into the world of creative work, of storytelling and illustration.
We explore this journey and hear, in her own words, how she created her comic.
Enjoy.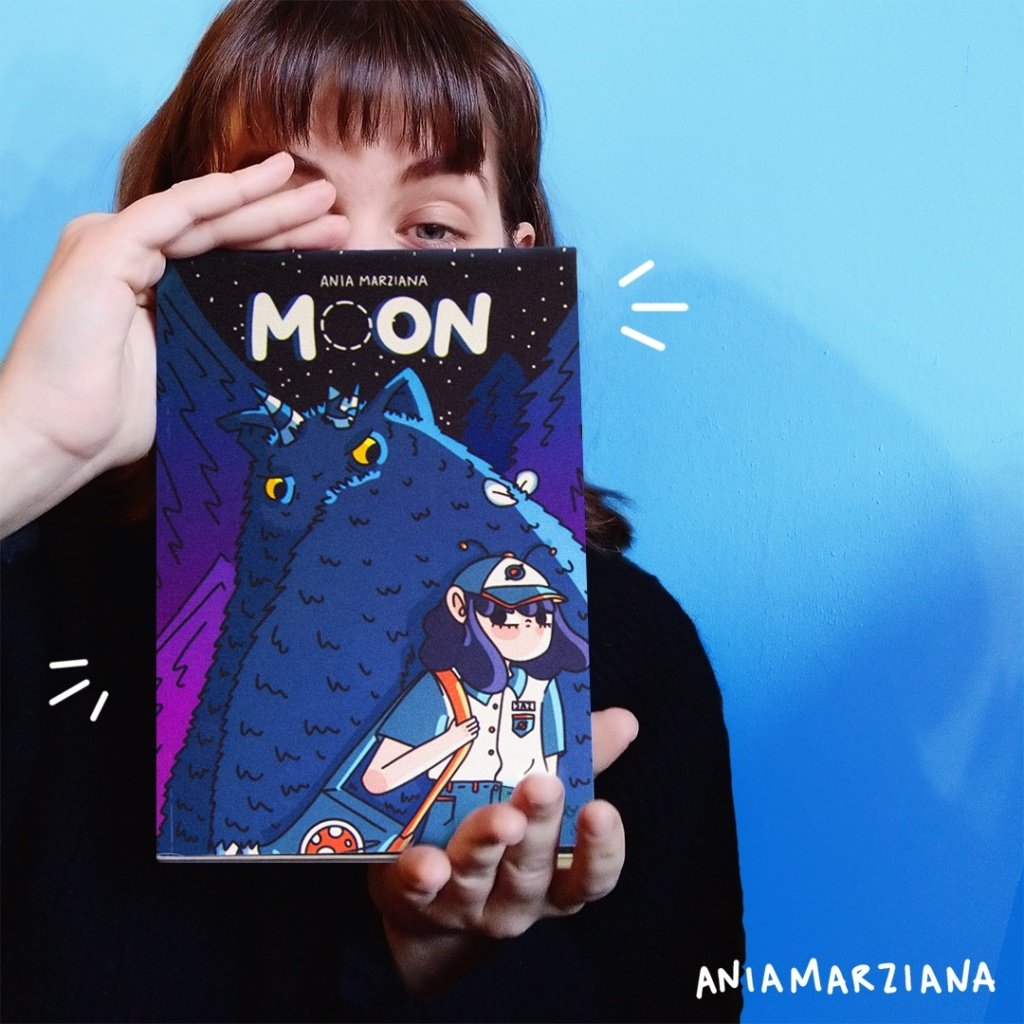 Who are you? Tell us about yourself: your dreams, aspirations and talents. A short but faithful portrait!
Hi! My name is Stefania, but in art I'm better known by the name Ania Marziana. I'm 24, I'm an illustrator and graphic designer about to graduate in Multimedia Graphic Design. My ambition is to work – as I've already done a bit – in my field, and, above all, to keep broadening my horizons and skills.
Before telling us about your idea, can you explain to our readers what you produced using our printing presses?
I created my comic, "MOON", numbering a hundred odd pages, as part of the project for my degree dissertation. I used Pixartprinting to print both the comic and the dissertation itself, which includes sketches, notes and all the other work that I did.
Let's start from the beginning. Where did the idea behind this project come from? Is there a particular story behind it?
As it happens, the idea was born out of my dissertation project, but I've always wanted to tell stories. Drawing is a skill that I've developed in recent years. I had people around me who drew, particularly comics, and it looked like great thing to do, so I started drawing things badly, until I improved one step at a time. But I've always loved stories; I like any type of story there is (if it's good), so books, films, TV series, comics or novellas.
Once you had found the right idea, you had to set a goal. What did you hope to achieve? What was your objective?
I wanted to produce MOON to the best of my abilities, both in terms of story and drawings. The funny thing is, I also didn't have much time: in two months, from scratch, I had to complete the project, print it (so also take into account printing times) and hand it in for my degree. It was hard work, but I did it; it was like growing up suddenly, in a month.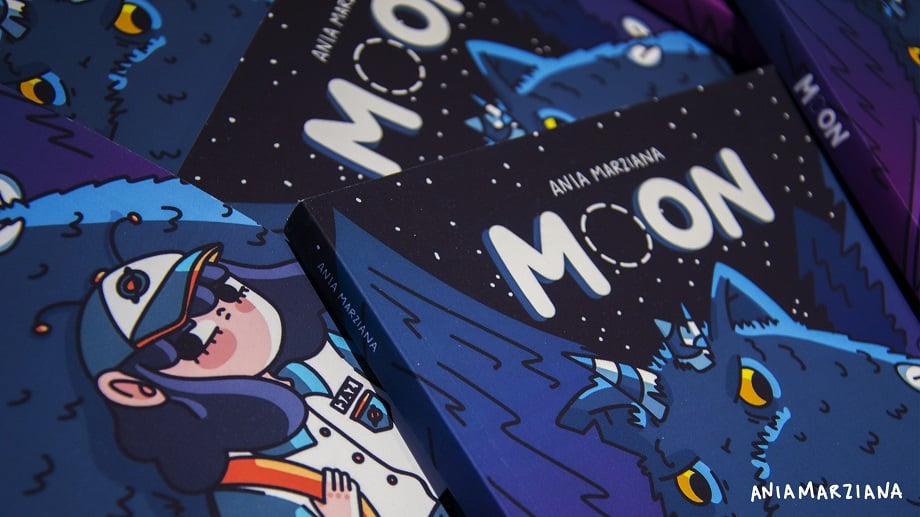 How did you turn your project into reality? What were the design phases and how many were there? Tell us about the process that brought your idea to life and how you made it ready for printing.
First, I got my ideas together, and looked for one that would make a good story. I took inspiration from what I love and from conversations that I had with all sorts of people. Once I'd found the concept, I wrote the script and then started storyboarding. After a few days, I knew what the story was, and that I'd have to create 90 pages of drawings in a couple of weeks, then colour them in good time and print everything. So, I began drawing all the pages, which took about 20 days. It took another two weeks to colour everything, then I laid out the book and send it to press. After that, in the 10 days or so I had left, I wrote and laid out all of my dissertation, which included all the work I had done, my ideas, sketches, some final drawings, the process, the colours, the characters and everything else. I hurriedly sent it to press and then, three days before the deadline, I took everything to the Academy.
How did you use print on demand to produce your design? Which materials did you choose and why?
To match my graphic style, I needed a super white paper, so I opted against standard paper and instead went for 170 gsm paper. For the cover, I chose soft-touch lamination, an effect that I've always liked. For the cover of the dissertation, I chose 3D varnish to emphasise the title.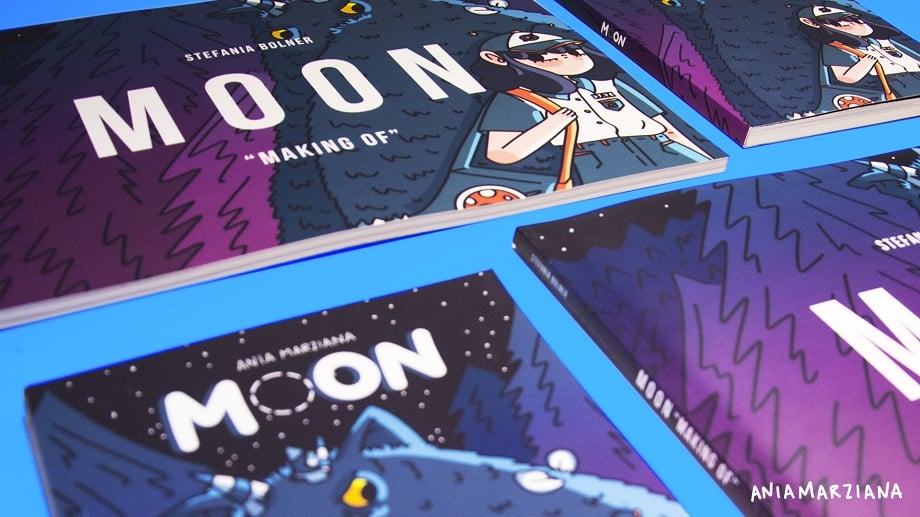 The time has come to use the printed products! In your case, a comic book that's part of your degree dissertation. How did you feel flicking through it?
Extreme satisfaction at having achieved a challenging objective, as well as the desire to get everyone to read it. The story is about imaginary monsters and nostalgia, but also personal growth and taking responsability. It contains everything I connect with my twenties, everything that I like and feel, which is why I want to share it, and even submit it for publication, in the hope that it's good enough.
This is only the start! What other projects do you have planned for the future? Can you share them with us?
I'll definitely continue doing what I've been doing. I've got lots of projects, personal and otherwise, a real desire to work and lots of new ideas. I hope to grow my skills and never stop, to create comics and never lose the energy that keeps me moving forward with my head held high.
For anyone interested in following my projects, my Instagram profile is @aniamarziana_
I'd like to thank the staff at Pixartprinting for their work and for this interview.
Ania Marziana