If you're running any sort of business you will know the importance of being visible to your potential customers. One of the ways to do this is through social media. Here are some ideas to help you find, curate and create your own content, as well as suggestions of how to schedule it.
How to curate content
Curating content simply means finding content that someone else has created that you think will be of interest to your target audience. You then share that content, but you can also add your own thoughts on the topic.
Bookmarking content with Pocket
One of the easiest ways to collect together content is to use an app like Pocket. Pocket is available for both desktop and mobile and is a bookmarking app. Once installed on your browser (eg. Chrome) you will see a little icon near the top of your browser window. If you happen to spot an interesting article related to your industry just click the Pocket icon and the link will be saved. Pocket is also useful to use in conjunction with a Feedreader which we will go into more below.
Finding sources to curate content from
To curate content, we first need to think about what websites or blogs would be interesting to our audience. Make sure that they are not in direct competition though. For example, if you make or sell handbags, you might search for beauty or fashion related websites. Collect together a list of the best URLs from the ones you find.
You can also search for content on Medium and find users that create regular content within your niche.
Use a Feed Reader
So now you should have a list of several URLs related to your industry.  It would be pretty time consuming if you had to visit each site every month and look through their latest posts. That's where a Feed Reader comes in. A Feed Reader lets you add all those URLs so you can see at a glance all of the latest posts from those sources in one list. There are lots of different Feed Readers, some paid, some free. One of the most well-known ones is Feedly, but Inoreader is also good and has fewer limitations to the free version, however the adverts are a little annoying. So choose whichever one best suits your needs.
Once you've signed up for a Feed Reader you can start adding in the URLs that you found. You can also search for more sources from within the Feed Reader itself.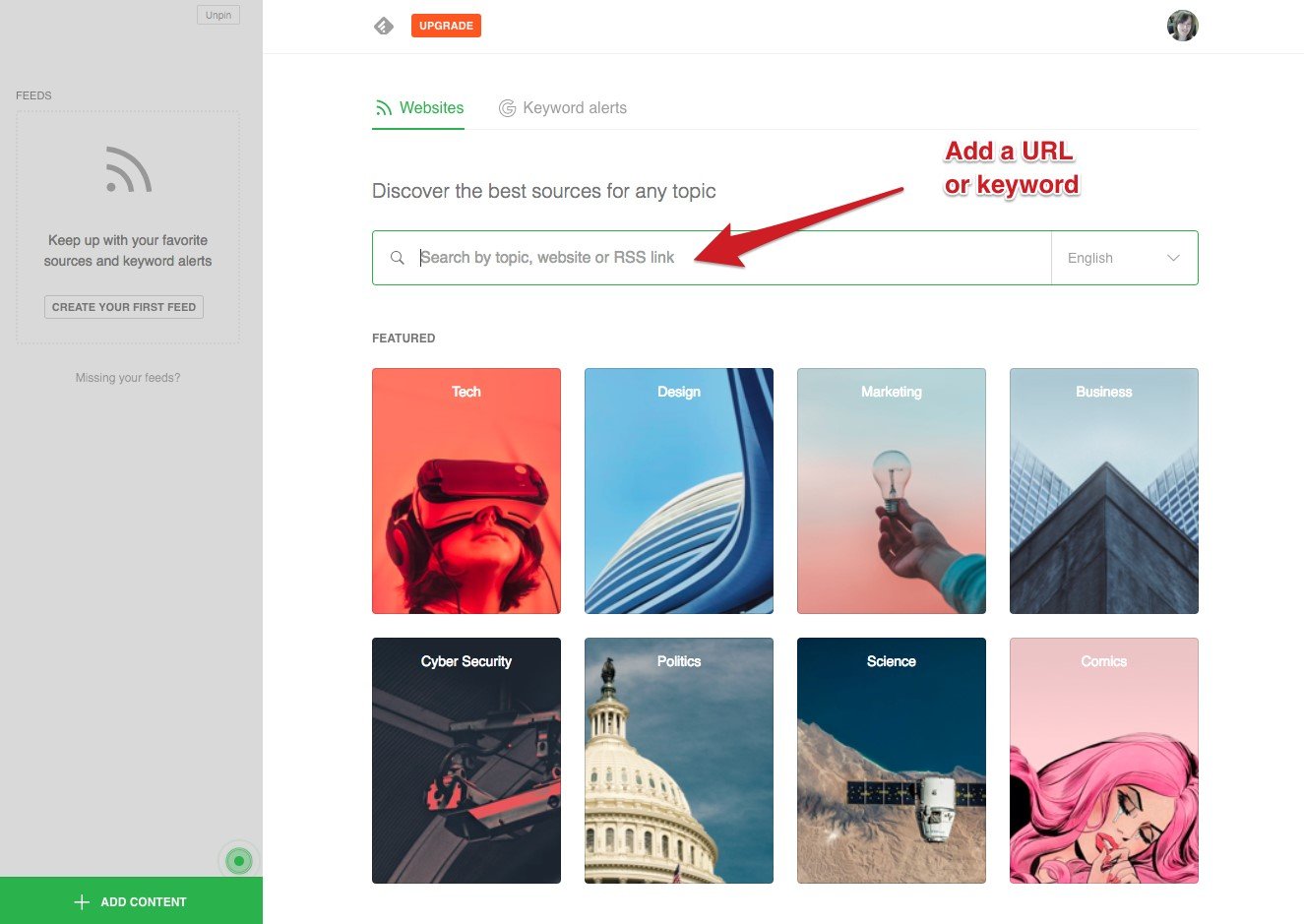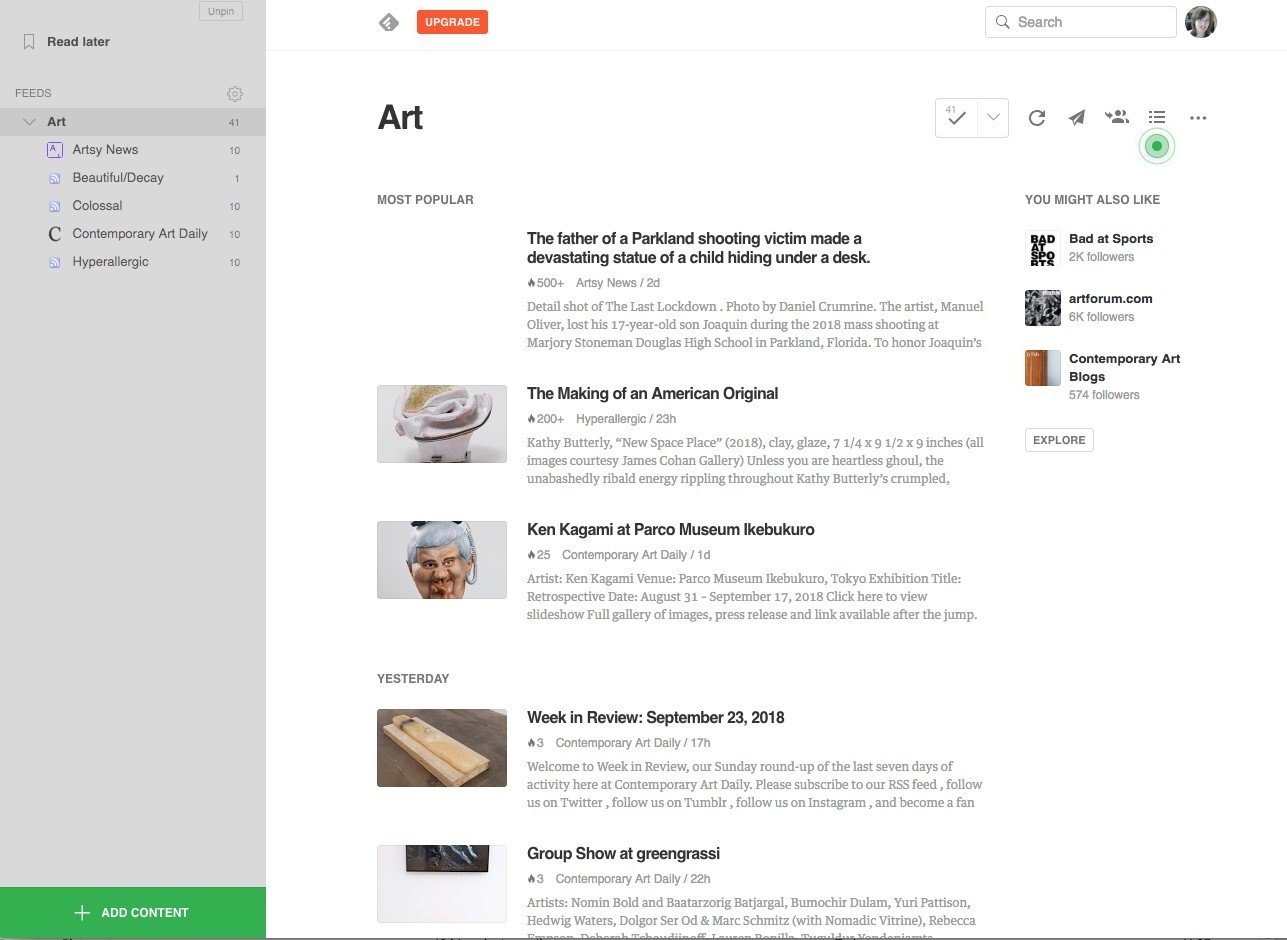 So each month (or how every often you schedule your social media) look through the list of feeds in your Feed Reader. Click on any interesting ones and then bookmark them with Pocket.
Do a Facebook search for shareable content
Facebook is also really useful for curating content. In Facebook's "search" type a keyword related to your industry. Then use the tabs to look at videos, posts or photos. If you see something that might interest your audience, open up the post and then bookmark it with Pocket for later.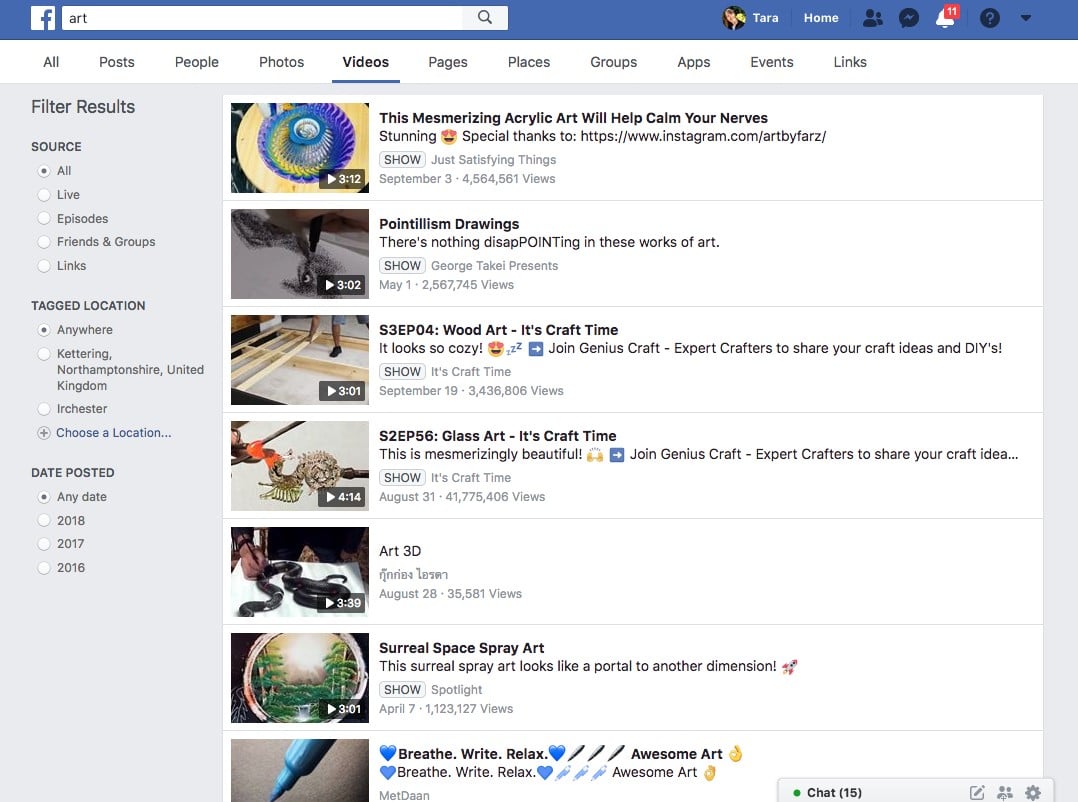 Using Twitter to Curate Content
Twitter is also a good source for curating content. In an app like TweetDeck or Hootsuite you can set up searches for keywords or lists of Twitter users. Then comment on interesting content and schedule it to retweet.
Paid services to curate content
As well as the free curations methods I have mentioned, there are also some paid services which give you more information about the content.
Services like Epictions and Buzz Sumo let you search keywords and find potential content to share. They will also tell you, how many shares, likes, etc and you can view who shared it. The idea being, that if you know the content is trending and popular it's more likely to be well received by your own audience.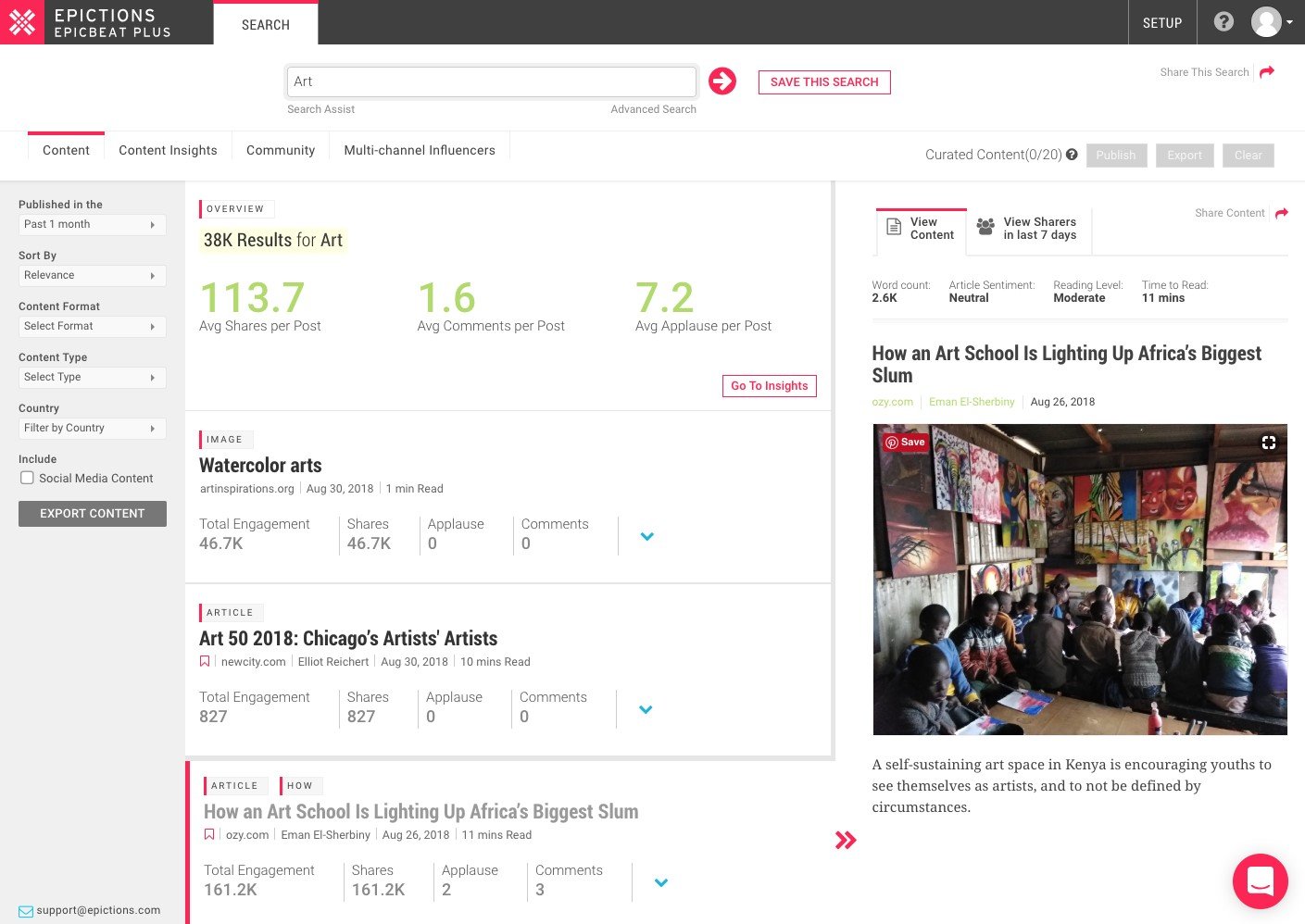 Quuu is another paid service which can automatically find and post content to your social profiles based on your chosen keywords, without you needing to do anything else.
When you share your curated content, do it in a way that invites comments. You can do this by asking opinions or questions where you can.
Use other people's content to create round-up blog posts
You can also use the content that you've found to create round-up blog post such as "10 tips on XXX this month". Then you take the headline and link to each external article and write a paragraph of your thoughts below. That way you can share this on social media which will drive people to your website first, rather than directly to the content you're sharing. You will also be perceived as an expert in the niche.
So now you should have a lot of potential curated content ideas ready to schedule, including all the articles that you have bookmarked in Pocket. The image below shows art-related content which has been bookmarked in Pocket.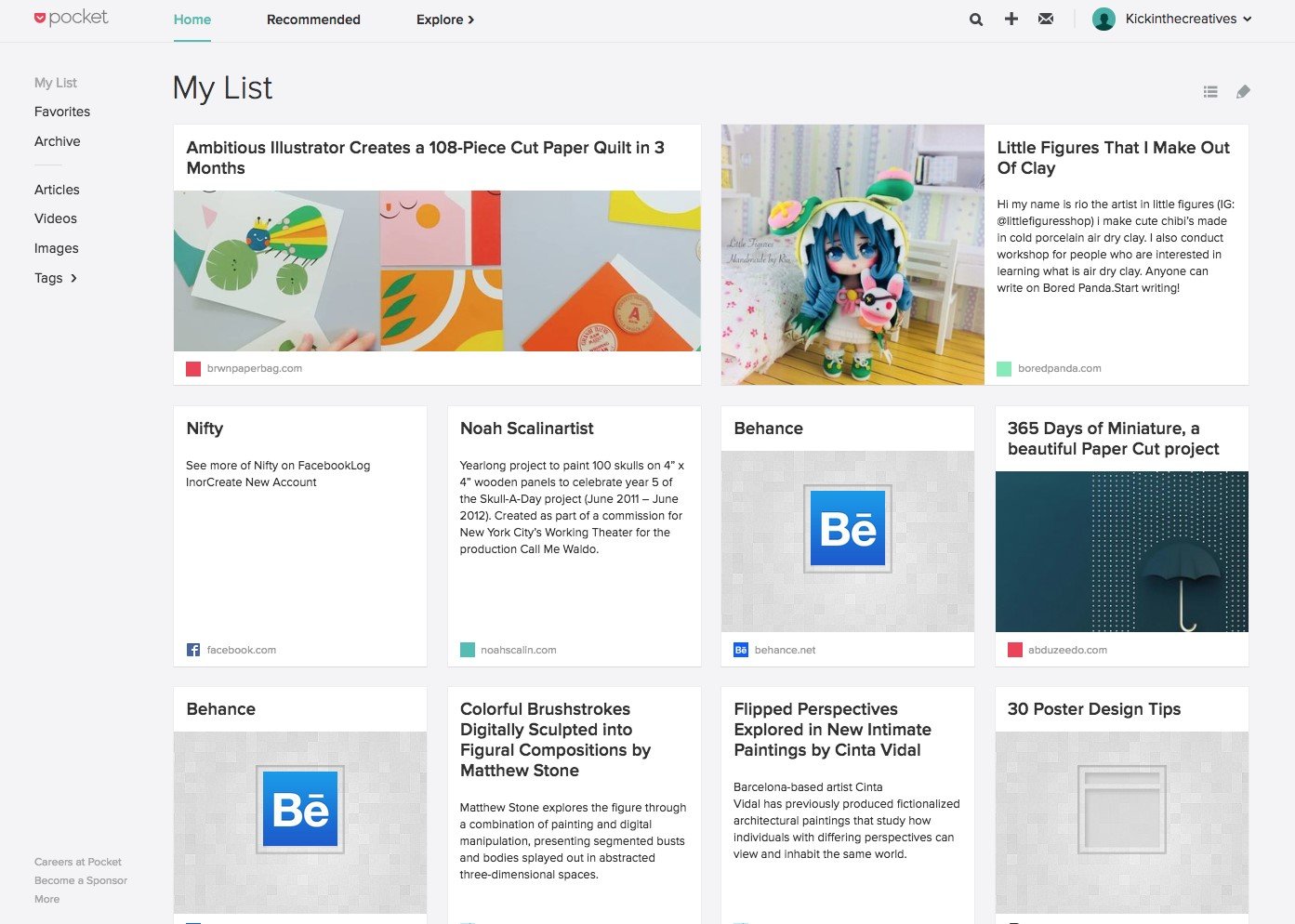 How to create your own content
To create your own social media content start by brainstorming ideas. Here are some suggestions to get you started. See how many ideas you can come up with for each.
Think about things that you can share from your day to day business life

Ask questions to your audience. For example which they prefer A or B

Share some behind the scenes images or videos of your business

Create a competition to win your product or service

Create fun quizzes loosely related to your industry

Share personal stories that other people can relate to

Have infographics made to explain something related to your business

Share blog posts that you create
Create social media graphics or videos
Now that you have brainstormed your content. Decide how you are going to present it to your audience. It could be in the form of text, live videos, recorded videos, audio or images.
Use Canva to create social media graphics
Canva is an app to create graphics that has a very small learning curve. If your designs skills are not that strong start with one of Canva's templates and adapt them to your needs. Canva has made it easy to create social media posts by having the templates pre-sized for different social media platforms. Within Canva you also have access to free royalty free images you can use within your post. Once you are happy with your design, download it ready to schedule later.
Create simple image-based videos
There are lots of simple video based apps that will allow you to quickly put together images and text or audio to make videos. A couple of simple ones you might want to check out are Ripl and Headliner. There are also more advanced apps for video editing such as LumaFusion.
Creating a social media schedule
Now you've got together some potential content for social media it's time to start planning when you want to schedule it. There are a lot of different ways to do this such as; using Google Calendar, creating a spreadsheet, or the method I prefer which is to use a Word Document. I like to list what content I will post each day of the month with headlines, links and a note about any image or video I will use. Some of the social media scheduling tools also have their own built-in visual calendars
Scheduling Social Media
There are numerous different social media scheduling services both free and paid. For the free way, you can schedule Facebook posts directly from Facebook and Twitter posts can be scheduled from Tweetdeck. Many of the commercial social media schedulers also have free versions with limited posting which will let you schedule posts to Facebook, Twitter and Instagram.
The most well known paid scheduling services are probably Hootsuite and Buffer, but there are lots of different ones to choose from. It all depends on your budget and how many posts you need to schedule each month. The benefit of a paid service is that everything can be done in one place and you can set the similar content to post to multiple platforms at the same time.
Once you have decided on your method use the social media schedule you created earlier and input all your content in your chosen service.
Of course, creating and sharing content is only part of social media. You also need to make sure you respond to any comments on your own posts and actively take part in other people's conversations.