While rereading our article dedicated to great contemporary illustrators and browsing various social networks, articles and art catalogues we ended up spending quite some time in the company of other leading illustrators, so we thought we'd discuss them in this article.
To avoid overwhelming you with images – you won't believe how many we flicked through! – we gave ourselves a theme. Actually, in truth, we gave ourselves three: summer, love and holidays. Dive in and enjoy the images.
Lorenzo Mattotto's bright colours
You don't need to be an art, illustration or comic connoisseur to recognise the work of Lorenzo Mattotti. He is one of Italy's leading illustrators, and the first to be recognised and appreciated abroad. He started out as a cartoonist in the 1970s, and in the 1980s founded the Valvoline group with some other illustrators. His style is immediately recognisable, thanks in part to his attentive use of oil pastels on grained paper. The oil pastels provide bright colours, while the grained paper brings out the colour's tactile quality. These two aspects give his images striking colours, even when they are reproduced in magazines.
This is the illustration that appeared on the cover of The New Yorker in 2006, depicting the artist's memories of his travels in Argentina. It features a man and woman in a park with exotic plants in various shapes and colours, just like the ones that can be admired in the gardens of Buenos Aires.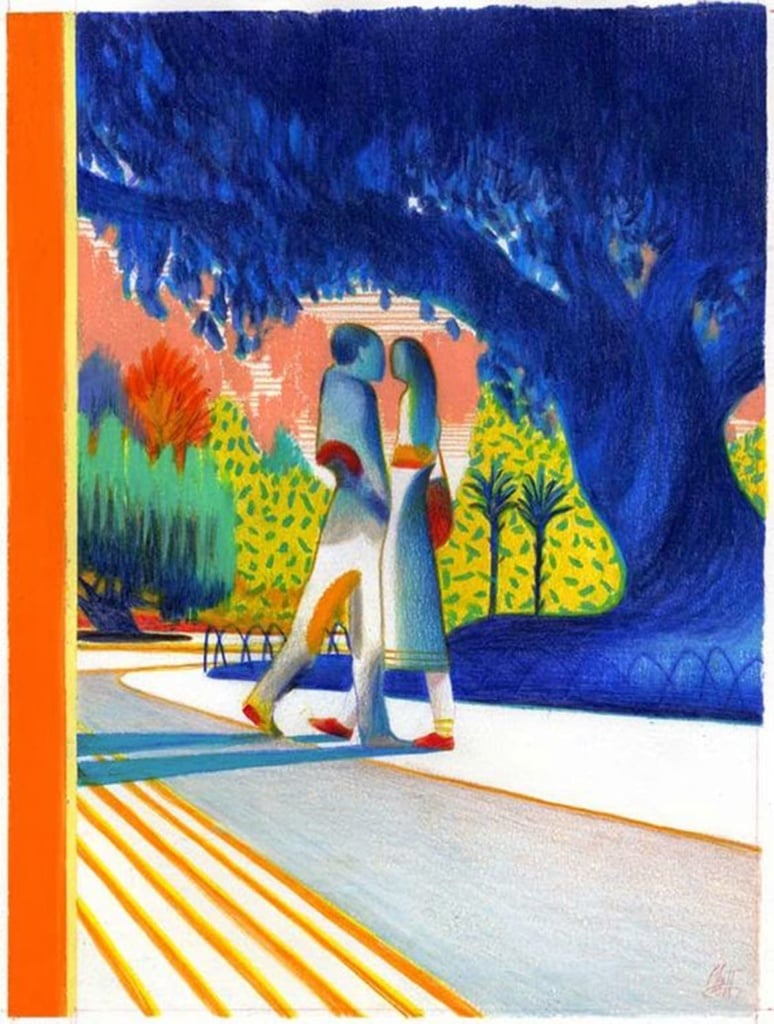 Here, meanwhile, is a subject that Mattotti returned to time and time again in his illustrations – nude figures in water. The forms are soft and curvaceous, while the colours are bright and bold.
In summer 2010, The New Yorker commissioned him to create a cover related to Tuscany. The result was this illustration, which depicts a typical tree-lined Tuscan avenue, with rows of maritime pines. A red convertible zips along the road with a couple inside, probably two tourists enjoying a holiday in Italy.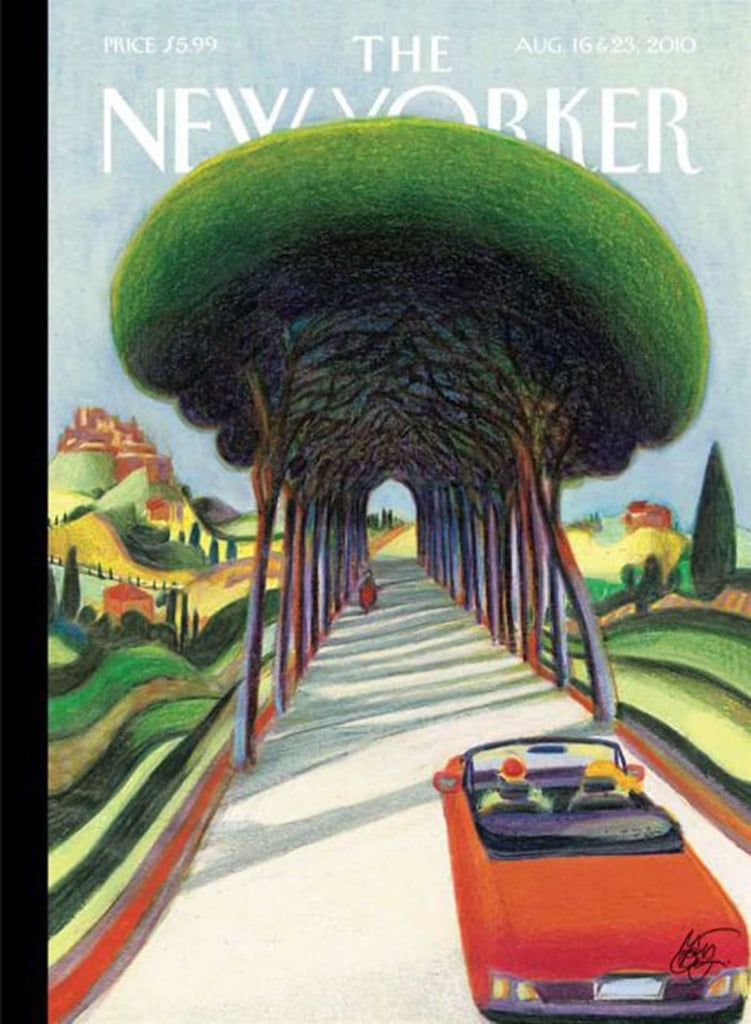 Beppe Giacobbe's conceptual illustration
Beppe Giacobbe is a multi-award-winning artist, and one of the forefathers of conceptual illustration. His works have appeared all over the world. In Italy they have been published by RCS, Corriere della Sera, Einaudi, Mondadori, Orecchio Acerbo, Lazy Dog Press, Chiarelettere and Laterza. In France they have appeared courtesy of Nathan, Édition du Rouergue, Bayard Editions, Courrier International and Éditions du Seuil. In the USA Simon & Schuster, HarperCollins, Los Angeles Review of Books, Washington Post and the Wall Street Journal have published them, and in the UK they have been published by Phaidon and CNN, to name but a few.
We highly recommend browsing his illustrations, which you can find on his website or Instagram profile. The one we'd like to show you was produced in 2016 for CNN, for a special report on the history of Italian manufacturing. The image features a red Vespa scooter, moving alone across an expansive beach, ridden by a couple, locked in an embrace, with her sitting in a position that was common in the 1950s, with her hair blowing in the wind and the sun on her face. A typically Italian scene that takes the reader back in time.
Emiliano Ponzi, love at a distance
We've discussed Emiliano Ponzi in this blog before. Despite his young age, his illustrations have already travelled far and wide – his CV includes collaborations with major brands (including Armani, TIM, Cartier and Ferrari), major newspapers (such as La Repubblica and Il Sole 24Ore), magazines and publishers (including illustrations for works by José Saramago and Charles Bukowski). As for his style, along with Shout and other Italian illustrators, Emiliano Ponzi is one of the most talented producers of the conceptual and minimalist Italian style that has become popular in the USA.
Let's enjoy some of his images depicting love, which in his case always involves a certain distance, sometimes unbridgeable, between the two lovers. This is the illustration that accompanied the short story Say Her Name by Francisco Goldman in the New York Times.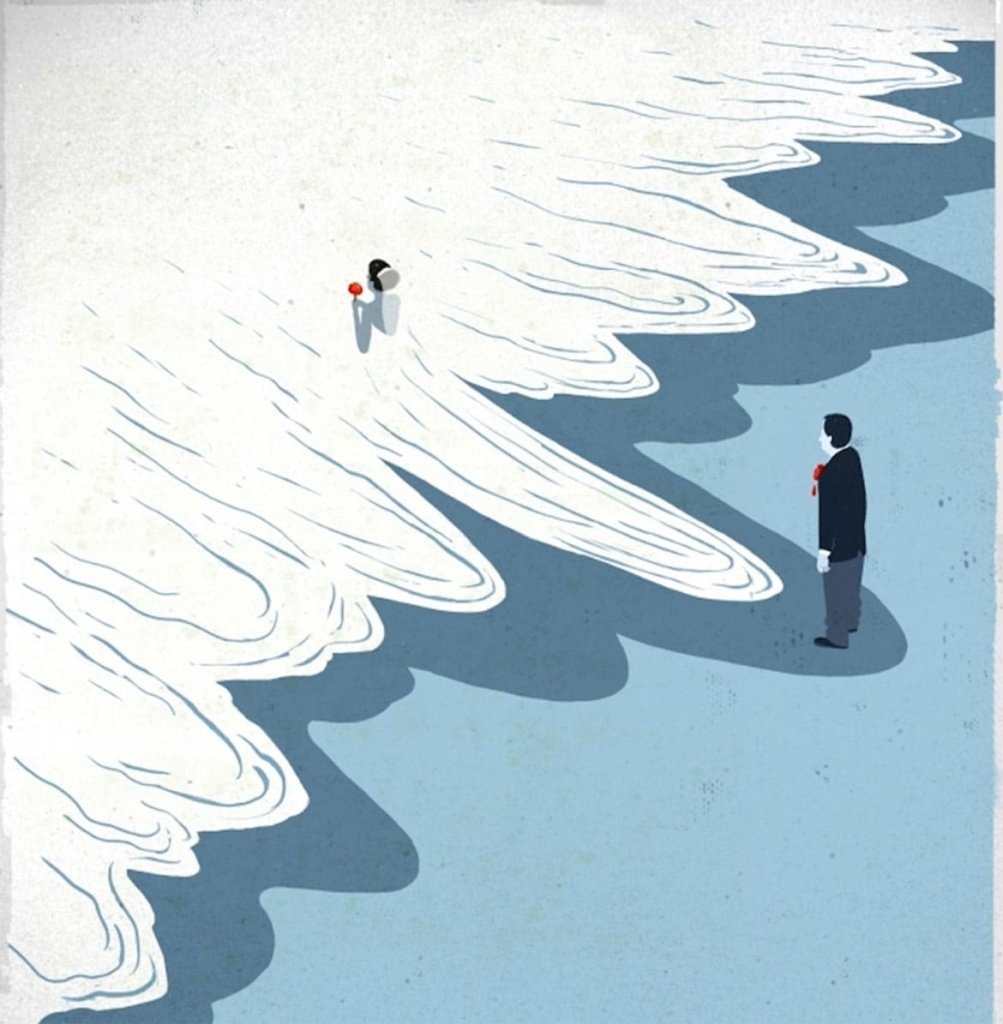 This, meanwhile, is the beautiful cover of Lucilla Noviello's book L'amore in nero, published by Zines.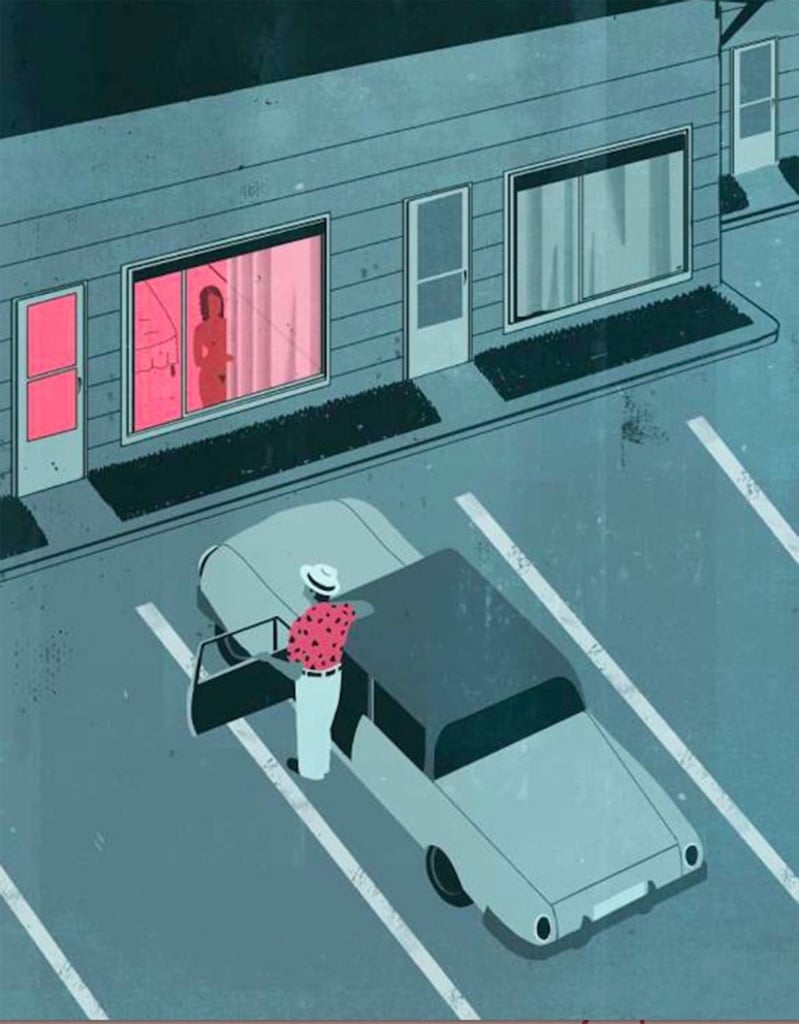 In The perception/misperception of words, an illustration created for Robinson, La Repubblica's cultural supplement, love is depicted as a painting to be contemplated.
Alessandro Gottardo A.K.A. Shout
If you like Emiliano Ponzi's work, we reckon you may also appreciate the illustrations of Alessandro Gottardo, better known as Shout. His style may be familiar, as Shout works with various magazines and supplements, including Internazionale and Il Venerdì in La Repubblica. Shout, just like Ponzi, works using a process of subtraction – his images are minimalist and seem to transmit a sensation of peace, calm and silence. The calm and silence of an afternoon spent with one's partner by the side of a sunny swimming pool.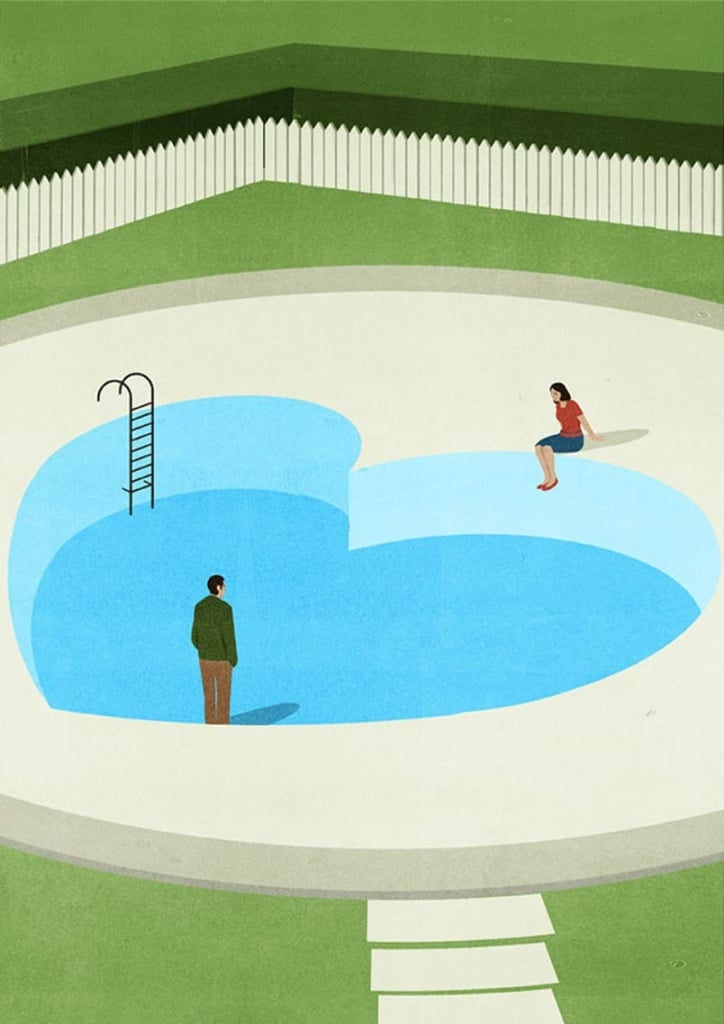 Or on the beach, showing affection by the sea.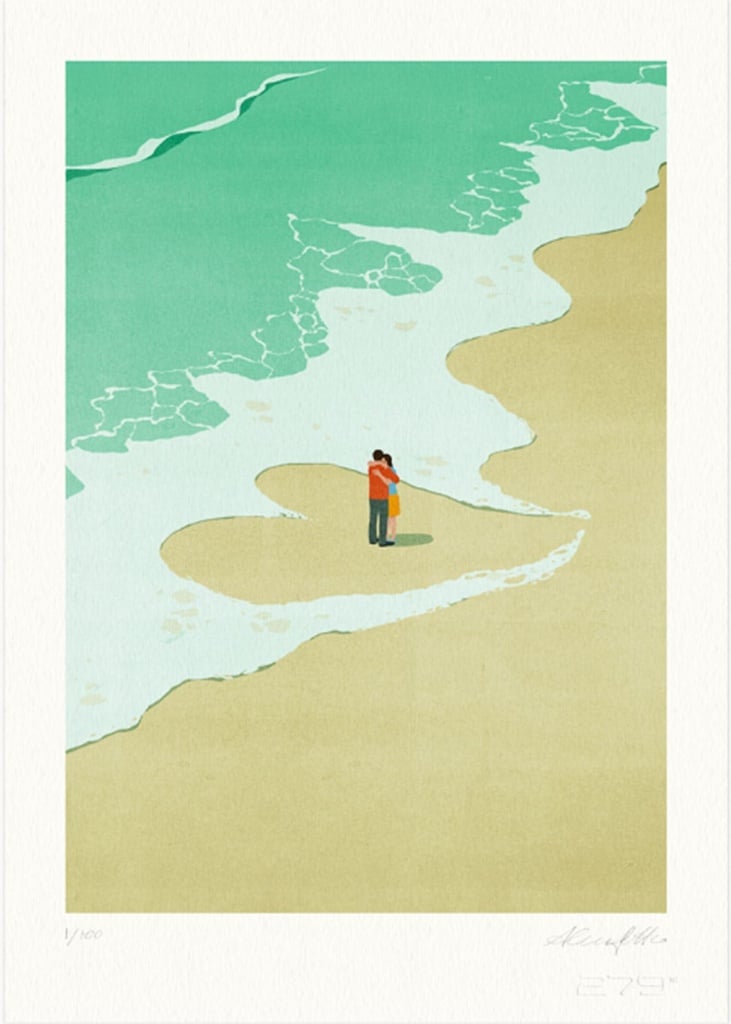 Here, meanwhile, he looks at the great cinematic love stories that make us all a little nostalgic, like those told by Fellini in La Dolce Vita.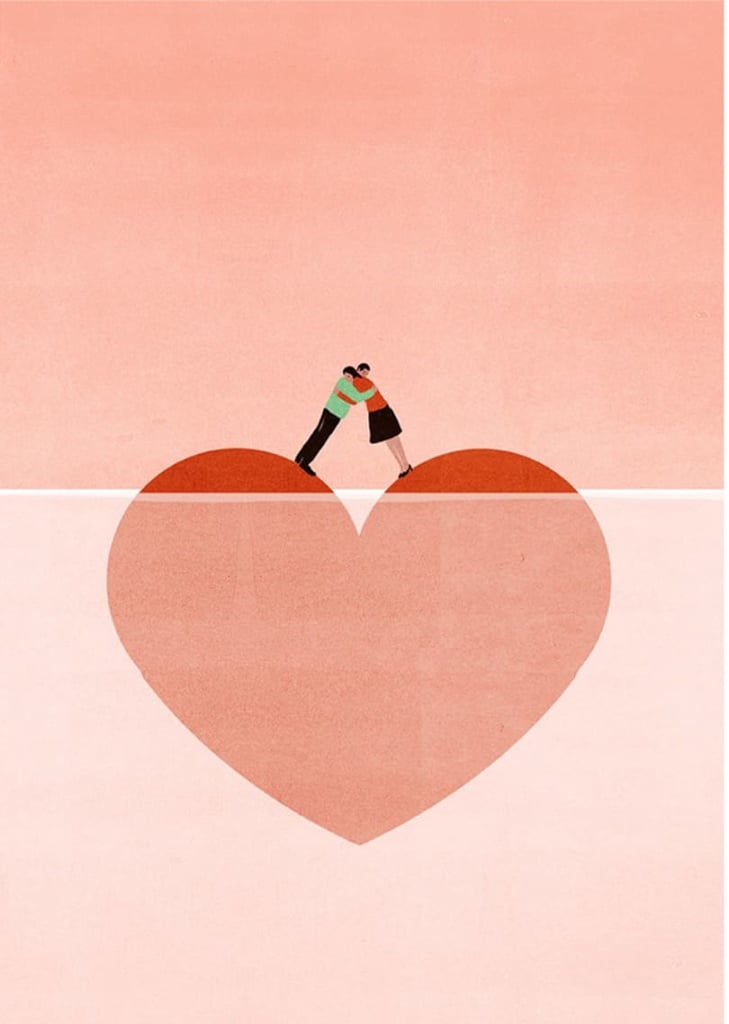 All that remains for us to do is to wish you a fantastic summer.