Valentino red: an iconic colour
Valentino. We bet that before thinking of clothes, bags or shoes, the name Valentino brings to mind a precise colour: a very particular shade of red. Valentino red is a colour that has written its own chapter in fashion history.
The founding of the Valentino label
Valentino Clemente Ludovico Garavaniwas born on 11 May 1932 in Voghera, near Milan. His career path was straight as an arrow, without deviation: ever since he was a little boy, he was obsessed with fashion and, with his family's support, he was able to study fashion design in Milan. His dream then took him to Paris, where he enrolled in the École de La Chambre Syndicale de la Couture. There then followed apprenticeships with Jean Dessès and Guy Laroche. But he wasn't destined to work for others: Valentino wanted a fashion house that bore his name. So, in 1959, the young designer opened his first atelier on Rome's Via Condotti. And it was there that he began giving a distinctive colour to his collections, the colour that would become the signature of the "emperor of fashion".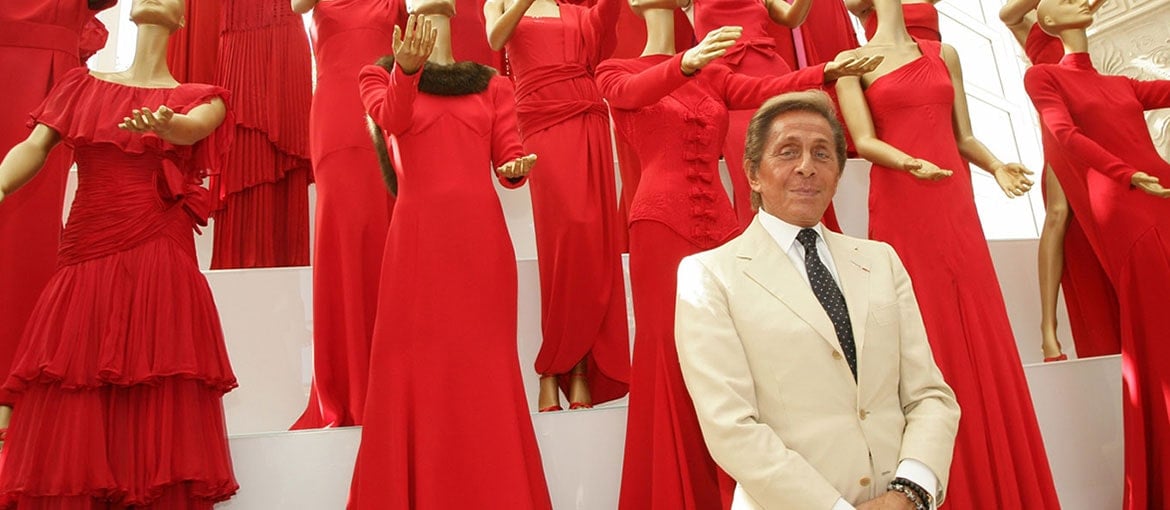 A pure vision of red
It was Valentino red, the colour invented by the man himself. A pure pigment with no shades of any other colour. Intense, beguiling, vivid, it seems to emit light and illuminate the wearer. It's elegant, regal and suggests a sense of intangibility, almost as if it were made entirely of light.
Perhaps the best definition is a colour that is pure vision. And it was his own creation: this shade of red was inspired by an image etched into the designer's memory.
Where did Valentino red come from?
It's a curious anecdote. The idea for the colour came to Valentino when he was still a young student. One evening, at the opera in Barcelona, his gaze was drawn to an old lady in a red velvet dress. It was impossible to miss her: she stood out from the crowd in this elegant and majestic hue. And this was the inspiration for what would become the designer's signature colour.
"Red is a colour that takes me back to my childhood. It has such vitality and allure that I don't just like seeing it on clothes, but on houses, in flowers, on objects, in details. It's my good-luck charm. A woman can never go wrong wearing red: it's a colour that gives, that suits every woman. It's a strong colour but at the same time it's a non-colour, it's neutral: like black, brown, blue, white. It's not pale or a pastel shade. It conveys lots of energy, lots of oomph. Red is life, passion, love; it's the cure for sadness. I think that a woman dressed in red, especially in the evening, is splendid. Among the crowd, it's the perfect image of a heroine." These were the designer's reflections on the colour in an article published in Esquire.
Valentino red is more than a colour: it's the symbol of a new woman. A woman who doesn't want to hide behind faint colours, but wants to shine and show off her beauty. That's how the emperor of fashion dresses his queen.