He was eccentric and open-minded, with an unbridled passion for fine fabrics. In 1995, Time magazine named him man of the moment. His creations were modelled by Naomi Campbell, Linda Evangelista, Claudia Schiffer, Carla Bruni and Cindy Crawford. He dressed stars including Elton John, Bon Jovi, Sylvester Stallone, Madonna and Cher. Exhibitions were dedicated to his brand at the New York's Metropolitan Museum of Art in 1998 and London's Victoria and Albert Museum in 2002.
We look at a brand that epitomises Italian high fashion: Versace. And we trace the history of its singular and unmistakeable logo.
The Versace fashion house
If you're already familiar with the brand's backstory, feel free to jump to the next paragraph where we get down do business. Which is to say: the logo. But if you're curious about how the Versace brand was born and grew into a fashion powerhouse, read on.
It was 1972 when an ambitious Gianni Versace left the southern Italian region of Calabria and moved to Milan to design a collection for the firm Florentine Flowers. The collection was a hit and immediately led to further collaborations with Callaghan, Complice and Genny. Meanwhile, inside the young designer a desire was growing for a label of his own. And so, in 1978, the first Versace collection was launched. A decade later in 1988, younger sister Donatella joined the firm as head of Versus, Versace's clothing line aimed at a younger audience.
Much has already been said about the Gianni Versace tragedy: there's even a TV series, "The Assassination of Gianni Versace", which tells the story of his cold-blooded murder on 15 July 1997. On that day, Gianni Versace was gunned down by serial killer Andrew Cunanan on the steps of his Miami Beach villa. Cunanan killed himself eight days later.
In the wake of its founder's death, the fashion house was plunged into crisis. Events would not leave the brand name unscathed either: the first name Gianni disappeared to leave just the surname Versace. Today, Gianni's legacy carries on through sister Donatella, the brand's creative director.
How the Versace logo has changed over time
In 1980, two years after founding his brand, Gianni Versace unveiled its first logo, which some of you may still remember.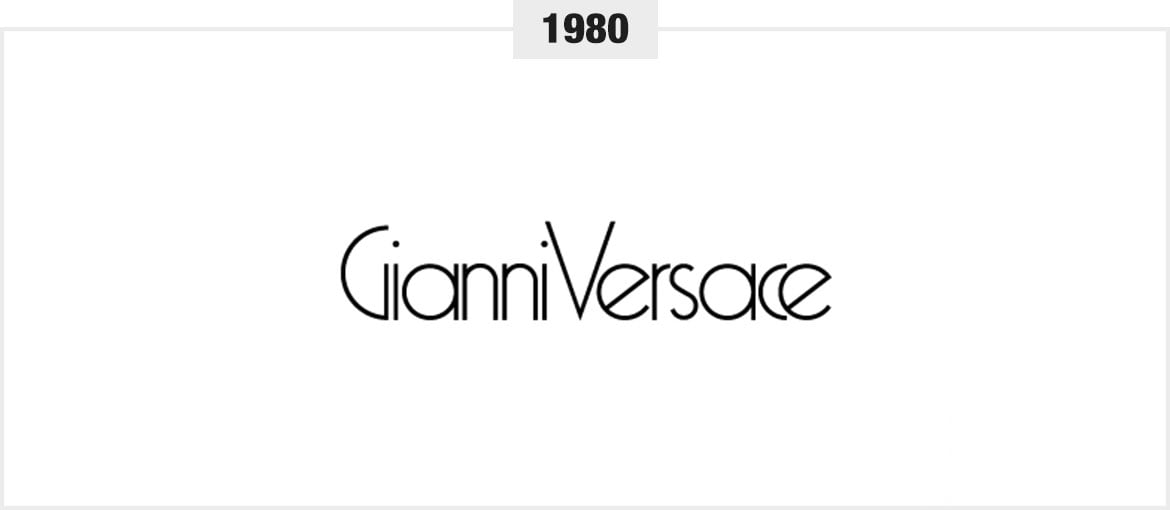 It used the Avant Garde Light font with the letters bunched up against one another, almost as if links in a chain. Look, for example, at how the "c" and the "e" fit together. It's an undeniably elegant effect. In 1990, the font was changed to "Radiant Medium" in stark contrast to what came before: the logo is sharper and bolder, emphasising the label's strong and now well-established identity.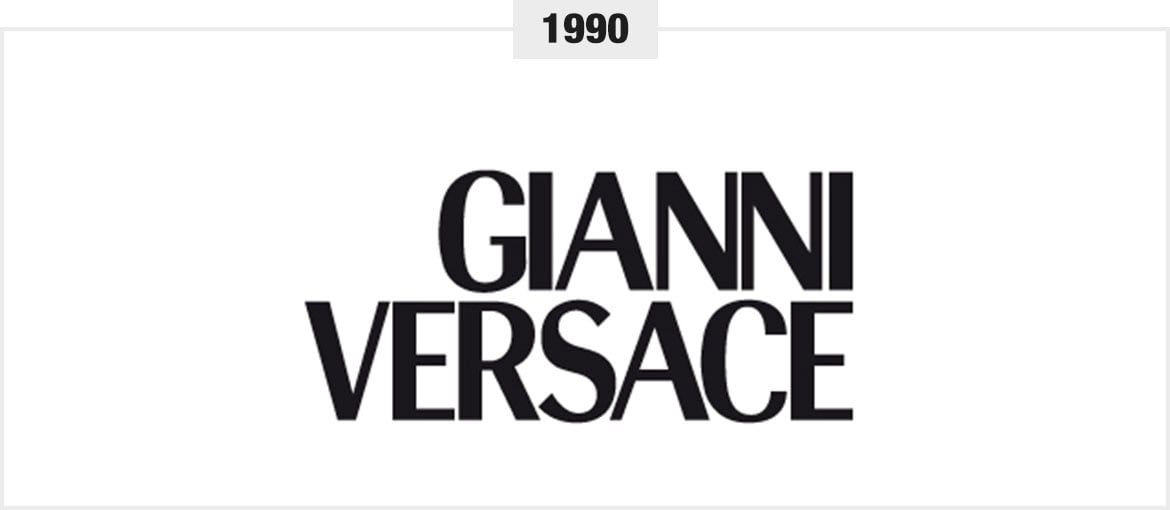 And the signature Medusa head? That wouldn't be added until 1993.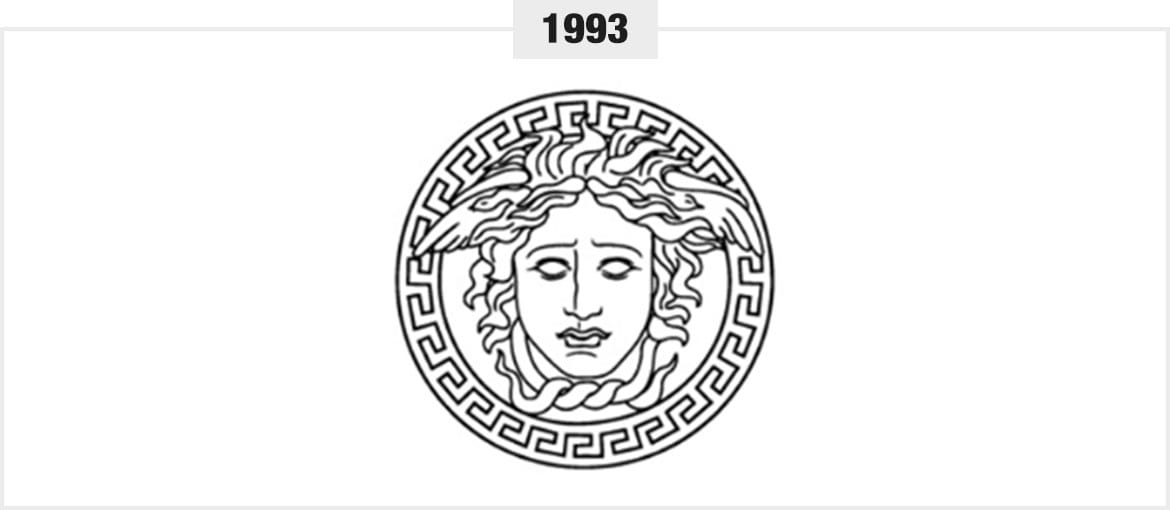 Since then, the Versace logo has only undergone tweaks: the letters have been slimmed and spacing between them increased. As for the Medusa's head, it has remained almost exactly the same, as if to emphasis its classicism. And even when not accompanied by the logo, the Medusa is ever present: look at the Versace website and you'll see it everywhere.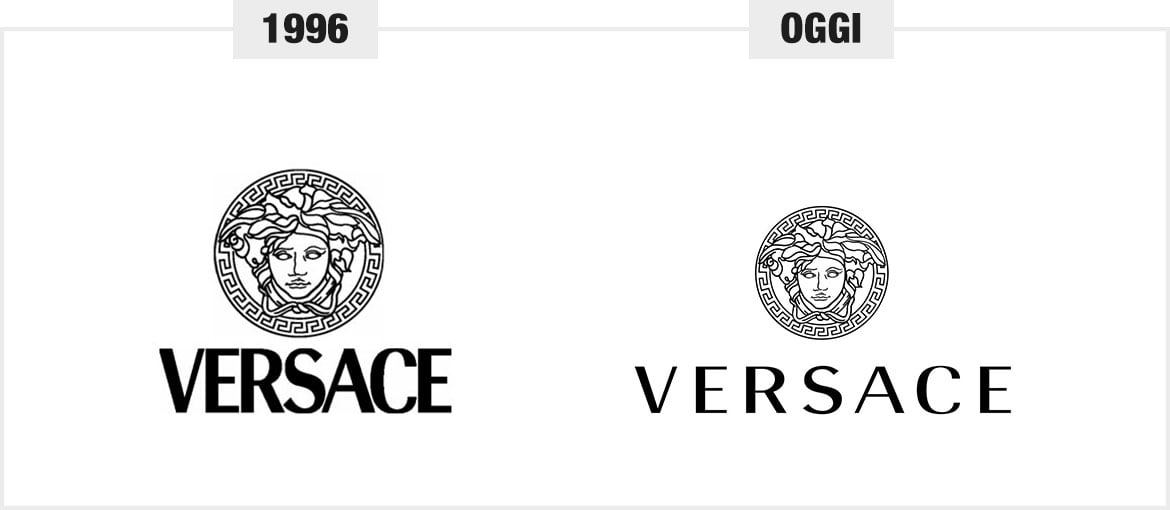 The Medusa and its meaning
Why did Gianni Versace choose the Medusa's head as its symbol? It's undoubtedly an odd choice.
Let's begin with an anecdote: Gianni Versace grew up in Rome, a city steeped in myth and legend. He was just a boy the first time that he saw the image of the Medusa on the floor of an old Roman house in which he used to play with his brothers. For some reason, it stuck with him, even before he learnt of its history.
To recap, the myth goes something like this: the beautiful Medusa seduced Poseidon in the temple of Athena, earning her wrath. Athena exacted her revenge by turning Medusa into a terrifying monster with snakes for hair and fangs for teeth. From that moment onwards, Medusa's gaze would turn anyone who met it into stone.
This tale is about two vices: lust and vanity. And without these vices, the fashion world wouldn't exist. We don't know whether this was a conscious, ironic choice by Gianni Versace, or simply one born out of childhood nostalgia. What is, however, certain, is that this image carries a universal symbolism that can't be ignored:
It's a tribute to glorious Mediterranean civilisations, a heritage that also shines through in Gianni Versace's sumptuous clothes.
There's the mythological figure of the Medusa, attractive and seductive as fashion is meant to be.
There's lust and vanity, two themes intrinsically linked to the world of luxury.
And let's not forget that the Medusa is also a sign of good luck: the word is derived from the Greek Μέδουσα and means protector or guardian. The symbol should therefore have been a good omen for the label's glorious future. And, perhaps, behind the decision to associate the brand with the myth, there lay something else: a desire to make his own collections timeless, or indeed "legendary".