So why would you want to create a video of your design work?
It's well known nowadays that video usually gets noticed more than images or text on social media. So why not take advantage of that and make a video portfolio. You could create something as simple as a video slideshow of your work to a video where you talk on camera about your work, show your process and then include a slideshow. You might want to scribble out a quick storyboard if you are going for something that's more complex first. Even if you are doing something simple, you will need to prepare images of your work ready to use and a running order. Then you need to decide which app will work for you.
Choosing a video app that's right for you
Deciding which app to choose depends very much on your needs. If for example, you are looking for an app that will let you quickly put a few photos together with transitions then one of the lightweight editors will work for you. These are great if you want to show some of the latest projects you've worked on, without being too concerned about annotating each piece. If you need more customisation then look at one of the heavier weight apps.
Lightweight video editors
Simple to use, small learning curve, but somewhat limited features.
These apps are ideal if you just want to quickly put some photos of your work together in a slideshow fashion. They do have the ability to add text, but editing is somewhat limited and it is hard to keep text consistency across slides. If you want to annotate your work with more design control you may need a heavier weight app. One way to get around this would be to create title sections for each type of work. For instance, you could have a section which said Logo Design and another which said Packaging Design and so on.
Android and Ios – free and pro versions.
The Free version on Inshot comes with ads and watermark, but it only costs a few pounds to remove the watermark or upgrade to pro which has more filters, transitions and effects.
You can create videos from still images, and crop them to fit. There is an option to make your video all the standard sizes you would expect including square. It's also simple to use. Choose the video icon and then choose a photo of your work to include (you can add video too). Keep adding images using the plus button. You have lots of options like filters, the duration of each shot, transition types and the ability to add text. In addition, you can also add music or a voice over if you wanted to talk through your portfolio.
You can automatically share your video to Instagram, Facebook or Youtube or you can save the video.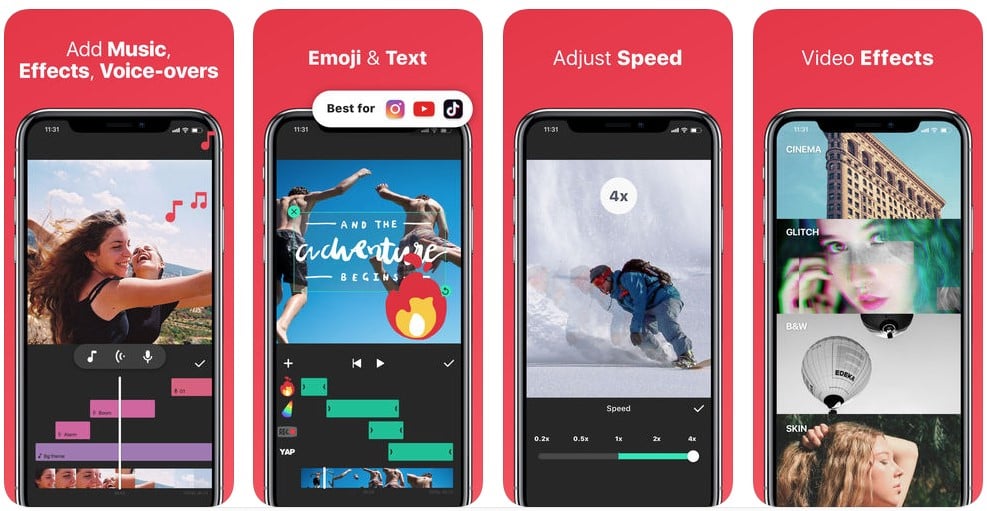 Android and IOS – free, additional effects, titles and filters can be purchased.
FilmoraGo is fairly intuitive to use. Start by clicking "create new video" You are then given the option to choose videos or photos on your mobile device or from Facebook and Instagram. You can choose all the photos at once and they are imported into your timeline. Similarly to Inshot you can add music and text, experiment with filters and transitions and change the duration of your image clips.
Filmora also has a more heavyweight paid app available for desktop (Mac and PC) called Filmora Business – Mac and PC. You might want to test out the free desktop version first to see if it does what you want.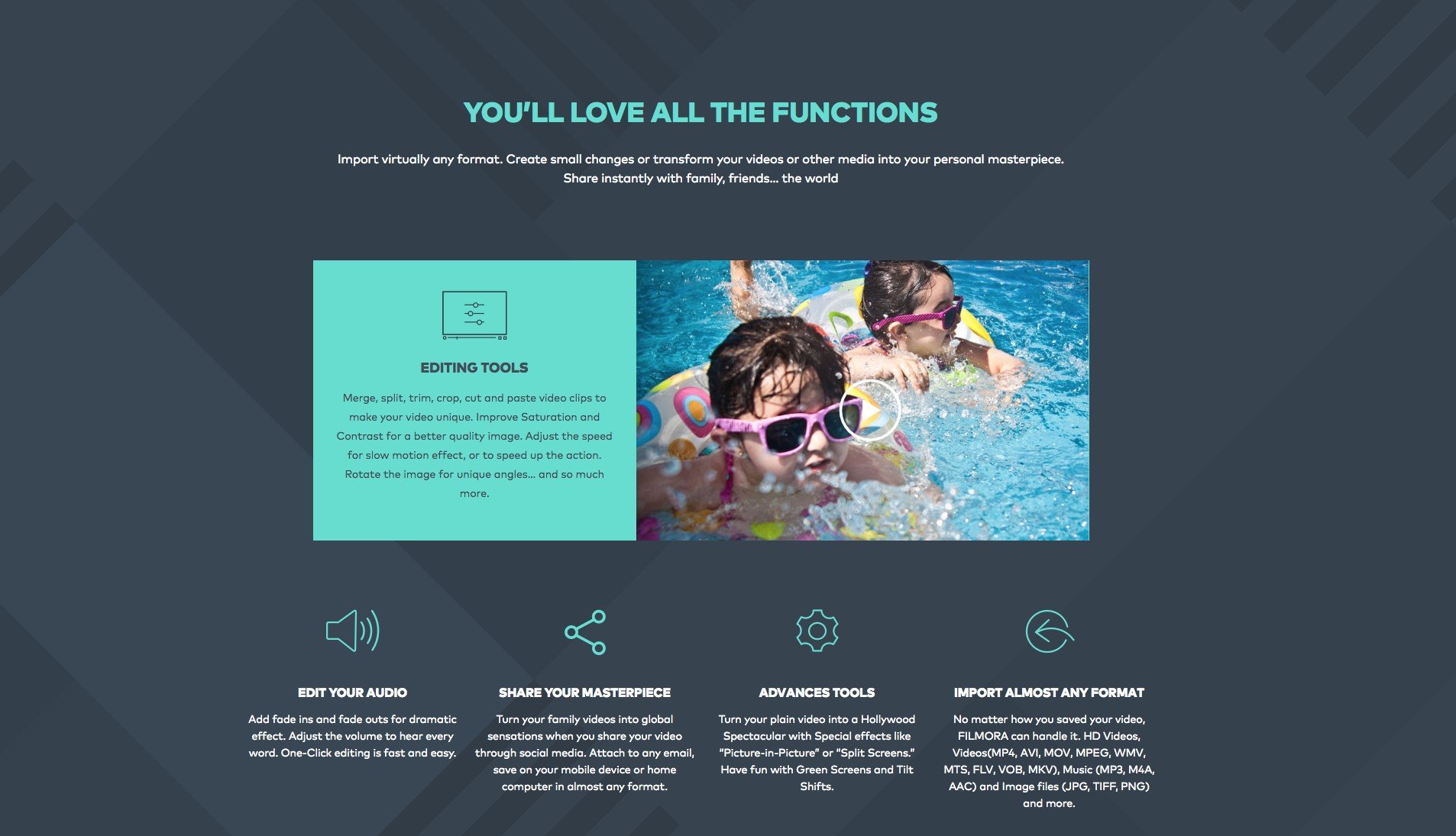 IOS – free
iMovie is another video maker/editor to consider if you need something fairly simple. It's easy to drop images and videos on to a timeline and to add very basic text and titles and effects. An annoying aspect about iMovie is there doesn't seem to be an option to make square videos.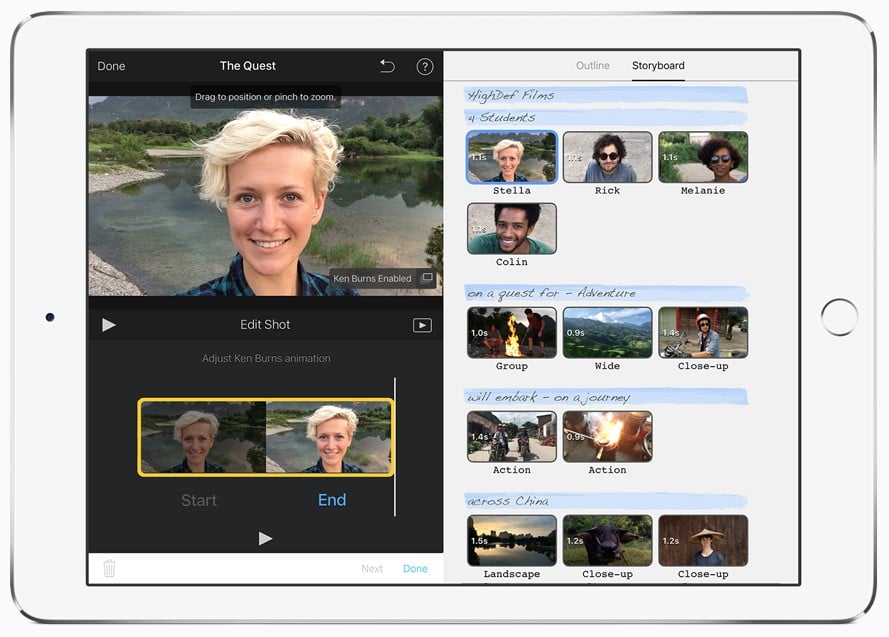 Heavier weight video editors
Android and IOS – free version has a watermark. Pro-version monthly or yearly subscription.
KineMaster is a more fully featured video editor. Along with the things you can do in the lighter weight apps, it has the ability to add layers which means you can do more complex things. First, you add media to your project in the form of a video or image. Then with layers, you can add additional images, graphics or video clips over the top. This allows you to create inset videos. For example, you could use this to show a video of yourself talking about your work and underneath show your portfolio or shots of you working. You can also use it to create layered effects where each layer is semi-transparent. With the layers feature you can also add effects, overlays (stickers), draw shapes or draw freehand lines. You can easily create animated titles which animate in with your choice of effect. The app also allows you to add pre-recorded audio, such as background audio or to directly create a voice-over recording.
One of the only downfalls I can see with the app is that there doesn't seem to be the ability to easily create square videos. So if this is something you wanted to do, you would have to crop it in another app at the end which is a little frustrating.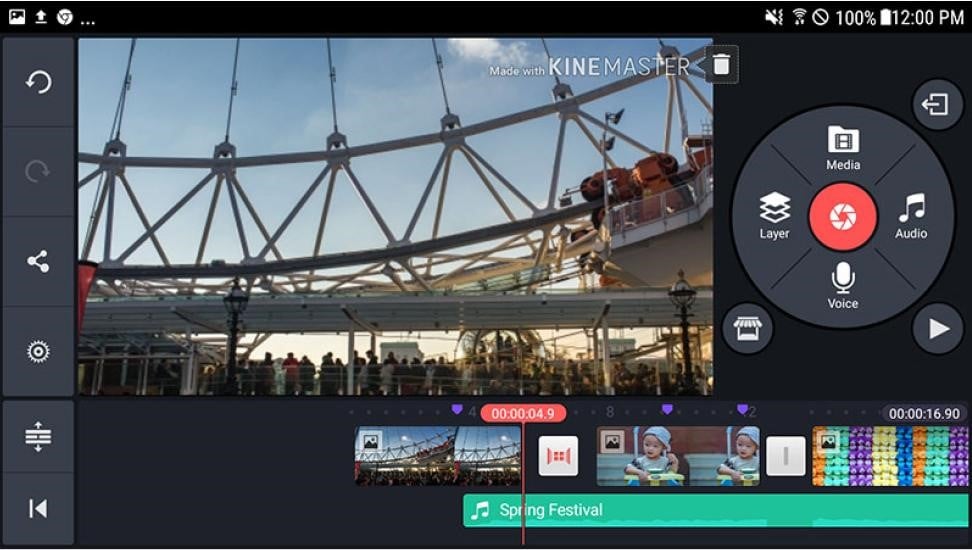 IOS only – one off payment.
Lumafusion is another heavyweight video editing app. After you allow the app access to your media, it asks you to choose your framerate and aspect ratio. Unlike Kinemaster Lumafusion lets you create videos in many different sizes including square. Next, you can click on any images or videos you want to include and press an icon to include them in your video. Adding in more videos or images is simple too, and the transitions are just a case of dragging and dropping your preferred effect on the timeline between the clips. You can then add titles, although they not as easy to use as KineMaster. You can either use one of the presets to animate your text or use keyframe animation for more control.
Lumafusion also gives you a lot of control over your audio and you can also play around with the colours and contrast in your photos or videos.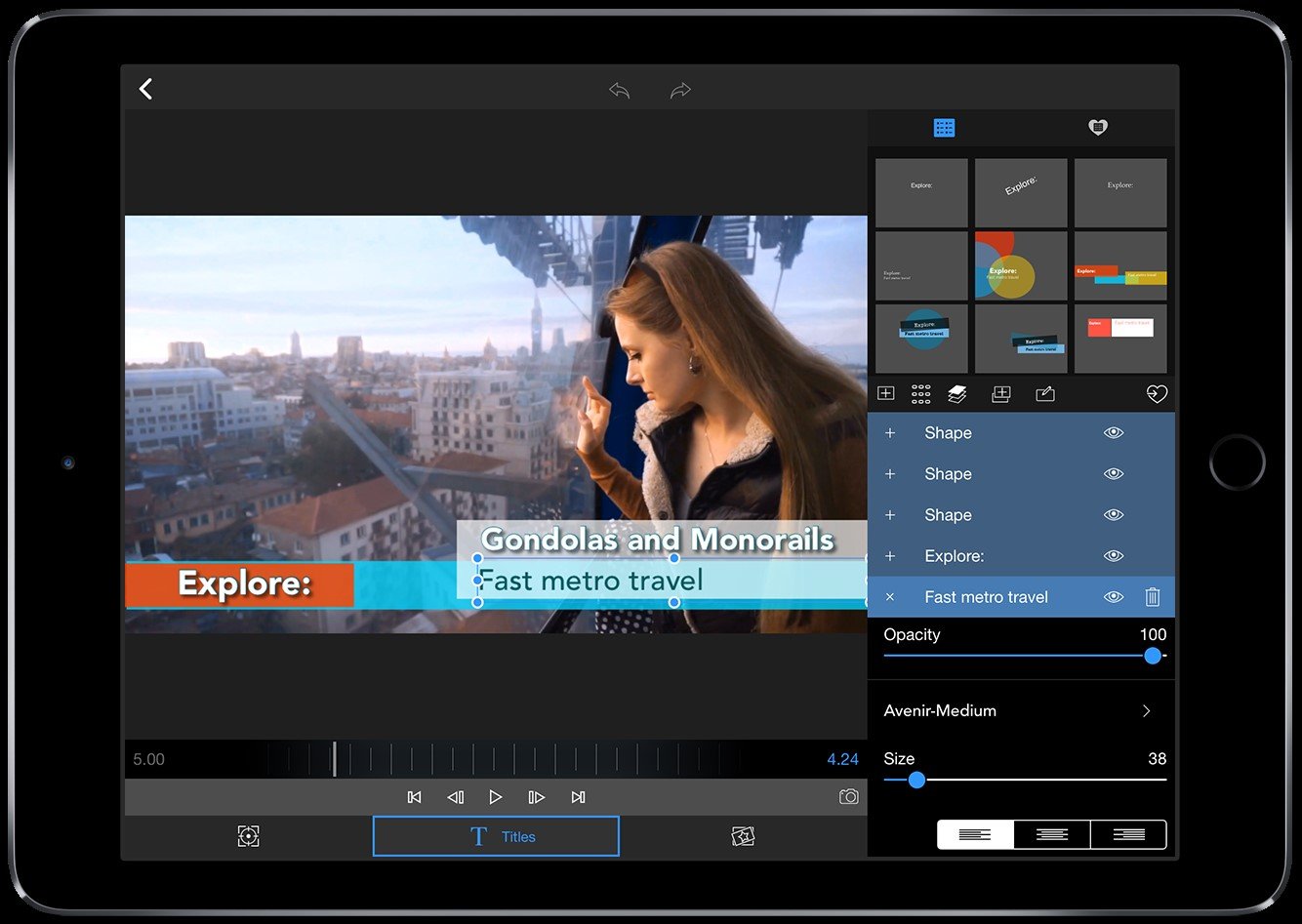 Other Options
IOS – free.
While Keynote may not be what you might consider a video editor, it does allow you to create very interesting slideshows. These include a range of transitions that you can then export as a movie. Plus, you also have the ability to really design your text exactly as you want it, as it's more like a layout program.
If all you want is to show a few photos of your work on your Facebook Page, don't forget that Facebook also lets you create slideshows. All you do is click as though you were going to write a post, then click photos and then "Create Slideshow". You can feature from 3 to 10 images within your slideshow.
With the range of video editing options available on tablet and phone devices nowadays there should be something to suit everyone.