Unsure exactly what roller banners are? A roller banner, also known as a roll-up or pull-up banner, is a self-supporting advertising display comprising a banner – a wide strip of fabric or other material – with content printed on it and a base into which the banner can be rolled up, making it all easy to carry around.
These characteristics make roller banners one of the most practical and effective solutions for publicising your brand or products at trade fairs and conferences.
That's the short answer to the question "what is a roller banner?" But if you want more information on roller banners, carry on reading! In this article we'll give you more detail on the different types of roller banner available, the most effective opportunities to use them and some advice on how to create the perfect roller banner to suit your needs.
Ready to discover what a roller banner can do for you?

Why roller banners are perfect for your displays
Before looking in more detail at the various parts of a roller banner, here is a list of their main advantages – three reasons why roller banners are so widely used (and therefore why you should start using them too!)
Roller banners are easy to assemble: simply pull the banner up from its base and lock the assembly mechanism. All done in a few seconds!
Roller banners are easy to transport: because they roll up into their base, roller banners are compact and extremely easy to carry around. If you order a roller banner from Pixartprinting, you will also be provided with a convenient bag to carry it in. Basically, it is much more convenient than a display board and much easier to transport, which also keeps it safe from potential damage.
Roller banners are reusable: because they are so easy to transport, roller banners can be printed once and reused numerous times.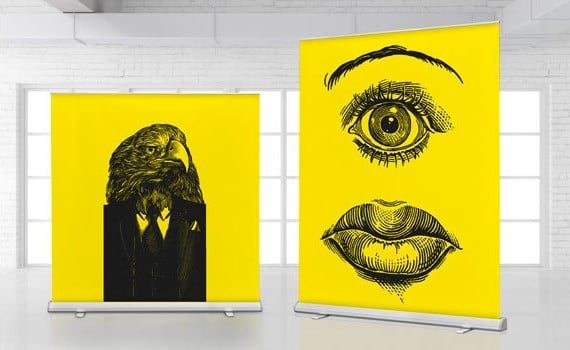 Now you seen what roller banners are and their main advantages, you'll have gathered that you can use this roll-up display as an effective tool to advertise your company or a specific product during a trade fair, public event or conference. You can also create roller banners for your business to use as a backdrop during launches, press conferences or interviews.

What is a roller banner? Various forms and types of pull-up banner
Now it's time to look in more detail at what roller banners are, what elements they comprise and which types you can choose from.
The most visible, and therefore the most important part of the roller banner, is undoubtedly the banner onto which the content is printed. First of all, we can divide these up into a few categories:
Roller banners with a classic banner where the content is only visible on one side.
Roller banners with a double-sided banner, where the content is visible on both sides, useful for providing extra visibility somewhere with a lot of footfall, for example.
Roller banners with an extra-large banner, providing a very large printable area (in the Pixartprinting catalogue the maximum size is 2 x 3 m), which are very useful for creating unique displays.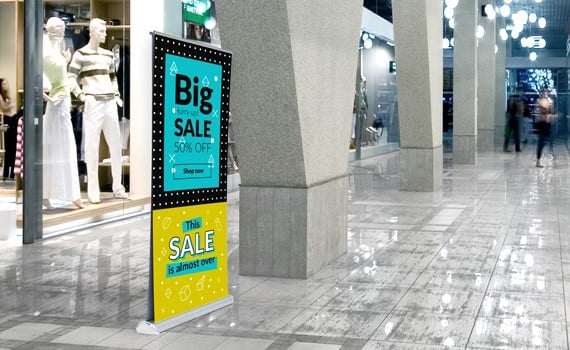 The banner can be made of various materials, each with different characteristics and costs. The most common materials are:
PVC or vinyl: one of the most commonly used and cheapest materials for banners, which lasts up to 3 years. In the Pixartprinting catalogue it is one of the options for the Roll-Up Economy.
Non-woven fabric: an industrial product similar to fabric, but not produced by weaving. It is usually lighter than PVC and tear resistant, and so suitable for use outdoors.
Ecoflat: this is an innovative material, which is now one of the most popular choices for banner printing. It is a multi-layer material that can be disposed of with standard household waste (the other materials are usually considered special waste). It is semi-rigid, with a smooth surface and an opaque back to increase the legibility of the print, and it is suitable for outdoor use. It is available in the

Pixartprinting

catalogue for all types of roller banner.
Polyester fabric with an opaque back: this fabric provides the best possible results for your artwork and colours. The opaque back prevents any interference from light behind the fabric, ensuring the colours on the artwork have an even appearance. It is available in the Pixartprinting

catalogue

on many different types of roller banner, and is printed with UV technology to ensure a high quality print, with very dark blacks and bright colours.
There's just one more element to look at in our guide to roller banners: the base. This component can also be made of various materials, ranging from plastic to aluminium, the latter being a lot more durable. Roller banners designed exclusively for outdoor use have a base that can be filled with sand or water, making the structure even more stable in case of wind.

How to create a good roller banner
Now we've explained in detail what a roller banner is, it's time to give you some good advice on how to make yours as effective as possible. As always, the success of a good roller banner depends on high-quality printing, but also, and especially, what you print on it! Here's what we'd recommend:
Choose a single clear message: even if you have a lot of space to print on, you do not have to fill it with information. As with all communication, choose a single key message and concentrate on that.
Place your company logo high up, as this is the most visible part of the roller banner. This area should also be used for the image or message you wish to convey. Place your website address near the bottom.
Use high-resolution images: this is important to avoid grainy pictures on your roller banner. To be sure that the image resolution is perfect, when printing roller banners with Pixartprinting we recommend choosing the 'Professional file check' option.

Immagine: Mark Krenn [CC 2.0 BY]Roller banners: what they are and how to make them

We've arrived at the end of our exhaustive guide to roller banners! Which roller banner will you choose for your next event?