LinkedIn is a social media platform launched in 2003 to help users build networks of contacts useful for their careers. LinkedIn makes it easy to create new "contacts" by sharing professional content, posting job ads and sharing details of your career path. Today, the network has 590 million users worldwide and over 25 million British users, making the UK the largest LinkedIn community in Europe.
LinkedIn is an invaluable business tool for individuals and companies alike. More specifically, as an individual, you can use it for:
Posting your CV online and enhancing it with recommendations from former colleagues and clients
Growing your network by connecting with friends, colleagues, acquaintances and clients (current and prospective)
Sharing content on your personal profile (articles, videos and images) and keeping up to date with industry developments
Applying for a specific job vacancy
As for companies, they can use the platform to find new clients and suppliers, post job vacancies, share promotional content on their corporate page and purchase advertisements.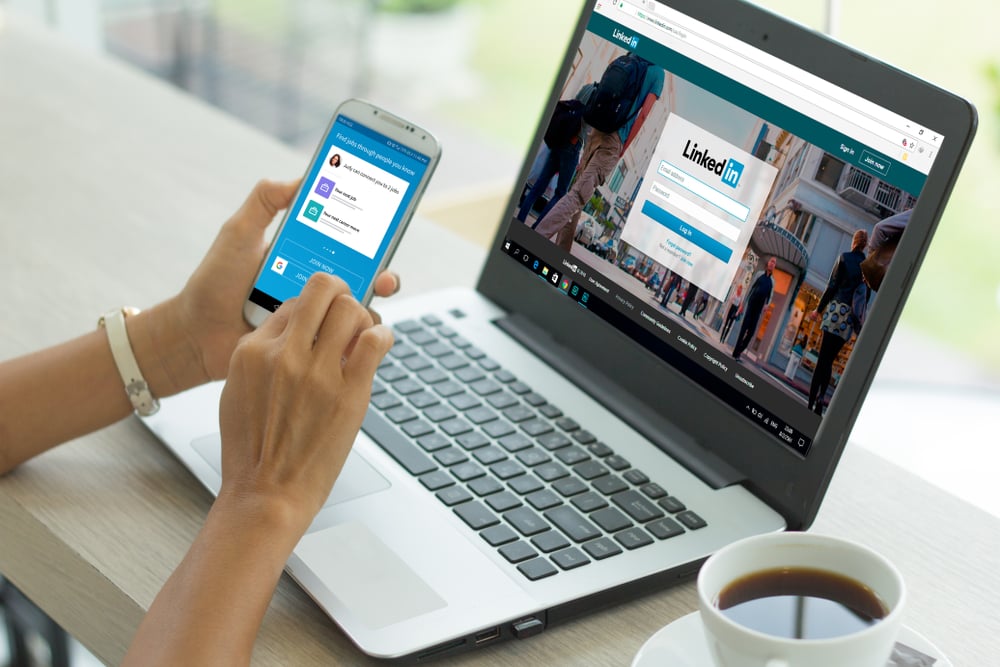 Tips for creating your LinkedIn profile
A personal LinkedIn profile is an invaluable tool for improving your career opportunities, developing your business and building your professional network. Here are some pointers for creating an effective online identity:
Use a professional headshot
One of the commonest mistakes is the use of profile pictures that are inappropriate for a business platform: images cropped from group shots, portraits with jokey or suggestive poses, over- or under-exposed images, and poorly composed photos can harm your profile's effectiveness. It's best to opt for a recent photo in which you appear in the foreground against a neutral background, smiling and dressed appropriately for your profession.
Remember that the photo must have minimum dimensions of 400 x 400 pixels and a resolution of 72 dpi. However, we always recommend using large dimensions than these to ensure that you post a sharp image.
Getting the headline right
A brief description that appears below your name, the headline is one of the most viewed sections of your profile. What's more, this text is also read by search engines, which means it's important to include relevant keywords to ensure you rank highly in search results.
To make the most out of the 120 characters available, we advise using an engaging sentence that sums up your current employment status and main skills. Here's a rather original summary: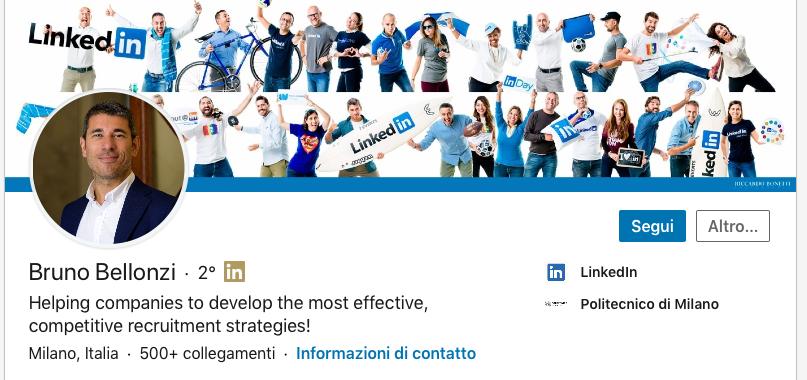 If you're looking for a job as, say, a Sales Manager, you can add a text aimed at recruiters along the lines of: "Looking for a Sales Manager role in the XYZ sector".
Write a compelling summary
The summary gives you 2,000 characters  to talk about yourself, your skills, work experience and career goals. Keep these rules in mind when writing it:
Put the most important information at the beginning: only the first 313 characters will be visible on your profile, and to read the rest the user will have to click See more.
Draft your summary in a text editor like Word to prevent any spelling and grammar mistakes slipping through, and make it more readable using bullet points, paragraphs, headings, bold fonts and icons.
Focus on your strengths by highlighting the unique aspects that make you stand out.
Enhance the text with images, videos and links related to your work.

Explain how you can help your target reader: for example, if you're a freelance professional, briefly outline the services you offer, whom they're aimed at and how you meet their needs.

Add a final call to action inviting the user to get in touch with you.
Ask for recommendations
Often overlooked by users, recommendations are version 4.0 of the old reference letter and are invaluable for enhancing your professional credibility and reputation. You can request them directly from colleagues, former employers or clients by navigating to their profile, clicking "More…" in the top section and then hitting the "Request a recommendation" button.
How to grow your network
As we said earlier, LinkedIn is an incredibly useful tool for increasing your visibility and finding new work opportunities through word-of-mouth and recommendations. To build a strong network of professional contacts, you should actively use the platform to:
Post content that you've written;
Share and comment on other people's posts;
Connect with people who you know or join industry groups and interact with their members.
Furthermore, you can invite your personal contacts to look you up on LinkedIn by putting a link to your profile in your email signature, on your website, on your business cards or on other professional platforms.
When you send an invitation to a LinkedIn user, you can personalise it with a message addressed to the recipient. This increases the chances of your invitation being accepted and gives you the opportunity to briefly introduce yourself to prospective clients or employers.
That wraps up our article. If you'd like to find out even more, check out LinkedIn Learning: it's packed full of resources for teaching you how to get the most out of the social network.