Facebook Business Manager is the free management tool that Facebook (now Meta) provides to businesses to administer Facebook pages, Instagram profiles and advertising campaigns.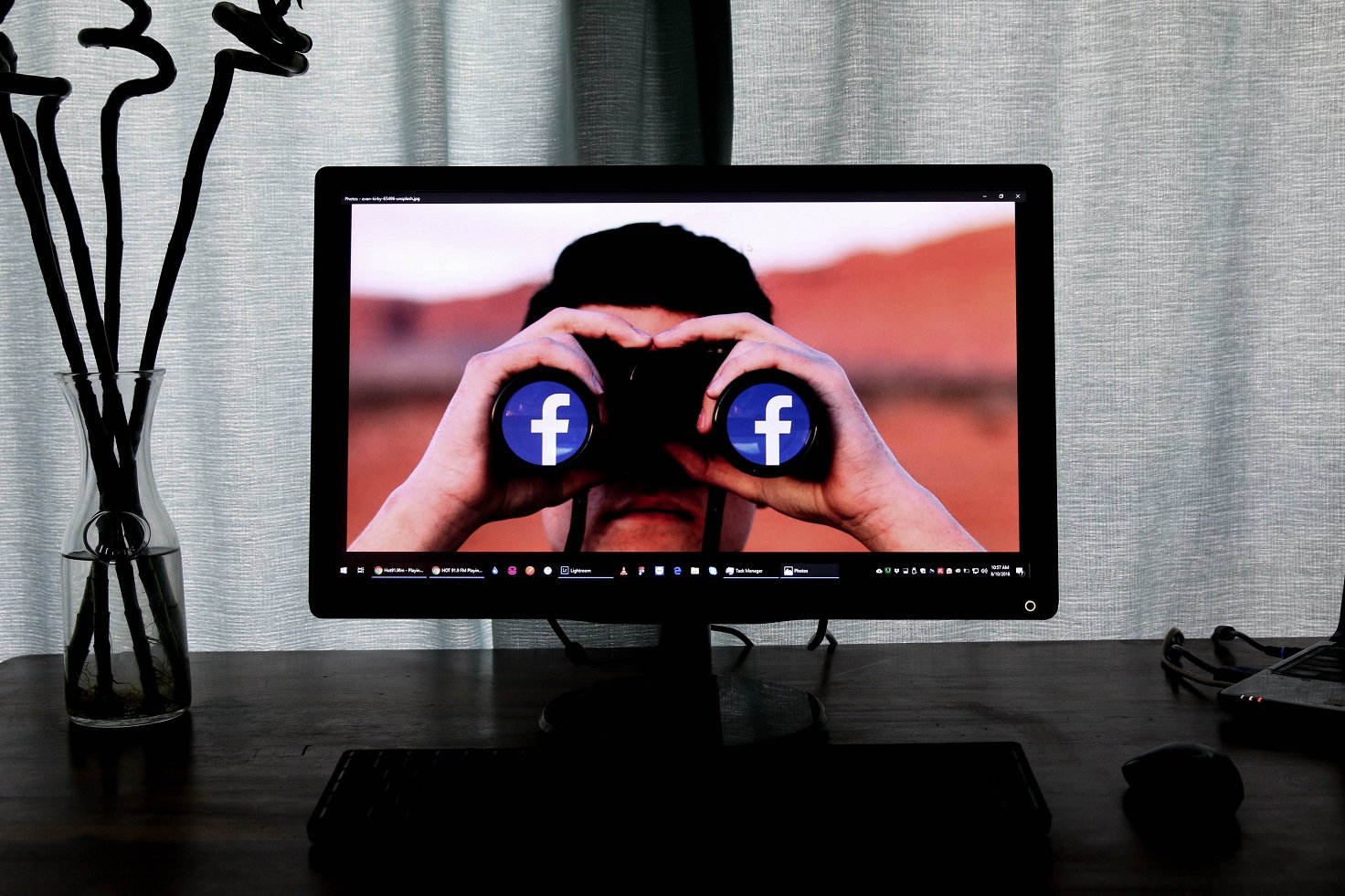 It is designed for freelancers, businesses and marketing agencies, and we recommend learning how to use it if you fall into one of these categories, particularly if:
You manage multiple ad accounts and multiple Facebook pages or Instagram profiles.

You are an advertising agency managing your clients' ad accounts or pages.

You are a business or agency and need to assign roles and permissions to different employees or partners for managing Facebook resources (ad accounts, pages and profiles).
What is Facebook Business Manager used for? As we'll see in more detail later on, it has various functions that allow you to:
Manage users, roles and permissions for different pages and company profiles in one place.
Run and monitor ad accounts.
Create custom audiences to reach with advertising campaigns.
Separate your professional activities from your personal account on Facebook.
The main functions of Facebook Business Manager
Let's have a look in more detail at the various functions of Facebook Business Manager.
1.   Managing users
Facebook Business Manager provides a single, secure place to manage users and their access to resources: Facebook pages, Instagram profiles and Facebook ad accounts.
If you are in charge of a company or agency's Business Manager, you can use your business email address to add users to your account and to assign them access to the various resources. You can also decide in detail what users can and can't do within each resource: for example, you can allow certain users to publish content on pages, others to handle messages, and others to be responsible solely for the ad account.
Managing users is handled through company email addresses and not personal profiles, making the administration more secure and ensuring the privacy of all users. Moreover, all Business Manager users must activate two-factor authentication, guaranteeing greater security for all the resources managed using this tool.
2.Protecting ownership of Facebook and Instagram resources
I'm sure it's happened to many of you at some point: one of your colleagues opens a Facebook page for a client, then leaves the firm, meaning you no longer have access to that page. Or the employee handling your Instagram profile moves on, so you no longer have access to this important resource. Facebook Business Manager helps to avoid all these problems.
Pages and business profiles added to Business Manager remain the property of the Business Manager admins, even if the page's manager leaves your organisation.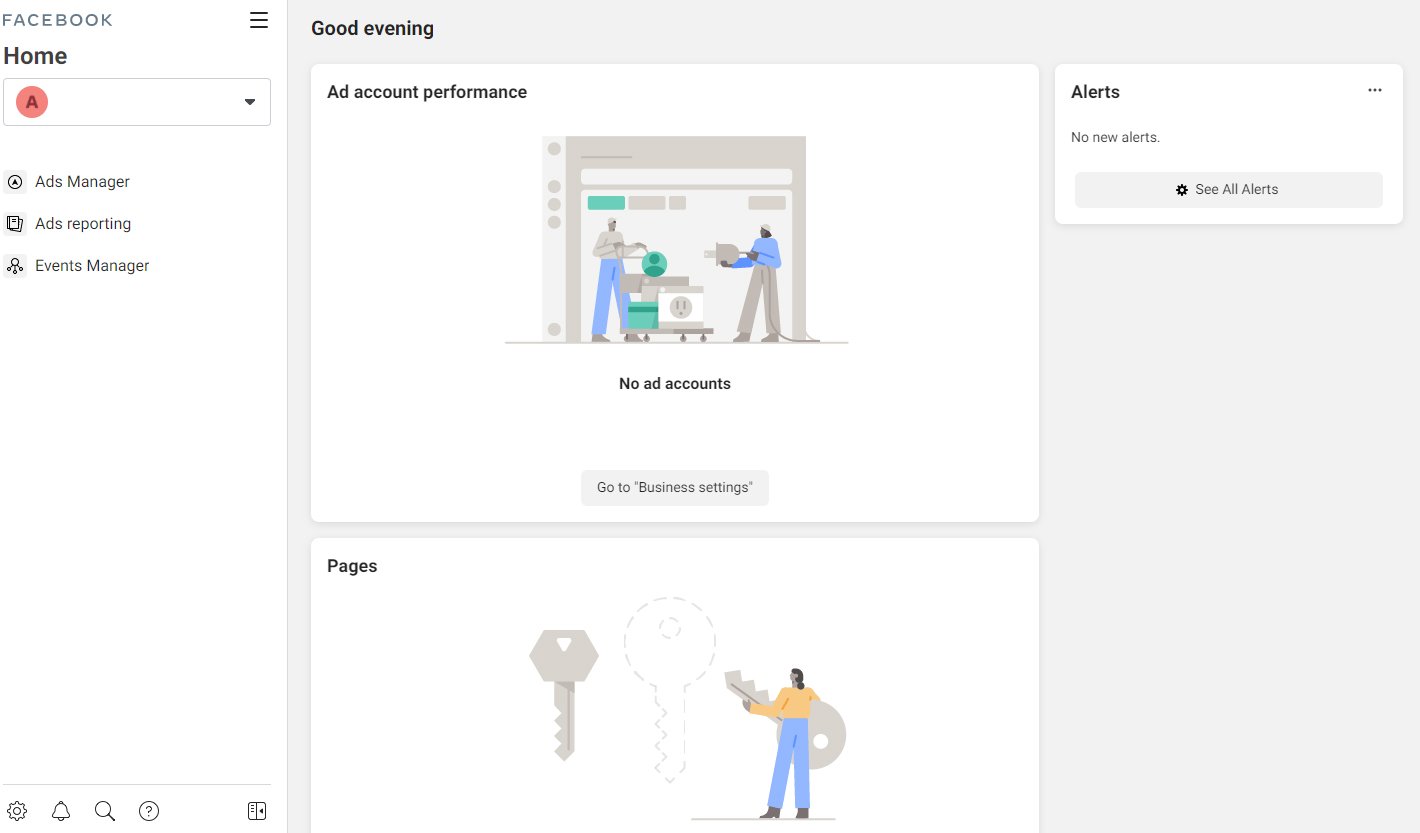 3.   Handling ad accounts
One of the resources you can assign to users in Facebook Business Manager is ad accounts. These are used to create and run advertising campaigns on Facebook and Instagram, manage the ads themselves and organise billing.
With Facebook Business Manager you can create new ad accounts, add existing ones or request access to external accounts so you can manage certain aspects without actually owning them.
4.   Creating a custom audience for your marketing
A custom audience is a group of people that are already aware of your business – either because they have previously visited your website or interacted with your Facebook page – and so can be reached again using advertisements created through your ad account.
You can use various sources to create a custom audience within Business Manager: customer lists, website (using the Facebook pixel) or app traffic, and interactions on Facebook. You can also create a lookalike audience, a group of people with similar characteristics to your custom audience and therefore likely to produce better results when targeted with advertising campaigns.
5.   Monitoring traffic and actions on your website
The Facebook pixel is a piece of code you insert into your business' (or your client's) website  to measure conversions from your ads to that website. In other words, it lets you see what users do on your website once your adverts have taken them there.
Facebook Business Manager can be used to manage Pixel and other similar monitoring tools. The section dedicated to this is called Events Manager, not to be confused with the better-known Events section you can access from your personal Facebook account.
How to get started with Facebook Business Manager
There are a few things you need to know before you create a new Business Manager account on Facebook:
It's free.

You need a personal Facebook account to create a Business Manager account (you'll need it to log in).

Every user can create a maximum of two Business Manager accounts.
If this all makes sense, you can move on to creating a Facebook Business Manager account.
Click on 'Create account'.

Enter your business name: this name will be public and visible on Facebook, so we recommend using your official name, which people will recognise.

Add your name and business email address.

You will then be asked to enter more details about the company.
The next step is to add users to your Business Manager. Facebook recommends only adding users that are actually part of your business. If you need to add external users, you can invite them to become partners, with permission to manage some of your resources.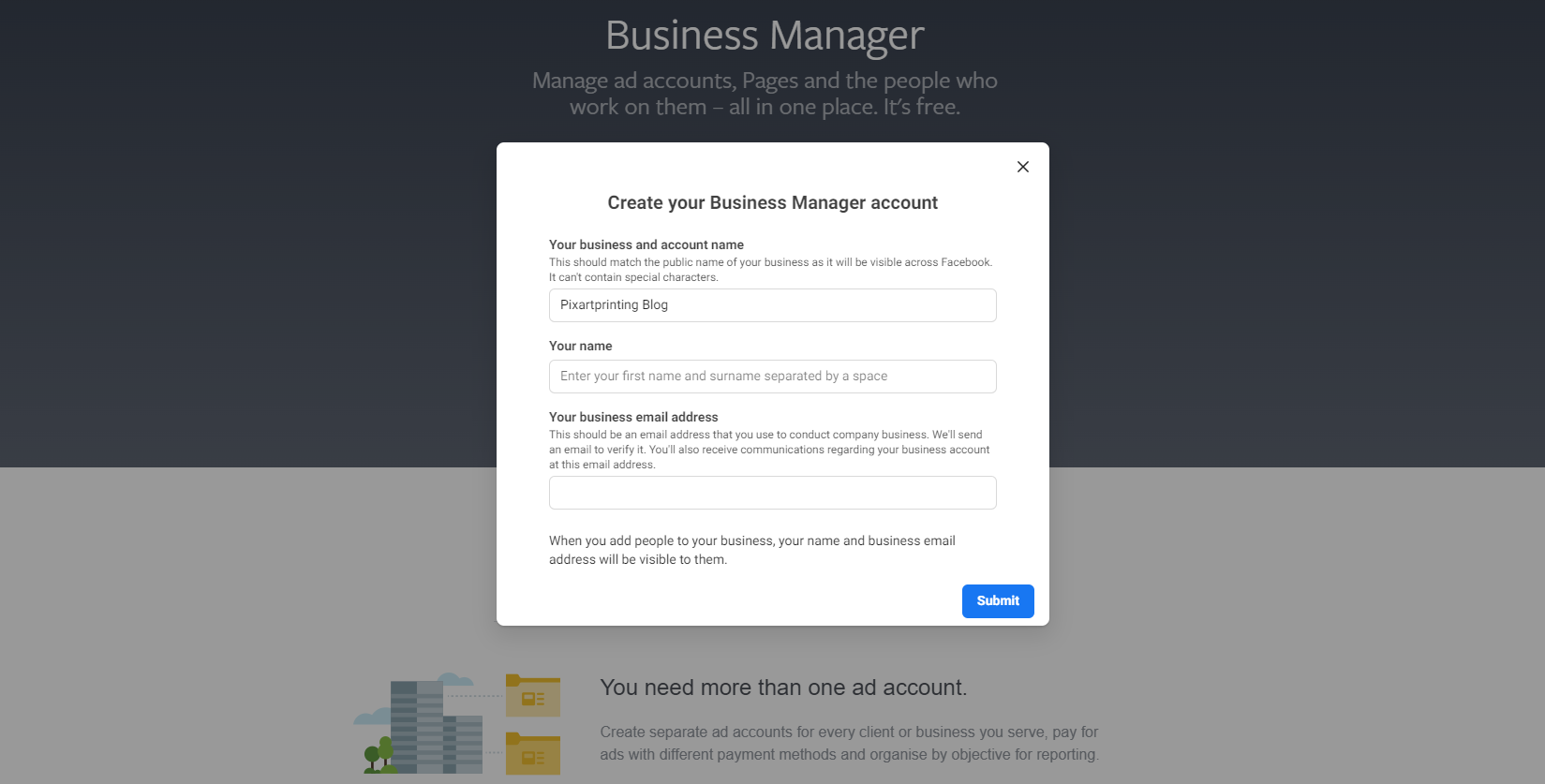 There are two different levels of authorisation available:
Admins: these can control all functions on the account, add other users and change and delete the Business Manager. To maximise security, it is recommended to limit the number of admins, although you must have at least two. This means that if a user leaves the business, there is still someone left to handle Business Manager.
Employees: these are assigned individual resources such as pages, profiles and ad accounts, and can be given various permission levels.
How to manage ads using Facebook Business Manager
One of the things you will probably want to do most often in Facebook Business Manager is manage ads. With this in mind, let's look more closely at how it works.
A Facebook ad account is a second-level account that can be added to your Business Manager account to allow you to manage it more effectively and share it with other users. Several ad accounts can be combined within the same Business Manager: the number of accounts you are allowed depends on the amount you spend on advertising.
Facebook ad accounts allow users with employee access to Business Manager to create adverts on Facebook pages and Instagram profiles and monitor the results. Each ad account must have an associated payment method and billing address.
Ad accounts are fairly complex tools. For now we'll just give you a general overview of how the basic elements work.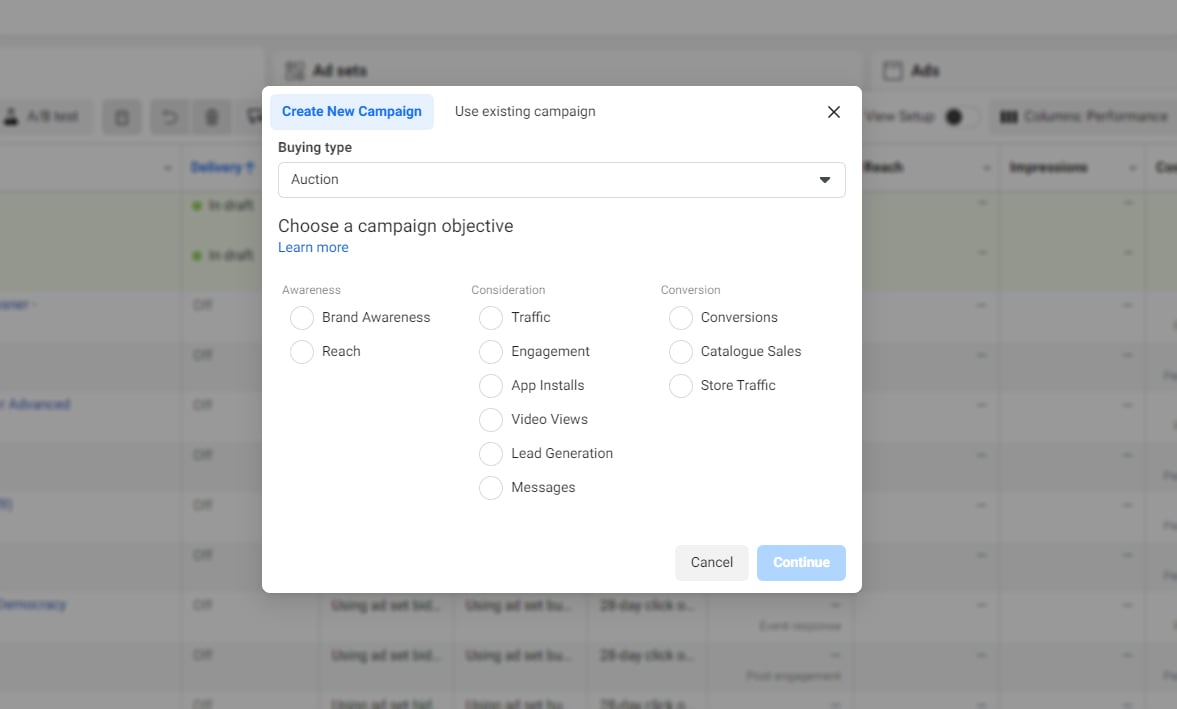 Ad campaign objectives
Any advertising campaign is launched with a specific target in mind, and this is the first thing you choose when you create a new ad campaign on Facebook. Facebook campaign objectives are divided into three categories:
Awareness: aiming to increase the number of likes on your page or reach as many people as possible.
Consideration: aiming to increase interaction with your posts, attendance at your events, visits to your website or video views, or to create contacts through a form.
Conversions: aiming to sell products online, get users to complete certain actions on your website or attract people into your bricks-and-mortar stores.
Ad campaign structure
Once you have chosen the specific objective for your campaign, you can begin creating the advert. Ads are structured on three different levels. They are:
Campaigns: these define the objective of the advert.
Ad sets: this is where you set the target audience, budget and when and where the adverts will be shown. Different ad sets can be added to one campaign.
Ads: the creative content of the advert: images, videos, text, links and calls to action.
Useful resources for Facebook Business Manager
At first glance, Facebook Business Manager's structure may seem rather haphazard. This is complicated by the fact that the management tool's functions and tools are constantly being updated: this is definitely not a negative thing, but it does mean that you often have to relearn how to navigate around the interface.
Facebook offers various resources to help you learn to use Business Manager and, even more importantly, to understand how to use this tool effectively to achieve your marketing objectives.