Formal Christmas greetings: a mini guide for businesses
Finding the right words for Christmas messages for friends and relatives is easy enough. But when it comes to writing a card to your boss, employees, colleagues, suppliers or customers, things get more complicated. You have to respect the relationships between the different figures, convey the right message, choose appropriate words, and be cordial without appearing too cold or distant. In other words, you have to come across well.
In this article, we'll give you some advice on crafting absolutely impeccable formal Christmas greetings. We'll suggest what to write and how to present and send them, as well as showing you a few examples as inspiration.

Formal Christmas greetings: messages to use for colleagues, suppliers, customers, etc.
Make a list of all the recipients, divide them up into categories – for example employer or employees, colleagues, suppliers, and customers – and come up with the perfect wording for each group. Being organised is particularly important if you have a long list of people, to avoid accidentally leaving someone out.
Christmas greetings for your employer
The tone you adopt in your message depends on the relationship you have in the workplace. Here are two examples of greetings that reflect different levels of familiarity. Both contain a wish for the coming business year, a very important consideration for the person at the helm of a company.
Dear [name],

Wishing you and your family a peaceful Christmas and a happy new year full of promise and satisfaction.
Merry Christmas [name]!

Wishing you and your family lots of happiness and a happy and successful new year.
Christmas wishes for employees
You can use this as an opportunity to thank them for their work and to encourage and motivate them, something that is even more important this year.
Merry Christmas [name]!

Thank you for all the commitment and dedication you put into your work. I hope the new year gives you plenty of satisfaction, and that we will achieve many successes in our work together.
Christmas wishes for colleagues
Here we're talking about formal greetings, to send to colleagues we are not particularly close to, but with whom we are able to take a few liberties. Of course, when talking about the new year, it's hard to ignore the year we're leaving behind: 2020 will remain imprinted in everyone's memories as a year to forget. A message of encouragement will make the card feel warmer and more personal.
Happy Christmas [name]! I hope you enjoy a peaceful few days with your family. May 2021, and all the years that follow, be better that the year we are leaving behind.
Christmas greetings for suppliers
Christmas is a good opportunity to strengthen your links with your suppliers, who after all have a crucial role to play in your business. It's worth adding a thank you for their contribution and a wish regarding new, shared projects.
 [name], thank you for working with us and for the support you are always happy to provide. Here's to a 2021 full of ambitious shared projects! Merry Christmas and a happy new year from the whole team.
Christmas greetings for customers
For business-to-business communications, wish your customers a prosperous new year, and confirm your availability for new joint projects.
[name], Merry Christmas from the whole team! Thank you for choosing us and for the faith you've shown in us. We have lots in store for 2021 – we hope we can continue to share our projects with you.
 Once you've drafted your text, it's time to start creating your cards. Here are a few pieces of advice on how to do it.
Formal Christmas greetings: creating a Christmas card
We recommend you shun the traditional cards you might buy in a stationer's and fill out by hand, and instead opt for a bespoke card. If you are sending cards to your customers, suppliers or business partners, the most professional option is to customise them with the company's colours, fonts and logo, while also, if possible, letting your personality shine through. If, on the other hand, you are exchanging greetings with colleagues, or want to send a card to the owner, there is no need to restrict yourself to the company style.
You could either entrust the job to a graphic designer, or create your own formal Christmas cards with the help of a few simple graphic design tools.
Adobe Spark
Adobe Spark, for example, offers a selection of Christmas templates for you to use as a starting point. Here's an example of a template we found in the gallery that is perfect for a formal Christmas card – it avoids the overly childish or photographic graphics you tend to see on stock cards.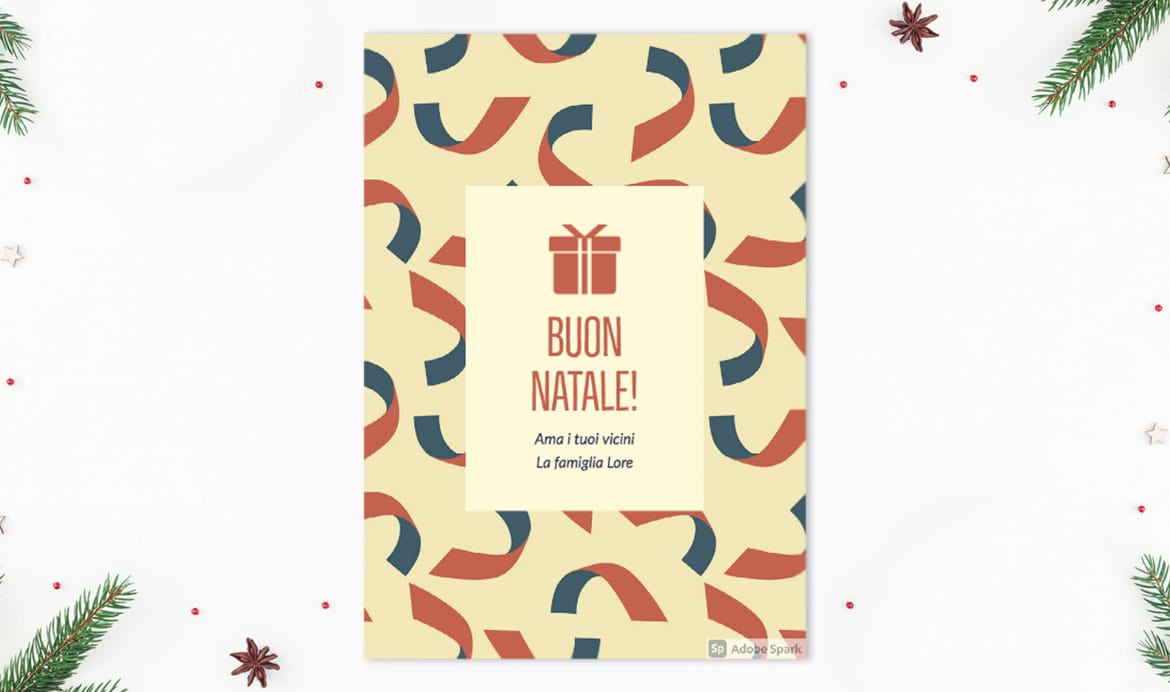 Crello
Crello. Here too you can choose your basic template and customise it however you please with photos, images and fonts. We scoured Crello's gallery, and picked the Christmas templates that best fit the bill.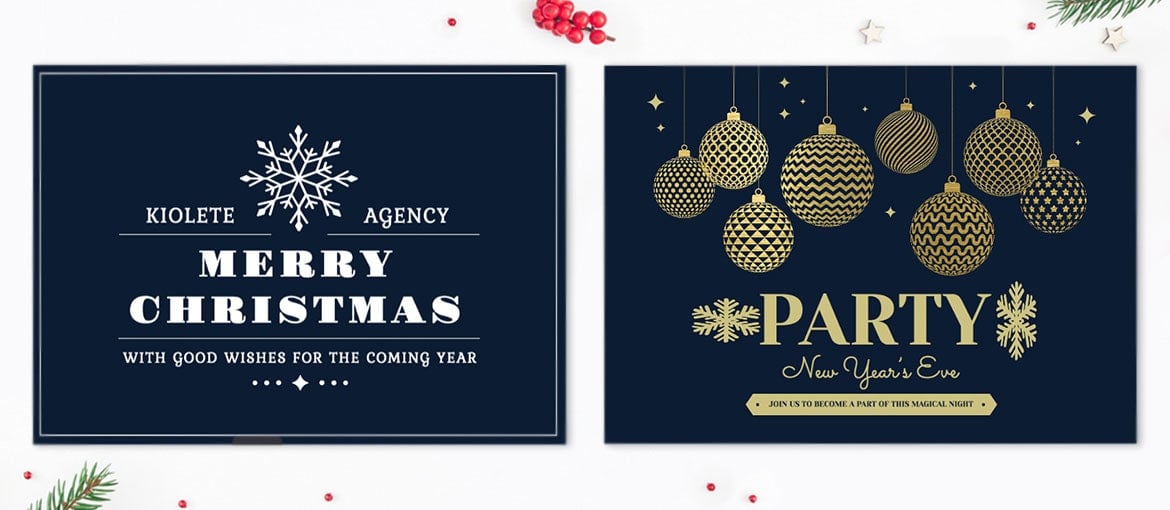 For those who would prefer not to use a template, and who want to create their card from scratch, here's some inspiration for you.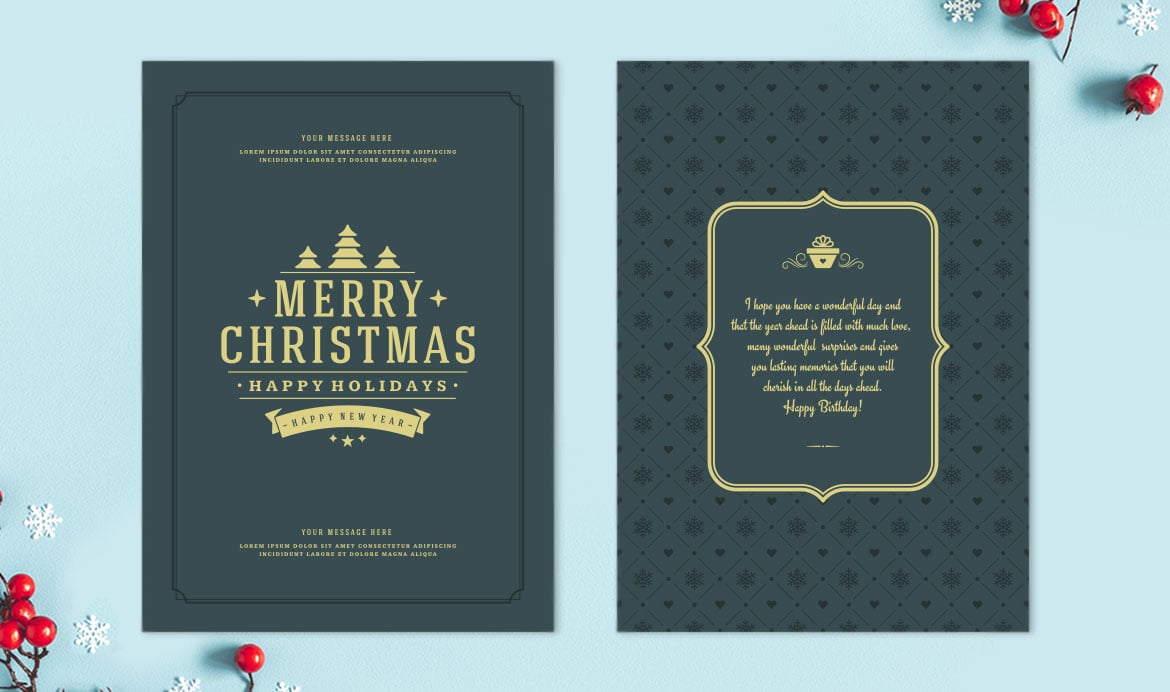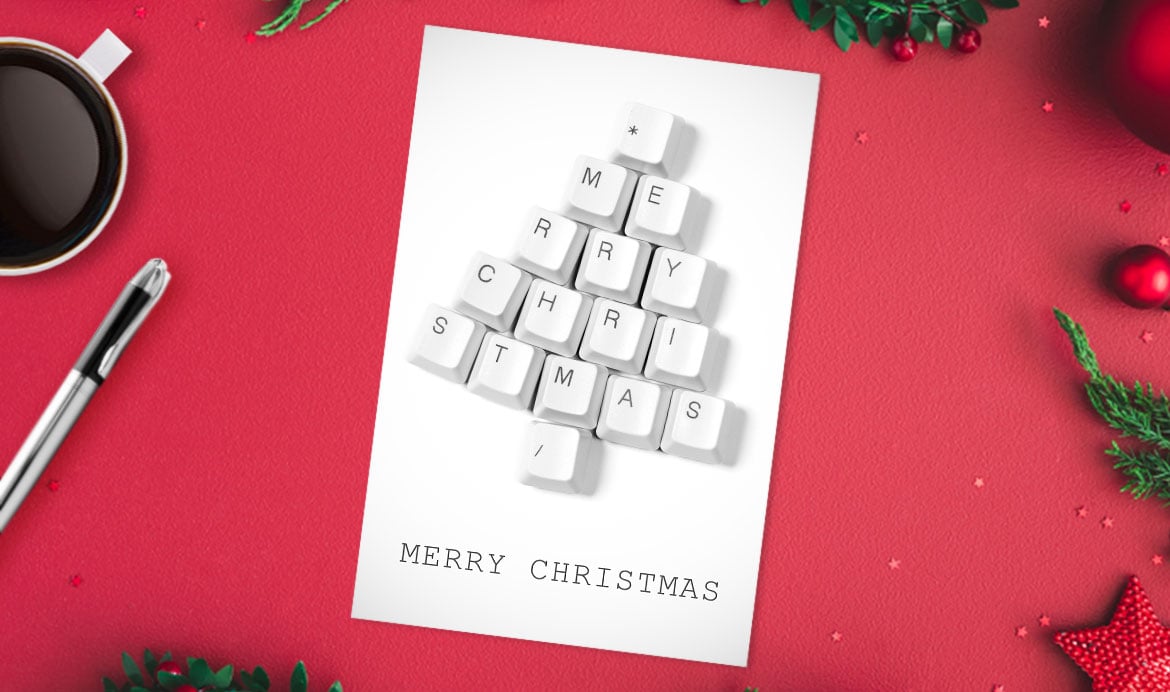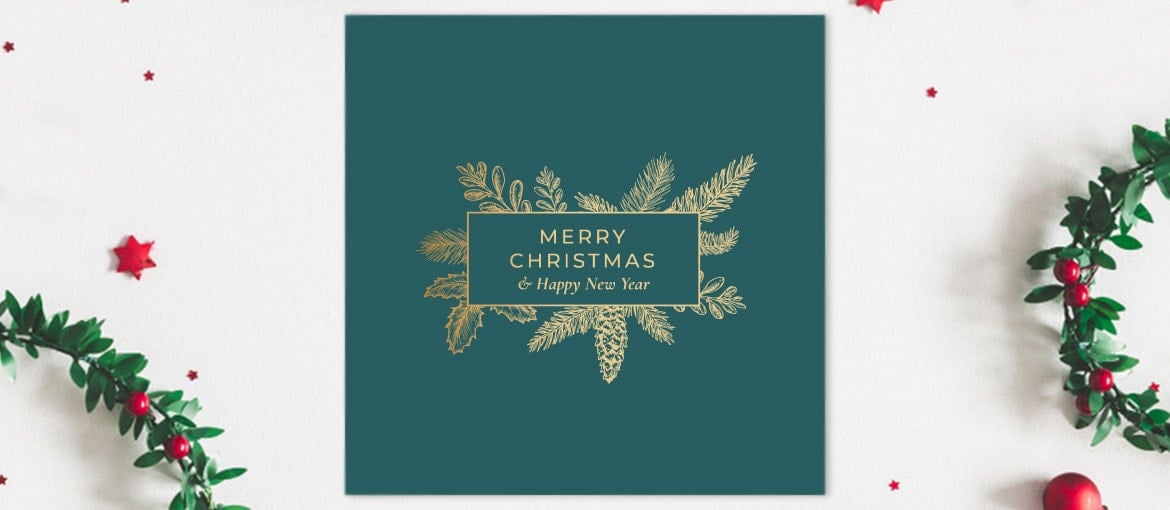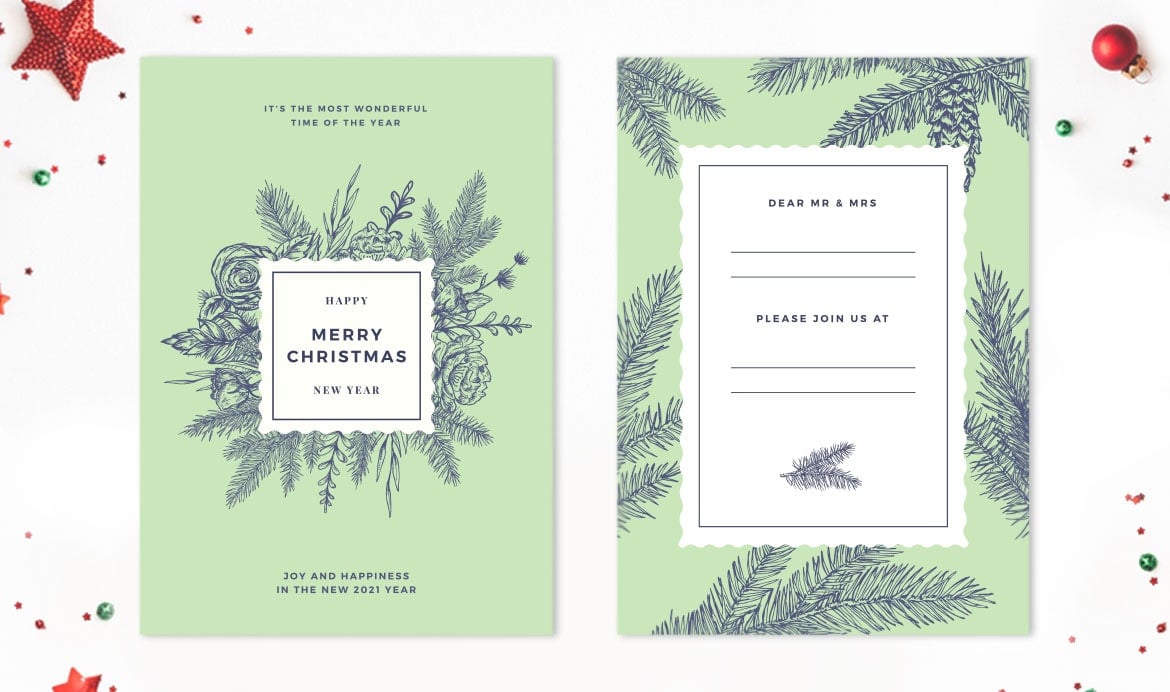 Aas you can see, we've gone for a sober and elegant style, without too much decoration. The last one, which is more witty and informal, could be a good card to send to colleagues.

Formal Christmas greetings… how should I send them?
Now all that remains is to decide how to send your formal Christmas greetings. You can go down the electronic route, or you can print them and send them – and of course, if you're not working remotely, you can deliver them to your partners and colleagues by hand.
There are at least three reasons why choosing the printed option is more effective:
It shows extra attention and care, as the fact that you have gone to the trouble to print and deliver each card shines through, making the recipient feel more special.
It is more affectionate and stylish. An electronic card tends to be colder and more detached than the paper-and-ink equivalent.
It makes more of an impression. Compare and contrast a card you can hold in your hands with an email that only lasts as long as it takes to open and close it. Which will you remember for longer?
 Have you decided to go for a paper and ink card? Good choice! Our printers are already warming up… You can send us your file through the My Account area.