Anyone wanting to get started in graphic design, digital illustration or photo editing has a vast range of options and software to work with. The Adobe suite is undoubtedly an excellent choice if you want to do a professional job. Whether it's Photoshop for photo editing and digital design, Illustrator for vector graphics or Lightroom for post-production, the Adobe package is one of the most popular paid options used by graphic designers, illustrators and photographers.
But not everyone can afford a monthly subscription to one or more of the programs in Adobe Creative Cloud, especially if they're a beginner, they want to practise for a new career in design or just need a free tool for one-off projects. On the web you can find a vast range of free graphics programs, but you undoubtedly need to choose the right free resources, otherwise you risk wasting time that could be better spent learning and practising, which is essential if you want to do things properly.
So here's a selection of five free graphics programs for your projects. Next to each program name you'll find a download link and the platforms it supports.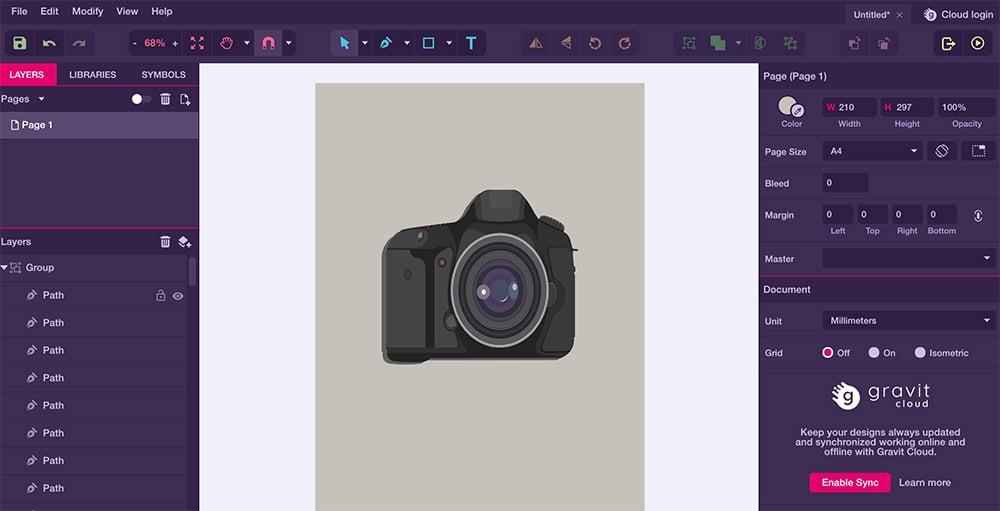 Platforms: Online (browser), Windows PC, Mac PC, Linux, Chrome OS
Previously known as Gravit, Gravit Designer is an extremely comprehensive vector design package suitable for various types of work, from icon design to presentations, illustrations and animations. As soon as you open the program, you can set the size of the work area as well as that of standard formats like Blog Cover, Facebook Cover or the graphics designed to perfectly fill the screen of an iPhone X. The software is really bang up to date.
The interface is very simple and intuitive, and features a useful set of tools for building complex, non-destructive vector images, including diagrams. It includes pen, crop and cut tools. You can also create simple shapes – there's even a system that automatically completes them – as well as compound vector shapes made from different objects.
It's one of the most versatile online graphics programs around, perfect for both beginners and more experienced designers. Files can be exported to PDF, SVG or bitmap format and there's even the Gravit Cloud service which allows you to access all our work wherever you are.
Platforms: PC Windows, Linux, Mac
Inkscape is another highly versatile and powerful vector graphics program,  considered as one of the best free open-source alternatives to Illustrator. It focuses on SVG (Scalable Vector Graphics) formats, but many other formats can be imported. Inkscape offers maximum compatibility with numerous proprietary formats (particularly AI, EPS, PDF, JPEG, GIF and PNG).
Although it doesn't have the myriad functionalities of Illustrator (like external plug-ins and filters), Inkscape still does the job: from basic operations like creating and editing complex shapes to working with layers, editing text, importing raster images or creating GIFs. The developers as well as the large Inkscape community have also provided various tutorials for the program.
The biggest drawback of Inkscape is that you can't work in CMYK (essential for creating artwork for printing) but in RGB only (usually employed for web-based work). Support for CMYK will probably come with the next updates. In the meantime, you can work in Inkscape and, when finished, import the project into Scribus (another free program that supports CMYK) following this tutorial. A little laborious, but that's the price you pay for getting everything for free.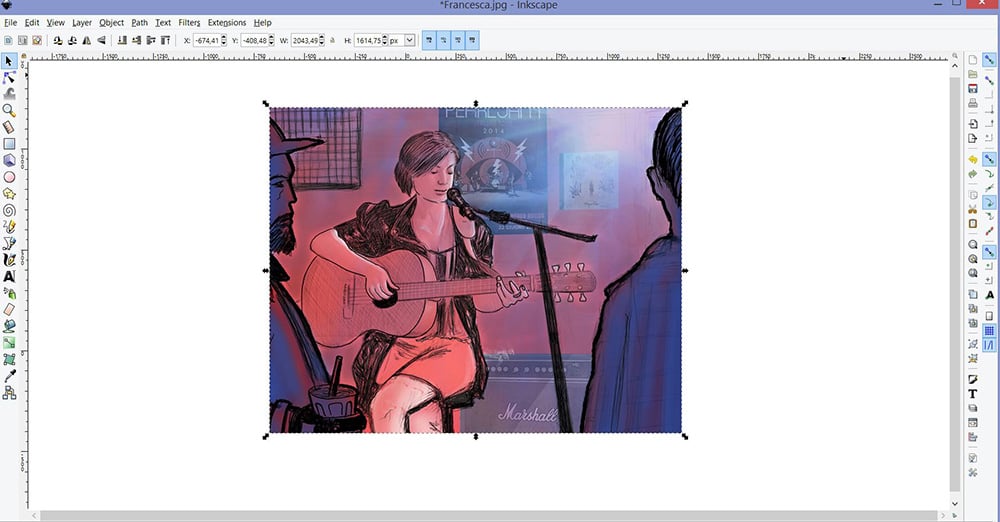 Platforms: Mac, Windows, Linux
Krita is a highly versatile digital design program which has been around since 1999 and is aimed at artists working in concept art, textures and matte painting, as well as illustrators and cartoonists. It comes with a series of brushes for different types and styles of work, but there are also lots of plug-ins available for adding advanced filters and advanced perspective guides, to make life easier for artists.
More features offered by this program include a brush stabiliser, so that even people with shaky hands can draw smooth lines, the easy creation of patterns and textures and a pop-up colour palette for quickly choosing the right colour. And yes, Krita supports CMYK (as well as RGB of course) and also has advanced functions that are hard to find in other free online graphics programs, like HDR design.
Platforms: Android, iOS
Pixlr is a photo editing app for Android and Apple smartphones. It's free (but includes ads) and has over 600 filters that can be applied to photos and images. You can also add borders and stickers, create photo collages for sharing and also use real-time filters on images framed by the smartphone's camera. It's very simple to use: once opened, you can choose whether you want to take a photo (for editing later), edit an existing photo or create a collage. It's not an advanced graphics program, but it is a handy tool for editing photos and images on your phone.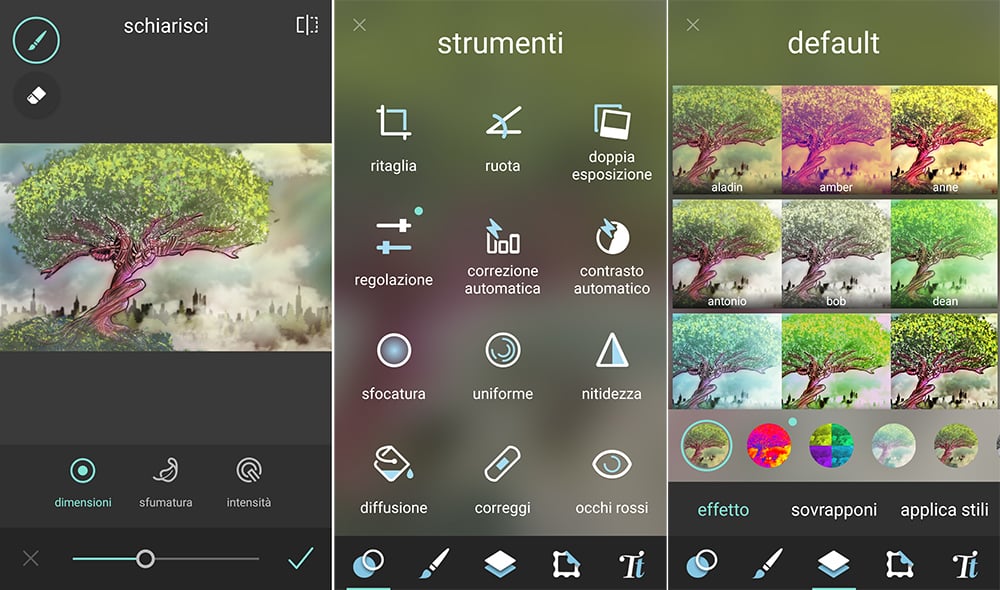 Platforms: Windows, Mac, Linux
Any list of free graphics programs wouldn't be complete without GIMP, a popular alternative to Photoshop. GIMP stands for GNU Image Manipulation Program and it initially started life on Unix. The GIMP interface differs from Photoshop in various ways, although there is a version that looks like the Adobe program. It offers a huge range of tools for drawing, colouring and improving photos and images, which are compatible with different formats, in addition to a very useful file manager similar to Adobe Bridge.

Online graphics programs: other free alternatives
There are, of course, more than just five free graphics programs on the web, and which one is best sometimes comes down to personal preference: as they are free, it's worth trying out as many as you can until you find the one best suited to your needs. Other well-designed software available online includes vector graphics programs Vectr and SVG Edit, which basically give you free vector images. For editing images there's also Photo Pos Pro, while for mobile phone photo editing there's VSCO.