Imagine you're at a conference. You walk around the sponsors' area, moving from stand to stand, and finally stop at one promoting a company known for its green policies. After a few pleasantries, they offer you a drink, in a disposable plastic bottle. They give you their bag, made of (non-recycled) paper. And inside you find a range of free gifts, and the only green thing about them is their colour.
Your trust in them would go down considerably. Just like people, businesses need to be consistent, otherwise they lose their credibility. So what would you expect to find at the hypothetical stand of this 'green business'? That's the topic of this article, which suggests a range of environmentally friendly – and original – corporate gifts.
Eco-friendly corporate gifts – a few ideas
If you have a strong environmental conscience and want to communicate this to the people who come into contact with your company, choosing the right corporate gifts is a small, yet important, consideration. While this article will feature some gifts to hand out to customers, we'll focus in particular on gifts for employees, because we believe true sustainability must begin within a company, before it can be communicated externally.
Here are the items we would expect to find at the stand we described above.
A personalised water bottle
This free gift could be used by employees at the hypothetical 'green business', as well as being something we'd be happy to find in our goody bag. It sends a clear message: take me with you wherever you go, and save on plastic cups and bottles. The bottle can be customised with your company's logo, a relevant motto, an image or even the name of the recipient, so colleagues don't get them mixed up in the meeting room.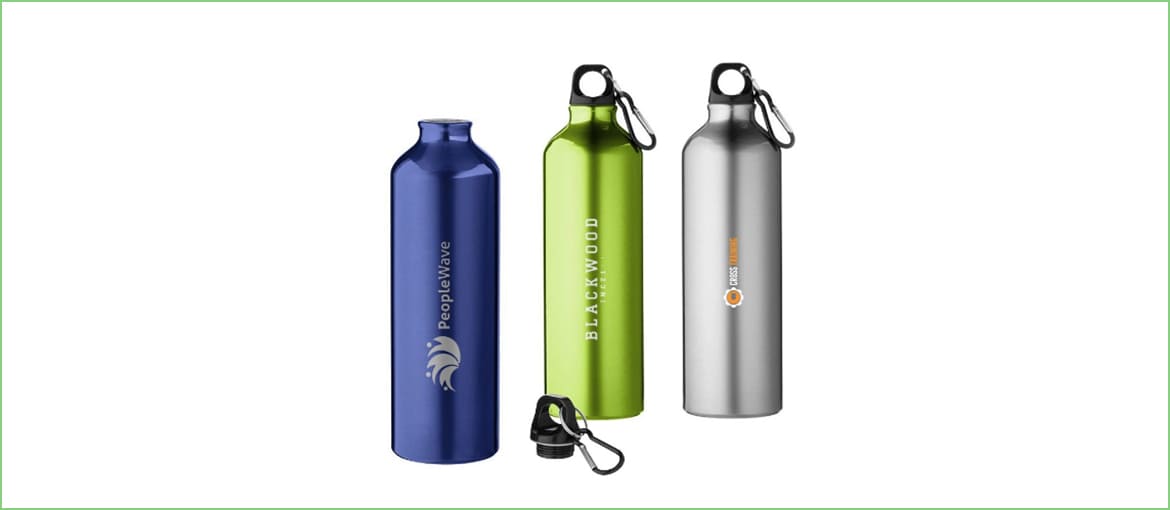 Every desk needs a mug
A mug is an excellent alternative to a bottle, which again encourages people to stop using disposable cups (the gift is clearly only worthwhile if your office has a water dispenser or kettle). This change will immediately lead to a drastic cut in the amount of waste produced and, over time, a financial saving, because the business will no longer need to buy cups. As with water bottles, mugs can be customised with your firm's visual identity.
A t-shirt that stands out
Instead of disposable corporate giveaways, we prefer things that last and that can be used multiple times. Like a branded t-shirt, for example. It is a shrewd gift to give to employees: when worn at events or conferences, it makes your brand look well-organised and shows you pay attention to detail. Our advice is not simply to print the logo, but instead to come up with a more refined t-shirt design that people will actually want to wear. The aim is to encourage staff to don them at events that are not strictly work related too, and so spread the word about your brand.
A reusable cotton bag
You may recall that the 'green business' gave us a non-recycled paper bag. Don't you think a cotton bag would be better? Cotton bags last longer and, as a result, your company will stick in the recipient's memory longer too. Unlike disposable bags, cotton tote bags can be reused, making them useful gifts. Once again, there are infinite customisation options. Our advice remains the same: don't just print your logo, add details that encourage recipients to reuse them.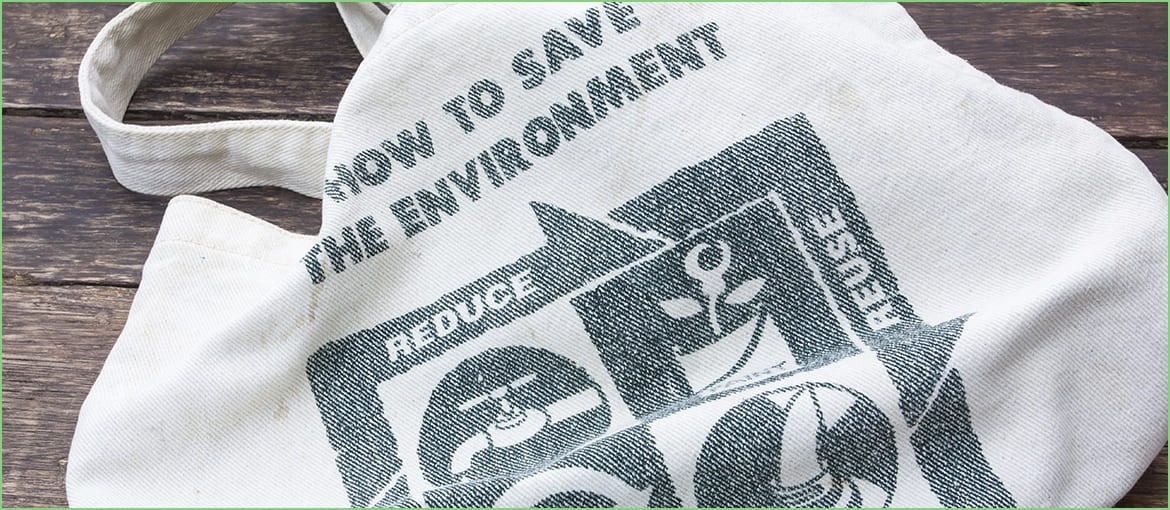 Branded bandanas and scarves
If you like the idea of giving out a wearable accessory that stands the test of time, one original idea could be a scarf or bandana made from natural fabric, with a personalised printed design. The advice we gave you for the t-shirts applies here too: the more attractive the accessory, the more it will be worn.
A recycled paper notepad
If you're at a conference, it makes sense to add a notepad for jotting down ideas to the bag of goodies – while everyone has their mobile within reach nowadays, some people still prefer pen and paper. In the bag handed out by our 'green business', we'd have liked to find a nice notepad made of recycled paper. A gift that shows you've thought about the environment, because no trees have been sacrificed in the process!
An eco-friendly pen
Customised pens are something we'd expect to find in any bag of free gifts, or on employees' desks at a company. Ok, so it may not be the most original item, but since people are expecting it, you wouldn't want to disappoint them, would you? In any case, if you're giving out a notepad, a pen is an essential companion. However, for our 'green business', we'd like a special pen, with a low environmental impact. If you're wondering, yes, eco-friendly pens do exist, made of recycled and recyclable materials like paper, wheat straw, cork or bamboo. They also look beautiful and can be customised as you see fit.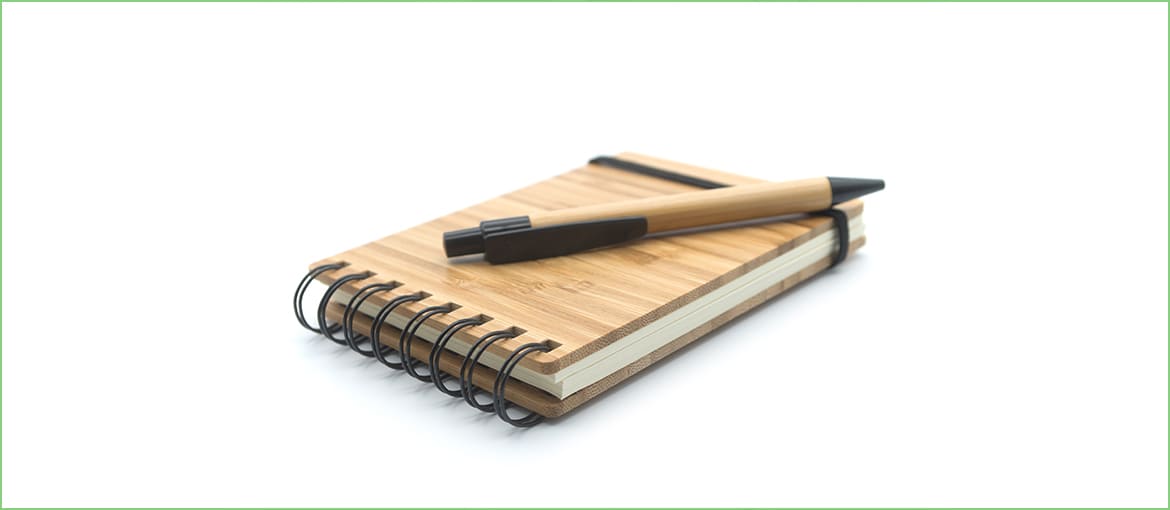 A more radical idea: a flyer made of plantable paper
In the bag from the 'green business' you're probably sick of hearing about, it would also be nice to receive something unexpected. Such as, for example, a flyer printed on plantable paper. If you'd like more information on this type of paper, we discussed it in detail in the article Plantable paper. Ever heard of it? All we'll say here is that it is a type of paper made with waste materials that grows a plant once you put it in soil. You don't get much more sustainable than that!
If you're looking for inspiration for filling your next goody bag, hopefully we've given you a few ideas. And we're always on hand to create the custom prints for your gifts.