Last month we opened our doors to Italia Publishers, the trade magazine dedicated to digital printing and packaging. It was the first publication to visit our production department, and for the occasion it created a 'Web-to-Pack Challenge' to test for itself the quality of Catalyst, our new and innovative production line for manufacturing lightweight cardboard packaging. Italia Publishers tested us by asking to print a product that pushed the envelope of our capabilities, incorporating all the most difficult options and finishes. Pixartprinting accepted the challenge with pleasure. This is the result.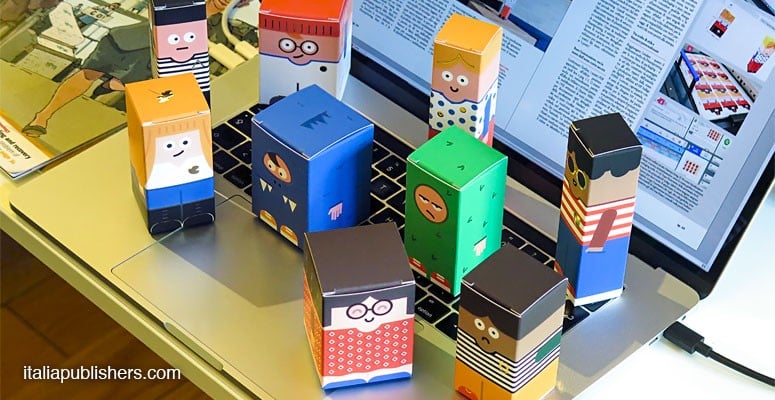 Herbert, a rather quirky guy flaunting Donald Trump-style golden locks, was born on a cold February day, and immediately donned red trousers and a soft-touch gold and blue polka dot jumper. 'Who's Herbert?', I hear you ask. He's one of nine pieces of packaging created in the 'Web-to-Pack Challenge' that Italia Publishers set Pixartprinting in February this year, a year on from the European web-to-print leader's installation of an innovative production line that produces lightweight cardboard packaging. Its unusual mix of technologies enables the department to print tiny runs (from as few as 25 items) with over 300 different product combinations, and deliver them in as little as 48 hours from ordering. These figures seem barely believable, especially given the lamination and finishing options involved, which nevertheless don't add to the delivery times. It all sounded too good to be true! Three things are certain: the digitalisation of packaging production is still in its infancy, web-to-pack's potential is still largely unrealised, and here at Italia Publishers we always wait to see the finished results before passing judgement. That's why we decided to challenge Pixartprinting by placing an order and asking them to let us follow it through all the production stages. We were able to chat to the operators involved and take as many photos as we liked in the department. Here's what happened.
THE ONLY LIMIT IS YOUR IMAGINATION (?)
The experts are always telling us that the possibilities offered by digital tools are endless, and we often say the same. We therefore decided to base our challenge on a complex creative project, combining almost all of the options available online: small print runs, varying sizes and designs and different finishes. The packaging we devised combine nine designs and three different sizes, and incorporates the best finishes that Pixartprinting offers its customers: soft-touch lamination, 3D varnish and metallic foil.

THE ORDER IS PLACED!
Once Herbert and his friends have been designed, the real challenge starts. We prepare the nine print files (one for each character), adapting our designs to the templates downloaded from the Pixartprinting website. Then we go back to the site to order everything, confirming the type of box we want, the dimensions, the type of lamination and finish, the quantity required and the delivery times. The system suggests we download a detailed instructions file, standard practice at Pixartprinting, and we refer to it to ensure our files are all in order.
AUTOMATION IS ALL VERY WELL, BUT THE HUMAN TOUCH STILL COUNTS
With the order confirmed, our PDFs arrive at the pre-press office. And, of course, so do we: we set off at dawn from Milan, arriving at the plant in Quarto d'Altino, near Venice, fully equipped to document every last detail in the creation of Herbert and his friends. Here the order created online is transformed into a record on Pixartprinting's proprietary management system, which is used across the entire company. The key information on each order is summarised using icons, while the project's priority is identified by colour, which naturally depends on the delivery date chosen by the customer. If the file uploaded is unsuitable for whatever reason, the pre-press operator assesses the complexity of the issue and decides whether to contact users by email or to alert the Customer Care team, which will communicate with the customer. "Customer Care is based here in our headquarters," Patrizia Baggio, Head of Communication at Pixartprinting, explains. "It's a team of 80 people, who can respond to issues in six different languages. Those responsible for handling the most complex problems are trained in pre-press operations." Workflow efficiency is a key concept within these walls, but the handling of our packaging is not fully automated – checking and preparing each file is entrusted to expert pre-press operators. Once our files have been processed to ensure they are fully compatible with all the subsequent stages, they are ready for printing.
STYLE CHOICES AND CUSTOMISED FUNCTIONS
Getting to Catalyst, the moniker Pixartprinting has chosen for its packaging line, gives us a good excuse to stroll around the high-tech equipment in the company's other departments. The production process begins with digital printing, entrusted to an HP Indigo 30000 press. Lorenzo, the head of the department, with eight years of experience at the company, tells us: "The HP engine is very stable for printing packaging. We always use primer for perfect adhesion to the material, and the One Shot option to avoid any registration problems". After some automatic test prints, production gets underway. We can spot our Herbert through the viewing windows located along the paper path, and in just a few minutes the print run is complete. The boy isn't yet looking particularly healthy, but his flat body will soon take shape. Once the printing is finished, it is time for two outfitting operations: soft-touch lamination first, then digital finishing with Scodix Ultra Pro. The styles applied to our little friend are selective embossed varnish and gold metallic foil. Vittorio, another operator, explains: "We work at a rate of 200 or 300 sheets per hour. The only manual operation we have to perform, aside from loading the sheets, changing the format and any maintenance, is replacing the roll of foil. The machine can't distinguish between gold and silver, and so we have to step in depending on the option chosen. Otherwise, we don't even open the file. Working with the research and development team at Scodix, we've implemented a system where all the processing information can be extrapolated from a dedicated barcode on the printed sheets." Herbert is now wearing his rather fetching jumper with embossed polka dots, his golden hairdo brightening up his face.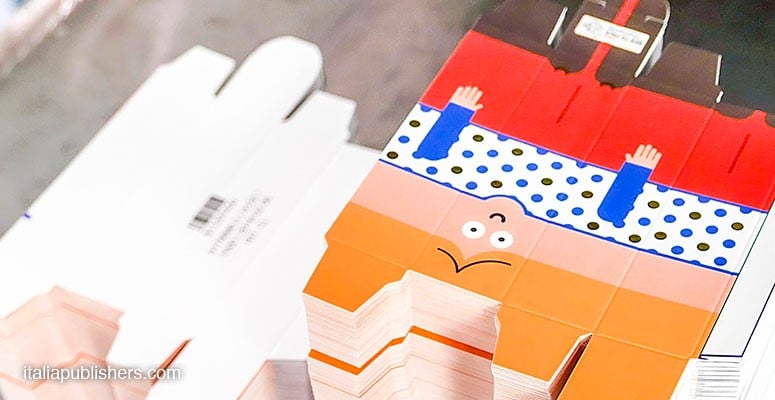 BESPOKE CUTTING, WITH ANALOGUE TECHNOLOGY
A few yards down the line, we reach the cutting stage. The die-cutting machine Pixartprinting picked for its packaging is not necessarily an obvious choice: the Bograma BSR 550 Servo Rotary cutter. Pixartprinting's Research & Innovation department, looking for the optimal balance between quality and efficiency, opted for a hybrid line, with an analogue die-cutting system following digital printing and finishing equipment. Pixartprinting decided that the Bograma suited its needs better than more innovative digital solutions. As operator Alberto explains, the machine has been customised in several respects. For example, introducing a system which spots when the job changes, and whether the die needs to be replaced, and communicates with the machine, slowing down or stopping the process. After cutting, Herbert is no longer repeated multiple times on a sheet of flat cardboard. He now has a clearly distinguishable shape and is stacked in individual pieces, ready for the final processing stage. Perhaps inevitably, the KAMA Flexfold 52i folder-gluer is also analogue. While we watch, operator Mattia brings up a preset and, thanks to a series of servomotors, the machine adapts perfectly to Herbert's size and design. With almost no human intervention, hundreds of Herberts start whizzing in front of our eyes through various mechanisms that, by adding glue, folding tabs and applying pressure to the glued areas, turn the shaped card into finished boxes. Herbert is finally 3D. At the end of the Catalyst line he looks handsome and smug, unaware of the long journey that still awaits him.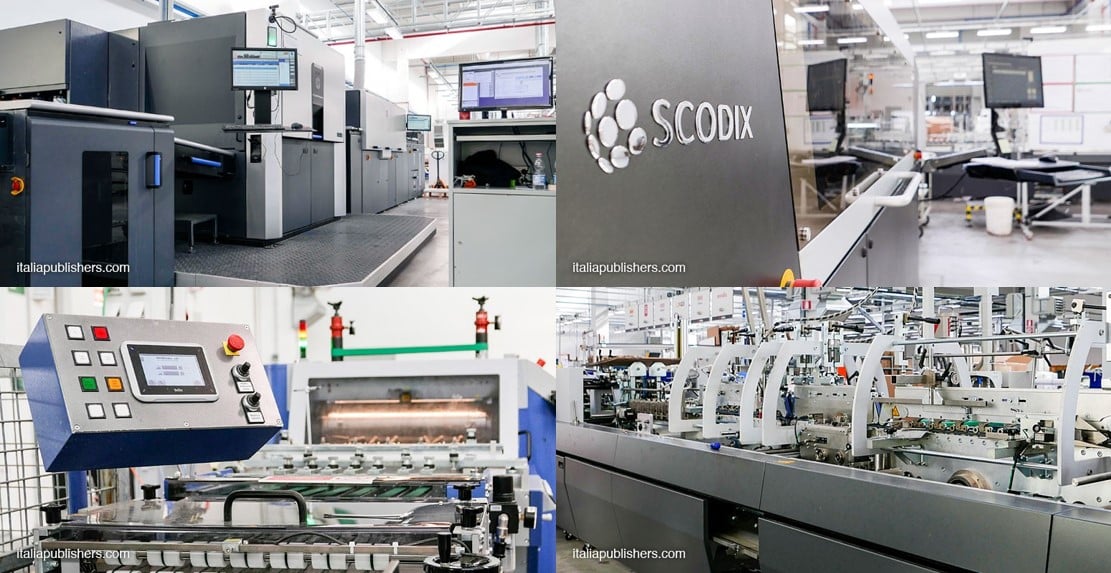 PACKAGING READY FOR DELIVERY: SHIPPING IN 48 HOURS
Our packaging, folded, pressed and put into boxes, is now ready to head to the shipping department. Here the multi-purpose barcode, which has accompanied our little boxes throughout the various production stages, turns into instructions for the logistics company. Imagining our little Herberts imprisoned in a box makes us a little sad, but we're sure we'll see them soon. It's now 11:30 am – in the space of approximately 50 minutes the staff at Pixartprinting, despite our barrage of questions, have managed to complete one of our packaging designs with no hitches. We've got a taste for it, and can't wait to watch our other eight characters being produced, but it turns out we're too late: Pixartprinting put Herbert on standby, using a special procedure, so we could witness his 'birth'. The other characters followed the standard process, and were produced early in the morning and boxed and sent to the courier a few hours ago. We have to admit that during our visit we had the feeling that Pixartprinting, despite its undisputed leading position in the market, is a company that has never stopped challenging itself, and always strives to improve. Perhaps that's why it accepted our challenge with unexpected enthusiasm. One thing is certain, however: web-to-pack is here to stay.