A playground to grow in, a way to experiment with styles and stories with a freedom  impossible to find at more established publishers.
Welcome to the world of self-published comics and illustrations: an underground scene full of artists who, by themselves or with others, have decided to create and print their own work, often with the help of Pixartprinting.
We've already looked at how to become an illustrator in five steps, but making a living from your passion for the visual arts is not that simple. Working in this field requires much patience and dedication to learn the basics, and self-publishing is a great way of doing this.
To further explore this world, we went right to the beating heart of Italian self-published comic artists and illustrators: the Self Area at the Lucca Comics & Games Festival 2019, a place where independent publishing houses and ambitious micropublishers proudly display their self-published work.
Daring experimentation
As soon as you walk into the Self Area at Lucca Comics, you can feel the electricity in the air: it's full of artists who have created firms and collectives that are free from the constraints of the mainstream market for illustrations and comics. It's a space for artistic freedom populated by both people who have been immersed in this world for years, and by absolute beginners who have just printed their first pieces and booked a space to showcase them.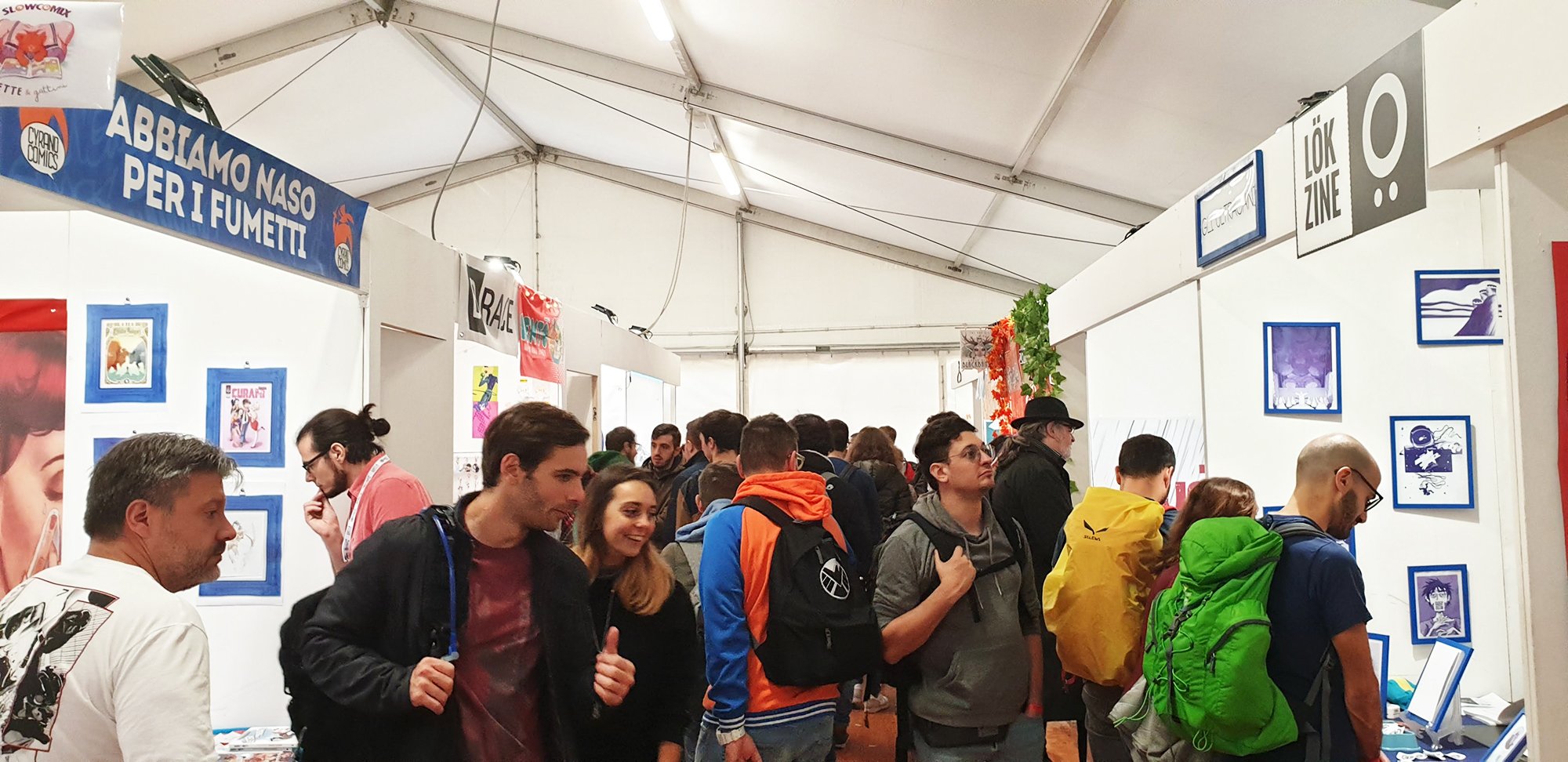 Browsing the stands, we came across some self-published works that particularly caught our eye, and chatted with their authors. We talked about the self-publishing world, how to manage the technical side of things and tips for aspiring artists who want to get into this scene that's crowded yet always open to new ideas.
Cristiana Fumagalli works in graphic design but started self-publishing her comics in 2011, straight after graduating. Her work deals with a number of themes, but currently the focus is family (in a context of magic and monsters) and the LGBT community, with a decidedly humorous take.
Hi Cristiana, can you tell us why you decided to go it alone?
Initially, I tried to apply for illustrator jobs, but I received either negative responses or no response at all. I decided on the self-publishing path because I felt that it was better suited to me and my character, which is disinclined to restrictions, and quite pernickety.
Furthermore, because I was doing the writing too, I learnt a lot about how to represent situations and emotions in order to then convey them to readers and directly see how effective these are with them. Basically, you're your own boss and decide what constitutes success and what doesn't, and, at the same time, you always learn something new.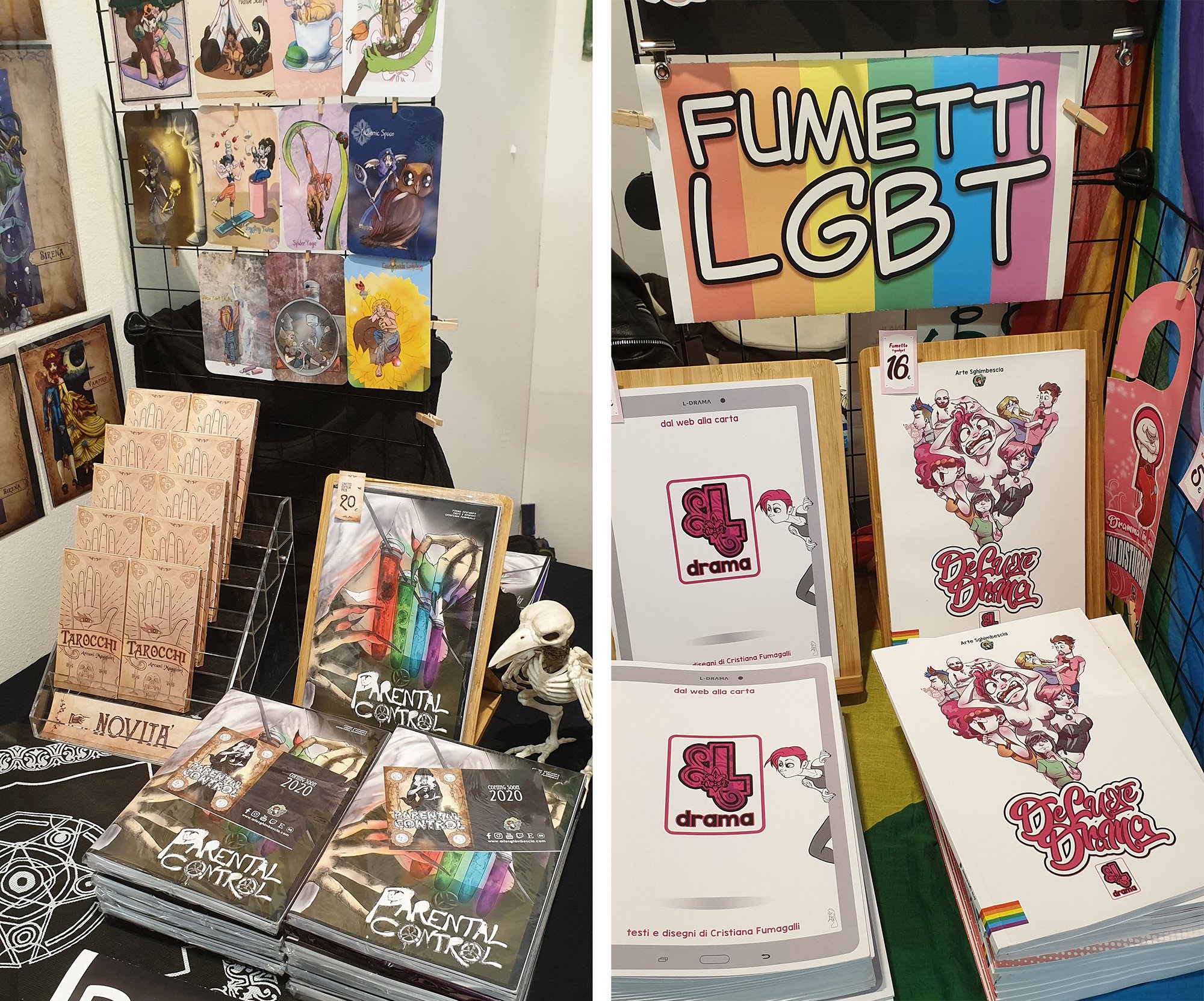 Many people would like to print their own comics or illustrations: what is

your work process and how do you use print on demand for your self-publications?
My production process starts with sketches, character studies and a plot outline. I then write the script and, at the same time, a storyboard that I create immediately afterwards digitally (I skip the page sketching stage). Once the drawing is complete, I add the lettering, do the layout and then print. It ̀sounds very simple, but sometimes it takes months just to do the first phase.
I must admit that I've had to experiment to get a result that is optimal for me and that achieves consensus. What's more, I'm very picky in my purchases of publishing products. First I put myself in the shoes of the end user: what type of paper is̀ nice to look at and flick through? Which format is̀ most̀ practical for reading and holding? What stands out most̀?
You need to look around you and be inspired by products from publishing houses and, based on the result that you want for your work, choose the type of paper that is most̀ suitable: matt coated brings colours alive, so in my opinion it's best̀ for publications with bright digital colours full of different shades.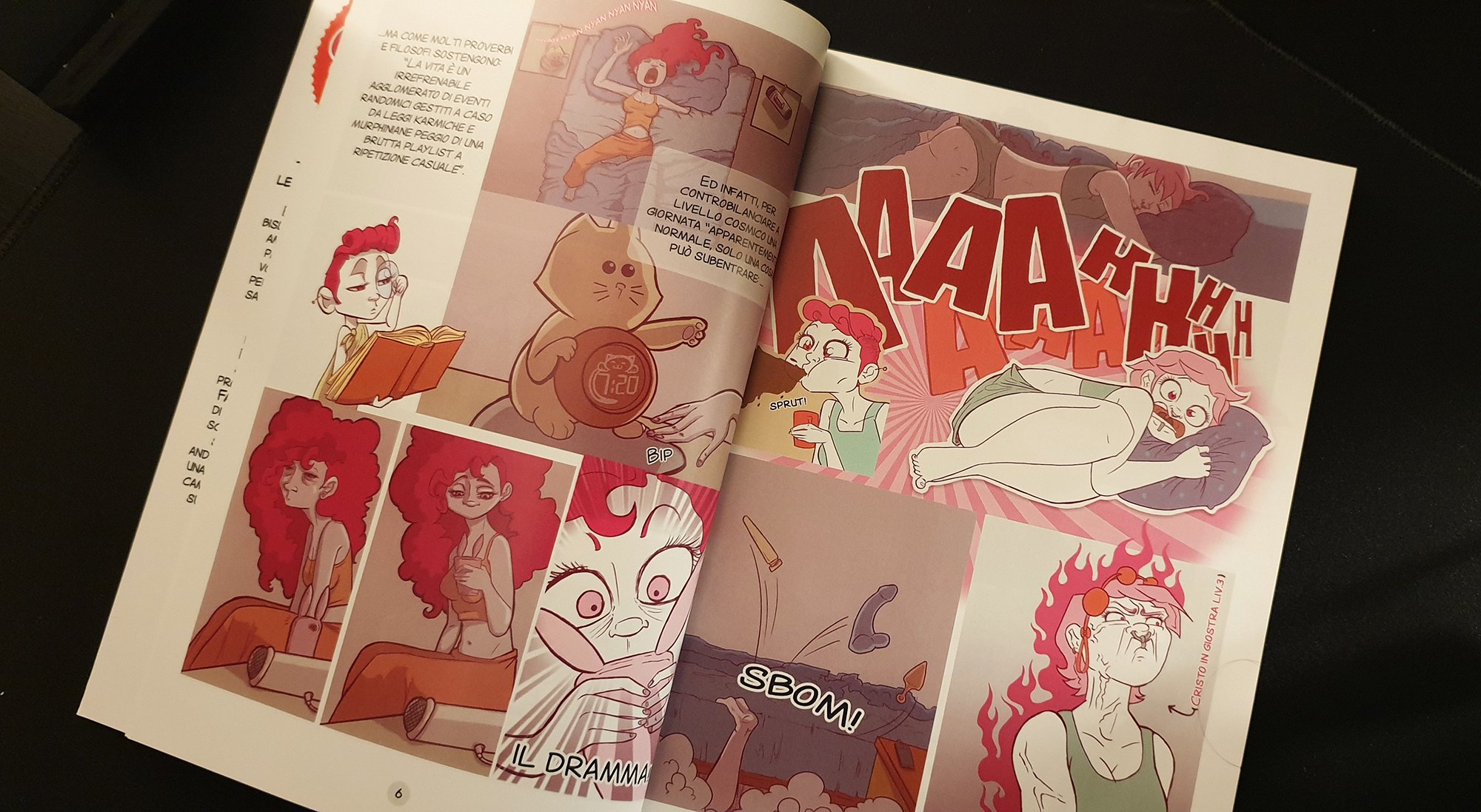 White uncoated tends to have a darkening effect on colours and, being̀ rougher, provides a morè "rustic" feel to the touch. It would be good for projects in which graphite and watercolours predominate (almost to hide the fact that it's printed).
I print the comics online, choosing different papers and formats depending on the piece. For example, the last volume that I printed had 56 pages of matt coated paper, perfect bound with a cover with matt laminated flaps (16.8 x 24 cm when closed), becausé the predominant colours are shades of magenta and pastel, and I needed them to be bright.
Lök Zine is an artists' collective that publishes magazines and self-produced objects, as well as organising events and exhibitions. It started life in 2011 as a self-published fanzine by a group of students from Bologna's Academy of Fine Arts, but it has evolved over time, with members using the project to experiment, hone their professional skills and work with different organisations. Today, it's an independent publishing house headed by Lucia Manfredi and illustrator Elisa Caroli.
They also translate and release the work of self-published authors from outside of Italy. One title that caught our eye was Patent Depending: A Collection by Steven M. Johnson, an illustrated manual of impossible and absurd inventions.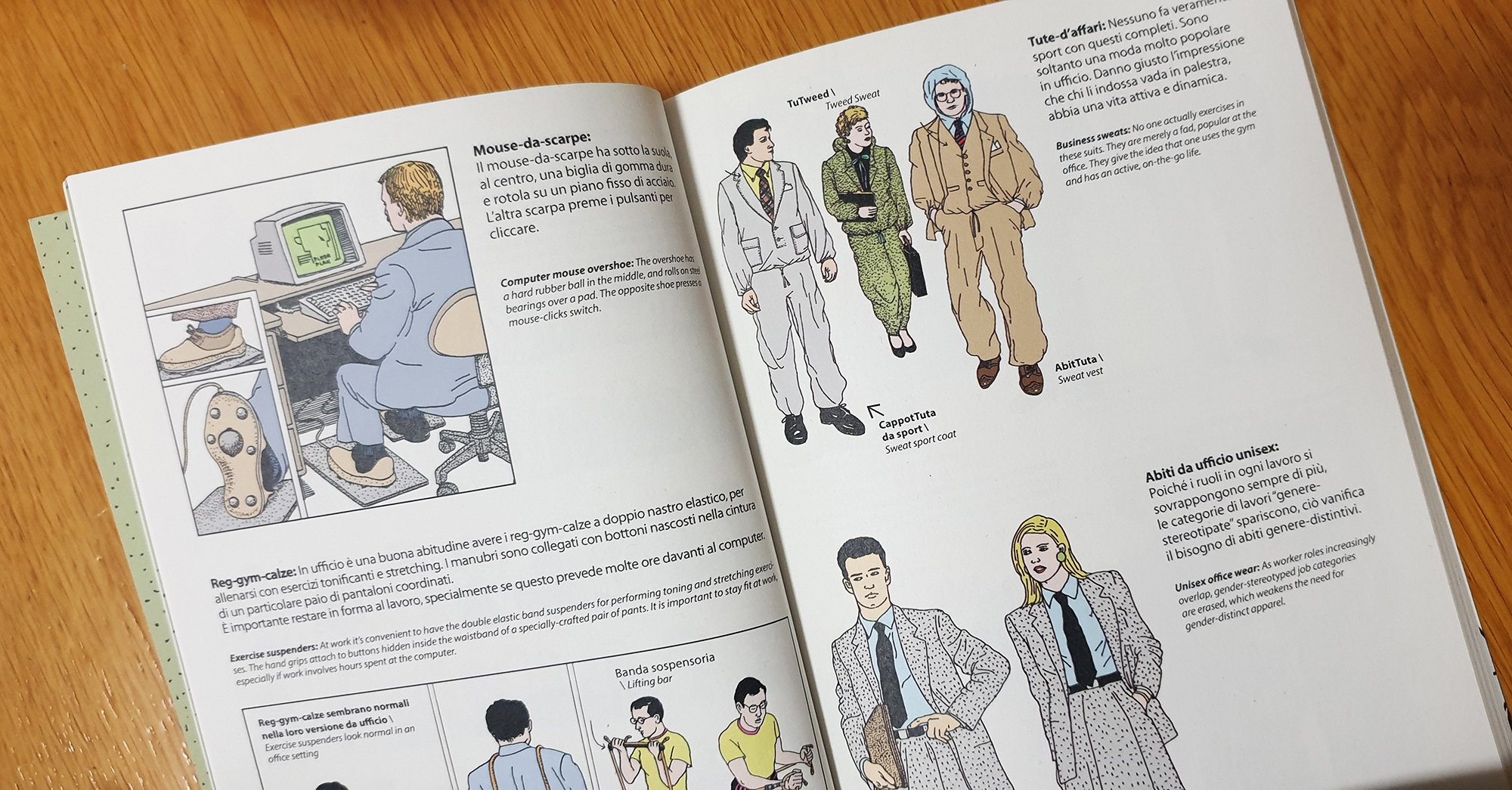 Hi Elisa, many authors choose to create a portfolio and offer it to publishers: why

did you decide to go down the self-published route instead?
 I don't think that these approaches are mutually exclusive. Way back in 2011, we were also producing portfolios to show publishers, except that we had so much energy and so many ideas and we had to bring them together somewhere. As we developed and established our careers, Lök Zine became the space that allowed us to create and experiment with new things free from publishing market's rules.
What's more, the direct contact we have with readers at festivals is very important: it allows us to escape the solitary world of the author and opens our eyes to what's happening around us, constantly inspiring us and teaching. Despite all this, we continue to create portfolios and send them to publishers!
How difficult is it to make a name for yourself in the self-publishing world in particular and with the public in general? Do you have any advice to give new aspiring authors?
The problem is definitely the information overload and the constant need to be "connected". If you don't have the means to finance a massive communication campaign, there is the risk that you projects will be swamped and disappear. I'm obviously talking about the Internet; participating in festivals and events definitely gives you good visibility.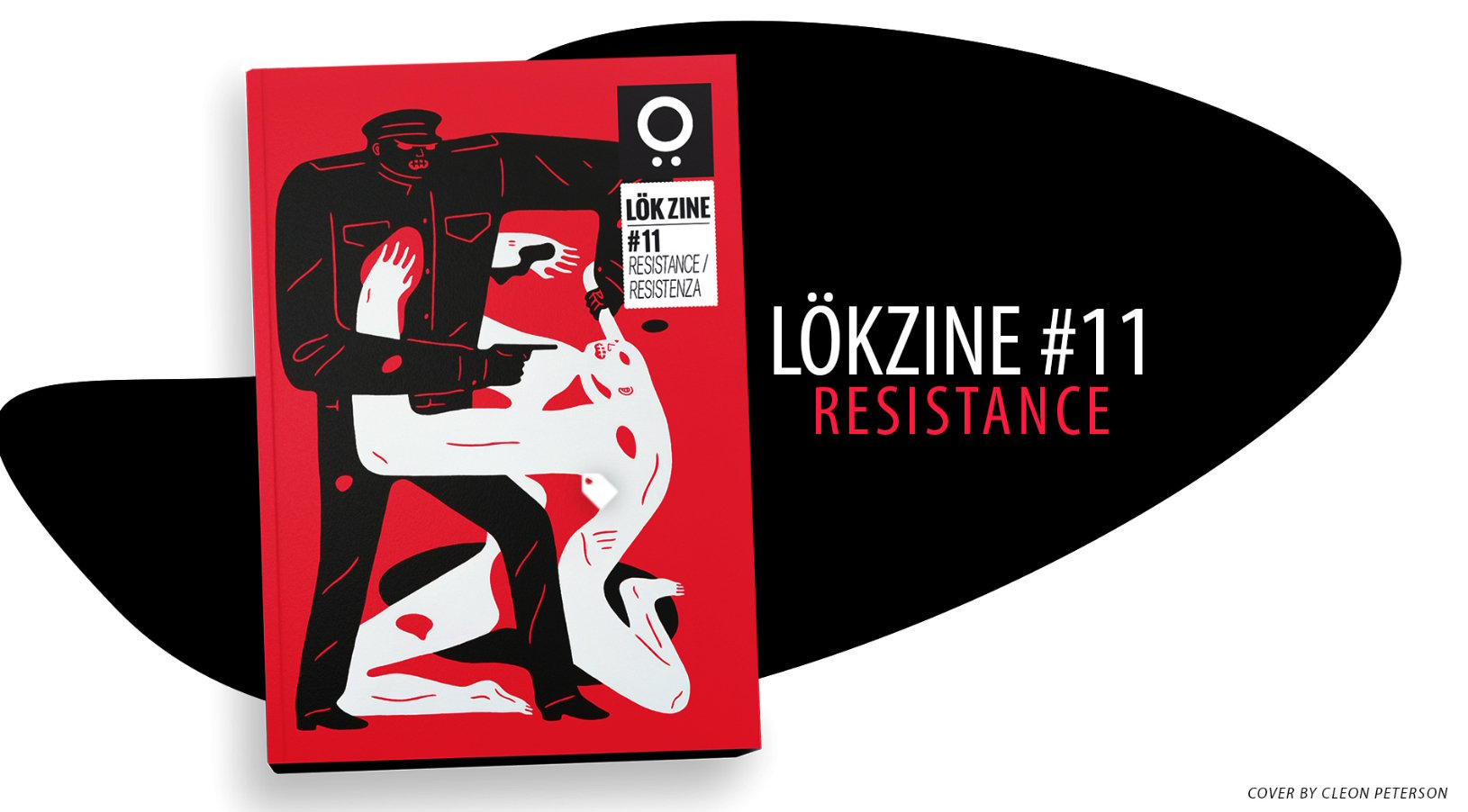 With Lök Zine, we strive to put on shows and events in Europe to make the project better  known. For new authors I suggest trying to create a community with other authors that supports  and sustains each other in a constant exchange. The ability to promote yourself is highly personal, but if you have a good group of "colleagues" you can support one another.
How do you manage the technical and business side of self-publishing?The type of paper used, the materials, formats…
We start from the principle that it isn't a way to get rich: self-publishing is a passion, more than anything. With Lök Zine, we've developed our fetish for paper and for everything that is a printed object. We print digitally online; covers are made from Fedrigoni Tintoretto with a simple white uncoated paper inside. Paper weights depend on the project.
For Shokuji no hennkei, we pushed the boat out and went for a Munchen 300 gsm for the risograph printing (at least three runs given it's a very absorbent paper). Also, we recently won the Fruit Indie Publishing Award from Fruit Exhibition and Favini, so the next project will be printed on Favini paper by another printer, who will also become a partner and who we'll unveil shortly (we are very excited about this new collaboration!).
Until 2018, our products were pretty much all in black and white for obvious budget reasons: given that we also do illustration it was a bit limiting, so we organised a crowdfunding campaign so we could take qualitative leap forward and we succeeded.
This is just the technical side, but first there are the months of work on organisation, content and promotion, not to mention the fact that our project is bilingual, so we always have the translation step. So, why on earth do we do it? For the love of comics, illustration and printing.
Amianto Comics –

BOLIDE
Another extremely interesting group founded in 2016 by a collective of young comic artists. The group self-publishes comics and promotes "ninth art" culture. Out of the first experiment with the magazine Amianto magazine – innocui passatempi per giovani rivoluzionari other projects were born, like the line of graphic novels entitled "Amianto Comics Presenta", and the titles in the "Reflusso" series, products that were more authorial and experimental.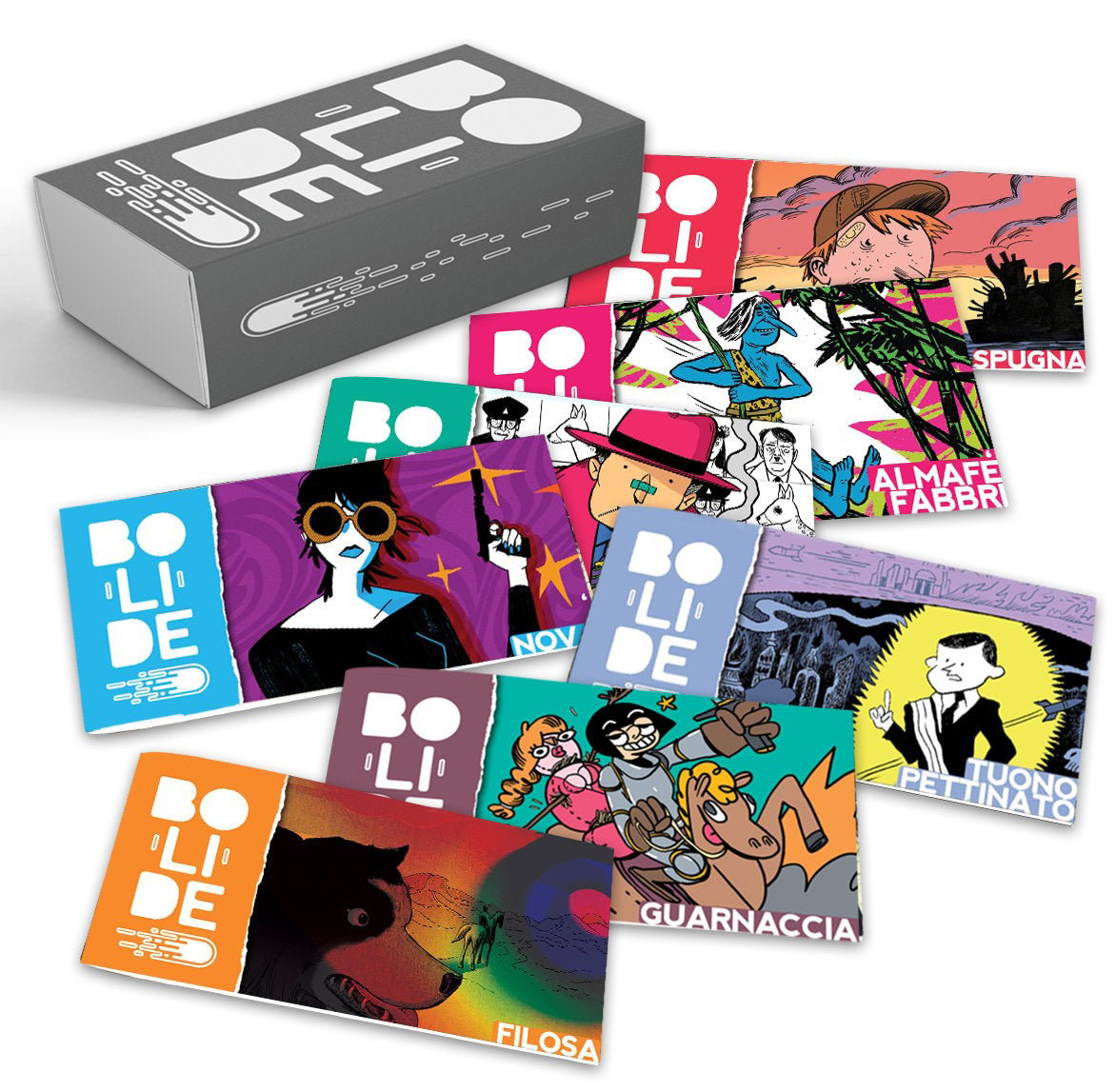 Another very interesting project published by Amianto Comics is BOLIDE, which brings together some of best comic artists from Italy's contemporary scene in a classic adventure comic. Each author, including Tuono Pettinato, created a 30-page comic strip in specific genre (space opera, crime thriller etc.) inspired by the great American classics (Dick Tracy, Flash Gordon etc).
How can self-publishing help an author?
Self-publishing can definitely help young beginners to gain experience: it's very hard for publishers to consider authors who have never tried their hand at the medium of the comic, and self-publishing is a way of demonstrating and honing your skills in this area.
In fact, over time, we've understood that self-publishing allows a freedom that is impossible to find elsewhere. To succeed, it takes time and patience. There are many comic festivals and we recommend taking part in as many of these as possible initially, whether large or small.
Tell us about your technical choices and how you print comics.
At Amianto, we personally financed our first issue of the magazine and thanks to this we were able to cover the costs of printing the next issue, and so on. As for as the magazine is concerned, we were very fond of the staple-bound format and we use 16.8 x 24 cm with matt paper, with a glossy coating for the outside only. For the inside, we use an uncoated 100 gsm paper; we think it works well with black and white.
 The other titles in our series have a heavier weight for the inside and, instead of staple binding, we use perfect binding. For printing, we use online printers: current market prices are much more affordable than local printers.
Self-publishing is for everyone
Here ends our journey into the Self Area at Lucca Comics & Games, a place where we found a vibrant atmosphere full of inspiration for those looking to try their hand at self-publishing.
The message from those who have been in this world for some time is clear and simple: today, everyone can express themselves freely by self-publishing comics and illustrations, taking part in festivals and taking inspiration from others. What's more, thanks to online printing, it's easier than ever to produce an excellent-quality product for showcasing your art.