Increasing numbers of small businesses are opting to sell to their products online via e-commerce sites. But when they do, they immediately face a key decision: which sites to use? Which are the best?
Amazon and eBay are among the best known and most reliable, but platforms like Etsy, Vinted or Ruby Lane can reach a more specific target – more knowledgeable, younger and more discerning consumers! Classified sites like Facebook Marketplace or Craigslist also offer advantages, while platforms like Shopify can save the hassle of building a website.
In this post, we'll list the best e-commerce sites and give you an overview of each site, including how they work, how much they cost and what they're best for selling.
Amazon
Amazon is world's best-known e-commerce site.
The platform dispatches millions of orders a day, and surveys show that almost 100% of users think that Amazon is trustworthy and secure.
Jeff Bezos launched Amazon in 1994 as a site selling books. Today the platform is something else entirely: it's a marketplace – a site that brings together products sold by different vendors under a single roof – where you can sell all sorts of things, with electronics being the most popular category.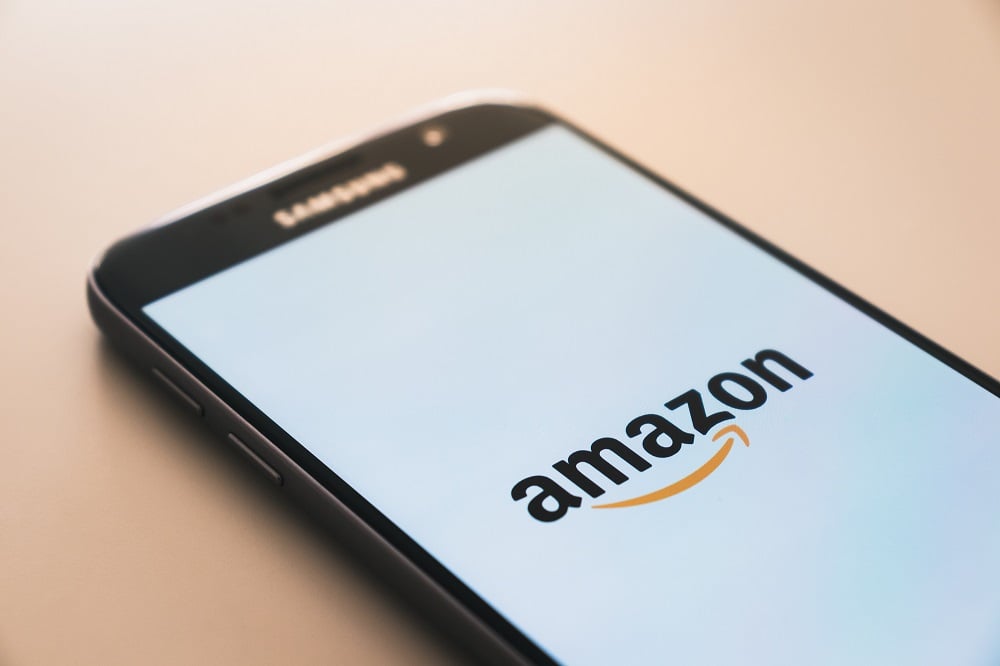 You can sell the occasional item on Amazon, new or used, but the site really comes into its own for commercial online sales. If you choose a Professional Selling Plan (£25 a month), you can sell an unlimited number of units. On top of the subscription fee, Amazon takes sales commission of between 8% and 15%, depending on the product category.
Other costs vary depending the order fulfilment options selected. You have to choose whether you want to handle fulfilment yourself (Fulfilment by Merchant [FBM]) or whether you want Amazon to do this for you (Fulfilment by Amazon [FBA]).
Strengths:
The world's best-known e-commerce site
Considered trustworthy by almost 100% of users
Option of using Fulfillment by Amazon for warehousing and dispatch
eBay
Founded in 1995, eBay is one of the most popular websites for selling things in the world with over 183 million users. Having started life as an online auction site, today eBay is somewhere you can sell practically any item  – whether new or used, via auction or at a fixed price. This makes it perfect both selling the occasional item (like used or handmade objects) and for building an e-commerce business.
Sellers have to pay a fee when they post an ad (once they're used up their free listings, currently 150 a month) and once they're sold an item. Commission on sales is usually 10%, except for a few categories.
If you want to open a proper online shop on eBay, you can choose from a range of different subscription packages (Basic, Featured and Anchor) that cut the cost of each listing and offer, among other things, the ability to group all of your listings together in a customised area.
Strengths:
Over 183 million users
A presence in practically every country
Option of creating a customised area
Etsy: the e-commerce platform for craftspeople and designers
Etsy is an e-commerce platform focused mainly on handmade and vintage items. Launched in the US in 2005, it has since expanded around the world.
It's a site where for selling handmade or designer products like jewellery, clothes, home furnishings, toys and bags, as well as vintage items  (which must be at least 20 years old). It's a good choice both for occasional sellers and those wanting to create an online store for their handmade arts and crafts.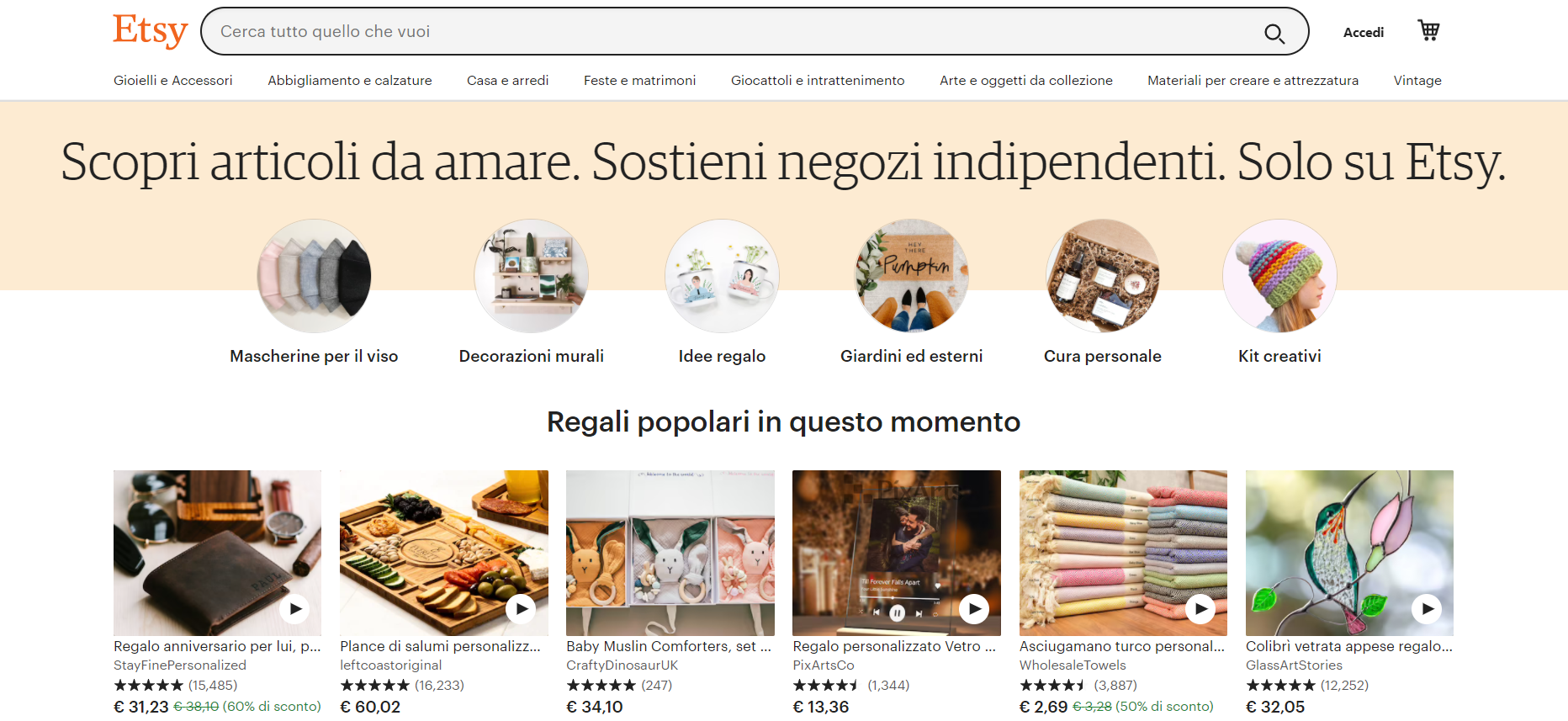 There aren't any fixed costs for opening an Etsy store, but sellers pay a listing fee (£0.15) and a 5% sales commission. The site offers various tools for customising your page and building your brand.
Fun fact: the name Etsy was inspired by a Federico Fellini film.
Strengths:
Users interested in handmade and vintage items
Site well-known around the world
Lower than average commission on sales
Bonanza: an e-commerce site with low commission
Bonanza is an online sales site with a presence in major markets around the world, including the USA, Canada, United Kingdom, Spain, Mexico, Italy, Germany, France, Portugal, Australia, Brazil and India. Although Bonanza is currently best known in the US, it is growing quickly in other markets. Compared to giants like Amazon and eBay it's definitely a more niche platform, but major draws are the ease with which you can customise your store (called a "stand" on the site), the lack of fixed fees and low commissions on sales.
People sell all sorts of things on Bonanza (here's the full list of categories) but it's mainly used for selling arts and crafts, jewellery, cosmetics and toys. It will suit both the occasional seller and the professional looking to set up their own store.
The site doesn't charge a fee for listing products or a monthly fee for stands. All it charges is a sales commission, albeit one significantly below average (at around 3.5%). One downside, however, is that documentation and support in languages other than English is not great.
Strengths:
Customisable store
No fixed costs
Low sales commission
Ruby Lane: the online marketplace for collectors
Ruby Lane is the leading site for selling antiques and vintage items. Founded in 1998 and named after the founder's mother (Ruby), Ruby Lane is marketplace for antiques and collectibles, art and jewellery.
Compared to the better known Etsy and eBay, it's definitely a niche platform, albeit one with a clear target market: collectors and the wealthy. Its main markets are the US, Canada, UK, Germany and Australia.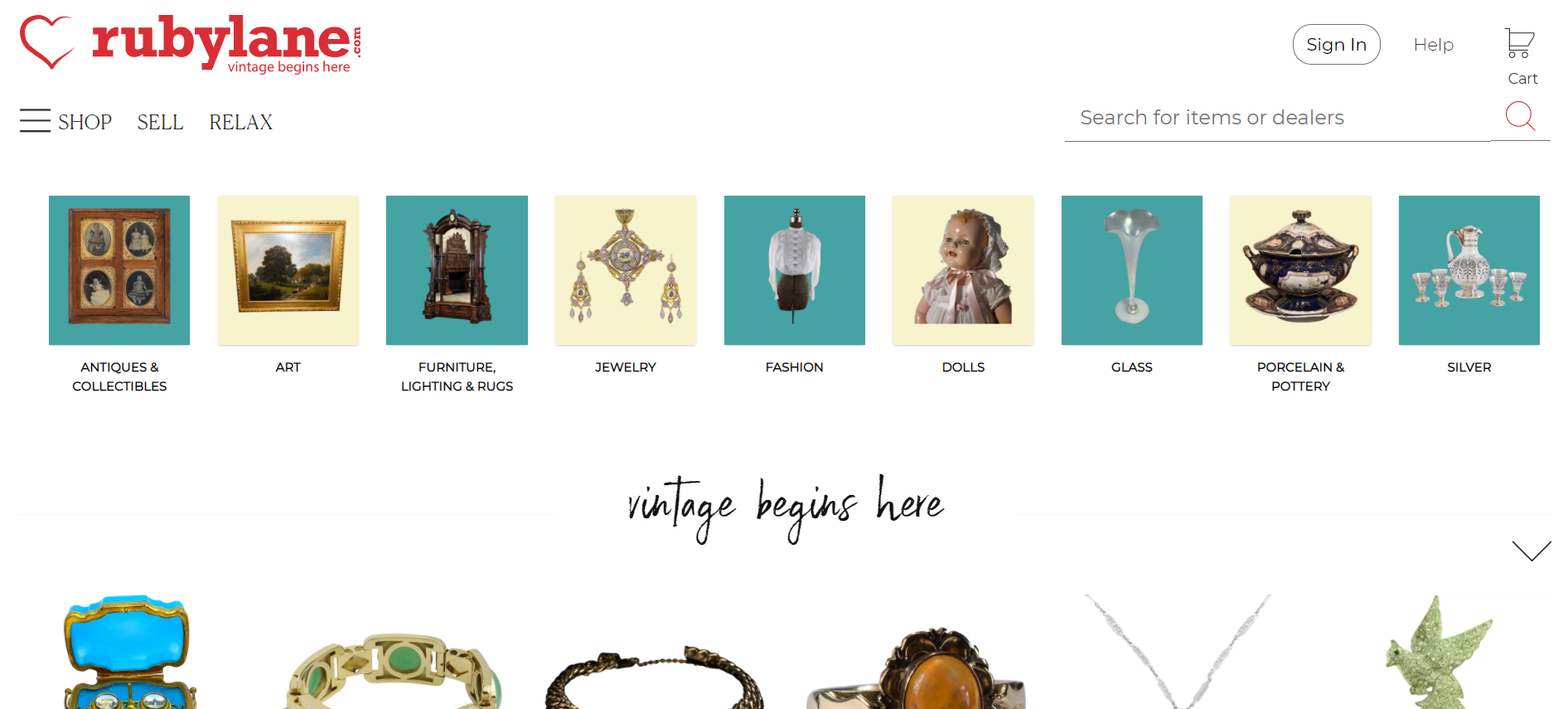 Because of the site's commission structure, it's a better bet for professional antique dealers than it is occassional sellers.
To sell something on Ruby Lane, you have to pay a $25 monthly fee that's refunded if you list more than 15 items a month. The sales commission is 9.9% and limited at $250.
Strengths:
Select clientele
Buyers are collectors and the wealthy
Free listings for large inventories
Chairish: the e-commerce site for furniture and design
Chairish is a site for selling furniture, art and design objects. You can sell new items (but handmade or designer pieces), or vintage or antique items. It's a highly curated site with fairly strict rules on what's accepted and what's not. It has almost 4 million users who tend to be furniture and interior design professionals.
Here are some key things you need to know about this online marketplace: listings are free, but the items must have a minimum value of $25. Commissions on sales are quite high at 20% to 30% depending on the type of seller. Online stores can be customised, helping sellers to build their brands. Sellers can also buy special subscriptions offering extra services, such as the possibility to choose the order in which products are displayed.
Strengths:
A curated online marketplace with strict rules
Highly trusted
Customise your own store
Shopify: the platform for creating online stores
Shopify is a platform that allows you to create your own online store. The marketplaces we've looked at so far in this list – like Amazon or eBay – sell your products under a single brand, whereas Shopify provides the tools and infrastructure for creating your own online store without the hassle of having to purchase a domain name and create a website.
But it's really only aimed at people setting up their own e-commerce operations rather than occasional sellers.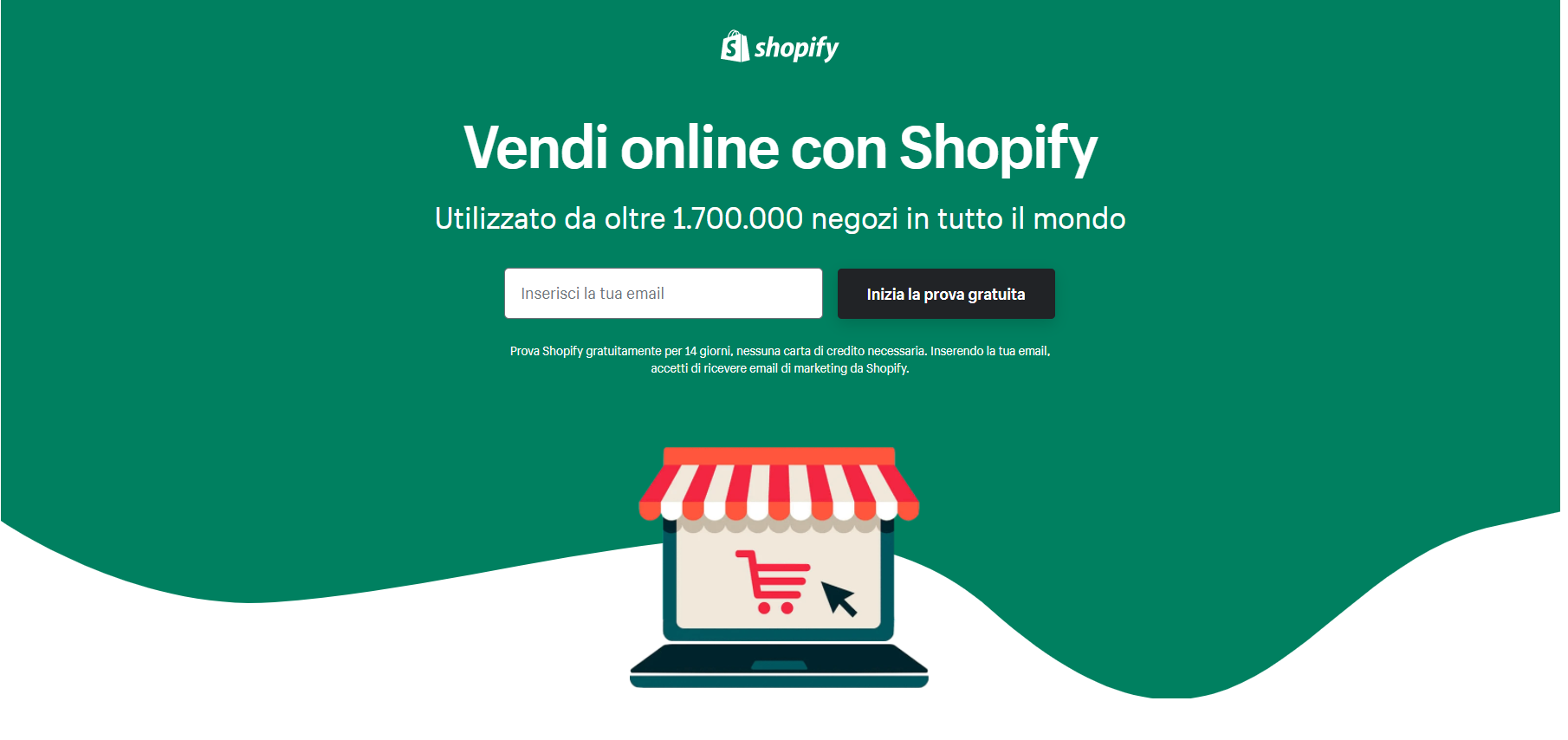 Shopify offers over 70 different graphic themes, virtual shopping trolleys, the ability to customise content and automatically optimise the site for mobile browsing. It's also possible to hire Shopify experts to help with tasks like web design, development and marketing. And if you already have a bricks-and-mortar store, you can also unify in-store and online sales bringing together all sales information and reports in one place.
Shopify's monthly fees start at £27 for the basic version.
Strengths:
High degree of customisation for your online store
Save time and resources over creating an online store from scratch
Not a marketplace: lets you fully develop your own brand
Facebook Marketplace
Facebook Marketplace is the section of the social network dedicated to buying and selling things. Launched in 2016, Marketplace lets you sell the occasional item, but also allows the creation of online stores for company pages (Marketplace for business).
The most obvious advantages of Facebook Marketplace are that it's completely free and it allows you to reach the vast Facebook user base (almost three billion users) on the world's most popular social media site.
Marketplace lets you sell all sorts of items, which are linked to your personal or business profile. Furthermore, by opening a Facebook Shop, you can customise the sales experience and promote it across Facebook, Instagram and Marketplace.
Strengths:
Access to Facebook users (almost three billion users)
Completely free
A single shop for Facebook and Instagram
Craigslist: the open-source site for buying and selling things in cities
Craigslist is the most popular classified ad site in North America and Australia. It's mainly used to sell second-hand items.
Featuring minimalist graphics and an open-source search engine, Craiglist was founded in 1995 by Craig Newmark and initially only had ads for the San Francisco area. The site continues to be organised on a city-by-city basis, and purchases and payments are usually made in person.
You can sell almost anything on Craiglist.
Strengths:
Good for occasional sales
Sell any type of item
Organised around geographic proximity
Vinted: the site for selling clothing and accessories online
Vinted is a site for selling new and used clothing and accessories online. The platform has 45 million users in 13 countries, although most users are in France and Germany.
One of Vinted's biggest attractions is that it's completely free for sellers. There are no sales commissions, or fees for listing items. A commission is charged on the final price paid by the buyer. Sellers can, however, purchase additional services that give greater prominence to their ads.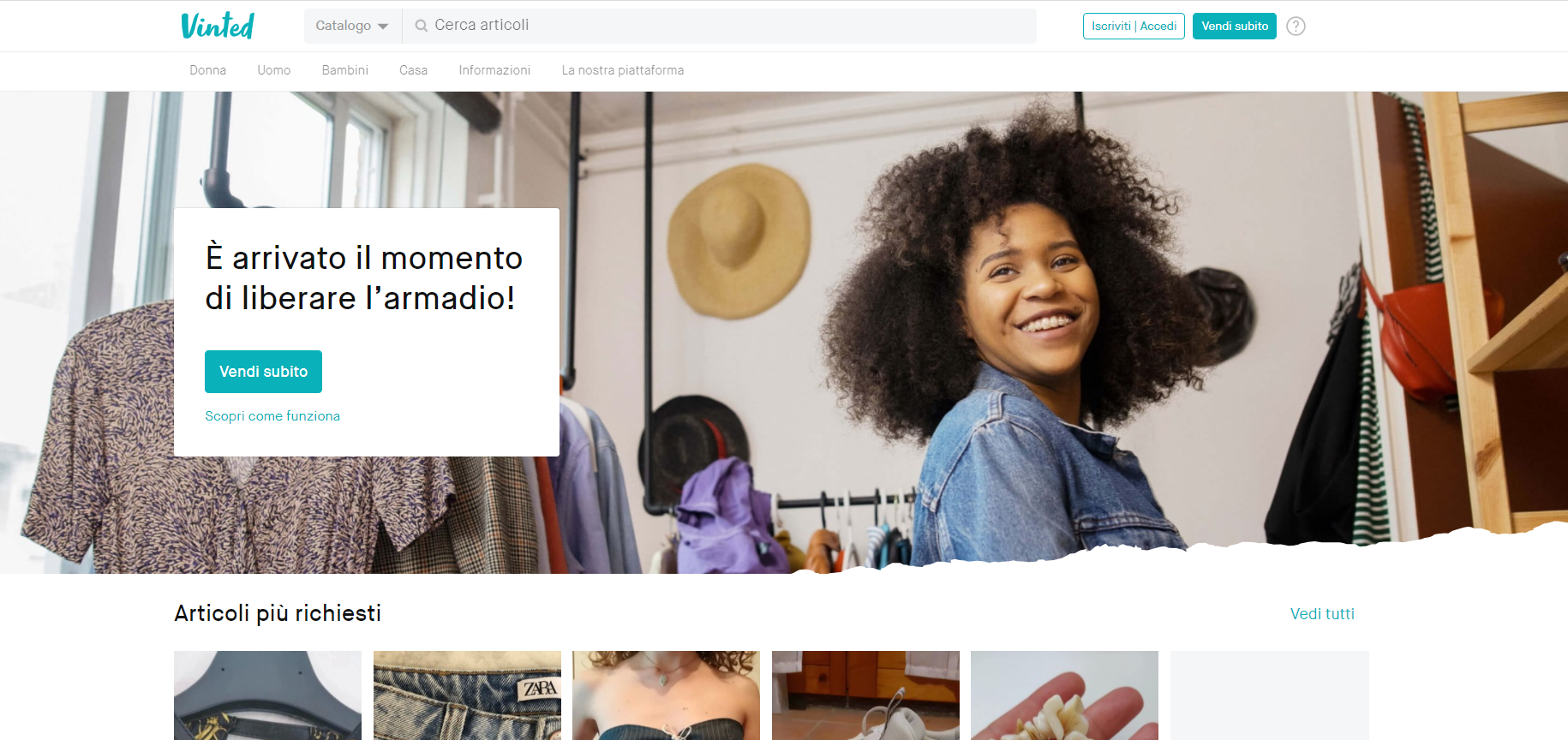 The site is perfect for occasional and professional sellers alike. But it will be of most value to anyone in the clothing business (second-hand or new) who wants to reach a young audience.
Strengths:
Totally free
Young and engaged clientele
Expanding around the world
Subito.it: annunci per venditori occasionali e negozianti
Nato come sito di annunci italiano, Subito.it si è ora trasformato in un vero e proprio sito di vendita online, adatto quindi sia a vendite occasionali che ad aziende che vogliono aprire il proprio negozio online.
Ha 11 milioni di utenti al mese e il mercato di riferimento è unicamente quello italiano.
Per le vendite occasionali gli annunci sono gratuiti (ma si possono acquistare dei servizi aggiuntivi per aumentare la visibilità degli annunci), mentre le aziende che vogliono aprire uno shop online possono attivare degli abbonamenti. Al momento però per accedere a Subito.it per le aziende dovete lasciare i vostri contatti e il numero di partita iva sul sito e attendere di essere ricontattati.
Strengths:
Sito di vendita online italiano
È possibile vendere qualsiasi tipologia di oggetto
Possibilità di personalizzazione per le aziende
What about you? Which of these sites is your favourite?