It's not as 'famous' as WordPress, it's not the cheapest option, and it's not the most flexible either. Yet Squarespace is an excellent tool for building a website – simple, intuitive and fast. Let's investigate it in more detail together and see whether it suits you.
Squarespace: what it is and who it's for
Squarespace is a site builder that allows you to create any type of website, from a single page to an online shop. Despite what we said above, it's not really true that it is less 'famous' than WordPress; it simply has a different target market, people with few or no IT skills, who are looking for a system with a simple interface to build a relatively basic site.
If you fit this profile, it could be just the right tool for you.
Inside the Squarespace panel: how it works
We decide to take a tour around the platform, making use of the 14-day free trial, to really get a feel for it and see whether the interface is as intuitive as the company makes out. The first stage of the website-building process is answering a few simple questions, which help Squarespace's algorithms to identify the templates that best suit your project.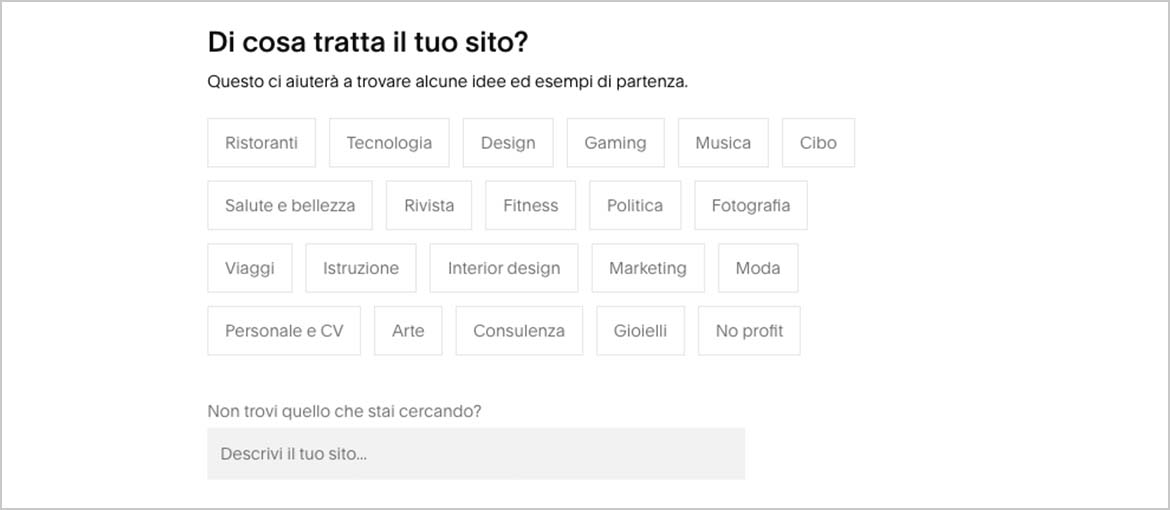 For the purposes of the test run, we imagine that our website is going to sell food. The platform's search engine recommends that we used the 'Loam' template, which seems to be the best suited to our needs.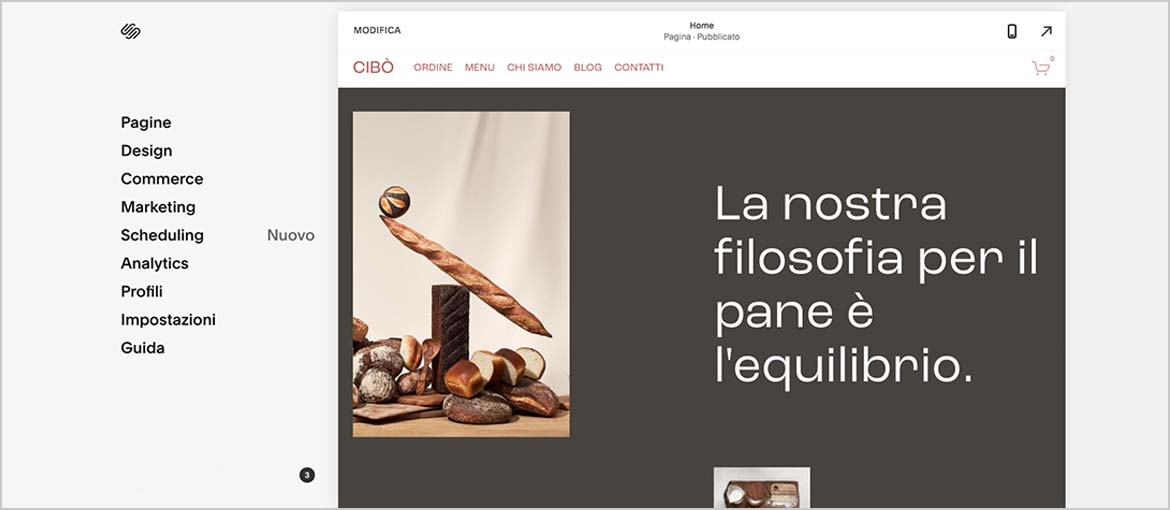 You can also check what it looks like from a mobile device.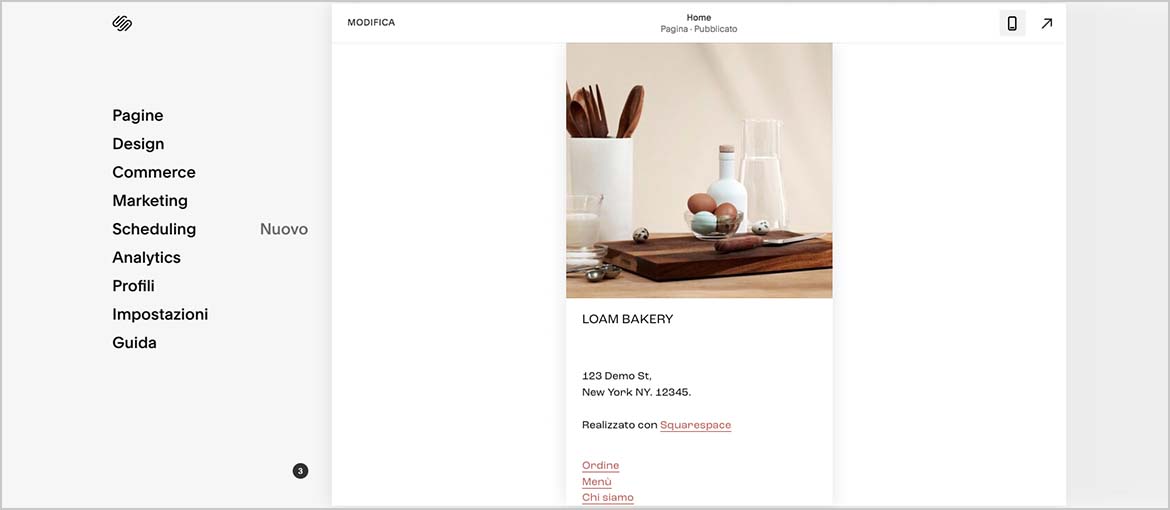 We accept their advice and continue with this template.
N.B.

It is worth pointing out that you can also create your own template from scratch, using a very simple interface: a drag-and-drop editor allows you to build the pages on your site using blocks of content.
We start making changes to the site – which we call Cibò – in the 'Pages' section, customising everything from the header down to the footer. We add text and images to the various boxes using the 'Edit' command, and add and remove pages, before putting them in order to create our navigation menu.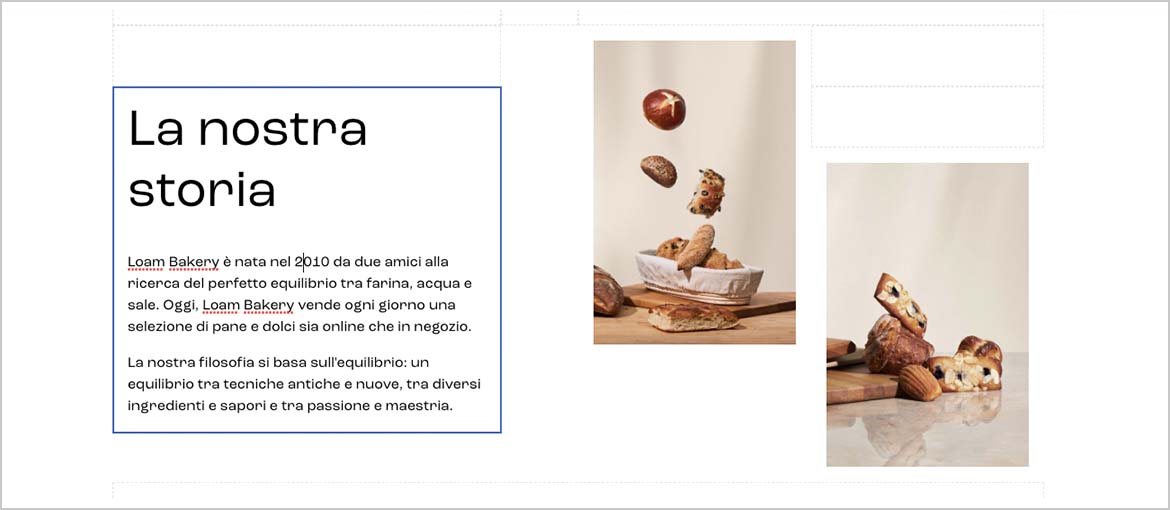 Next we move on to the 'Design' section, and, using the 'Styles' icon, change the style of the site to make it look more personal, customising the fonts, colours and much more.
Once we're happy with the look, we move on to the shop itself in the 'Commerce' section. Here too, the guided tour starts with some simple questions, including: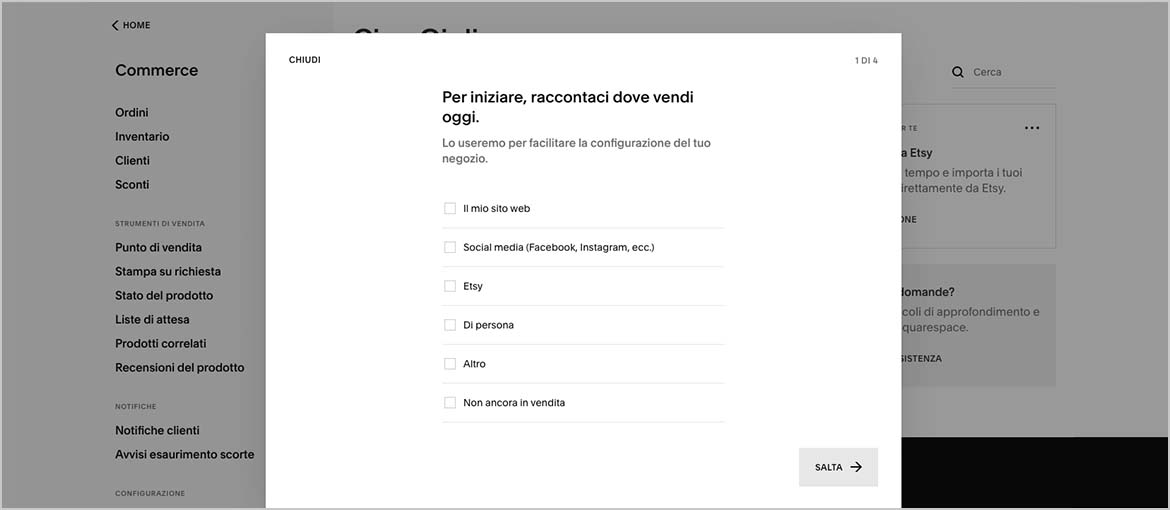 Once we've replied (which only takes a few seconds, as there are only five steps) we start configuring the e-commerce section too, and working on the product pages. Adding your products will take a bit more time, but if you already have an online shop you can import them using a .CSV file, thereby speeding up the operation.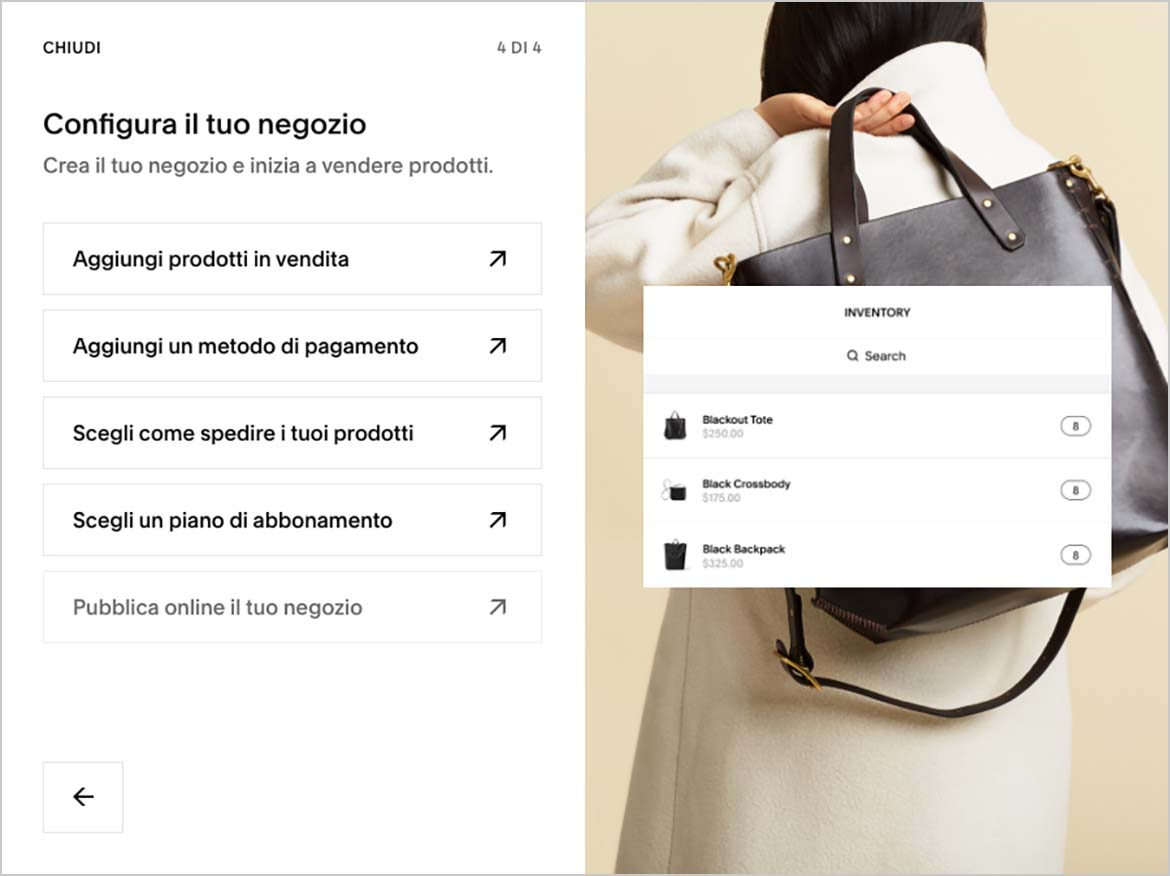 The other items in the menu allow us to:
Optimise the site for search engines and promote it on social media or other platforms, in the 'Marketing' section.

Automise processes, in the 'Scheduling' section.

Monitor the website's trends and view statistics, in the 'Analytics' section.

View the data of people who have bought goods or registered on the site, in the 'Profiles' section.

Customise the language, domain and social links, add extensions and much more, in the 'Settings' section.
After this whirlwind trip around the panel, we can conclude that yes, it really is intuitive and simple to use. Nevertheless, we recommend taking a look yourself, or consulting this extremely detailed guide that gives you a step-by-step guide to the various Squarespace tools.
Squarespace: the things we liked most (and least)
The things that get a thumbs up from us:
Very simple to use.

Modern and minimalist templates.

Designed to monitor the SEO side of the website.

Designed for marketing operations.

All functions are contained within a single interface.
The things that get a thumbs down from us:
Little flexibility (in the basic version).

No option for plugins.

3% commission on sales (in the 'Business' plan).

No free plan.

Various marketing and e-commerce functions are excluded from the basic plan.
You'll notice we've included the costs involved in the list of disadvantages. Let's have a closer look…
 

What does Squarespace cost?
We've already mentioned that – unfortunately – there is no free plan. The financial burden you have to bear depends on the plan you choose and the type of subscription – paying annually is obviously cheaper than paying monthly. You can see all the different tariffs here.
As you can see, the options range from the basic 'Personal' plan, which excludes lots of marketing and e-commerce tools, to the advanced 'Commerce' plan, which provides you with all the sales, analysis and advertising resources the platform has to offer. If you look at all the functions available with the advanced 'Commerce' plan, you'll see it is particularly useful for businesses selling goods online. If you want a simpler website, you can happily choose the 'Personal' or 'Business' plans.
Before subscribing, however, we recommend making the most of the 14-day free trial period: you'll be able to see if you are comfortable with the interface, and whether it really is the tool for you. If it turns out not to be, you have some alternatives.
Wix and WordPress: two possible alternatives
Let's start with Wix, a site-building platform that is very similar to Squarespace. Wix is also perfect for those with limited computer skills, allowing you to build a website quickly and easily. The website provides over 500 templates that you can then partially customise using a drag-and-drop editor. It also provides integrated SEO tools that will help to bring traffic to your site.
The pricing plans are affordable too, making Wix a valid alternative for those who baulk at the cost of a Squarespace subscription.
If, however, you need to develop a more complex or personalised website, we'd recommend considering WordPress instead.
 WordPress is the most popular CMS (content management system) in the world. Why? There are many reasons, but these are some of the main ones:
There is a many ways to customise your website.

There are thousands of plugins (many of which are free) to add various functions.

The software is free to use.

It is perfect for bloggers.
If you need to build a complex website (or a blog) and want more control over its appearance and functions, WordPress is therefore the option for you. It will take you a little while to set it up, as it is not quite so intuitive for beginners, but you'll be able to achieve the precise result you had in mind.
Incidentally, we wrote a whole article dedicated to WordPress, which you can check out here. Happy site building!