Have you ever walked into a shop that you like, one you want to return to or tell your friends about, and asked in vain if they can give you a business card?
Yup, we too. Frustratingly, many stores don't pay enough attention to their visual communication, relying instead on the promotional material of the brands that they sell (obviously, things are different for franchises or mono-brand stores).
Yet the people who manage or work in that business present a distinctive face and personality to customers, just as the shop itself has its own distinctive architectural and interiors features.
What we'll call point-of-sale (POS) graphics are usually overlooked. Which means that you'll often remember the names of the products or brands that they sell but not the name of the store or manager. A bond between the customer and brands is created to the detriment of that between the customer and the retailer. POS graphics, on the other hand, can help build the relationship with the retailer, rather than weaken it.
Below you'll find tips that are applicable to a variety of commercial activities. They don't require large investment, just being organised (and perhaps the expertise of a professional for more complex projects).
1.Give gifts
Think about the power of product samples, or when you walk into a cosmetics store in December and come out with a really nice calendar or a diary.
Giving is important. Whether offers, gifts or sweets, giving always makes a good impression on the customer.
You can design different items for different seasons for your store: calendars in winter (maybe just for the most loyal customers), tote bags in spring, bookmarks in summer and notebooks in autumn. Engage customers, let them know that you're investing in your relationship with them.
Firms like natural cosmetics retailer L'Erbolario carefully nurture their communication and relationship with customers, creating  heaps of printed promotional items and marketing material throughout the year.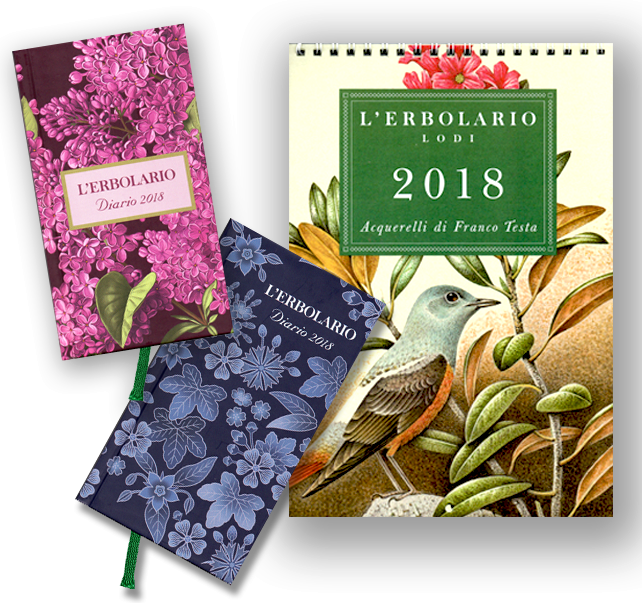 That's why Pixartprinting offers a huge range of customised promotional items.
2. Advertise and promote
Highlight and promote your offers, and don't forget to hand them out to customers with the sales receipt.
Customise the bags that customers carry on the streets (and spread the word about your business and brand).
Create flyers with offers, and cards with greetings and invitations: that way, you'll continue the conversation with customers after they've left your shop.
Here's a ton of crazy ideas for your shopping bags: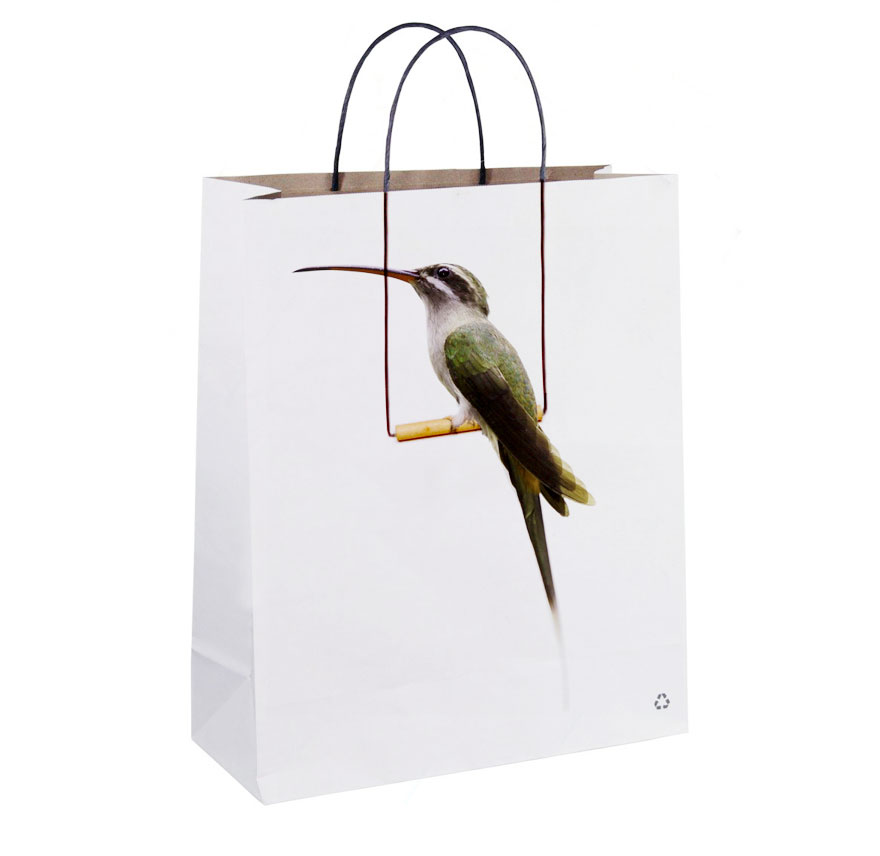 Show off your creativity with Pixartprinting's shopping bags.
3. Tell a story
It's not just about selling: it's about telling a story. Customers want to step into your world, to know why you make the choices you make: if they shop again with you, it means that they trust your taste and the choices you make for them.
Take, for example, a great brand like Lush. They are skilled at talking about their products and telling their story through seductive brochures and booklets which aren't simply catalogues, but little books to keep and read.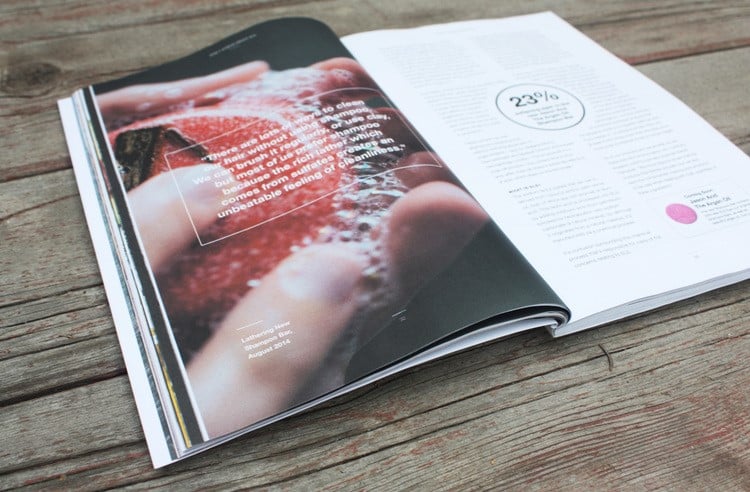 4. Coordinate your colours
Use colours, coordinate them with the interiors and play with wallpaper, pictures, posters and so on. Create a strong visual identity.
Choose a colour palette that defines your style. Use images (whether illustrations, photos or drawings) that are coherent with your brand values.
And, above all, be daring.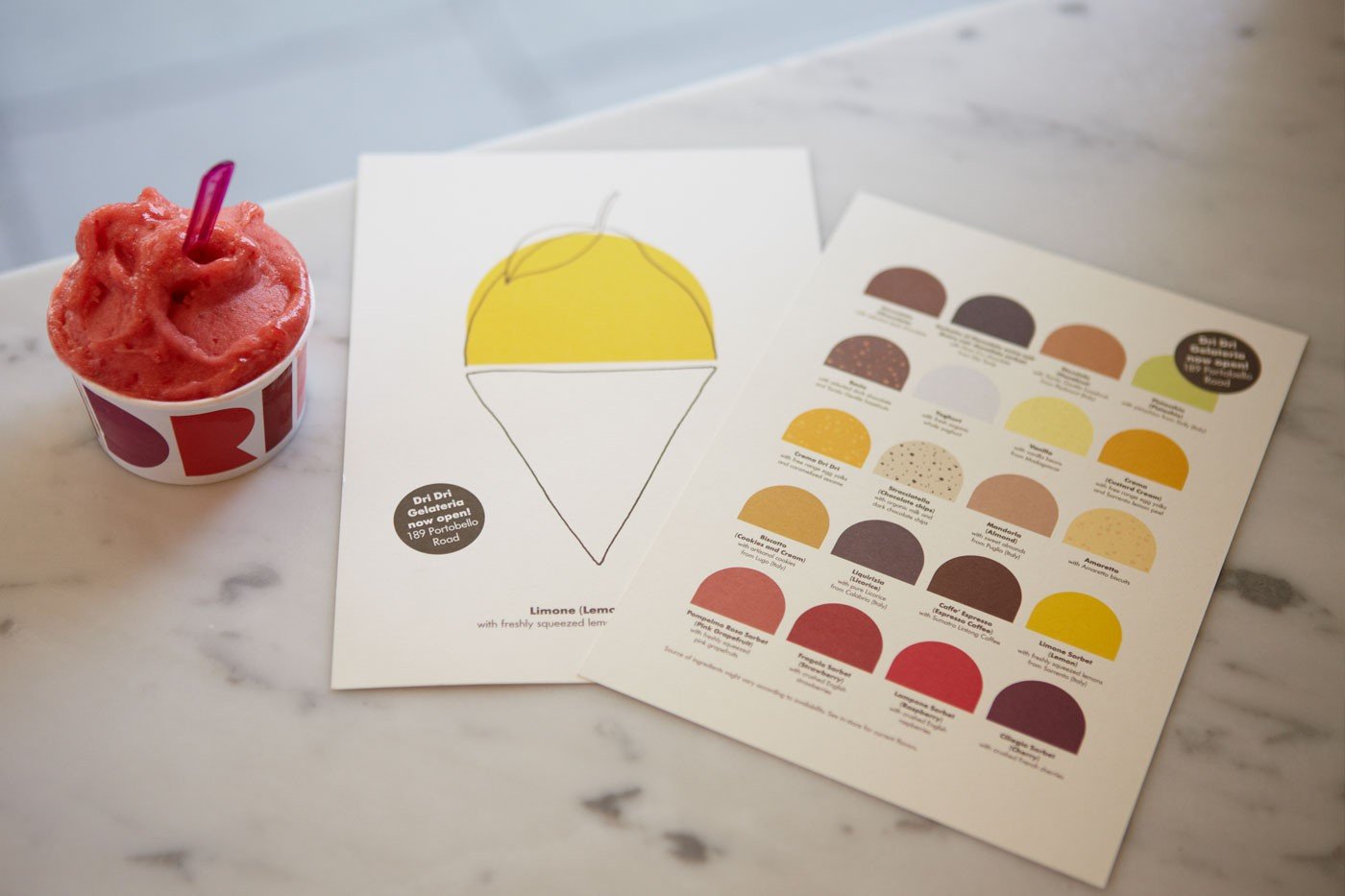 5. Amaze
Every so often, you need to amaze to stand out. Use ordinary things in extraordinary ways.
Look for inspiration online, or create a theme/concept to inspire the store's visual identity. Experiment, take risks, mix and match.
You need to grab people's attention and create a unique, unforgettable environment. You need to create a memorable setting for your products and a welcoming and stimulating place for your customers.
Display with tags at the Oliver Sweeney store in London: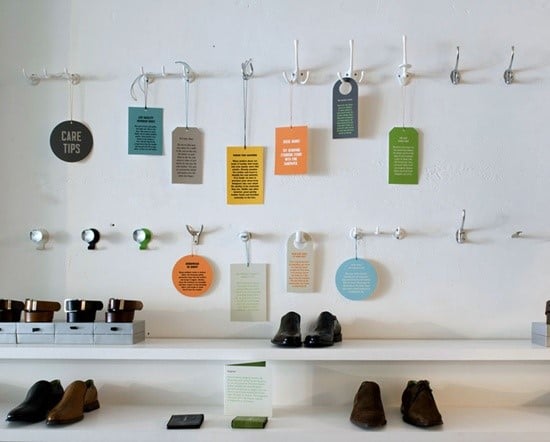 POS graphics are certainly an adventure, but they can also be a worthwhile investment in a world that is increasingly standardised: nowadays, you can find the same shop with the same display in Shanghai and in Rome.
This means that it's more important than ever to stand out: carefully crafting your visual communication with quality graphic materials can generate big returns from small budgets.