Sooner or later, most firms will have to put together a trade fair stand to promote their products or services. And the first time is always the hardest: where do you start? What can you simply not do without? How do you welcome visitors?
Even large companies that have been attending trade fairs for years often overlook important details: they concentrate on building expensive sets and then forget the information brochure or business cards.
Here we look at the essentials for a stand to really work.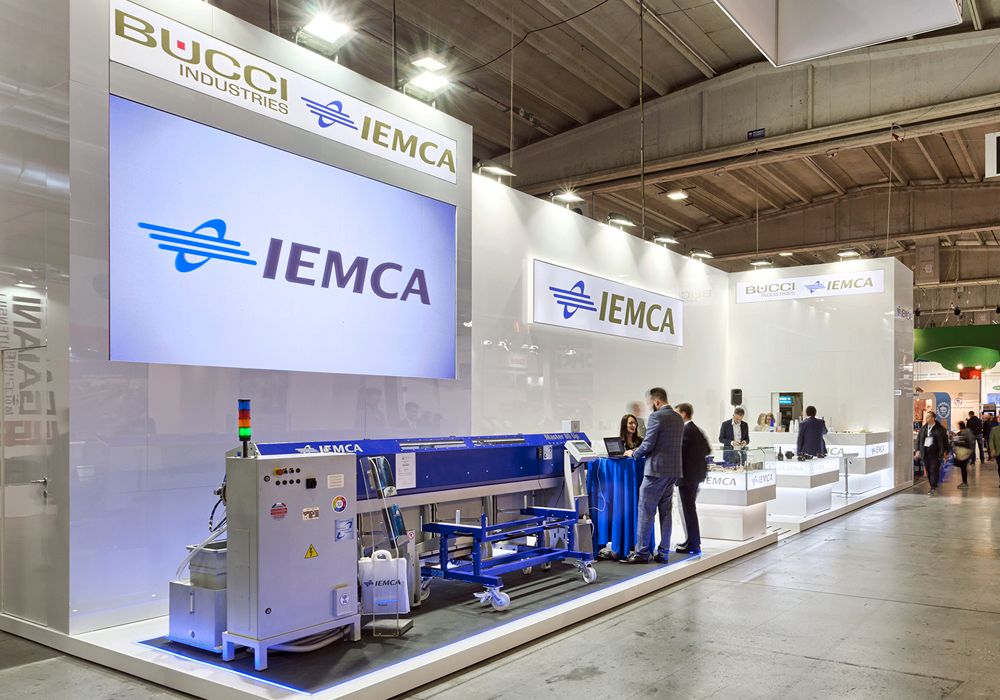 1) Visibility
Most important of all: the stand must be visible. Firms that buy large and complex stands manage to stand out. But this makes it harder for all the others in the same row to be visible. It's therefore important to work with flags, roller banners, banners and other foldable and portable large formats. But everyone already knows and does this.
At Pixartprinting, you can find a wide selection of these products.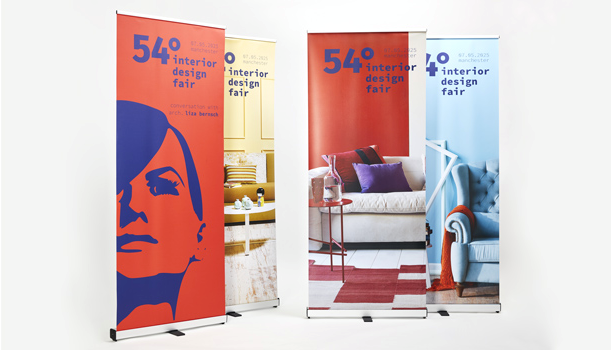 Or you can try to grab visitors' attention with more modern products which, until a few years ago, were only available to people with big budgets, like backlit frames.

2) Change perspective
Trade fair stands don't have ceilings, so everyone just thinks about decorating the walls, as if it were stage set. Few consider using the floor to mark out paths or give directions. To do so, all you need are stickers, usually PVC, and some imagination.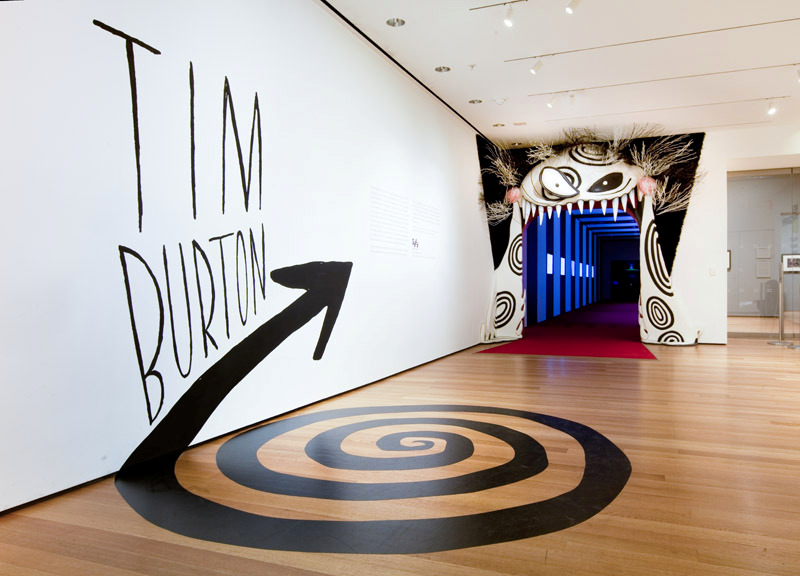 3) Introduce yourself properly
People go to trade fairs to make a name for themselves, to meet other people and to discover new opportunities. That's why everyone should have their own business card! Never forget it. And above all, design one that is not only memorable and catches the eye, but also has enough space for jotting down notes on the fly.
On our blog, you can find out how to make one using Word and other software as well as ideas and inspiration for creating original, professional business cards.  
Remember that it's not just the artwork that's important, but the paper format too. What's more, on Pixartprinting you can also find special finish postcards (3D varnish, gold coating or silver coating) that make this humble item into something memorable. And what better way to introduce yourself and swap business cards than when you're sitting comfortably?
On Pixartprinting you can also find fantastic chairs that can be customised in line with your brand to make your stand more welcoming (and colourful).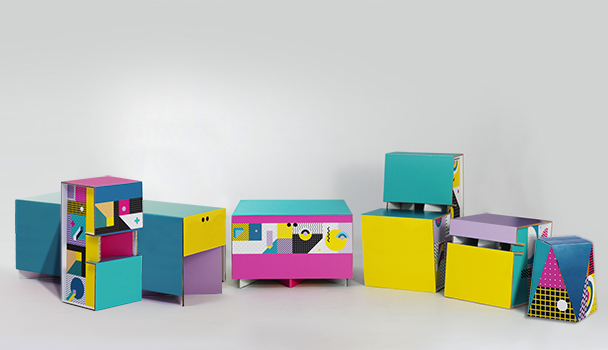 4. Tell your story



Once your stand has caught someone's eye and you've introduced yourself, you need to know how to talk about your products and services. To do so, you need a brochure or folded flyer to give to the visitor. On our blog, you can find tips on how to design a good leaflet.
To ensure they're tidy and always to hand, we recommend using a simple, customisable counter display that can hold brochures, leaflets, flyers and other promotional material. On Pixartprinting, you'll find a wide selection,  including customisable cardboard displays, or more traditional plexiglass leaflet holders, which are elegant, robust and unobtrusive.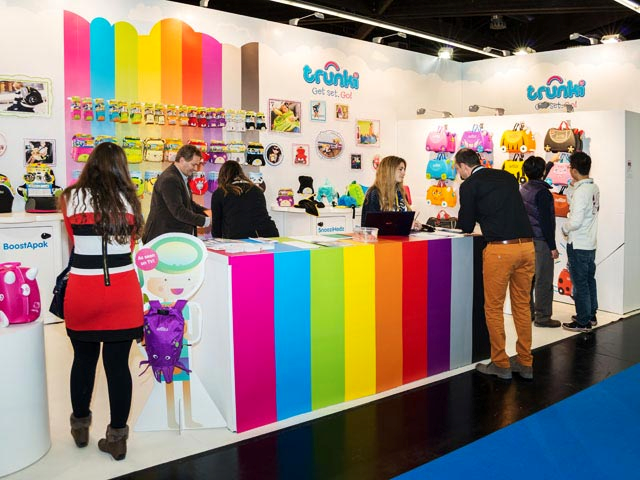 5. Give
Many people expect to find freebies at trade fairs, to pick up not just information but something fun too. For example, you can unleash your imagination with paper bags for visitors to use to collect promotional material, give away inspiring, fun and creative postcards, play around with stickers or choose a customised promotional item for work or downtime: in short, look to engage visitors and give them more than the usual promotional material and information. 
Make them happy and let them take something home after long, tiring days at the fair, away from their family.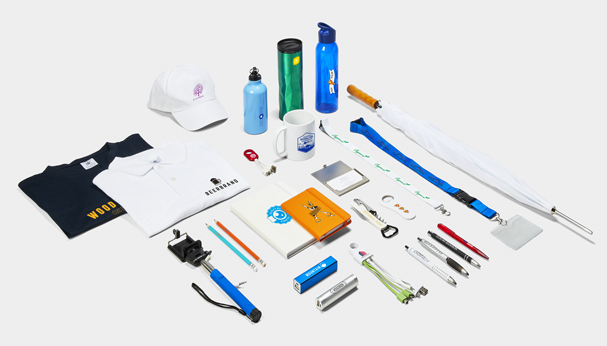 6. Be bold
The last rule: be bold and think outside the box. Often it takes just one good idea to be remembered.  These images are of a mural created by the artist Brian Rea for a Herman Miller showroom in Milan. A black wall, chalk, everything drawn and written by hand: sometimes, extreme simplicity can give highly original results.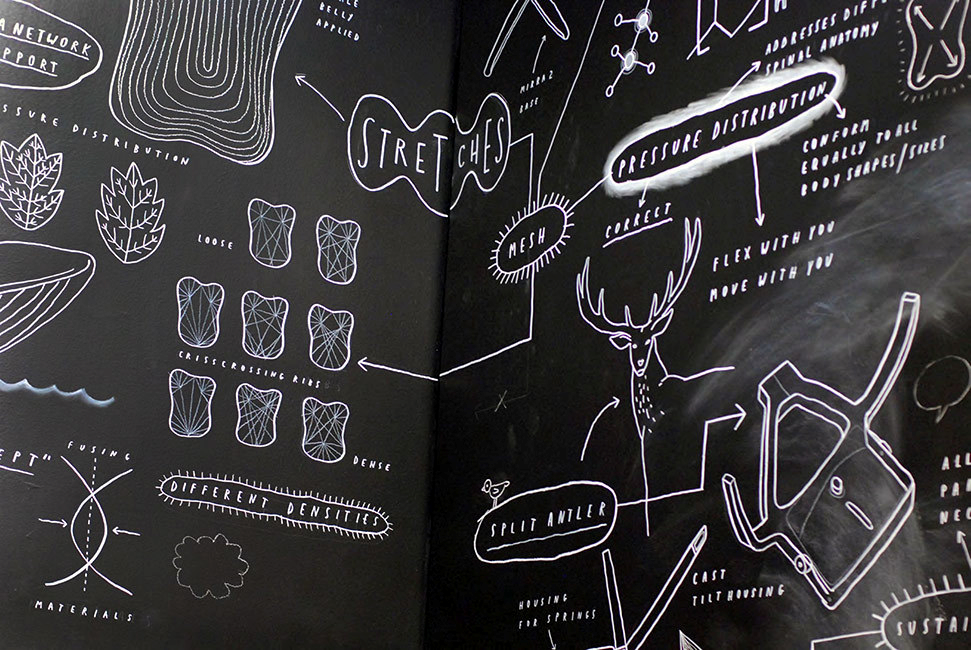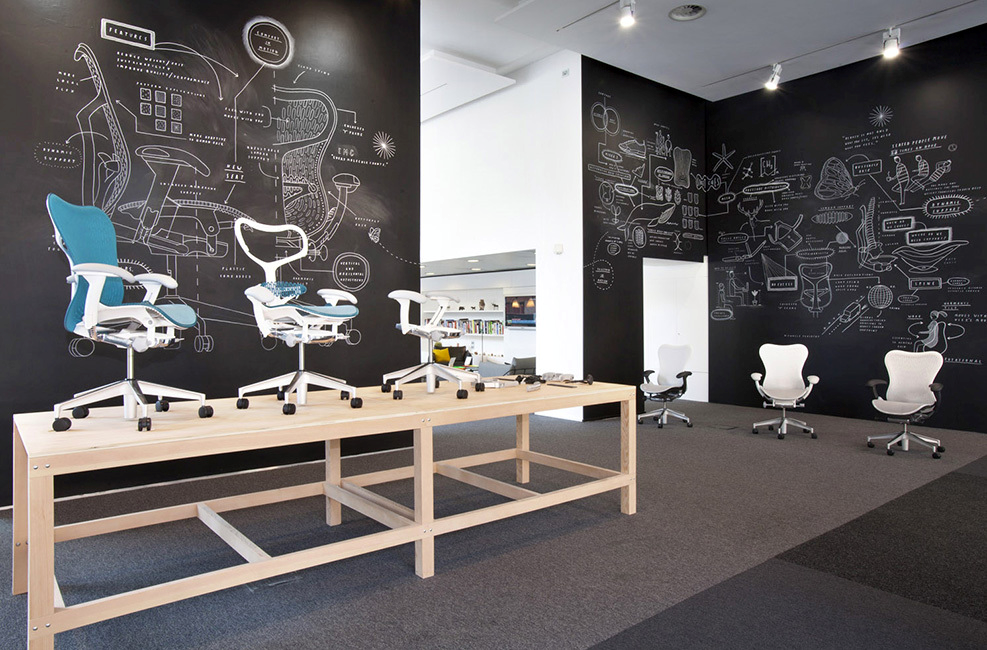 TAKEAWAYS
Creating a trade fair stand is never a walk in the park, but the main thing is not to forget the details and to remember that you're there to build relationships. This means it's really important to pay attention to the little items as well as the big ones. There's no point in having a stand designed by a superstar architect only for visitors to find ugly promotional material printed on cheap paper when they get there.
Visitors, prospects and anyone else interested should be able to return to their office or home with material that tells your story and allows them to get in touch after the event. It's a bit like packing a suitcase: the one thing you always forget is your toothbrush…