Window dressing your shop is vital for ensuring the products or services you offer are visible: passers-by must immediately know what you're selling and what price range it falls into. A good window display acts as an initial filter for people approaching your shop, attracting those who are most interested in your business.
With today's visual merchandising techniques, window dressing and the display of products inside the store has become a profession in its own right, governed by a precise set of rules and strategies. The use of colours, decorations, objects and materials are deliberate stylistic choices that must fit the brand's image and target market.
So let's look at the key elements and at some useful tips to window-dress your shop.
Product layout
Knowing how to properly choose and position the items on display is extremely important to create an effective window display. Think about the window of a fashion boutique and compare it to an ordinary local shop. The first difference that jumps out is the number of products displayed, which in the case of the former is very limited. Even if you're not selling Prada handbags, this example teaches us that a careful selection of items will help you create a neat window that showcases your products, avoiding the "bazaar effect" generated by windows that display too many items.
What's more, some studies have shown that our eye is instinctively drawn to a precise point in the window, located in the centre at a height of roughly 1.5 metres. Known as the focal point, this area is a circle with a 0.8 to 1 metre diameter. It's where you will place your show-piece, the product you want passers-by to focus on. When deciding where to put the rest of the items, bear in mind that people generally shift their gaze from the centre to the right of the window and then to the left.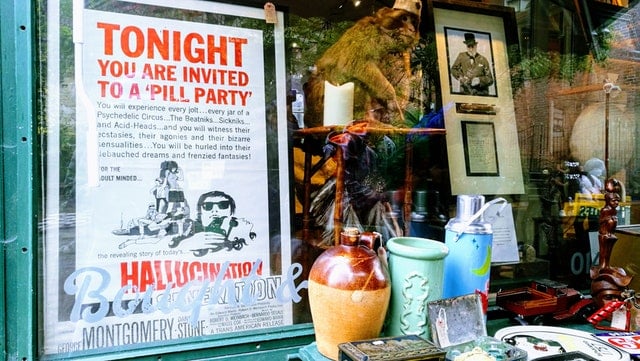 Window lighting
Adjusting the shop window's lighting based on external light, on the colours used in the dressing and those of the products on display, is another aspect to consider when designing the layout of your shop window. For example, if you have chosen a scene with light colours, you should be careful not to overdo the lighting to avoid unsightly reflections; likewise, if you use products or decorations with dark colours or matt materials that tend to absorb light, you should adjust the lighting accordingly.
Don't forget that there are various types of window lights on the market: LED spotlights, for example, let you illuminate products without heating them up, and change the warmth or coldness of the light as required. LED lights are also available in adhesive strips that you can stick on any part of the window, making them a versatile and affordable tool, even for the most complex displays.
Decorative elements
The Internet is awash with ideas for window dressing: posters, folding screens, stickers and window stickers, cardboard items or even everyday objects, depending on the chosen theme. Posters and folding screens are perfect for separating the display from the rest of the shop while also creating an attractive and compelling ambiance. Window stickers will let you add important information about your business like opening hours, discounts or other promotions.
If you only have a limited display area, you can make the most of it with a little creative thinking and a few decorations. For example, you can use all the height available by hanging products from hooks in the ceiling, or by using display items that are shallow but extend upwards.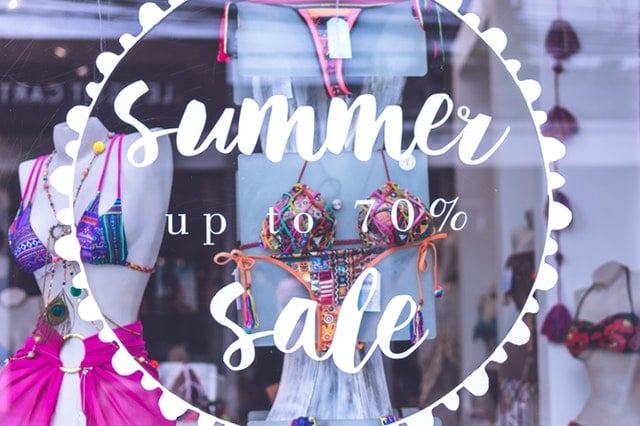 Theme and story


If you're thinking about how to dress a shop window, choosing a theme and a related story is a must. Think about the window displays which, as a customer, have made the biggest impression on you: they likely told a story through carefully chosen visual elements.
For example, if you have a children's clothing shop and need to put together a display for the summer sales, you can create a scene that tells the story of a family trip to the beach from a kid's point of view. You could showcase all your beachwear: swimming costumes, vests, caps and Bermuda shorts. You could use decorative elements like sea-themed backdrops, paper sand castles and boats, buckets, spades and artificial sand to recreate a beach in your shop window.
How to window-dress your shop for Christmas (without spending a fortune)
Now that you have a few ideas for dressing your shop window, let's focus on Christmas. Christmas is just around the corner and we know that it is one of the most profitable times of the year for retailers. This means it's crucial to carefully design a window display for this period. However, for small shops, the costs of buying decorations can quickly stack up. Here are some tips for decking out a shop window for the festive period with a limited budget:
The first great low-cost idea for decorating a shop window at Christmas is cardboard cut-outs, which you can make yourself (with a bit of dexterity and the right tools) or purchase cheaply online. Cardboard shapes let you create all sorts of decorations and are easy to put together. Going back to our first example, if you have to create a Christmas display for a children's clothing shop, you could make a miniature North Pole using cut-outs of Arctic animals and a bit of artificial snow.
Another cheap and highly effective tool for decorating a shop window for Christmas are vintage items, which can be found in charity shops or flea markets: old suitcases, black and white photos, radios or other things that fit the chosen theme. The retro style is perfect for many types of business, from perfume stores to barbers and jewellers. A stationery shop could put together a display inspired by letters to Santa written by our grandparents, using black and white photos, old fountain pens, inkwells and sheets of paper with an aged effect.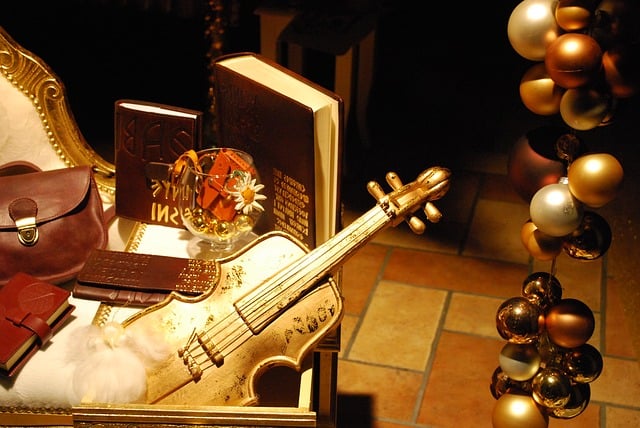 Lastly, by creatively using some classic decorations, you can put together a truly original scene. For instance, why not stun passers-by with a display in which the traditional snowman is dressed head to toe in the accessories that you sell? Even the Christmas tree can be re-imagined: a bookshop could fashion a tree out of books, while a haberdashery could make one by sticking buttons to a polystyrene or wooden outline, and so on and so forth.
When it comes to decking out the inside of the shop, you can choose decorative elements that fit your chosen theme. In the examples cited above, you could opt for mini versions of the cardboard cut-outs used in the shop window, or the same sort of objects that feature in your scene. Another great idea is to dedicate a display area to Christmas products only. In this way, you can immediately orient customers looking for Christmas gifts and offer them a range of options for different budgets.