Dropshipping: What is it? How do you get started? Everything you need to know
In recent years, many of our customers in the retail space have switched from bricks-and-mortar shops to online stores, and some have even embraced a sales model known as dropshipping. What is it? How does it work? What are its benefits? How can you find reliable suppliers?
Read on to find out.
What is dropshipping and how do you do it?
What does dropshipping mean? In a sentence, dropshipping is a sales model that enables anybody with an e-commerce business to sell products online without having to first buy and physically hold them.
So how does the sales process work? The customer visits the seller's online store and places an order, which is then forwarded directly to the supplier, who prepares and ships the order. In this process, as you can see, the seller is simply the middleman between buyer and supplier, and doesn't have to store, prepare or ship the goods. The seller doesn't even need to own them! All they need to start their business is an online store, a great supplier (more on that later) and an effective marketing operation to promote the products they're selling.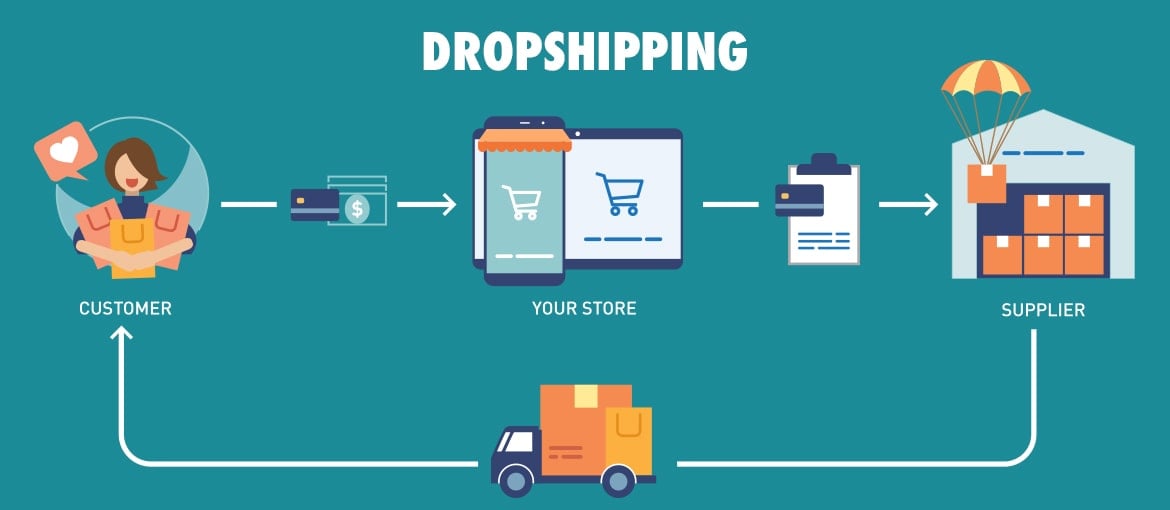 Managing operations is therefore much more streamlined than in a traditional retail model. And start-up costs are lower too. So let's take a closer look at how to start using dropshipping for online sales.
What's the initial outlay involved in starting a dropshipping operation?
That's a difficult, if not impossible, question to answer since there are so many different variables that can determine the initial outlay. But below we'll outline some of the biggest cost items that you'll have to put in your business plan.
1.E-commerce costs
The first costs you'll incur are those for your e-commerce operation. Here you have two options: you can create your own site, or use a marketplace like Amazon, eBay or Etsy. The advantages of the second option are twofold: you won't have to spend anything on setting up an online store, and you'll have immediate access to a vast potential customer base. And the disadvantages? You'll have to pay listing fees (we're talking a few pence) and a commission on the sales price to the marketplace provider (which can be as much as 10%). In short: if you want to increase your profit margin and build your brand's personality to set it apart from the competition, this isn't the route for you.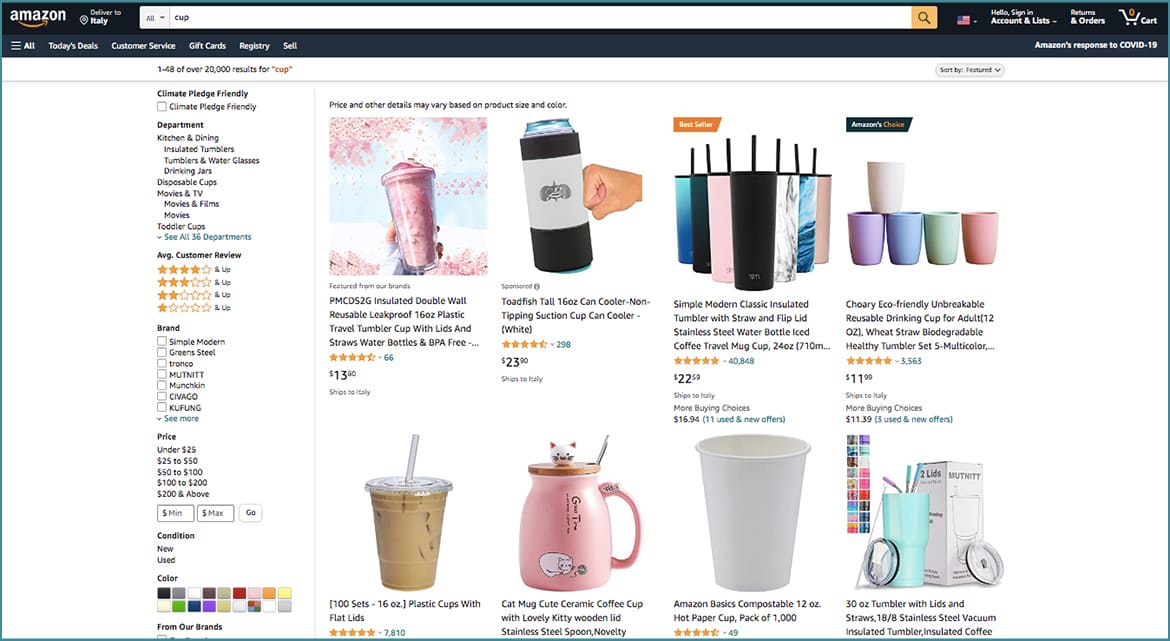 If you choose to create your own site, then you have two main options:
Use e-commerce agencies or professionals. This route, which is definitely the most expensive, will allow you to create a really well made site that is fully customised to your needs.

Use a service like Shopify or WooCommerce, which let you set up an online store quickly and easily.
Here's a few examples of online stores created using Shopify – as you can see, they offer customisation options too.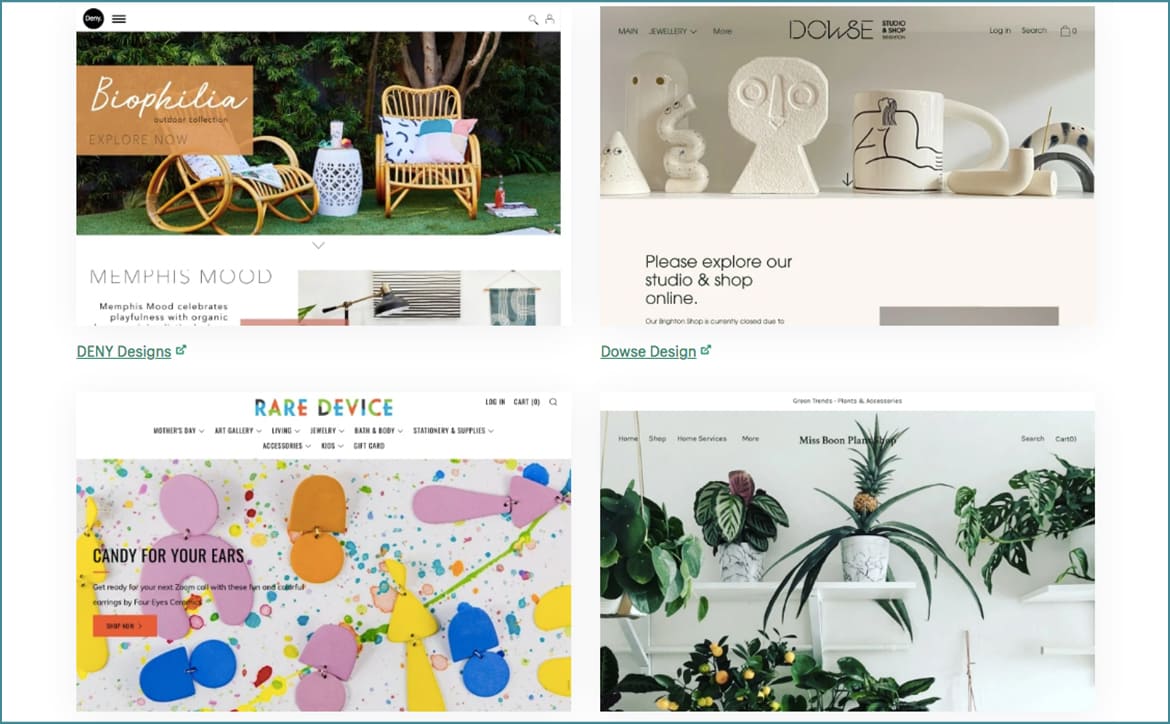 2.Marketing costs
The second expense to include in your business plan is the cost of marketing activities, which we can't easily estimate because this all depends on how you advertise your products: you can create campaigns yourself (if you have the necessary skills) or outsource this to an agency.
3.Business start-up costs
Lastly, there are all the costs associated with starting up your business, such as registering the business, hiring an accountant and taking out insurance. Make sure you do your homework!
Once you've put together your business plan, you'll realise that the start-up costs are much lower than those usually involved in setting up a traditional retail business. A word of warning, however: don't listen to people who tell you that dropshipping is a low-cost business model that guarantees big profits with little work. The truth is, as with any other type of business, it still takes care and commitment, profits aren't always guaranteed (or high) and you need to protect yourself from risks. But we'll cover all this in the next section.
The pros and cons of dropshipping
You'll already have got an idea of dropshipping's advantages from our explanation of this business model above, but here's a quick recap.
The pros of dropshipping:
Lower start-up costs.

You don't need to pay for goods in advance – you just buy what you sell and there's no risk of unsold stock.

There's no warehouse to rent and manage because logistics are taken care of by the supplier.

You don't have to deal with shipping as this too is handled by the supplier.

You can work wherever you want – all you need is a computer and an internet connection.
Put like this, it seems highly profitable, but – and there's always a "but" –  this business model has it's disadvantages too.
The cons of dropshipping
Profit: make sure you do your sums right (and keep an eye on margins)
A retailer's profit margin comes from the difference between the sales price of a product and the cost of purchasing it from the supplier (to which must be added marketing and website costs). So, to turn a profit, you need to find suppliers with attractive prices and have lots of customers. Which means you need to be very patient at the beginning. Remember that when a retailer purchases goods through a dropshipping arrangement, they will likely pay a bit more than they would if they bought them wholesale. And this of course means that margins are thinner.
Suppliers: choose with care
Everything depends on them: product quality, efficient inventory management, availability of the goods, and punctual shipping. If just one of these aspects is missing or mismanaged, the reputation of the retailer will suffer. Which means you need to choose your suppliers with great care – your profits depend on them.
Dropshipping suppliers: tips for choosing well
What should you look for or steer clear of when choosing your supplier?
Good dropshipping suppliers:
Provide excellent quality products

Allow you and your customers to track shipments easily and precisely

Offer convenient returns so customers can shop with confidence
Avoid suppliers that:
Don't have online reviews

Haven't been running long enough to offer impeccable service

Don't work with reputable couriers

Have long delivery times

Have very high shipping costs, which might discourage purchases
How do you choose a reliable supplier for dropshipping?
With this in mind, the million dollar question is: how do you choose a reliable supplier? The answer is to look online. Check the reputation of suppliers on Trustpilot and their trustworthiness on Scamadviser, and compare their prices with competitors. A word of advice: don't rush into anything. Take the time to carry out all the necessary checks. This is the most crucial stage for your business!
Three useful services to help you pick the best dropshipper
Bearing this advice in mind, we want to recommend three services that can help you find a trusted supplier.
SaleHoo has a database of over 8,000 verified wholesalers that you can use to search for products. SaleHoo also has a market research lab: you can use its data to help you stay up to date with trends, keep an eye on the competition and see what the hottest products are. You can see how much the service costs here. Trustpilot score: 4.8 stars out of 5.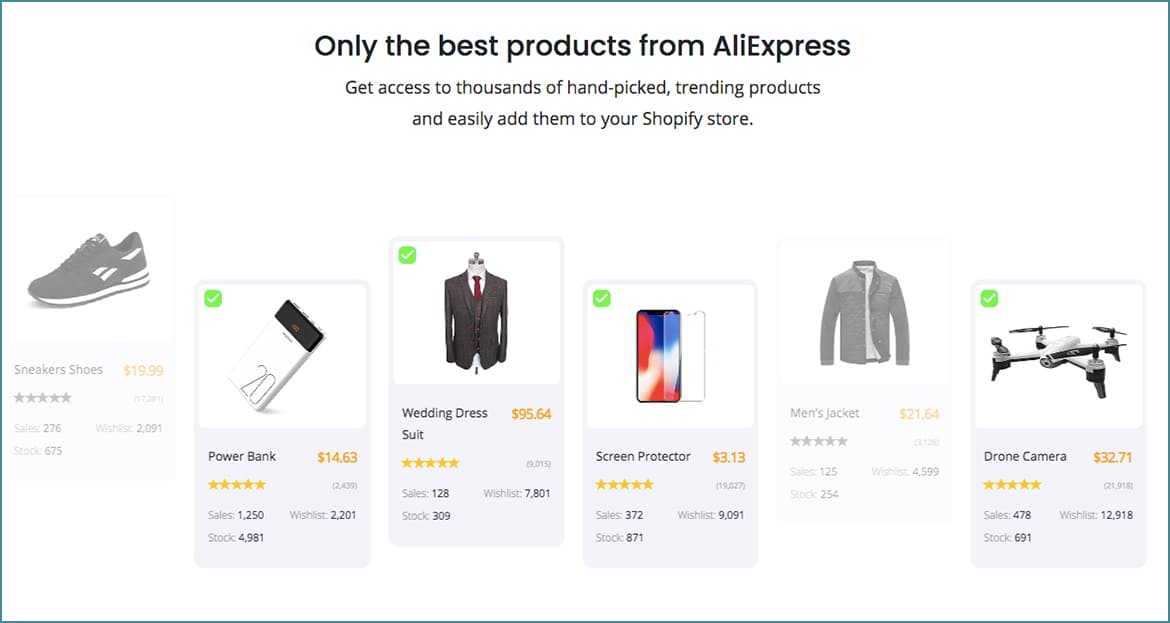 Wholesale2B is a service provided by Onlinestorebiz.com LLC, a company founded in 2004 that develops software designed for dropshipping. Today it works with over 100 dropshipping companies. It's a reliable, tried and tested service with a catalogue featuring over a million products from selected suppliers. To find out more, check out their price plans and the services included. Trustpilot score: 4.5 stars out of 5.
Worldwide Brands is a platform that brings together certified suppliers and over 16 million wholesale products from all over the world. Having such a wide selection helps you to compare products and prices so you can choose the most competitive suppliers. You'll also have access to a highly responsive support team. For a one-time payment, you'll get lifelong access . Trustpilot score: 4.9 stars out of 5.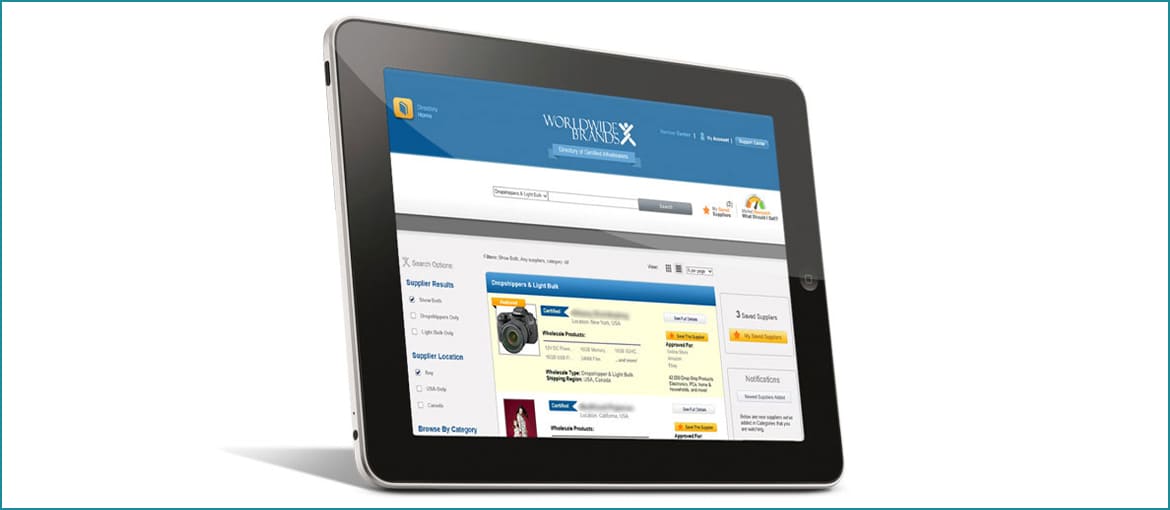 That wraps up our overview of dropshipping. Now's it's over to you to embark on your own adventure in e-commerce. Good luck!